The clouds are gone, the sun is shining, and nature is waking up. Spring has finally arrived. You are finally able to leave your stuffy home and go outside, where flowers are blooming everywhere you turn.
That will certainly awaken your own desire to bring some of that nature into your home. But, before you start decorating your home, you need to choose a theme. Since Easter is just around the corner and it itself is a holiday of rebirth, it is a perfect choice.
Give your home a refreshing springtime Easter touch-up by using eggshells as flower pots or planters. Take a look at our Top 10 Easter eggshell planters and start placing a tiny adorable little eggshell plant in every corner of your home.
Plant Seeds Using Eggshells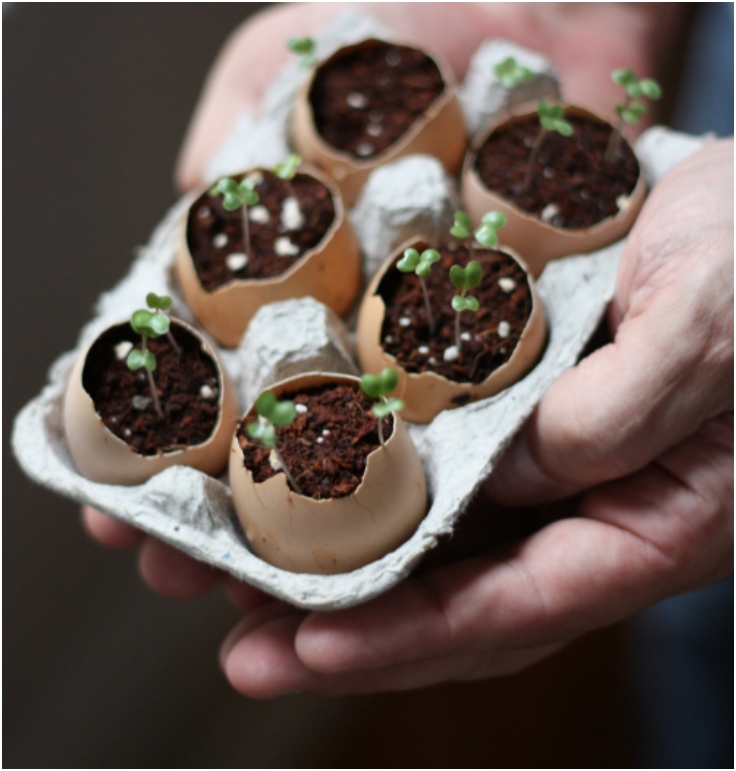 via 17apart.com
If you want a living potted plant in an eggshell, let us show you the easiest way to do that. By following these steps, you will soon be able to plant in the eggshell whatever you like, whether it is a flower, a green plant, or as starter planters for some vegetables or spices. Your seeds will sprout every time.
Bride And Groom Eggshell Planter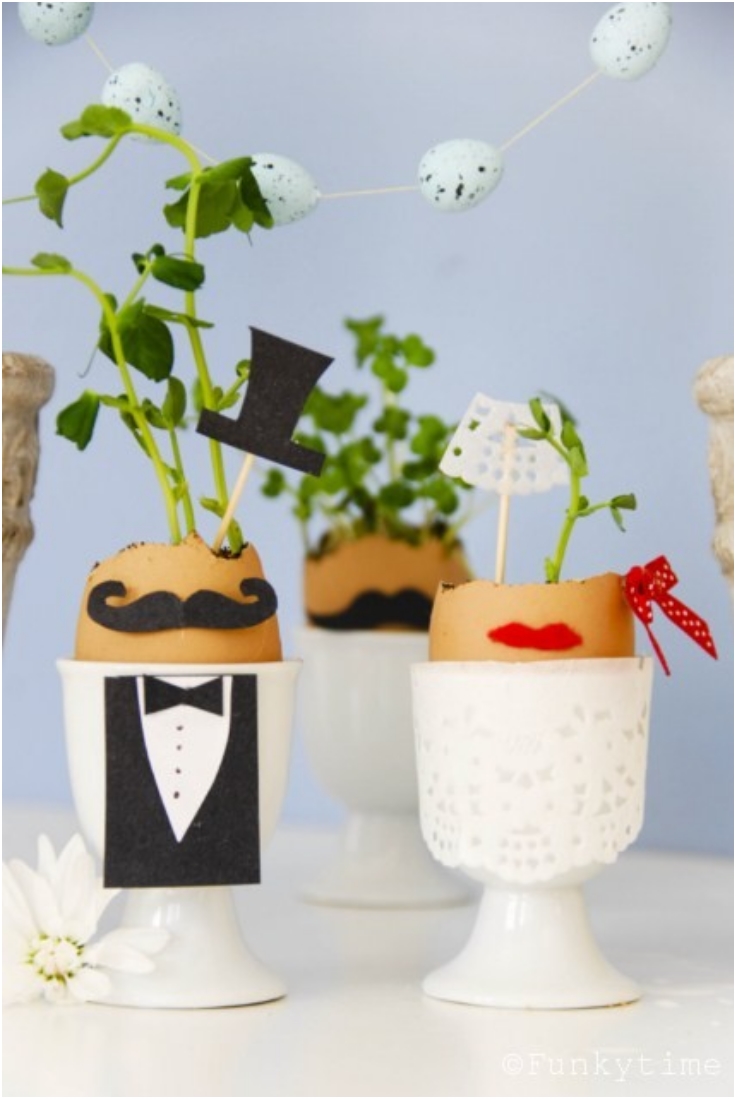 via fun.kyti.me
Here are some adorable decorations that will make lovely decorations or wedding favors for an Easter wedding. Glue on the egg a black carton tuxedo and mustache, a doily and felt for the bride, and a carton hat or a bow glued to a toothpick. Just make sure the plants have sprouted by the wedding.
Mini Macrame Succulent Egg Decorations For Easter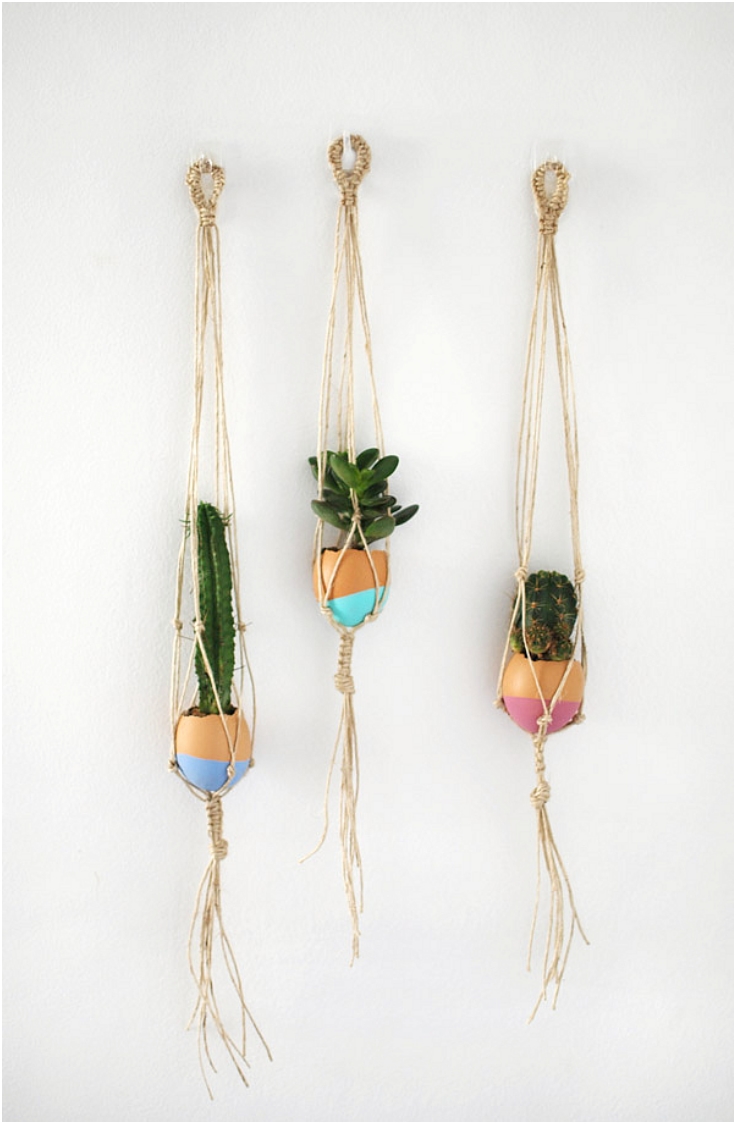 Succulent plants are perfect for these types of home decorating projects. Here is how you can use them in charming hanging planters. By adding a certain neon color to the bottom of the eggshell, you make it much more festive, and you even have a tutorial on how to tie the twine they will be hanging from.
Mini Egg Landscapes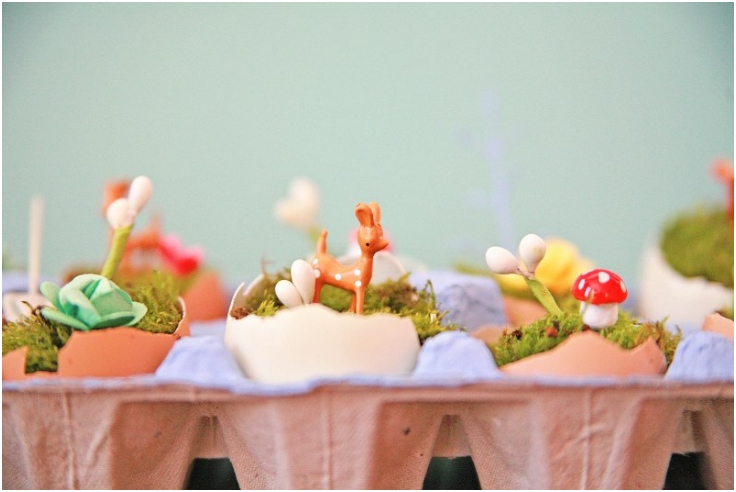 If you're looking for an Easter project you can do with your kids, here is a great one. Kids love whimsical things, and here you can pretend that you are building a garden for a fairy. On the other hand, you have a cute little green garden with succulents and other fun miniature decorations that are placed neatly in an egg carton, which can make one fun Easter centerpiece.
Easter Flowers In Eggshell Pot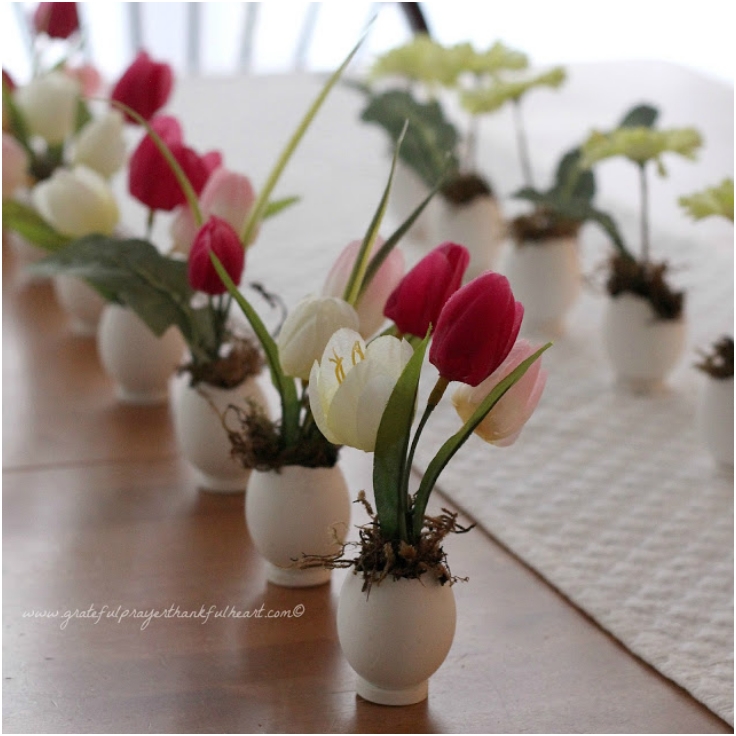 via gratefulprayerthankfulheart.com
Die to their size; not everything can be planted in an eggshell, like a tulip. But, if you like such flowers, then the eggshell will make a lovely vase. Here is an example of how you can turn an empty eggshell into an elegant flower vase that will be a perfect addition to your Easter table.
DIY Easter Egg Planters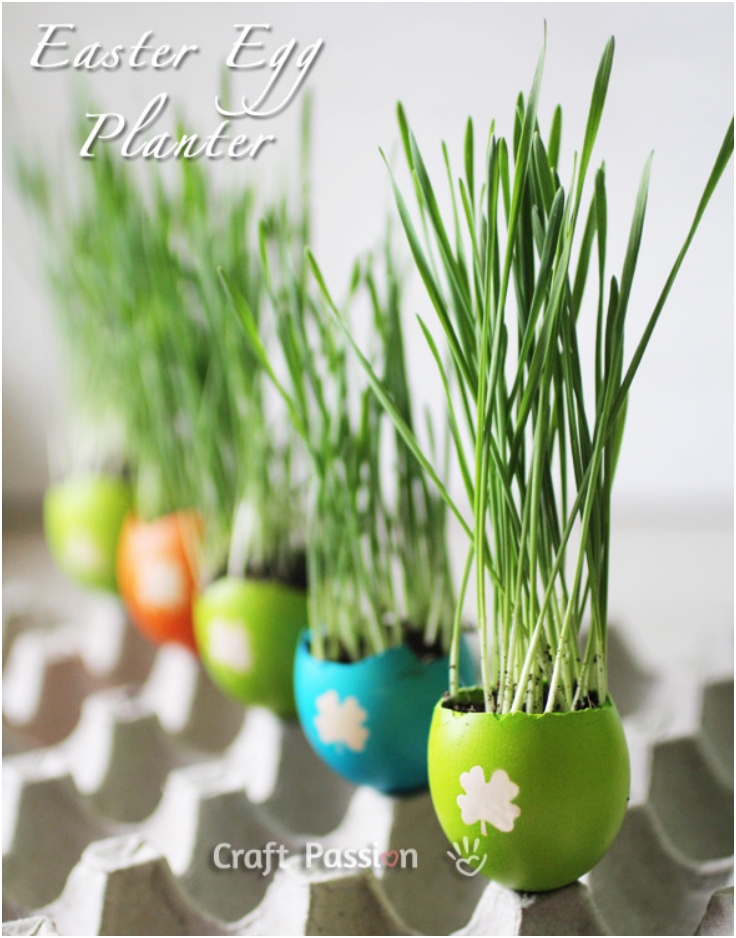 via craftpassion.com
Here is another way to use eggshells as planters for living plants, in this case, wheatgrass. In this case, you can't even grow the plant in the eggshell but the egg carton. After the seeds have sprouted, you cut the carton and place the plant into the colored eggshell. Whatever method you use, it works, and it looks great.
Golden Easter Eggs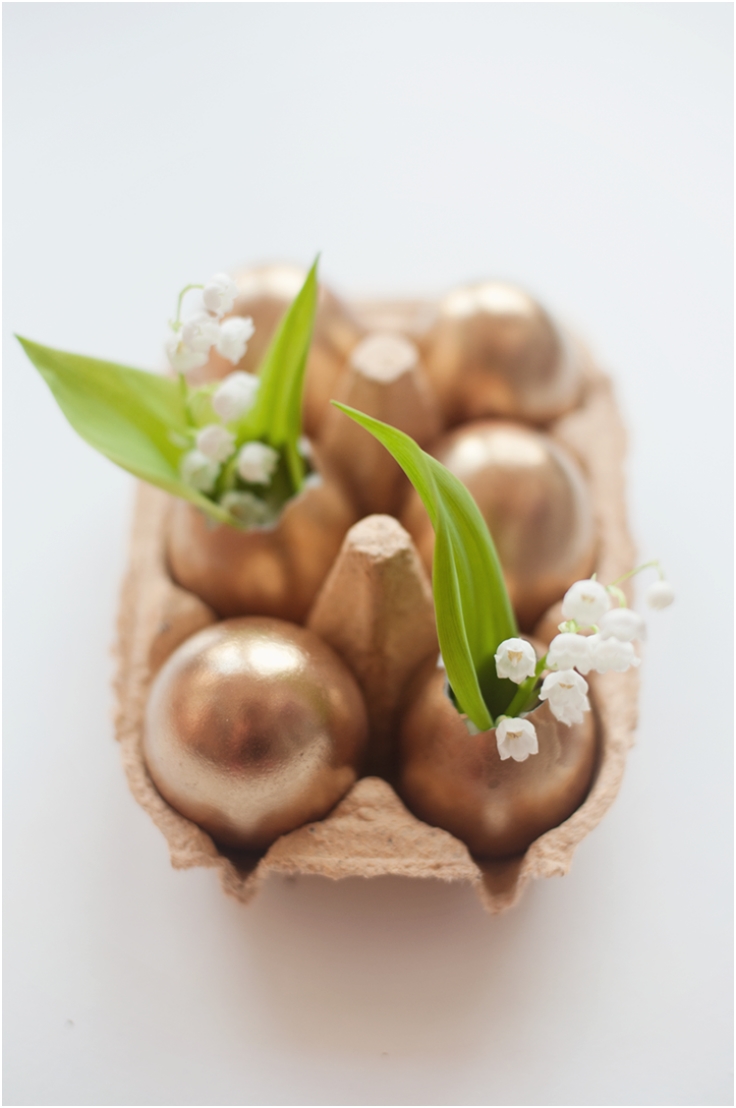 via 79ideas.org
The sum's warm rays have always been associated with the color gold, so making decorations that symbolize both spring and Easter is one project you can't overlook, and this one is hilariously simple. You simply empty, take an empty eggshell, paint it gold, and put a soft and delicate flower in it, like a lily of the valley, and you have a delightful decor piece.
Egg Shell Mini Garden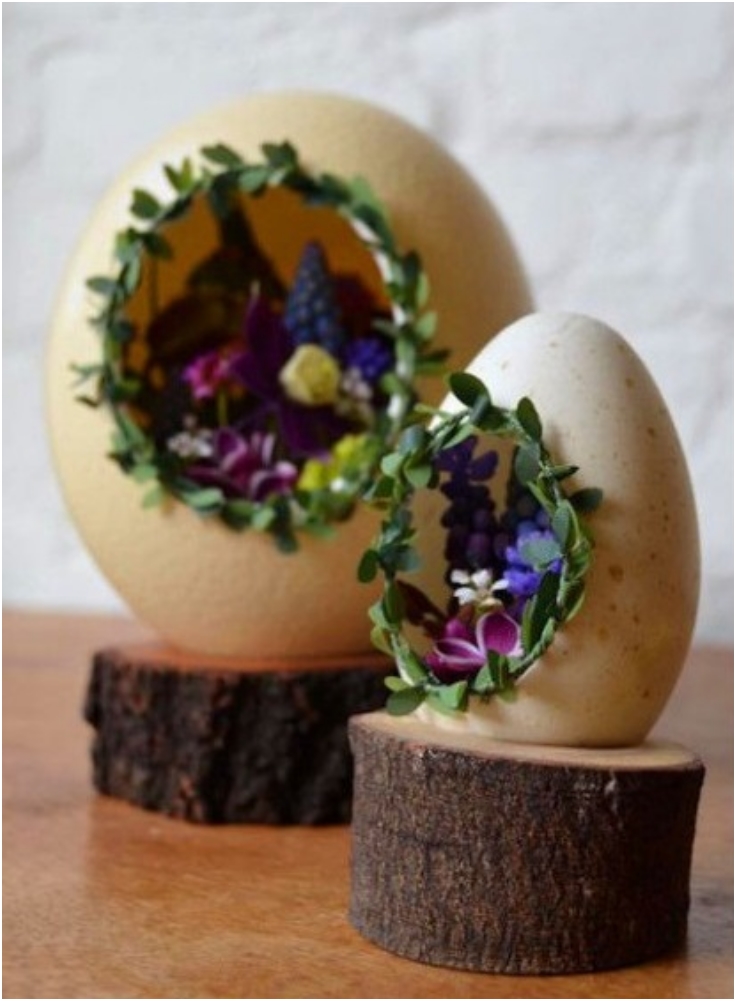 via fabdiy.com
You can make a true work of art if you have some time and patience for delicate handling. With the hole cut on the side and some tiny colorful flowers, this whimsical and fanciful miniature garden can decorate your lovely home.
Easter Egg Decorating Inspiration
via deannamooredesign.blogspot.com
Here is another hanging eggshell planter with a bit of a twist. If you think that the eggshell planter with the plant in it is not decorative or fun enough, you can play with the eggshell's appearance by choosing some of the featured printable patterns. You will not be disappointed.
Flowers In Eggshells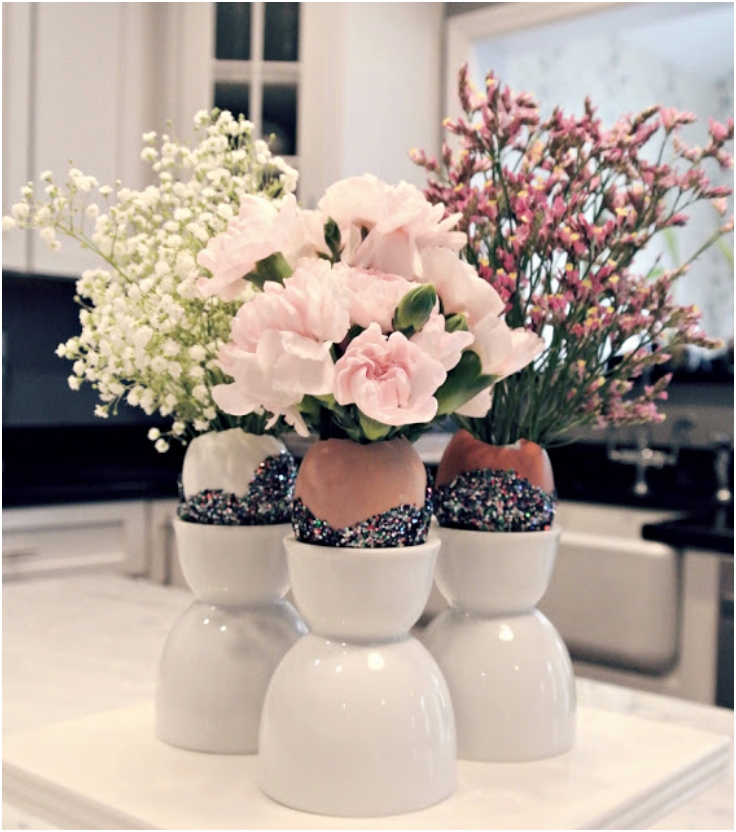 For our final suggestion, we give you a fun, sparkly, yet elegant eggshell idea. Make this lovely lower arrangement into an Easter centerpiece, coloring the bottom half of the egg with glue and glitter, filling the eggshell with a carefully arranged flower, and placing it in an egg holder. The result is absolutely amazing.