Let's be honest, a girl never has too many shoes. You brought a new outfit, great. But oh dear, what shoes to wear? New shoes are great however, for the one hundred or so different combinations of clothes we are certain you can create from within your existing wardrobe, to have that many pairs of shoes will not only be taking ample space; but also a few pretty pennies from your bank account.
We have eased tension away and have for you 10 brilliant fun DIY ideas on how to remodel existing shoes, to look totally different. Get creative and stand out from the norm!
Glitter Party Pump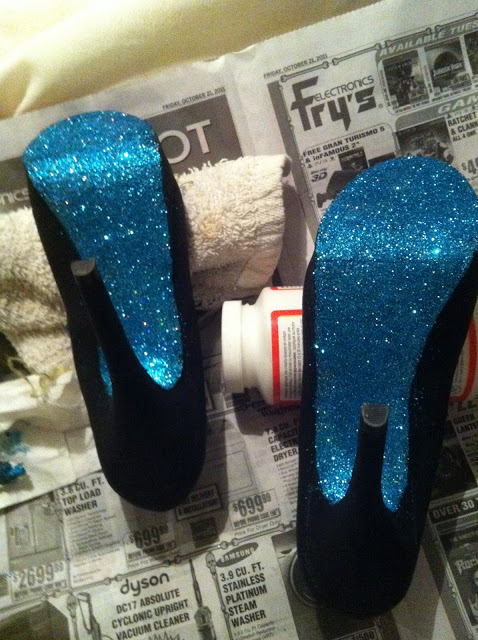 DIY
No matter how fabulous you try to look after your shoes and how meticulous you are, at some point, you just know that the bottom sole of the shoe is going to look worse for wear. It will therefore be imperative to fix this and get you ready to hit the road towards that fancy party you have been invited to. A little glitter in moderation can be fun especially for the likes of Christmas, a wedding, or New Years' Eve. Even simply, a night out with the girls with glitter on the mind. To restore shoes properly can cost a lot of dollars, hence this fun and bright project making your heels the star of the show.
Colorful DIY Spring Shoes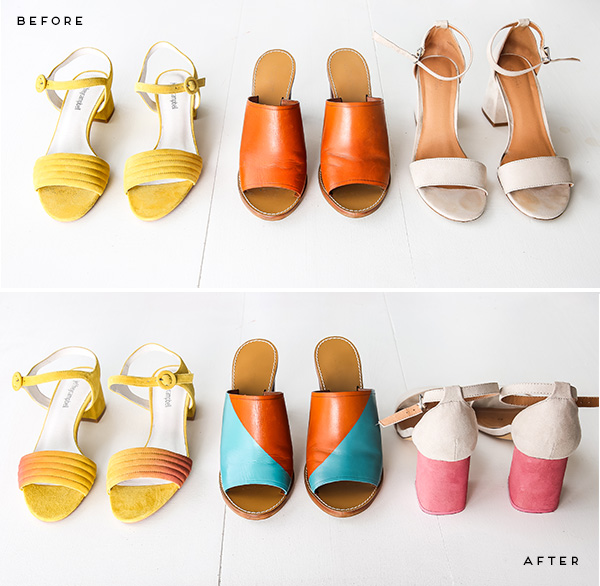 DIY
You would be pleasantly surprised what a little paint and creativity can do for you. Yes, the new shoes are great. We love them. But, it all comes at a cost. This craft isn't only about looking after your hard-earned cash, it is also about creating something new, for the season and in this case to embrace the beautiful days ahead. This tutorial demonstrates three different ways to tackle a new look for your shoes and ways that suits your personality the most. So do not be afraid to use the same methods, but with a different color pallet. Having an acrylic paint set at home is everything, especially if you love to change styles every so often. The cool thing is, once the shoe makeover is over and done with, and the season ends, you can change it back to something new and exciting again.
D&G Sequin & Jewel Embellished Shoe DIY
DIY
D&G do make some of the most extravagant, one of a kind design for ladies shoes. You can spot one a mile away. This tutorial creates that very same illusion, only costing you a fragment of the asking price in a shop. You will need a pair of fabric or suede pumps for this to work best. In terms of what you are about to embark on, it is beyond worth spending an hour or so revamping your favorite heels once again, and making them fit enough for the red carpet event you were always destined to attend! This is a perfect craft for the glamorous of all parties whatever its occasion. Wear a plain dress, or even a pair of tight-fit denim jeans, a white top and you are good to go. All the attention will be on your heels, take our word for it.
DIY Chanel Inspired Slingbacks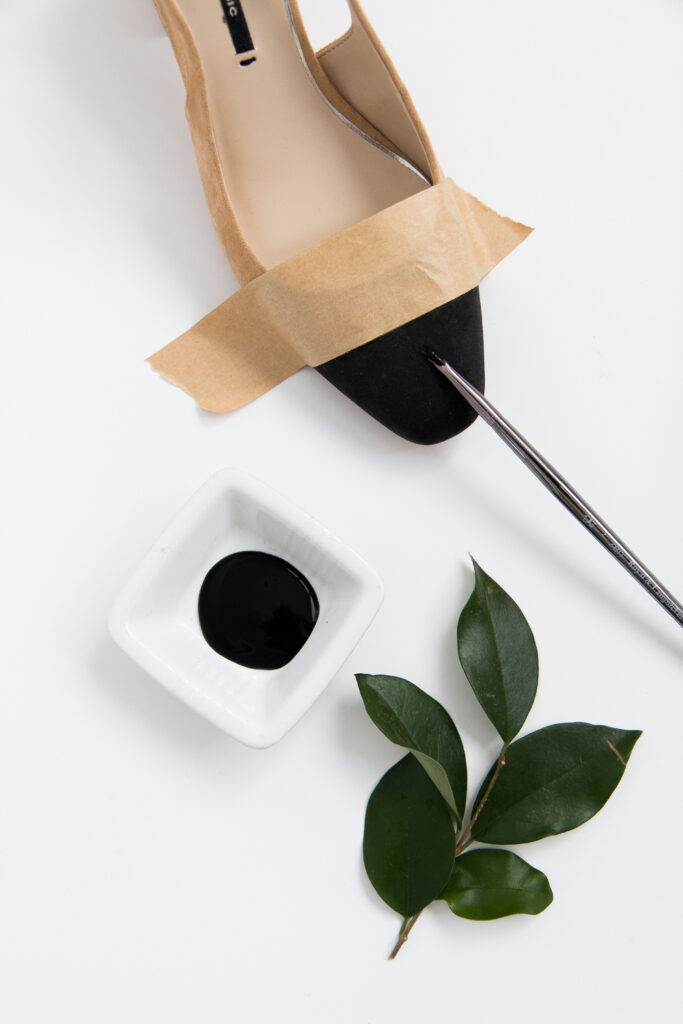 DIY
Ever since Chanel launched the now popular two-toned slingback shoe, it has hit every social media platform and fashion designers, bloggers and created an internet frenzy overnight. On occasion, we want too much from what we wear. It is like imagining using everything within your kitchen to put onto one plate. It's too much. Simple and classic, never, ever dies. It will always be on-trend if you are after the businesswoman-like look, oozing in sophistication. A pair of Channel shoes can cost well above the thousand dollar mark, but making them yourself, plus buying the initial shoe, paint, and accessory will cost well under a hundred dollars. This is a must-have in any wardrobe.
DIY Boot Trees
DIY
Have you bought a pair of knee-high boots, unpacked them, and then the horror happens. Does it flop? Well, you cannot go without creating your very own boot trees to iron out this rather enormously painful issue. Let your boots stand with pride! Boots are fabulous and can enhance the length of your legs elongating them; perfect if you wish to create the illusion that you are above 5ft2. And let's be honest, if you want to look great wearing a simple pair of denim, through the boots on and voila you are ready to hit the streets. This will also ensure that the leather of the shoes won't crease up as much, and also means that you will keep them in shape for much longer. On top of it, you are self recycling plastic and that has to win it over for anyone.
DIY Sharpie Tie Dye Sneakers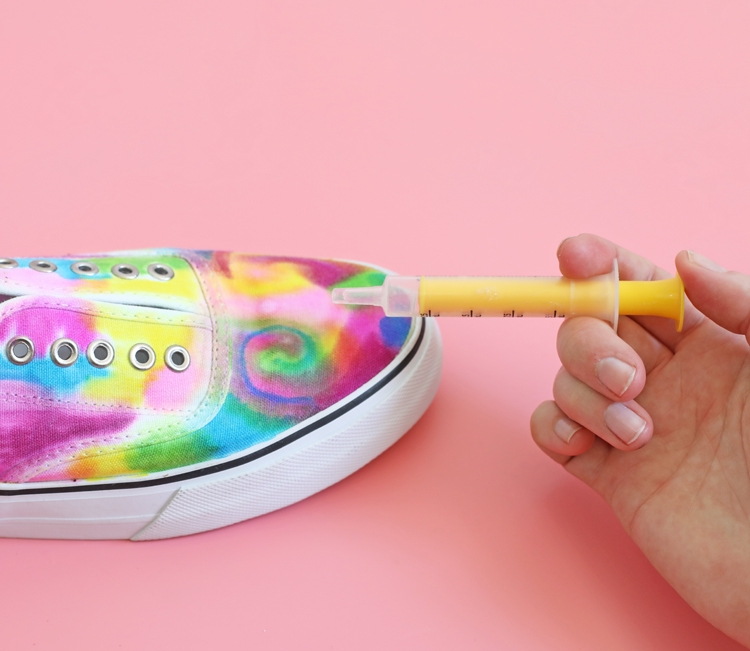 DIY
If you simply love colors, you will understand that the pair of white sneakers you bought a few months back isn't doing as much for you as you initially thought they would. White sneakers are great, but after 5 minutes they are already going off white, to eventually, all shades of what the outdoors have to offer. And one way to keep them looking spanking clean is to revamp them. Now, this is super easy, but if this is way too much color for you, experiment with others more fitting your personality. Worth noting, if you have simple and plain clothes, wearing a pair of bright shoes of any sort can really turn things around for you.
DIY Pink Swarovski Crystal Converse
Converse has been part of our shoe fashion for over 40 years now. They are cool for any generation! You'll find them in any color, size, and style. But, a way to make them extra original and make you stand out from the crowd, is to do a little magic. Crystals are fabulous especially on shoes that were designed to be simple and practical footwear, to begin with. It is like matching the old and the new together in interior design terms; it just works really well. You can go crazy and have 75% of the shoes done by doing the same example and stocking on more crystals on the fabric part of the shoe.
Do It Yourself Fur Slides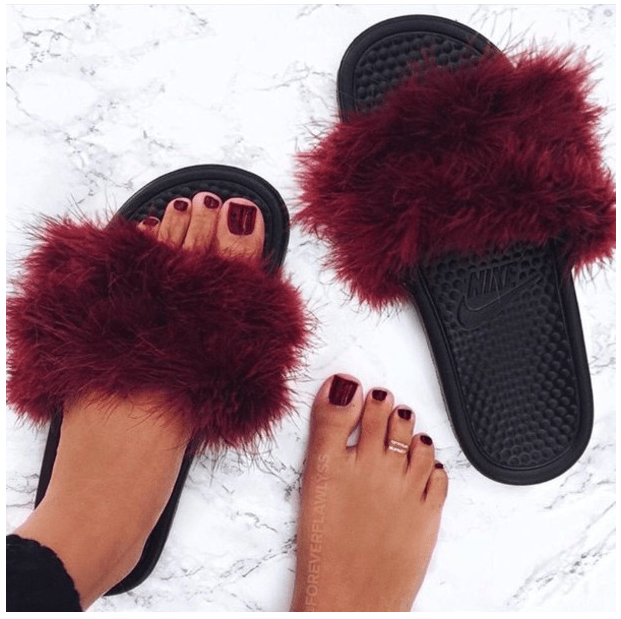 DIY
These have been in fashion for the last few years and they aren't going anywhere just yet. Besides, they are perfect for the warmer months up to and coming. If you have an open toe slide lying around somewhere unloved, it'll be the perfect guinea pig! We will always suggest painting your toenails the same color, or as near as possible as the color of the faux fur. Or, as opposite as possible but not within the same tonations. These are perfect for a semi glam/chill look and will fit pretty much everything in your wardrobe.
Summertime Pearl Open Toe Shoes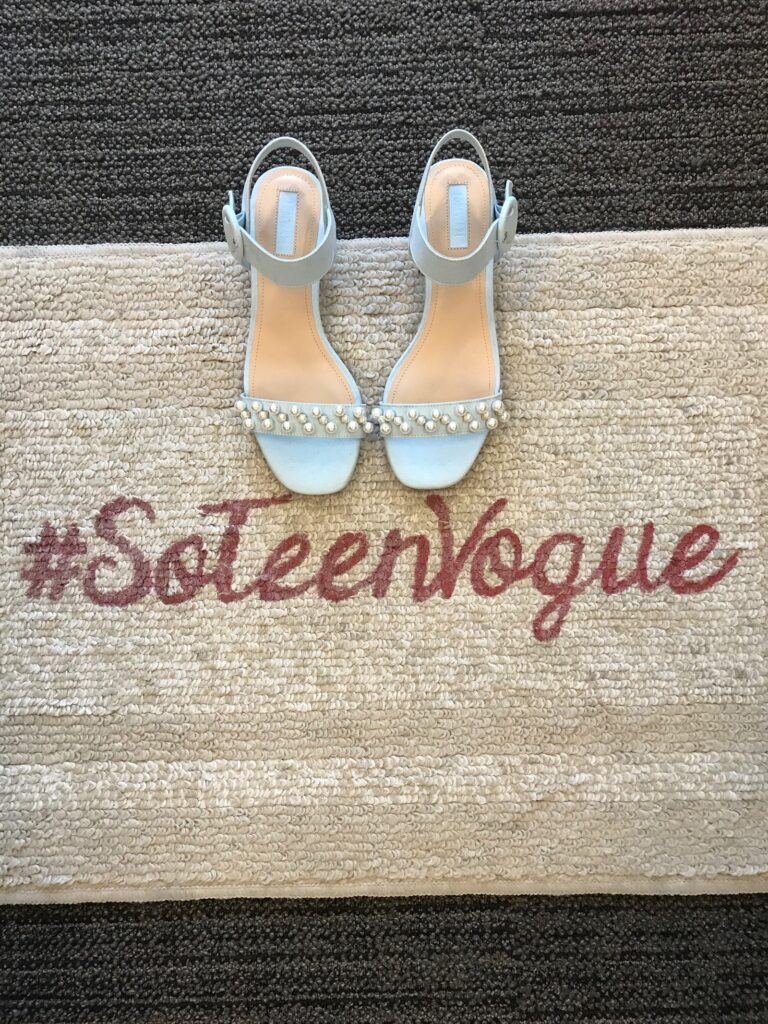 DIY
Summertime is coming ladies and time to give your shoe wardrobe a little makeover! Pearls are a girl's best friend really. Once old-fashioned but he came back with a fresh outlook in our opinion. Many fashion houses will opt for at least a couple of shoe designs incorporating pearls within them. They simply work and look terrific. This works best with open-toe shoes but could do the trick just fine with a pair of closed sandals with or without a heel. It adds such a refreshing twist to a classic pair, that you might end up doing more than just the one pair!
DIY Bridal Bow Shoes
You have been invited to a wedding. Music to anyone's ears. This surely means only one thing. Shopping! Before you go off spending your monthly budget on a pair of killer heels because you have to, check this tutorial out. And, it will leave things not looking like a DIY job which is super. If you have a pair of heels in relatively good shape, take them out for a spin and give them the look they have always deserved. Before choosing the color pallet, make sure to be happy with your outfit. Then match the shoes. Top Inspired also has great creative ideas for DIY outfits so make sure to check them out.