Whether the painting is, canvas art is adorable, but not what it used to be. Today there is almost anything and everything painted or printed on canvas, and it is hard to incorporate a picture in your home that won't look out of place or boring. After all, the wall decoration's point is to make the place look better, not worse.
Many people have turned to alternative methods of decorating their empty walls in the hope of bringing something new and exciting into their homes. One such alternative that has made a comeback and has recently gained tremendous popularity is the wool tapestry and similar fiber wall art.
This wall décor alternative might be trendy, but many people consider it to be too spicy for their budget or hard to make. Well, nothing can be further from the truth.
Fiber wall art has its beauty and charm no matter its size or its complexity. Once you've learned the basics, you can't go wrong in your art piece. Let our list of the most straightforward Top 10 fiber wall art tutorials give you the first threat of your ever-growing tapestry of artful wall creations.
Crescent Yarn Tapestry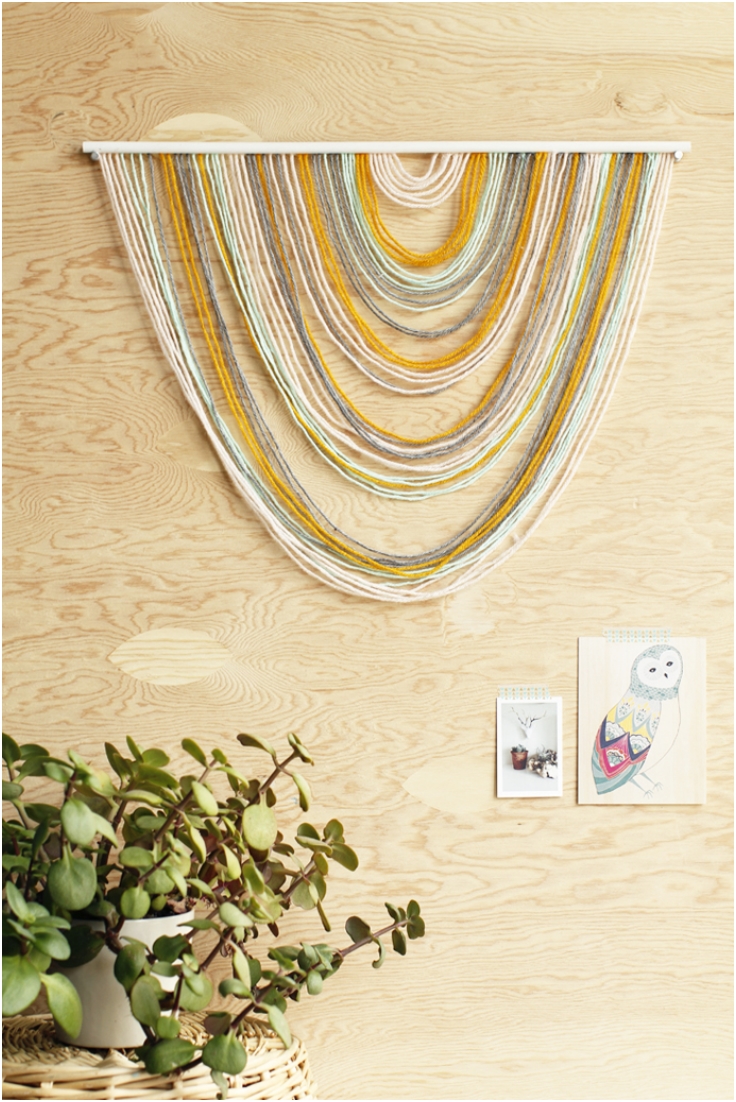 via fortheloveof.net
When we hear tapestry, we usually imagine colorful textile woven art made from hundred different colored wool fibers. Well, sometimes even a few threads can make a lovely tapestry and with no weaving whatsoever, just like this colorful crescent yarn tapestry that anyone can make in minutes.
Ombre Tassels Wall Hanging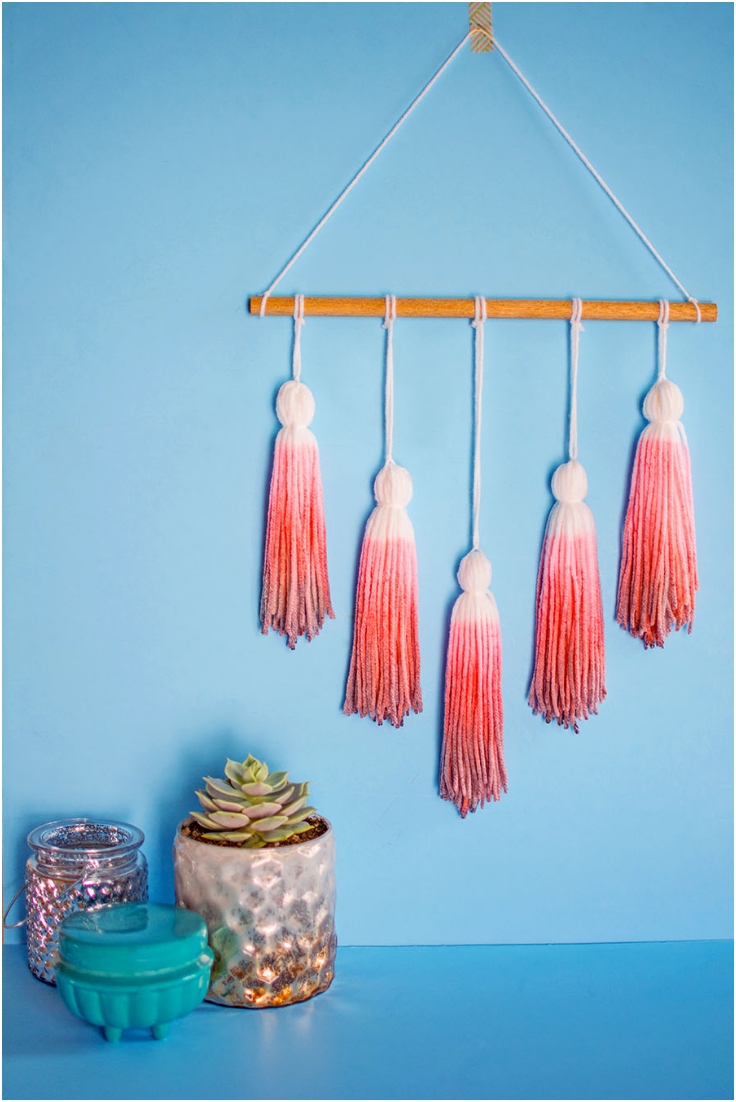 via blog.pbteen.com
Tassels are used to decorate curtains and clothes and even serve as lovely jewelry pieces, and now there is another way to use them for decorating by turning them into wall hangings. Just string a few dipped in paint tassels on a dowel, and you're done.
Copper Pipe Wall Hanging
The glow and color of copper make it perfect for adding some extra bling to your wall, and the most available copper pieces you can get are the copper pipes. Adding a few small pieces to a yarn wall art will instantly turn it from plain to a fantastic decor piece.
Yarn On Metal Hook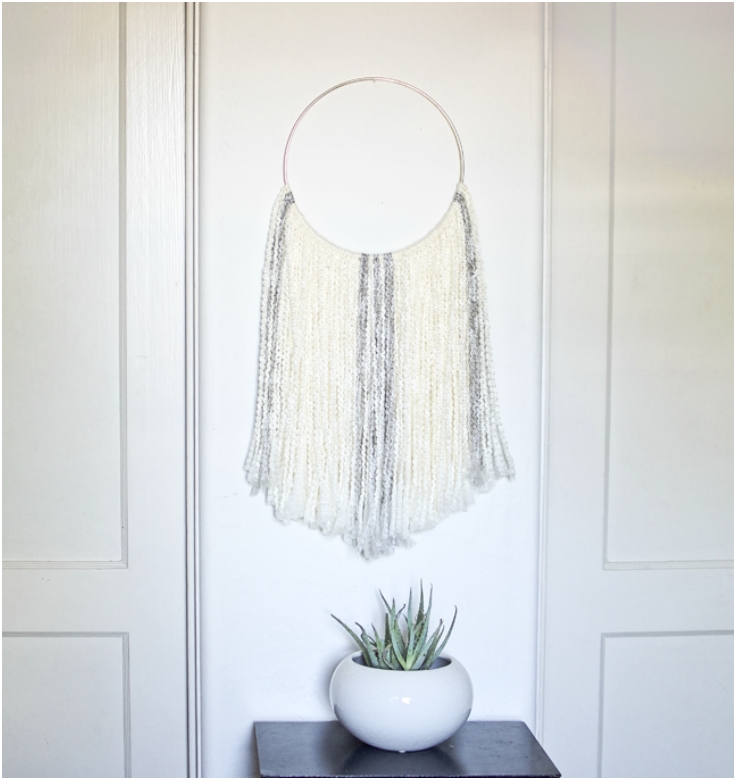 To make a wall hanging exciting and unique, you don't have to create intricate patterns or accessorize with metal or wood. Sometimes all it takes is an exciting base, like a metal ring on which you'll tie the yarn with your chosen texture and thickness in the color combination you like. The result will surprise you.
Yarn Wall Hanging Combo
When you have a large empty wall in your living room, it is not easy to fill it without over-crowing it. If you've already made one yarn wall hanging and like how it looks, yet your wall still feels empty, don't be afraid to add a few more similar to the one you have.
Cardboard Tapestry Weaving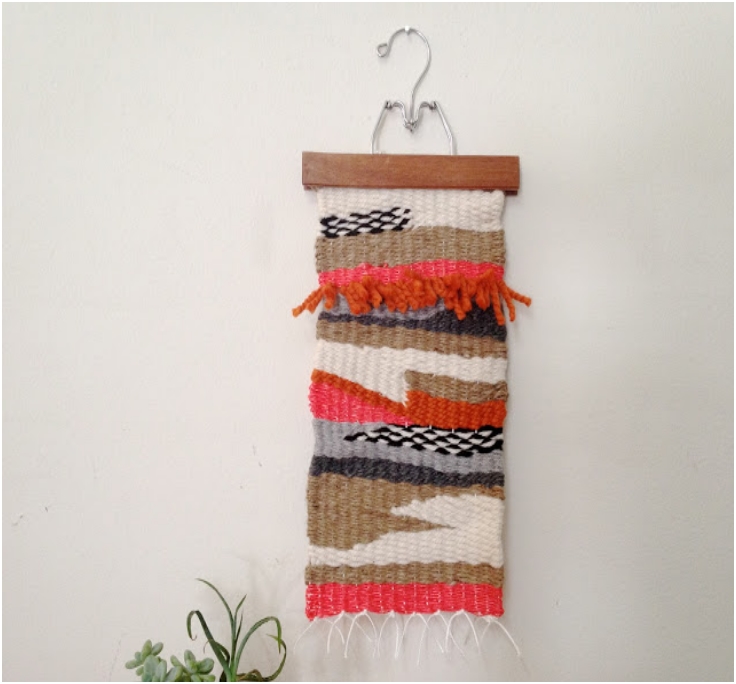 Making an entire tapestry is not as hard as you may think. If you want to try your hand at it, you can start making the grid for weaving on cardboard. After you've made that, let your creativity run wild. There are no mistakes that you can make.
Macrame Wall Hanging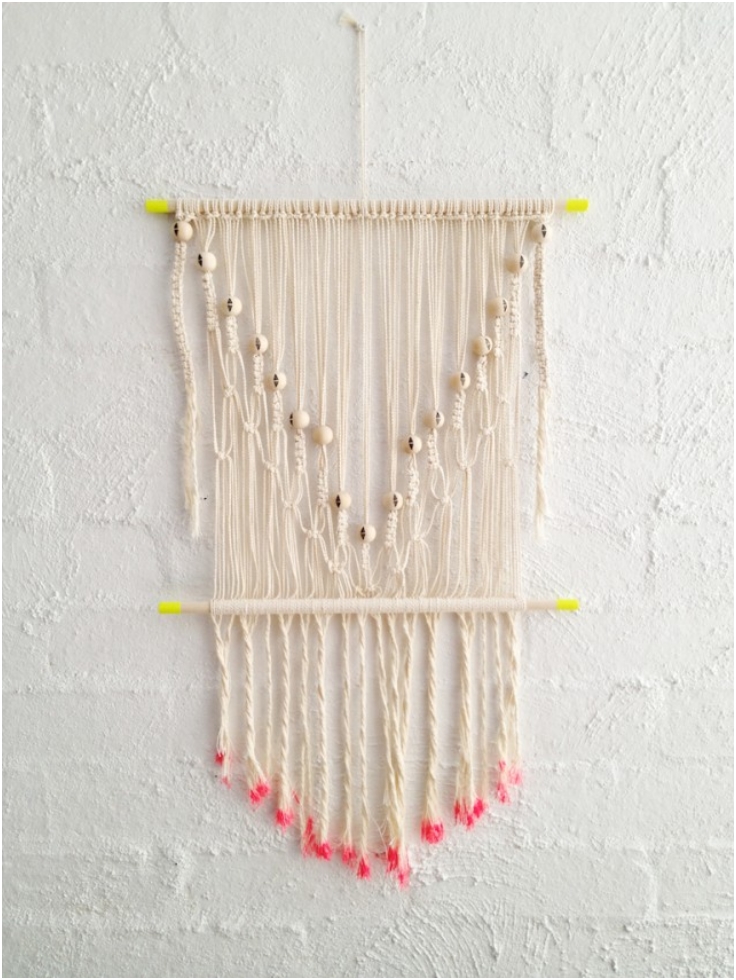 For those who know how the art of knotting, use them for making some macrame wall art. Use whatever colors you like, and you can even add different beads and even use materials other than yarn for the project, like in this case where you can take your macrame skills to a new level.
Knitted  Tapestry With Fabric Yarn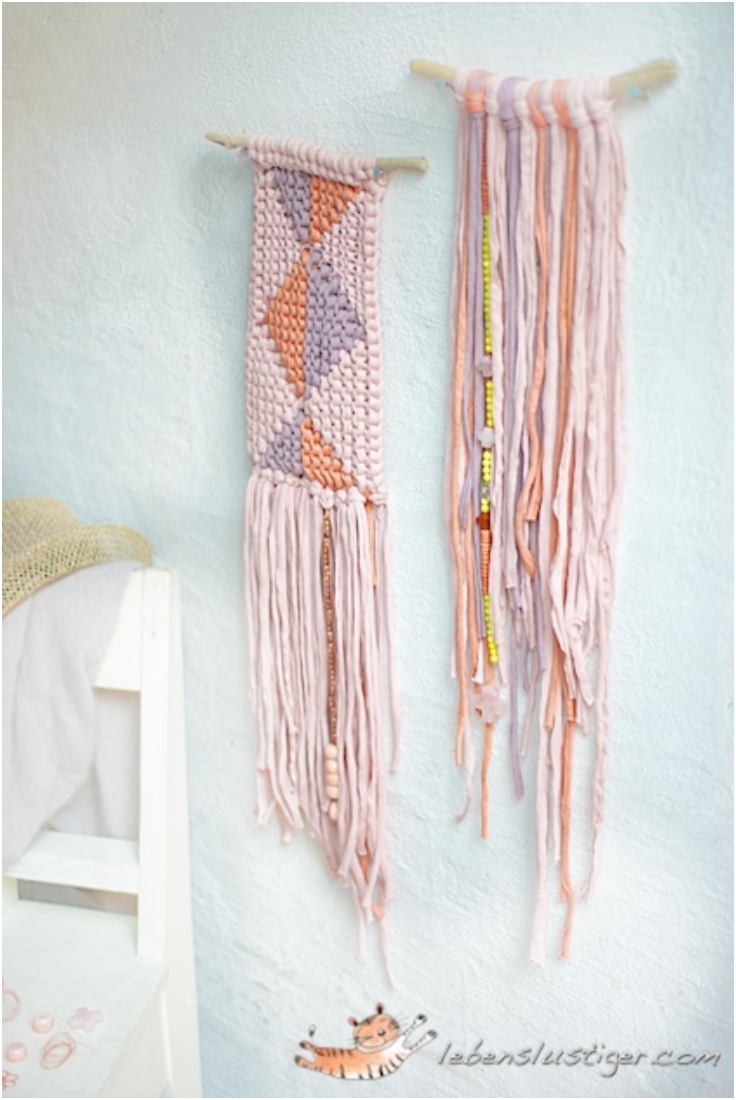 While we're on the subject of alternative yarn, bring a different feel to the heavy wall hangings made from woolen wool using a fabric yarn made from strips of old clothes. And you can either tie them, let them loose or knit them in some lovely patterns.
Weaving With Wool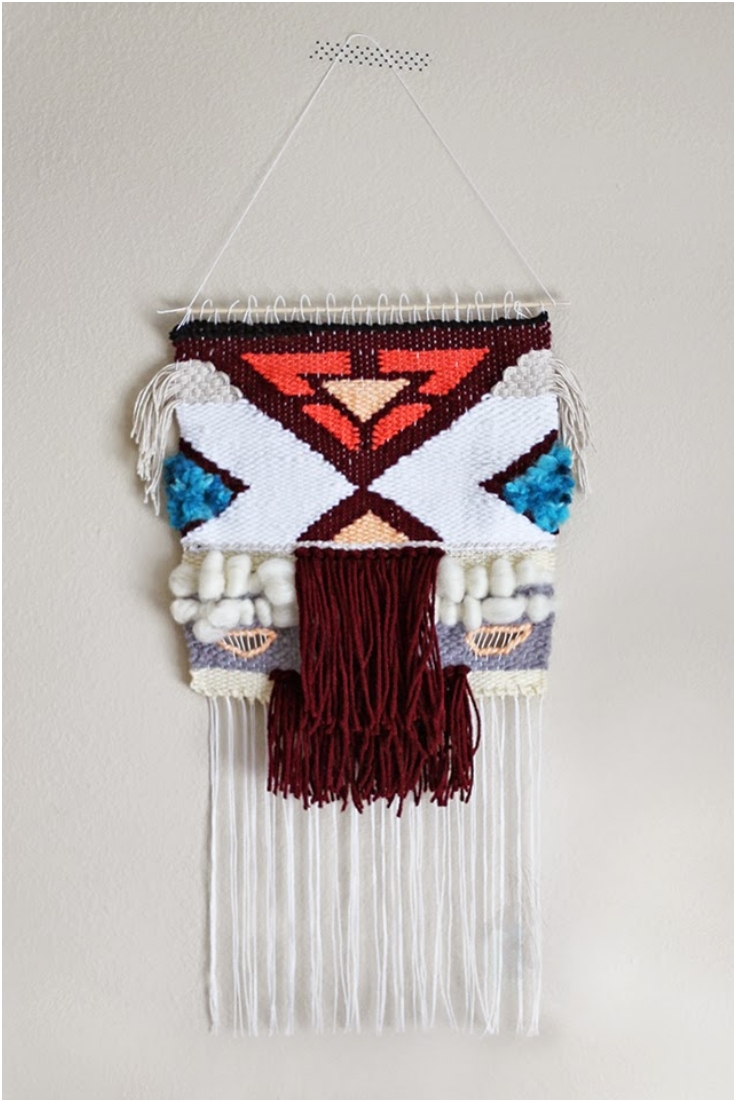 Woolen yarn is spanned wool, and there are other types of wool out there that you can incorporate into your tapestry if you are the know-how. Here you can see how to use three wool types to create some fun and extraordinary woven hanging wall art.
Woven Wall Hanging
via honestlywtf.com
We hope you like our suggestions for fiber wall art, and if you can't decide which one to try out first, then don't choose. The beauty in art is that the more you improvise, the better the finished project will be. So, for our last suggestions, here s a woven wall hanging that shows you how good combining a bunch of techniques can look.