Let's take all the inspiration that spring is giving us! After months of cold and grey weather, it's nice to enjoy all the beauty that this season is bringing, from warmer weather to pretty flowers in the shops. Invite all this beauty in your life by creating floral – theme projects.
From hanging flower heart and floral Vans, in this article you will find ten really lovely DIY projects. They are budget – friendly and not only they will be the greatest spring decor ever, but these floral projects can also be super practical and even a great gift for someone dear.
1. Hanging Flower Heart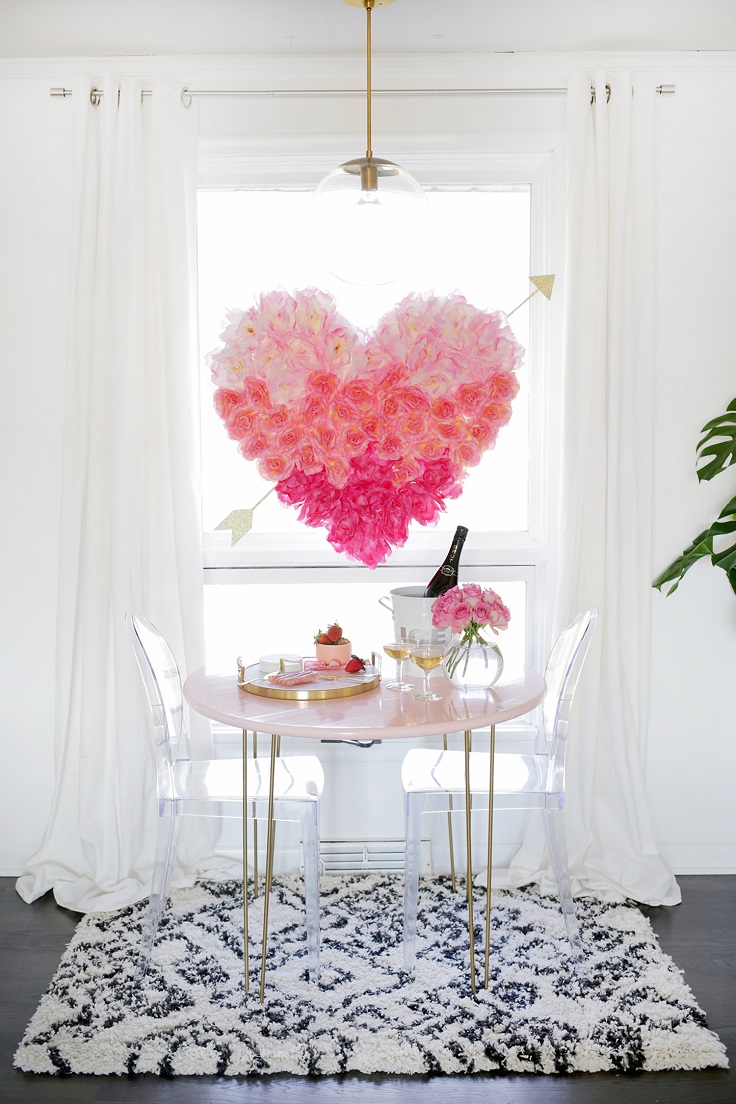 Wow, don't you wish to have such charming corner in your home? The hanging flower heart is definitely perfect for Valentine's day, but since flowers are a classic, we don't have to wait for that day to hang such beautiful decor, right? To make this yourself, you need these materials – faux flowers, hot glue gun, sheets of styrofoam, serrated bread knife/electric turkey carver/jig saw to cut the styrofoam, cup hooks, clear fishing line, command hooks, balsa wood and glitter paper.
2. Flower Chandelier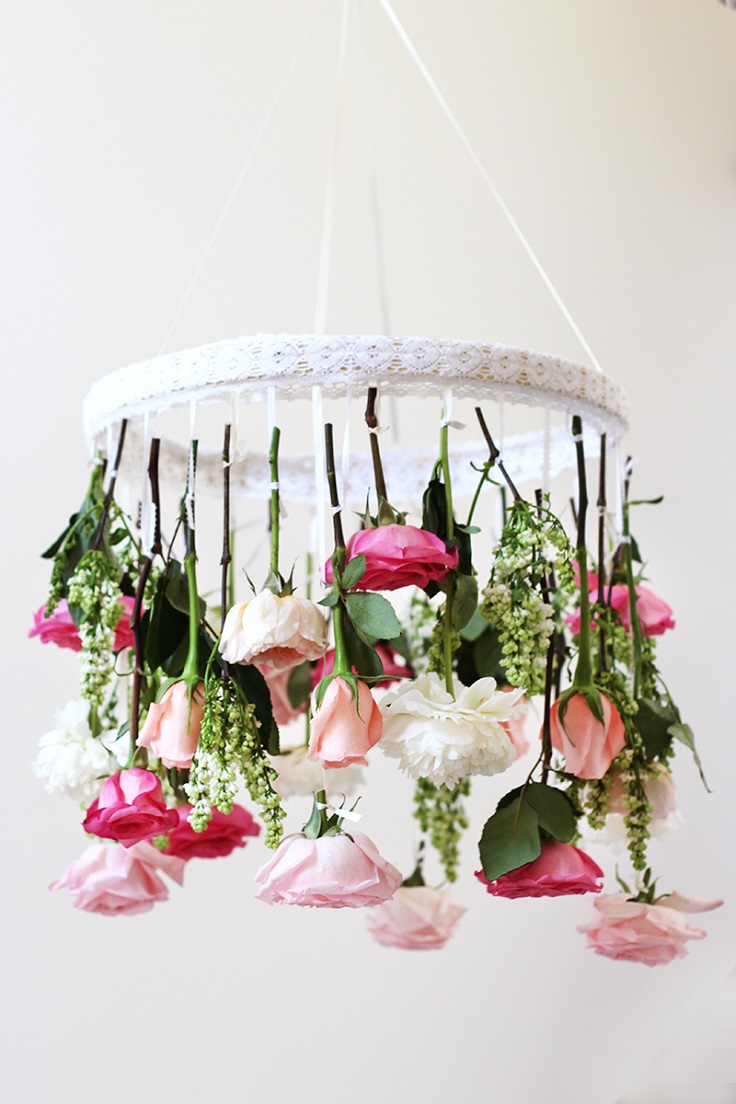 via honestlywtf.com
One of the best ways to create a romantic atmosphere and invite spring at the same time is by creating crafts such as this one. You don't get to see a flower chandelier every day, so it makes it even more special. First things first, you need to get the required materials for this project – 3-4 dozen flowers, a wooden embroidery hoop, 15-20 yards of assorted ribbon, 1-2 yards of lace trim, a D ring or plastic ring, floral shears, a bucket, glue gun and scissors.
3. Floral Wall Clock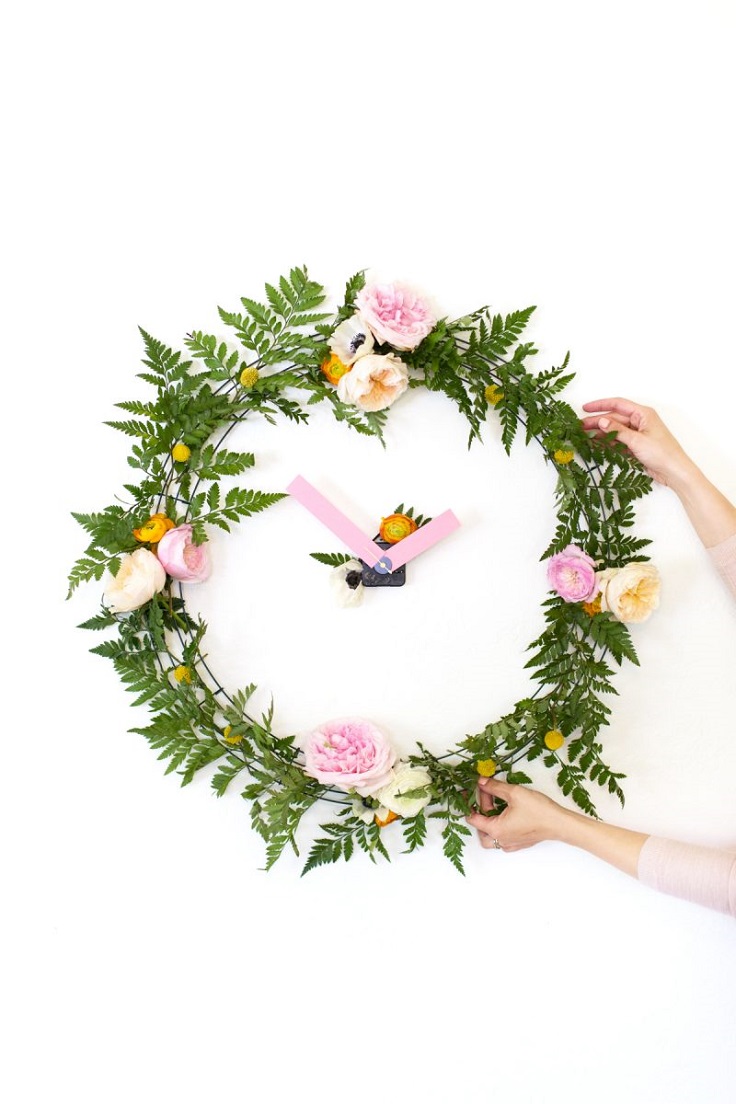 via lovelyindeed.com
This is certainly one of the loveliest projects you can ever! It is both practical and amazing – looking decor. You can put this clock in any room and it will make a significant difference in the best way possible. To make this clock yourself, you need wire wreath frame
, floral tape
, clock movement kit
, cardstock, double stick tape
, scissors, florals and greenery, wall putty
 and nail or hook.
4. Sharpie Jewelry Dish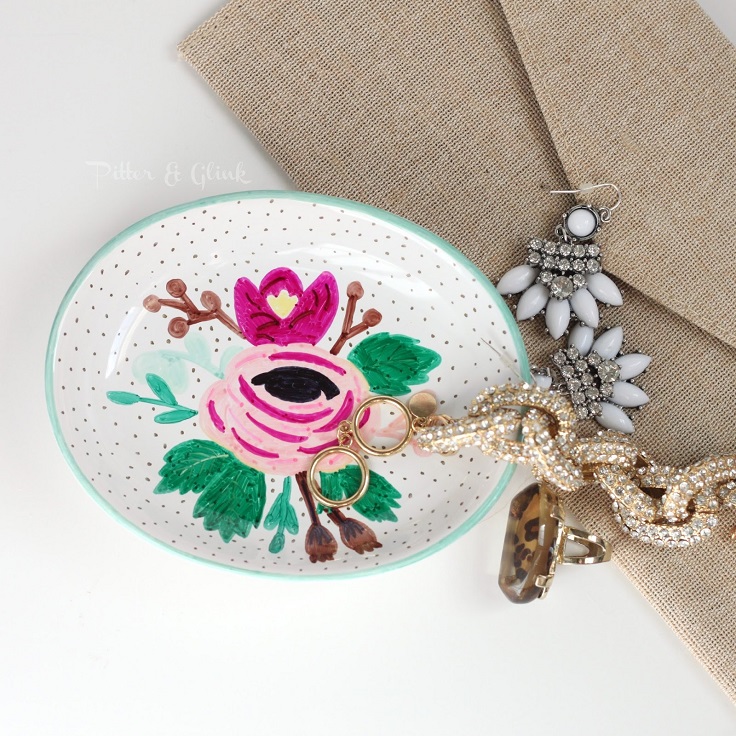 It's a common problem to lose jewelry because you forgot where you left it or just simply don't have a proper place where to put it. In order to avoid getting yourself in a situation where you'd lose something dear to you, it's good to have at least a sharpie-decorated dish for this. Get sharpies in your favorite color and a sharpie dish – let spring to motivate you and draw some flowers.
5. Pressed Flower Coasters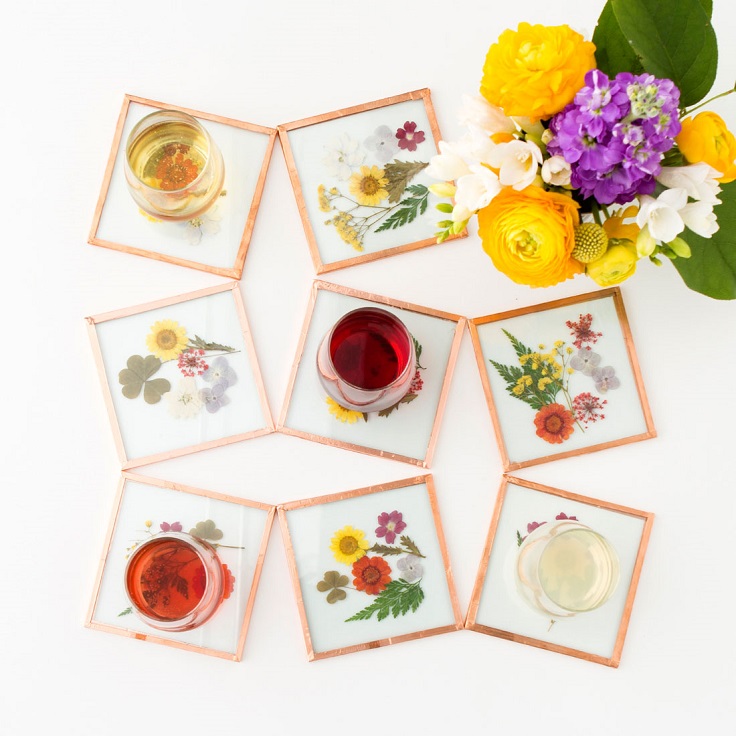 via brit.co
Not only these will save you from constantly cleaning your kitchen and tables from glass stains, but these beautiful coasters can also serve you as the perfect little detail in the room. To make these coasters with pressed flowers, you need 4 x 4-inch glass tiles, dried pressed flowers, 1/4-inch copper tape and E6000 glue. Each coaster needs two glass tiles and for the best look, make sure they're clean!
6. 3D Flower Photos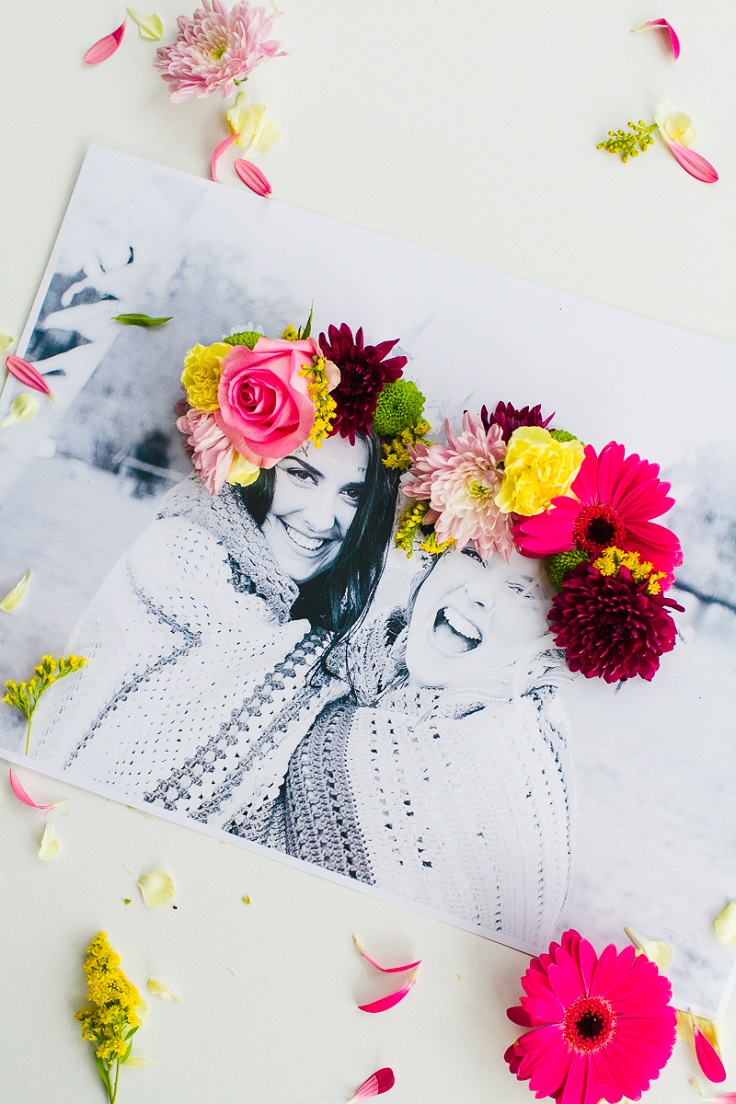 It's all about decorating a photo in a very creative way! 3D photos can look amazing, especially if you include flowers like in this project. It's also a simple project that you can easily make yourself, it won't cost you a lot and you can even give it to someone special as gift. For this, you need just three materials – photos, fresh flowers and glue gun.
7. Bouquet of Felt Roses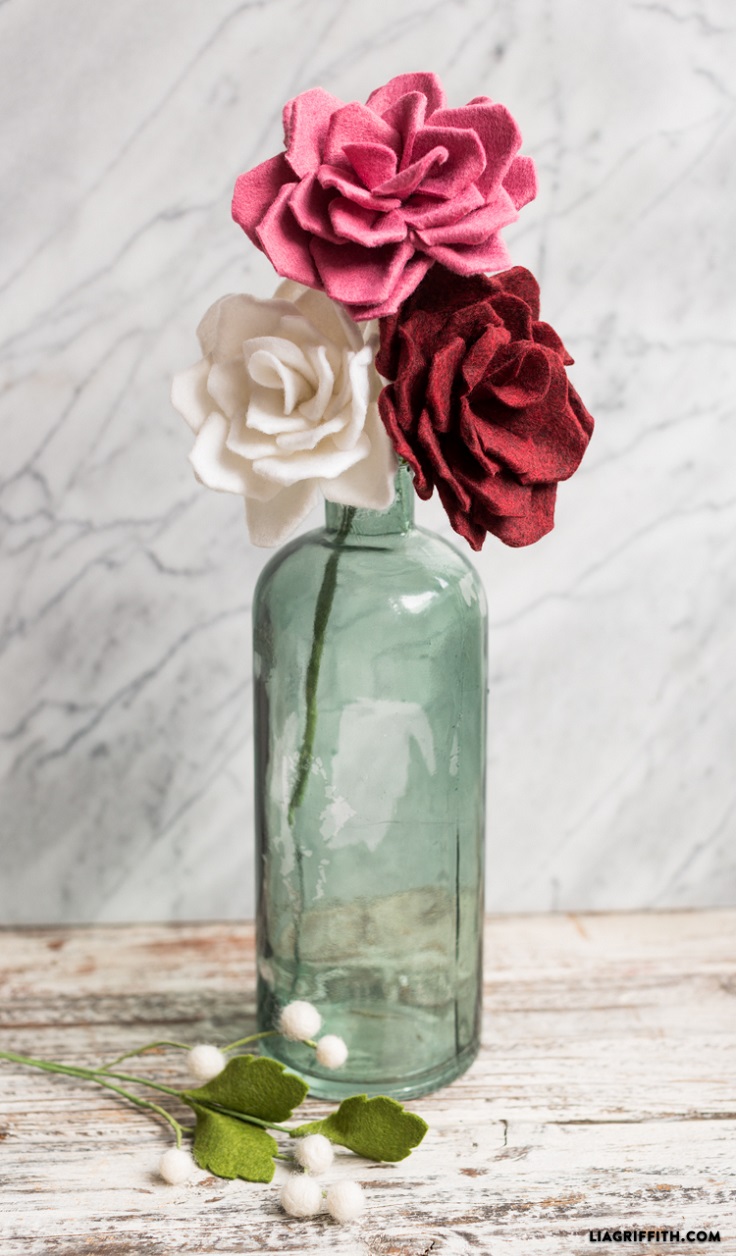 via liagriffith.com
There are countless of projects that can make with and out of felt. Since we're all about spring inspiration, take a look at these felt roses. They lack the freshness of the real flowers, but on the bright side, the felt roses will last longer! Besides the felt, you'll need floral stem wire, floral tape, low temperature glue gun and rose bouquet pattern.
8. Fun Spring Embroidery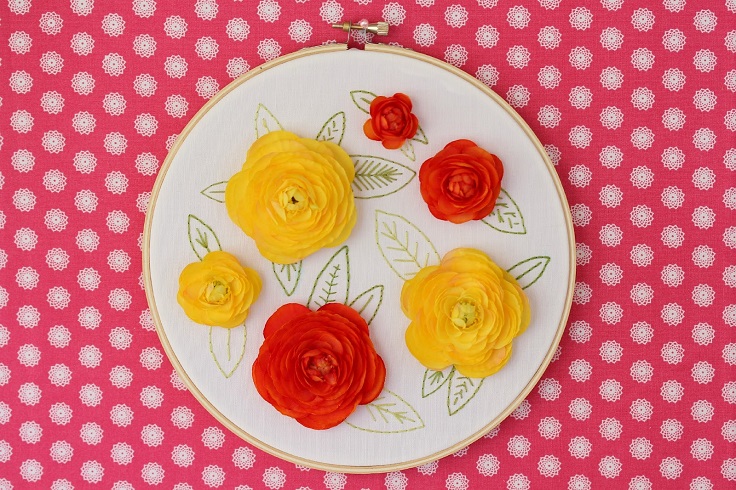 And now something for those are passionate about embroidery projects. For this pretty floral embroidery, you need embroidery hoop, fabric, fake flowers, embroidery thread and needle, water soluble marking pen, hot glue gun and scissors. Play with the flowers and their colors – pick the ones that will suit the decor in the room the best.
9. Floral Vans Restyle
via alwaysrooney.com
If you thought that the Vans on the picture were bought like this, well you're wrong. These are just regular white Vans that have iron-on printer paper. We must admit – we fell in love with these canvas shoes the moment we saw them! If you also like to have a pair like this one, get a new or old pair of Vans or similar and buy an iron-on printer paper. Just follow the instructions for applying the paper and that's it.
10. Blooming Monogram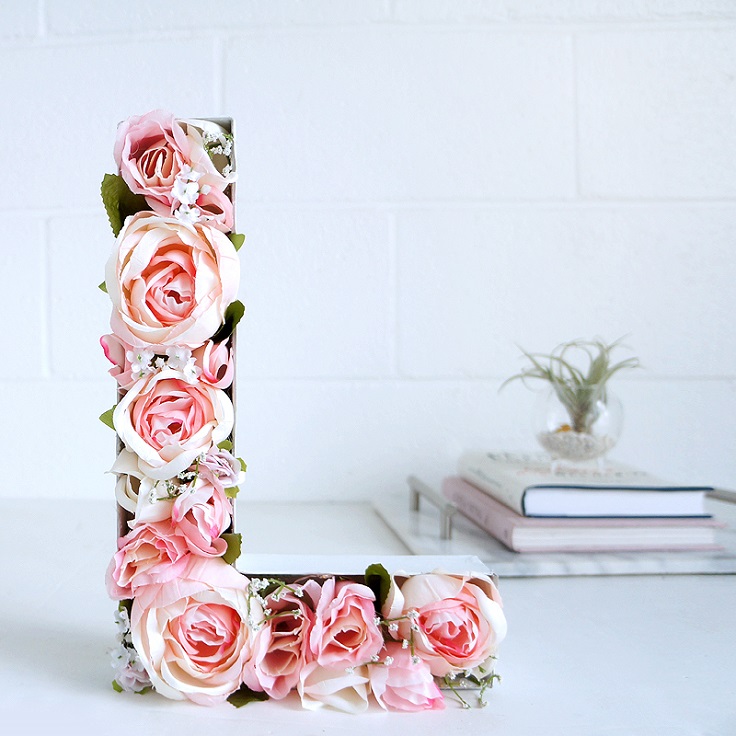 via blog.lulus.com
Monograms are a great decor for any room. They are budget – friendly are easy even for DIY beginners. To make your own monogram, you'll need hot glue gun & glue sticks, scissors, fake flowers of your choice & color, can of white spray paint, paper mache letter and X-Acto knife. You can choose roses, baby's breath and white daises such as the pictured project, but feel free to experiment more.