Gift wrapping is such a fun and easy thing to do! You need few items and a little bit of imagination and creativity. Sometimes, the wrapping is what makes the gift look very special. So, if you think that your gift isn't something spectacular, then try wrapping it that way.
No matter if it is a birthday party or family gathering, your boyfriend or sister, there are many, many ideas for you to consider and many ways to wrap the gifts! From lace to fabric, you have plenty of decorations to do it yourself. So, check out these ten wrapping ideas and choose your favorite.
1. Love Wrap
Valentine's day was a few months ago, but that doesn't mean that you should surprise your beloved one with a gift – especially if it is this cute wrapped.  To make wrapping like this one, you need secondary color paper, in this case, that is glitter scrapbook paper, cardstock or a business card, x-acto knife, pencil or pen, scissors, wrapping paper, and cutting board.
2. Hand Stamped Gift Wrap
Creative, isn't it? Before you start making this wrap, there are few tips to follow. You should be aware that the image will reverse when printed, and you should not keep your fingers in front of the blade because that way, you can cut yourself. Remember this and enjoy the process of making a wonderful wrap. Make different shapes, use more ink colors, use your imagination.
3. Fabric Tag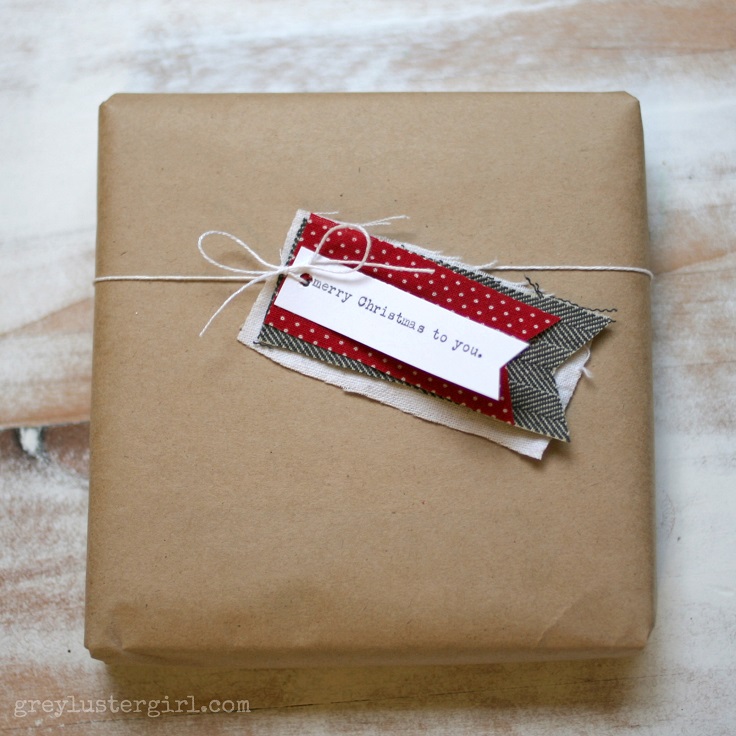 via greylustergirl.com
For this wrapping, you just need kraft paper and few pieces of scrap fabric. Cut those pieces into rectangles and pennants. Don't forget to add a note as well. This wrapping can be perfect during the holiday season, but you can use it for any other occasion two. The note can be everything you want, quote, thought, wishes, and so on.
4. Gift Wrap with Kraft Paper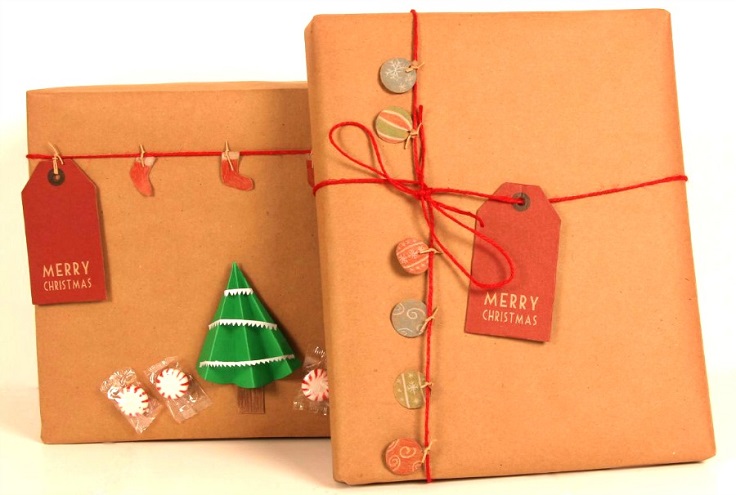 via mommygaga.com
Here's another idea of how to wrap a gift with kraft paper. When it comes to wrapping, the kraft is a very good choice because it's eco friendly – it is recycled, unbleached, and biodegradable. Like the previous idea, this one is meant for the holidays, but that doesn't mean that you can't experiment with your own ideas.
5. Lace Washi Wrap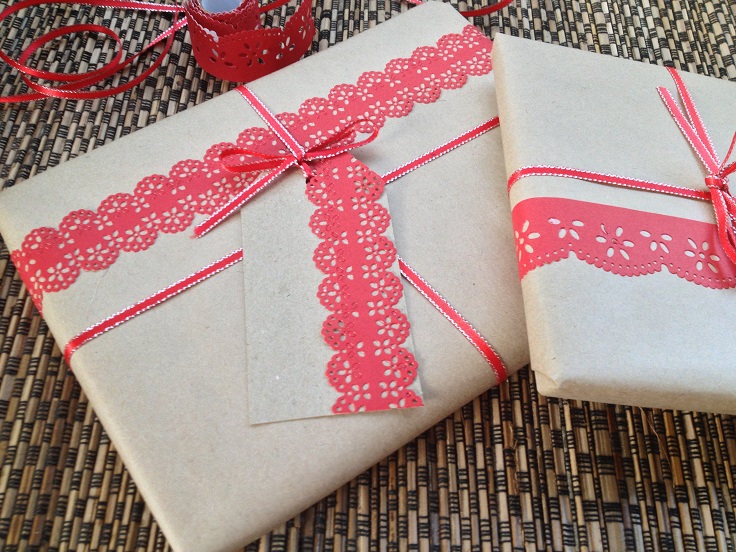 via happylittlekiwi.com
Lace is a very elegant choice, especially when it comes together with a ribbon and kraft paper. This wrap is really easy to make. You need the kraft paper and the lace, glue, and scissors. You cut the lace in the shape you want, and then you stick it on the paper. For a simple decoration that means much when it comes to looking good wrap, try with the ribbons, and you're done.
6. Fingerprint Wrapping Paper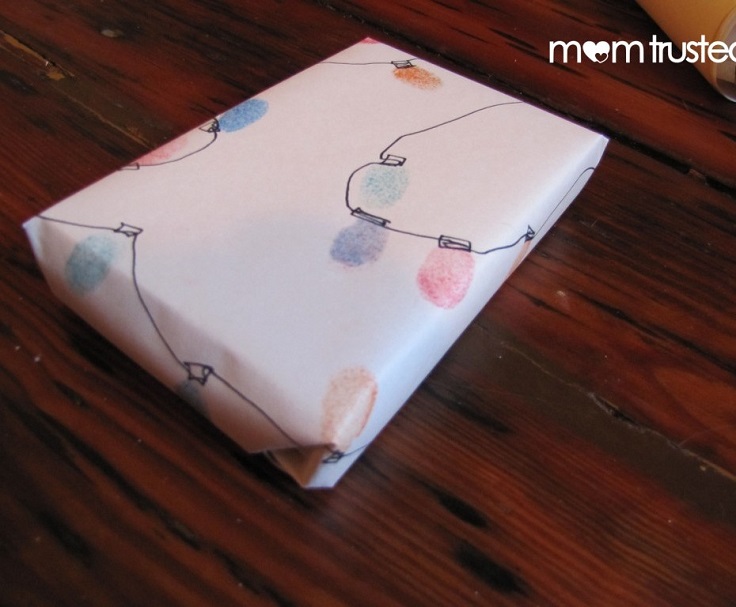 via earlyteacher.com
This wrapping gift idea is very creative and very simple. To make it, you need stamp pads, wipes for fingers in-between colors, a roll of paper, a black felt pen and a big space where you can work. Before changing colors, clean your finger with a wet paper towel unless you want shady colors. When you're done with the fingerprint lights, connect them and make your string of light.
7. Fabric Poppy Flower
For many, this won't be a piece of cake, but the effort you'll put into making these flower toppers is so worth it. If you don't know how to make the chiffon poppy flowers by yourself, there's a video on the blog showing you how to do it. The rest is just following the given instructions. Everyone will be amazed at what you did with few materials!
8. DIY Wooden Toggle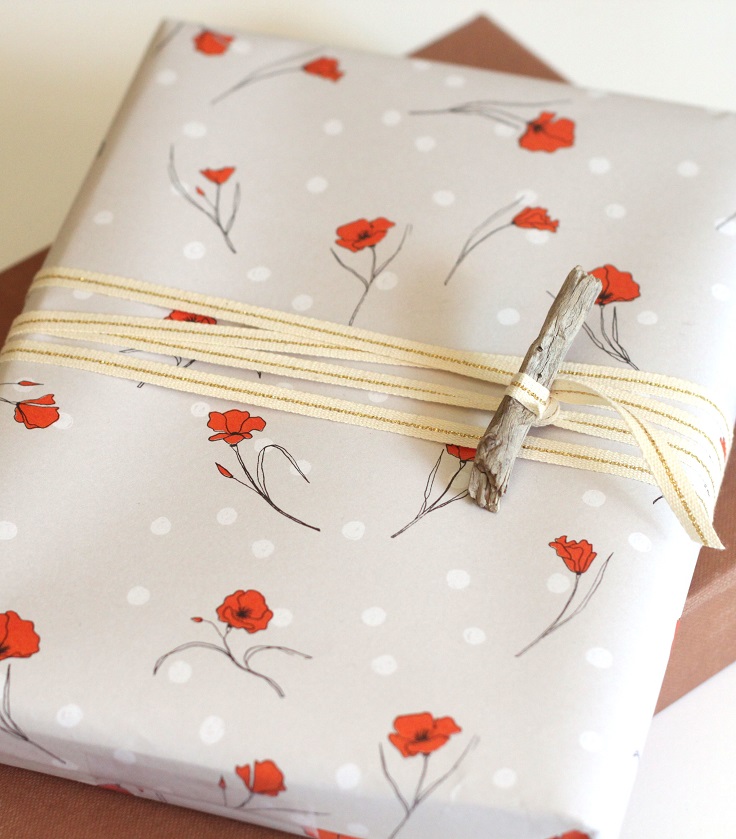 To make this wrapping, first, you need to find a small piece of wood and tie the end of a ribbon to it. Cover your gift with the desired paper. The next step is to wrap the ribbon couple of times around the gift. If you prefer, try only once or twice wrapping it. The wood is a unique decoration that can add the difference to a wrapping.
9. Summer Gift Wraps
via berries.com
Aren't they all very, very cute? They definitely give away a summer feeling. These wrappings are a great idea for a birthday gift for a friend born in summer. The blog offers five summer wrapping ideas: whimsical feather, sweet summer watermelon, festive party flags, buzzy bee, and ice cream dream. Choose your favorite one and have fun!
10. Fabric Gift Wrap
via erinzam.com
You need a cloth napkin for this wrapping, but you can use other materials such as scarves and squares of fabric. Adding a little note in between is very lovely too. Write something meaningful because that will make the whole gift and wrapping thing even better.