There's always something more that you can do in your home! It can be the tiniest new detail or giving a total makeover to a room. The best part of these changes is that you can bring them yourself, especially when it comes to decorating – a DIY approach is something you can benefit from a lot yet have fun at the same time without spending lots of money.
For this month, we've picked ten projects for you that you can use for decorating any of your rooms. Most of the shown crafts are really simple and budget-friendly, and if done the right way, they can be a great gift for a person we love! Check out what we have for you and tell us which one you like the most.
1. Chicken Wire Photo Frame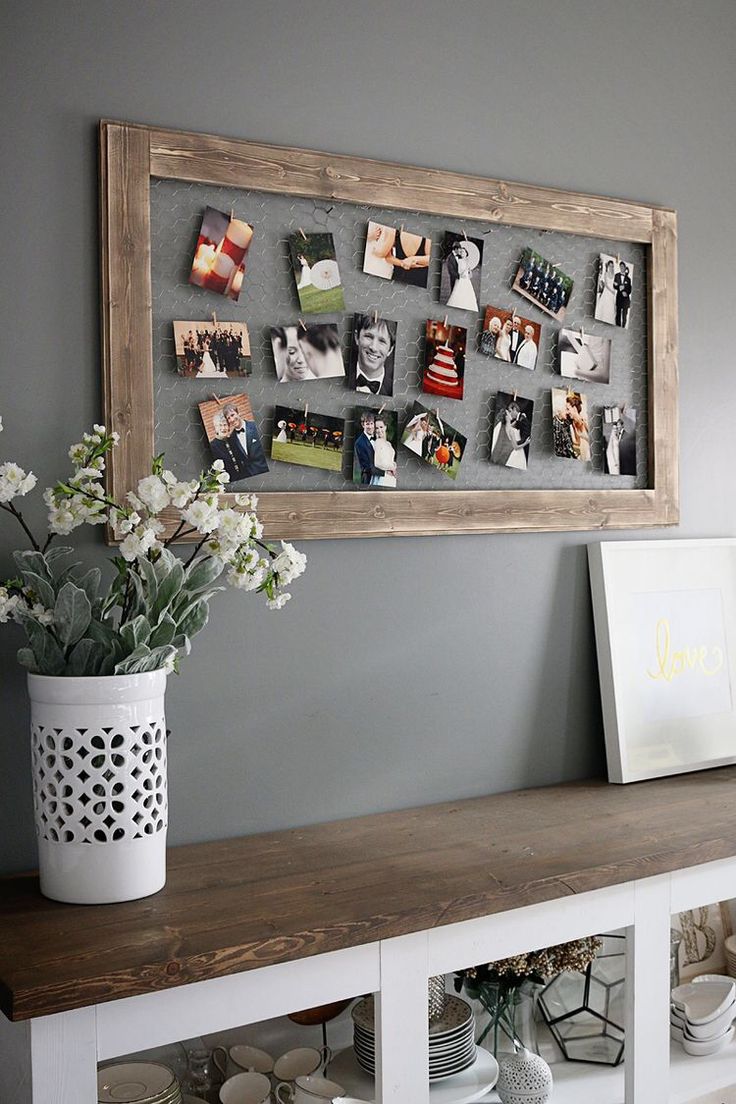 There are so many DIY photo frames, and so far, this one is seriously one of our favorites. It's simple, good-looking, and depending on the materials' size, it can leave you with plenty of space for all of your photos. For this project, you need 1×4's and chicken wire, but you will also need some DIY tools such as a drilling machine and paint if you want to give the wood another look.
2. Gold Leaf Planters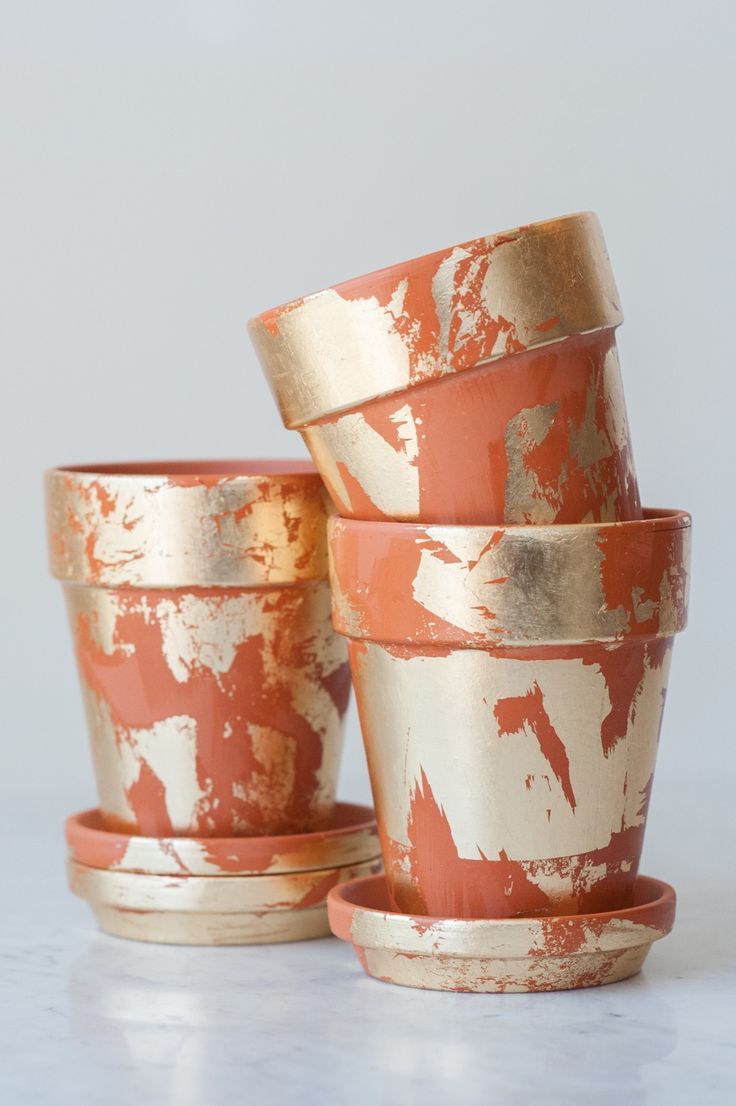 Spring is coming soon, so it's time to prepare our home for all the pretty flowers we can take in! This means getting new or giving another look at the pots we already have. If you feel crafty and choose the second option, here's an idea to help –  gold leaf pots. You need terra cotta pots, clean craft brushes, gold leaf sheets, gold leaf size, and a gold leaf sealer for this project.
3. Key Holder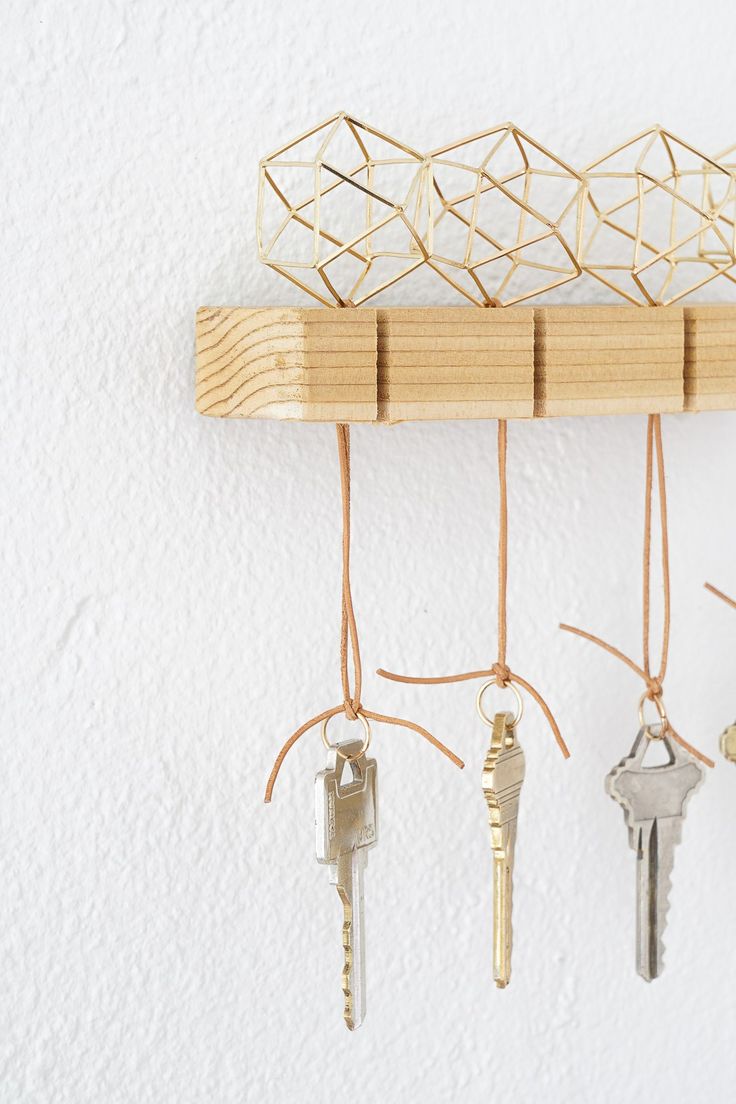 Keyholders don't have to be just practical – they can look adorable too! Forget about the store-bought, dull key holders and make your own; it's really simple and fun as well. Geometry is always inspiring, so that's why we'll take some of that inspiration with us for this idea. Here's what you need: rotary tool, 1″ x 2″ piece of wood, 2 keyhole hangers, screwdriver, 1.5 mm round leather cording, 4 gold jump rings or split rings, 4 caged necklace pendants, wire cutter, needle nose pliers, scissors, pencil, and ruler.
4. 

Art Deco Vanity Tray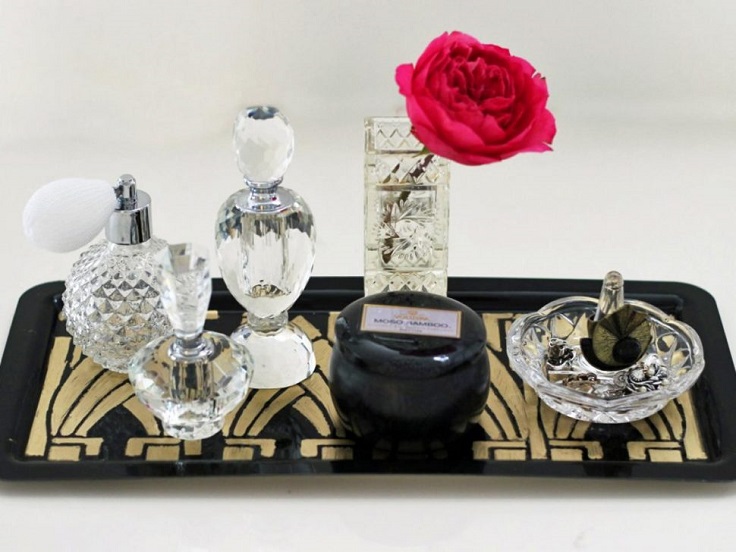 via hgtv.com
The vanity tray is the perfect table decoration for your living room, bedroom, or hallway. If you want a more classy look, get some inspiration from the 1920's art deco style. You can't go wrong with this one! To make your own vanity tray, you need a tray (wooden, stainless steel, etc.), black spray paint, art deco stencil, painter's tape, acrylic craft paint in gold a paintbrush.
5. Floral Monogram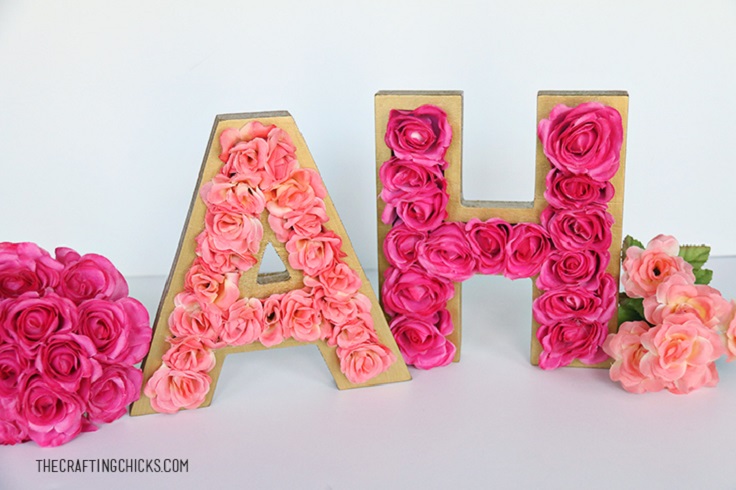 You don't have to wait for spring to bring some flower bloom at home. In fact, it's going to feel super lovely if the weather outside is gloomy and grey and you have such beautiful, bold-colored flowers to cheer the atmosphere up! A floral monogram is a truly amazing decoration that can be put in any room. Here's what you need: carved wood letters, gold paint, sponge paintbrush, flower bundles, hot glue gun, and hot glue sticks.
6. Twig Votive Candle Holders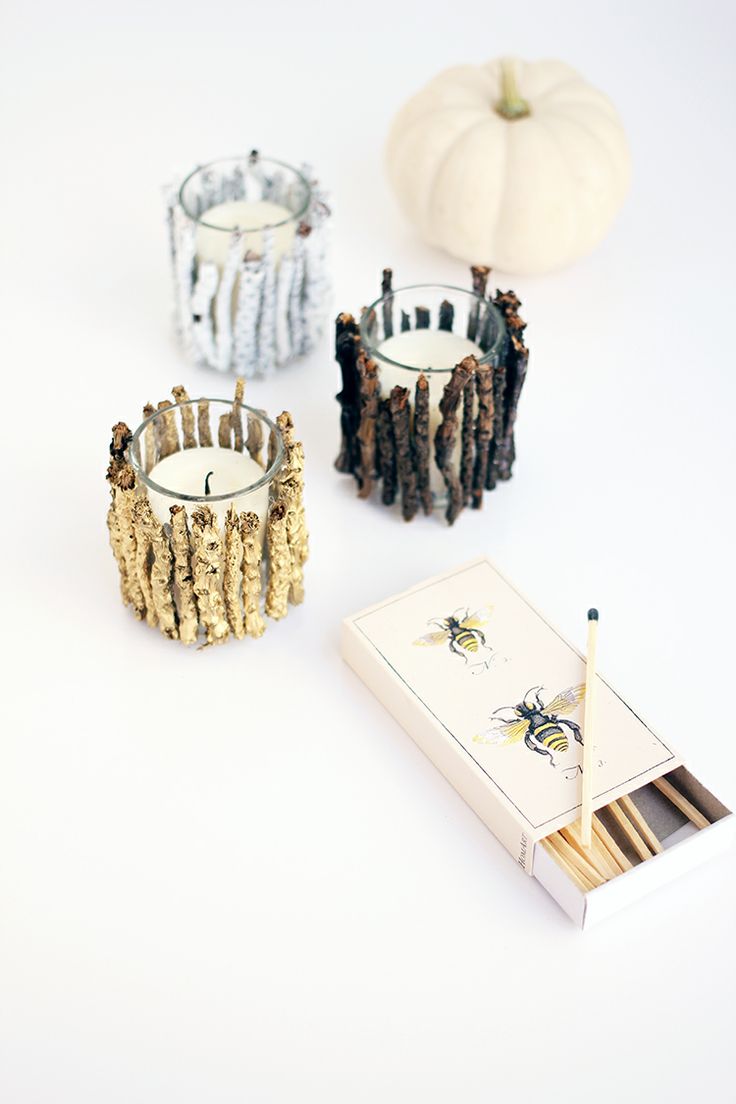 via freutcake.com
Even the candles themselves can be a nice decor, but with the right candle holders, they can turn out to be the perfect little decor that would fit any room of your home. This project is super easy and will take you just a short time to have everything done! You need glass votives, votive candles, twigs, gold and white spray paint, a hot glue gun & glue. Having candles will be such a nice experience!
7. Pom Pom Wall Hanging
via burkatron.com
There's something about pom poms that make them so fun and adorable at the same. They're the perfect decor to brighten up the room's atmosphere and make it look amazing at the same time. You can make them yourself or just get some store-bought. You will also need white thread and branch. It's a budget-friendly project that will take you no time to have attached to your wall!
8. Home Sign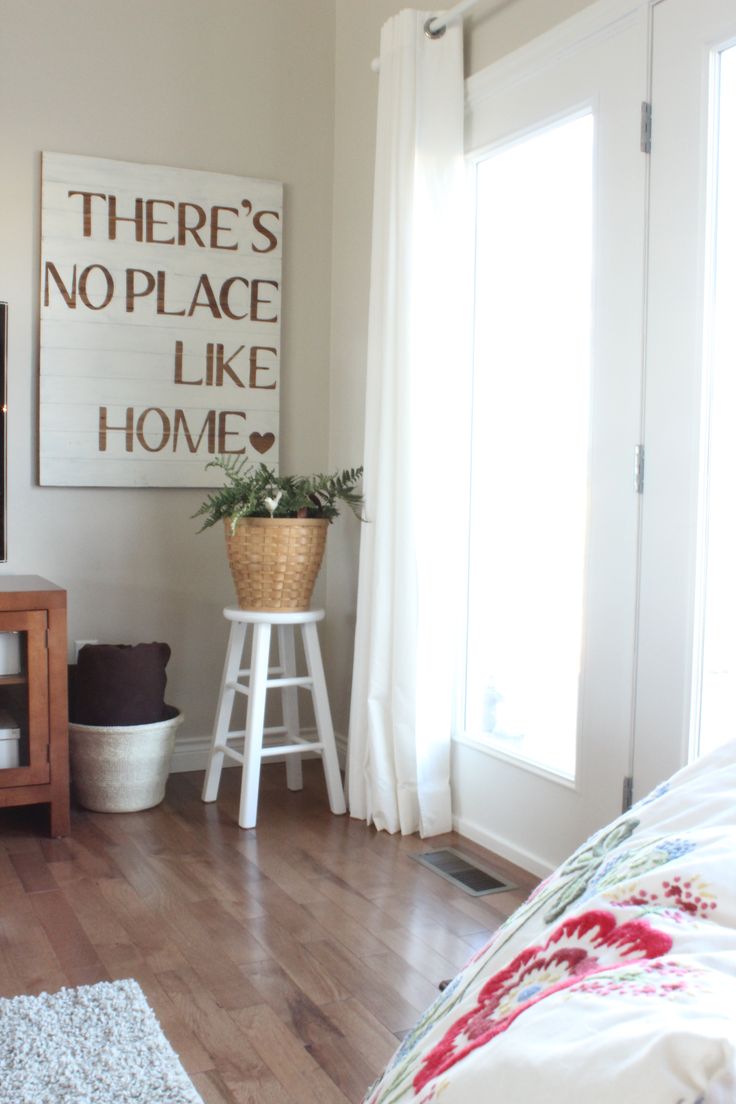 What's a better way to bring home-sweet-home vibes? Hanging a sign with a sweet home-related quote is going to give you such a warm feeling of being home – it's going to be your favorite place for one more reason too! This project is simple. However, it isn't something you do last minute – it will take you some time depending on your DIY skills and access to tools.
9. Tassel Basket
via honestlywtf.com
Sometimes there are those little things that take too much space, but then again, you feel like they don't belong everywhere! Instead of throwing them away, find them their own space, like a cute woven basket decorated with tiny blue tassels! You can put whatever you want inside, and you're going to love this project because it is very practical as well. Besides the basket, you also need embroidery floss, scissors, and an embroidery needle.
10. Enamel Mug Organizer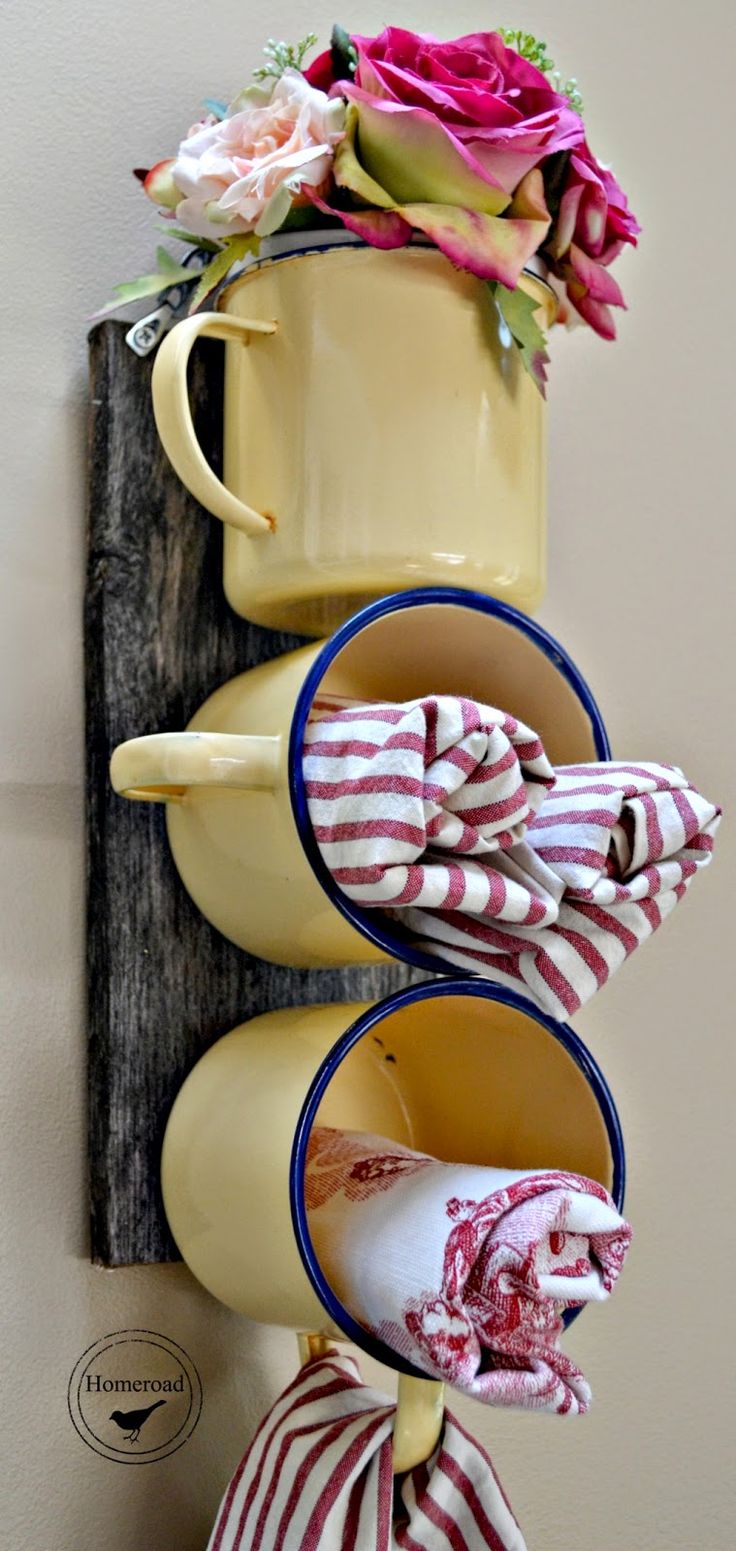 via homeroad.net
Isn't this one of the cutest DIY projects you've ever seen? We've surely fallen in love with it the moment we've seen it! This project can be used in any room, as you can use the mugs to store different things. Here's an idea of how you can use it in your kitchen for storing kitchen linens. All you need for this project are mugs, screws, glue, and a piece of the small wooden board.