Working in an office can be stressful sometimes, especially when you can't organize your stuff.  You will spend precious time looking for the papers you had just this morning, or something as simple as a pen.
If you want to avoid this from happening, you should most definitely reconsider reorganizing your workplace. These top 10 DIY projects are everything you need to organize your office and your home office.
From shelves to save on space to life hacks on how to deal with all those chords all over your desk, use these ideas and save on time and patience. Just follow these simple projects, and you will see yourself getting more productive than ever!
1. If You Don't Have Enough Space, Install Open Shelving
via architectureartdesigns.com
If your desk is messy and you need your space, you should consider keeping the desk surface clear by adding a book spine to your office. These easy-to-build shelves allow you to stack magazines and books in close proximity while freeing up space on your desk. They are easily made, you just need to put a little effort and time into this project, and you will get great open shelving where all of your papers will have their place, and it will be easier for you to keep your work organized.
2. Use Baby Jars As Holders
via curbly.com
You might have already seen something similar to this, and applying it to a home office would be a perfect way to store paperclips, rubber bands, etc. To make this simple yet very helpful DIY project, remove the desired shelf and place it upside down on the work surface. Space the lids two inches from another. Screw, nail, or hot glue the lid in place. Return to shelf and screw in the jars. Fill the jars with paperclips, maybe pencils or whatever you think you need the most.
3. Binder Clips To De-Tangle Cords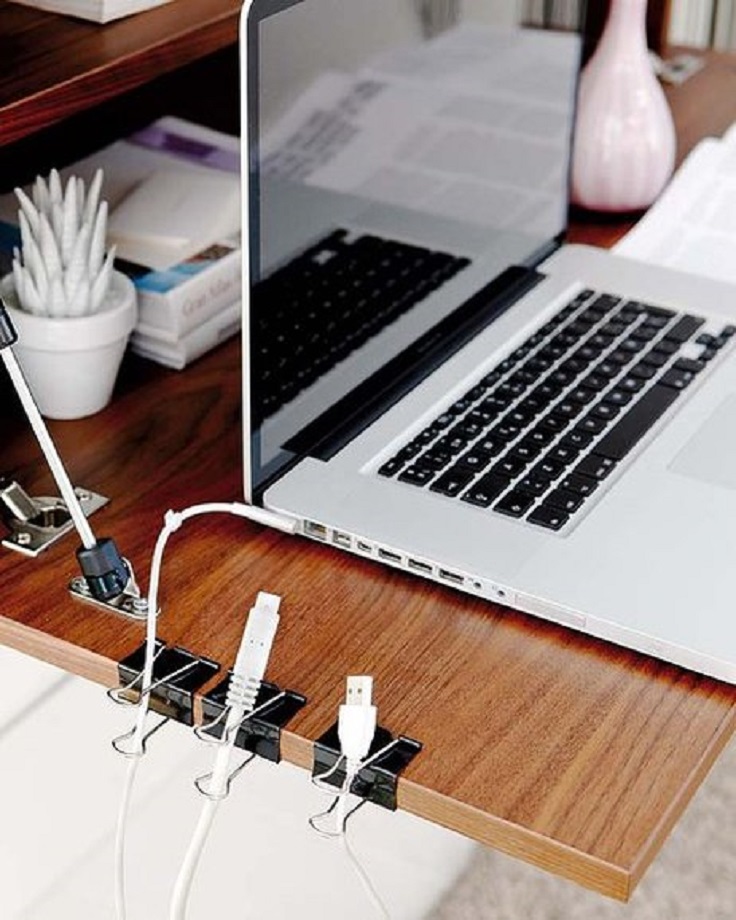 via lifehack.org
The cable from your laptop, the lamp cable, all of the chargers all make the desk and your office space looks messy. However, the most irritating thing about them is that they are always tangled, and you can't find the right one without losing so much time. Therefore this will help you with the problem. Just clip binder clips to the side of a desk to hold the cables, then through the metal part to keep cords tangle-free. You will immediately see the difference.
4. Shoe Box Desk Caddy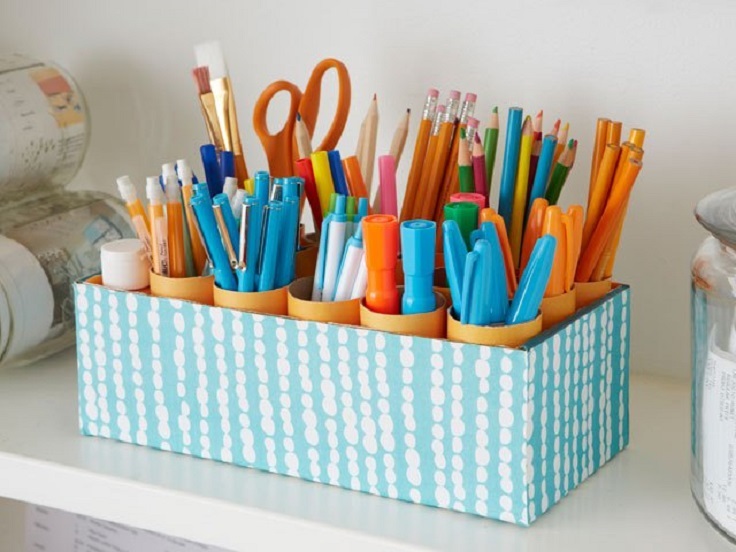 This is another easy project, and first of all, start by covering a shoebox in decorative paper or fabric and brushing on a liquid adhesive such as Mod Podge to adhere. After that, you can collect cardboard cores from rolls of toilet paper or paper towels and cut them so that each extends about 1/2″ above the box's edge. Cover the cores in a solid contrasting paper, securing the paper with tape. Arrange cores in the box, using a little glue to attach them and to the sides of the box. Now you have a great place to hold writing implements and brushes, scissors, and other craft supplies. Another great idea is to pin together shoe boxes with clips, as shelves, to store light books and papers on the wall.
5. Drawer Dividers
via hgtv.com
Large drawers are great for storing paperwork but not that great for other than that. Small desk items usually get lost in the back of the drawer, and you can't always find what you need. So it's better if they're separated into small sections with drawer dividers to help keep everything organized. The easiest way to make these drawer dividers is by using cardboard.
6. Organizer Made From An Old Frame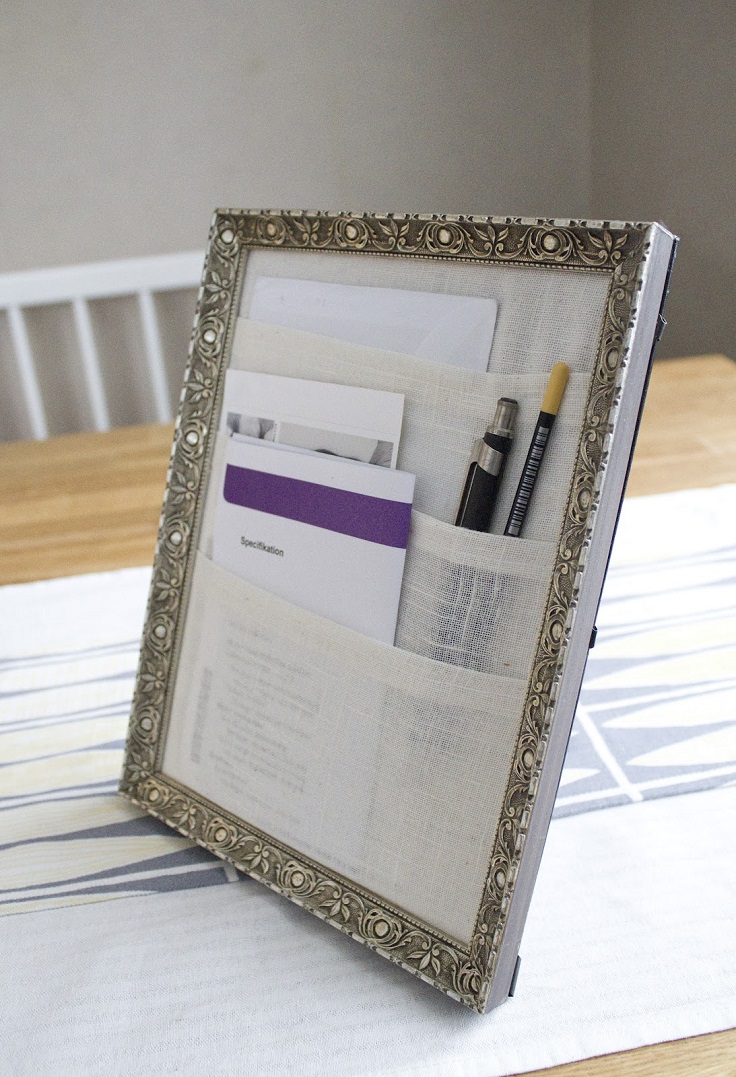 For this helpful and interesting project, you will only need a frame, fabric, and glue. You won't be spending much time making it or money, but it's going to look great on your office desk. Also, the thing you need the most will always be within your reach.
7. DIY Gold + Acrylic Clipboards

via designsponge.com
If you want a place for your to-do lists, calendars, ideas, and inspirations, this idea for gold and acrylic clipboards is going to be perfect for you. This DIY project could not be any easier, and you can make it in so many ways, customizing with different paint colors and backing board materials. All you're going to need are large clipboards, some gold spray paint, and screw hooks. When you're finished with the project, your desk is going to look lovely with this frame, and you'll have all of your important things in plain sight.
8. Old Book-Based Mail Organizer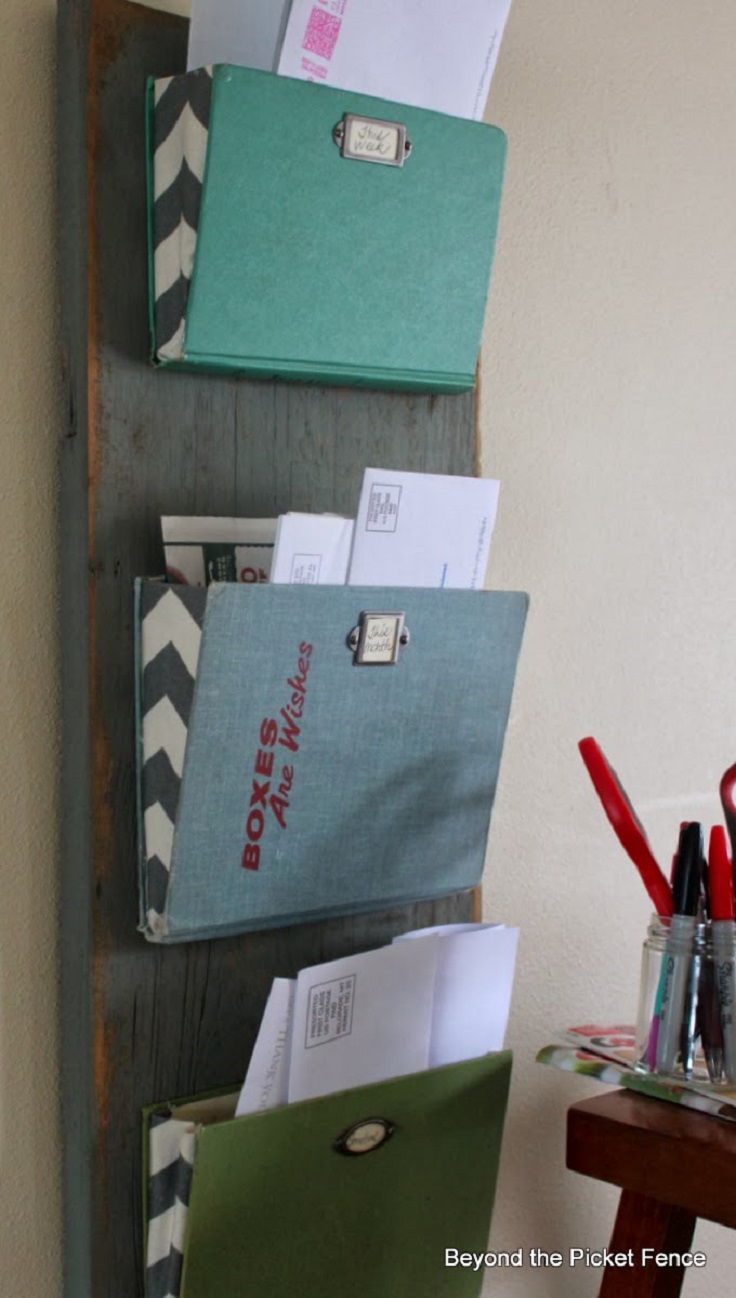 It might seem a little outdated since all of your mail now goes through your computer, but if you ever need to make sure that all the mail and correspondence is stored appropriately, this will help you a lot. An advice to you, never throw away your old business mail, for you might never know when you will need them again. However, instead of letting your mail pile up on your desk, you should consider sorting out all the letters efficiently. You will use old book covers, the bigger, the better, and fabric for this purpose. It might take you some time, but it's very helpful, and it looks great!
9. Office And Desk Organization With Washi Tape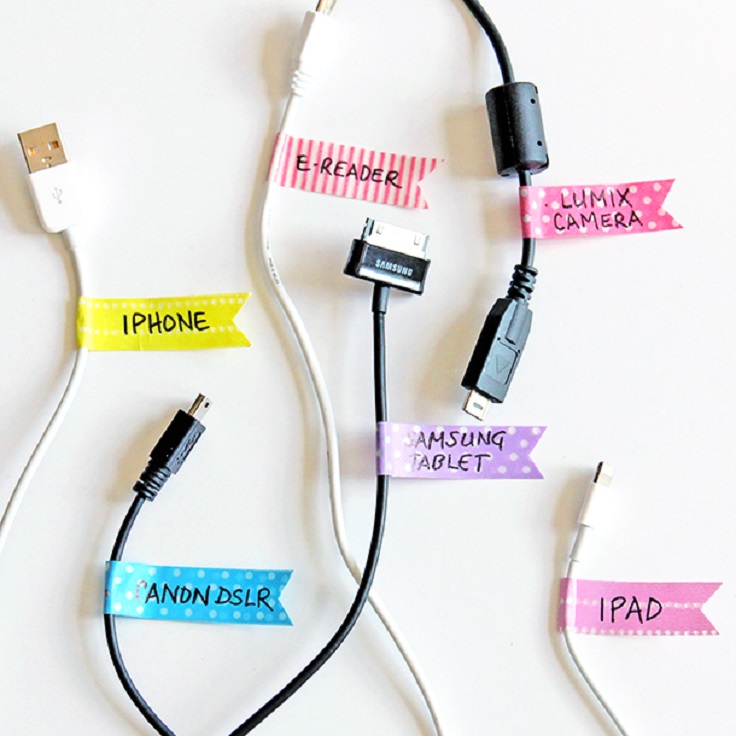 This is another helpful project to help you organize those irritating cables and charge cords. Since there are so many on the work desk, you will want them to be in some kind of order, won't you? If so, try using washi tape. It's going to look really interesting because you can choose from all those fun colors and designs. Simply cut off a length of washi tape, wrap around the cord, trim the end and use a sharpie to write the device's name on the tape.
10. Decorated Magazine Holders
Magazines, papers, documents, whatever you need them for. These magazine holders are actually simple wooden magazine holders that you can buy from IKEA or other stores but decorated with colorful paper. They are very practical, and they look really fun. There are so many different ways you could customize these files; the choice is yours. Try something colorful to make your office look more comfortable, rather than a boring four-walled space.