A perfect addition to every kitchen area is the kitchen island. In order to allow for extra seating and kitchen workspace, we put this one together. The development of a DIY kitchen island with a little know-how and some cost-effective resources is not too difficult.
You may have an old table laying in your basement, an old cupboard that seems rotten and useless, or your friends are giving away their old furniture for free. Also, many thrift stores sell different pieces of furniture that might be useful in your kitchen. These items can be a really good starting point for your upgraded kitchen. You can make the old into new or the other way round – from new into an antique-looking kitchen island to match the overall look of your kitchen. Use all your creativity and imagination and turn your kitchen into the most favorite room of your house.
Have a look at the tutorials below to get you even more inspired and to learn new tips and tricks you never knew before, but you might need them in the future.
Bookshelf Kitchen Island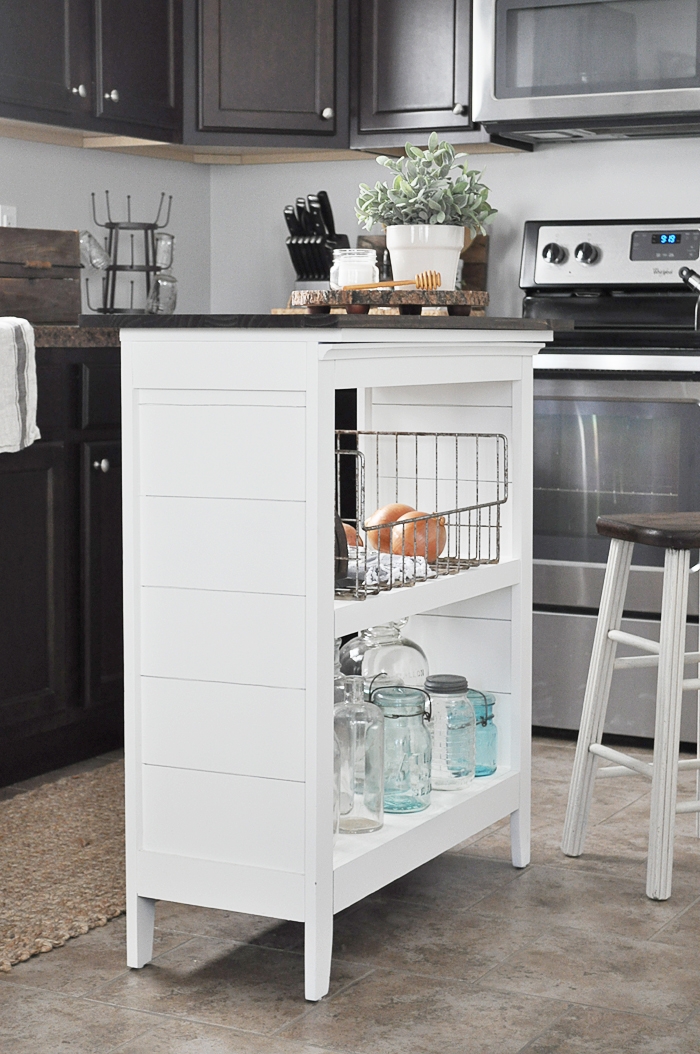 For years, this bookcase had not seen the light of day. It has been sitting around for ages without any use at all. Think again before throwing it away. Haul it to your new kitchen upstairs, and bingo! The perfect match for a little Kitchen Island bookshelf! And your kitchen sure needs it!
Thrifty DIY kitchen island transformation
Here is an idea of how to transform an old kitchen element into a lovely island. If you got it from your grandma's place, or you are emotionally attached to it, transform it into a lovely kitchen island by adding a larger countertop and working space. The additional matching legs give an extra sitting and eating area to your kitchen, so go for it!
Rustic Rolling Island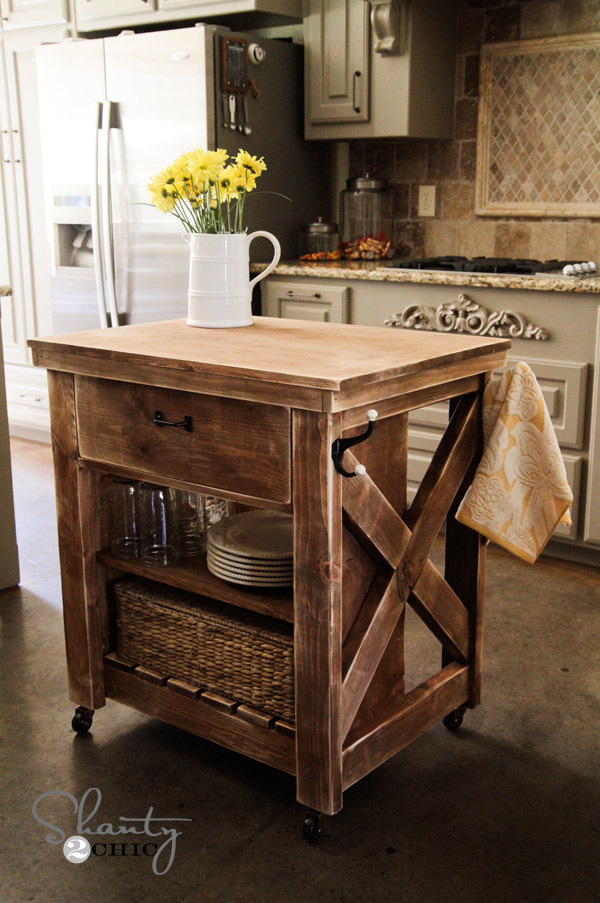 Under $100 for a kitchen island built from scratch? Why not. With the right skills and tools, you can easily build this kitchen island yourself, and tailor it to your space and needs. Paint it in the color or tone to match your kitchen and add some wheels to make it mobile. It will perfectly complete your kitchen and your style.
Trash Storage Island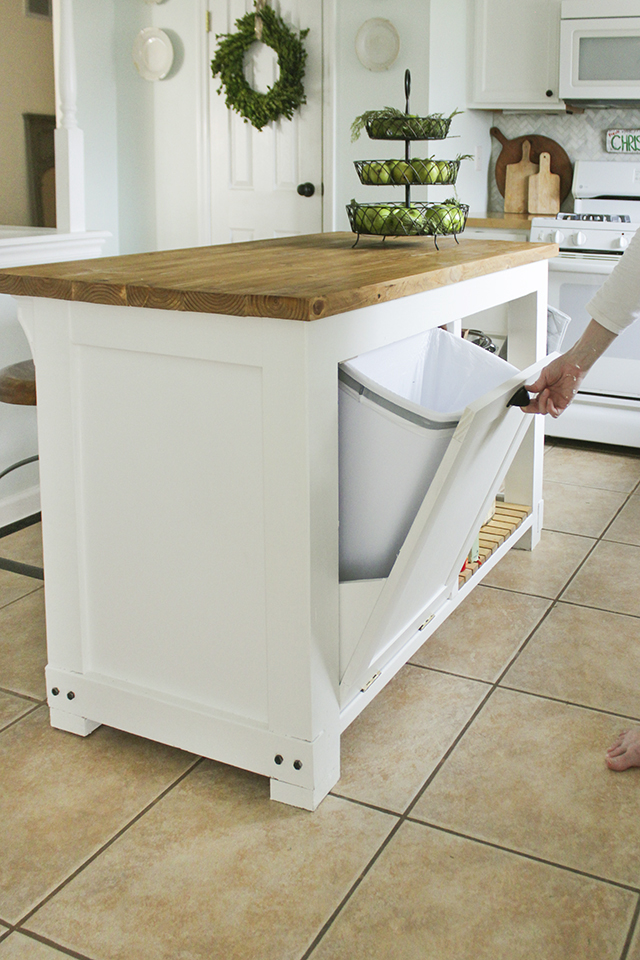 If your trash bin is sitting against a wall, it is not only unsightly, but it also creates wasted space around it. This is a million times better way to store your garbage bin and use the space wisely. Your kitchen island doesn't always have to be used for plates and kitchen tools. Make it wide enough to store a large garbage bin to keep your kitchen clean, and your bin right at hand.
Kitchen Island – From New Unfinished Furniture to Antique
Ideally, you would like a real antique table from a thrift store. If you can find an affordable new island or table that works for you, great. But what if you are given a used table for free? Free is very good. Now, is it a little "too new" looking or not exactly what you want? Make it look older! Turn it into an antique! Easy peasy!
White Kitchen Island
If you have an old sofa table laying in the corner of your basement, use it wisely. This tutorial shows you how to easily turn an old table into a useful kitchen island only for a dime. It literally takes a day to make it, and it lasts for ages. The usefulness it brings is everlasting, and the joy in your kitchen will be enormous.
Black Mobile Kitchen Island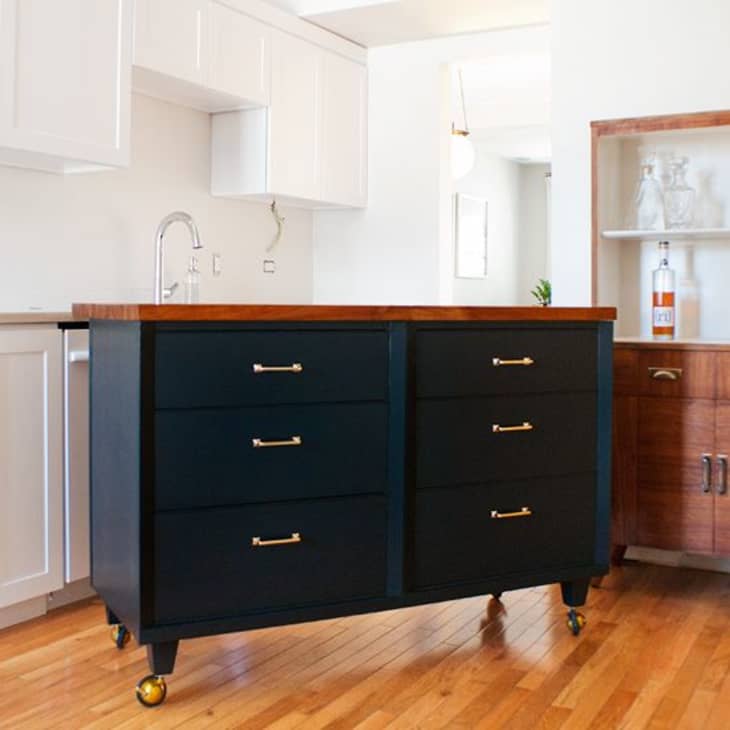 If your kitchen is oddly shaped, and you really need a kitchen island that will not make moving around the kitchen a special skills task, this is the right thing to do. Convert the existing island into a mobile one. And paint it black to give your kitchen a great contrast. Make sure you have the right countertop to ease your work on it.
Portable Kitchen Island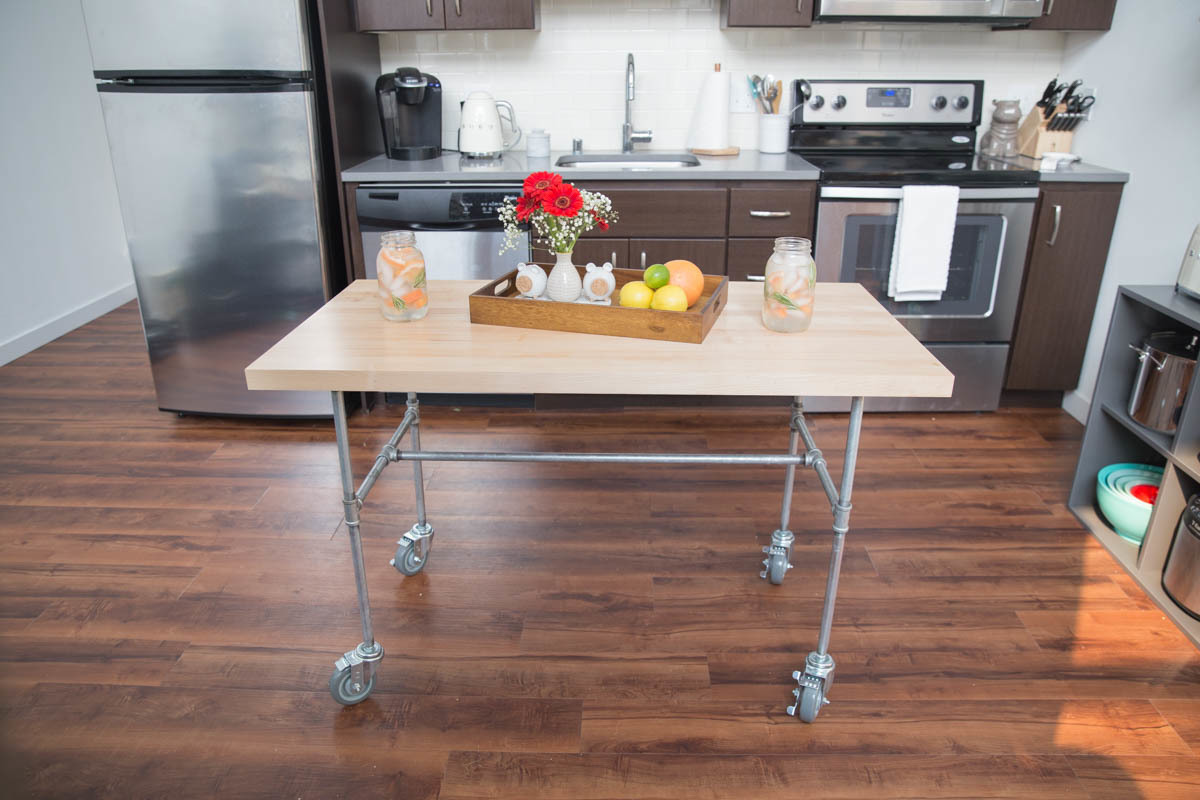 This cool DIY kitchen cart on wheels was made of some butcher block and some tubing from the home improvement shop. This simple island of DIY cooking is made of butcher block and some lumber. The soft gray color of the foundation and plenty of kitchen storage is applied to the shelving. For a smaller kitchen, you could scale this down in size.
DIY Kitchen Island From a Dresser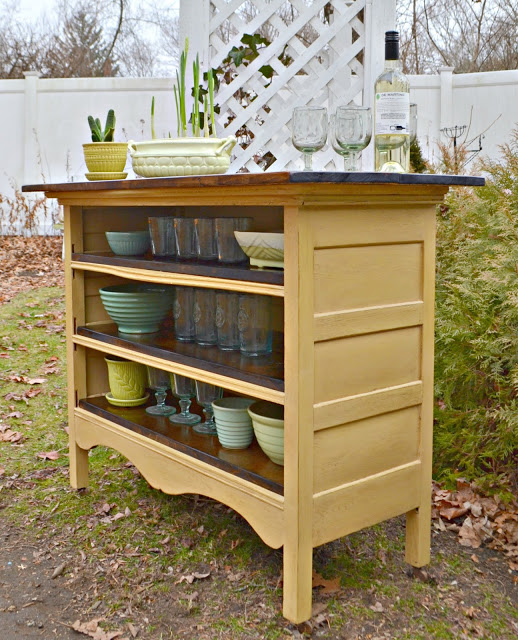 This kitchen island is made from an old dresser. It is also on wheels, so you can move it out in the garden for your best garden parties. You can paint it in any color you want and make it the perfect element of your indoor and outdoor kitchen. The opening from the drawers are easily turned into shelves, and the top is converted into a great shelf.
Double Bookshelf Kitchen Island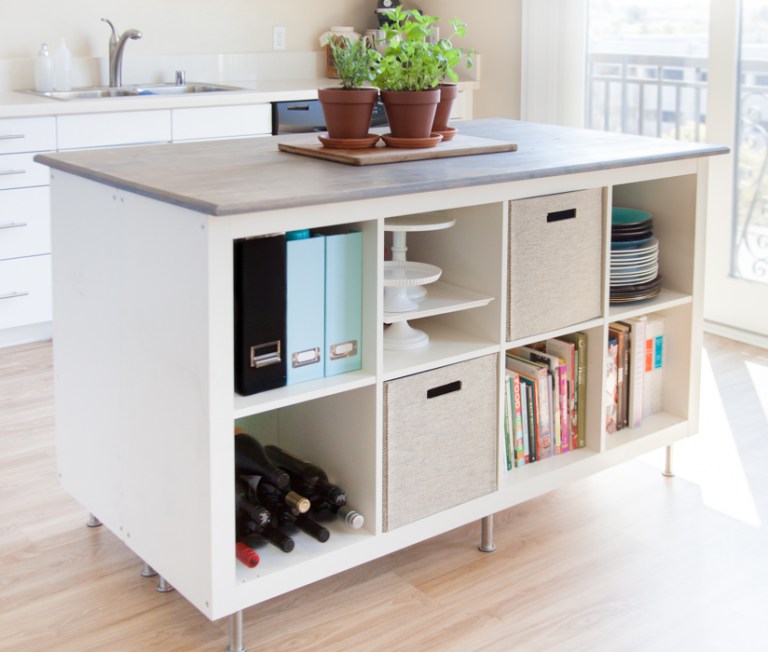 Storage for kitchens. Really, is there ever enough? In my case, the response to that was always NO! Join the DIY kitchen island project that has turned our old furniture into a mad functional thing. This is a combination of an old table and two bookshelves turned on the side and joined together on their backs. The table is only put on the top to give you more counter space.
Now that you've seen our list, get inspired and creative to craft your own kitchen island. And don't forget to share it with us in the comments below.