You don't have to be Picasso or Van Gog to make some pretty paintings to decorate your home. It is always nice to have some beautiful art on your wall to bright up the space, but they can get pretty much expensive though. So, we have the best solution for you! Why don't you try to make this easy step by step budget friendly diy painting projects? If you follow the exact instructions, there are only little chances that you can go wrong, or just choose to declare your painting as a abstract art. That always works!
This could be very fun project for you to do, which will help you relax and bring your creative side on the surface. Start working the paint and the imagination together and there are absolutely no obstacles for you. We are sure that what ever the results are everyone will love the new house painting and in the same time you will save money.
1. DIY Herringbone Metallic Artwork: Easy & Cheap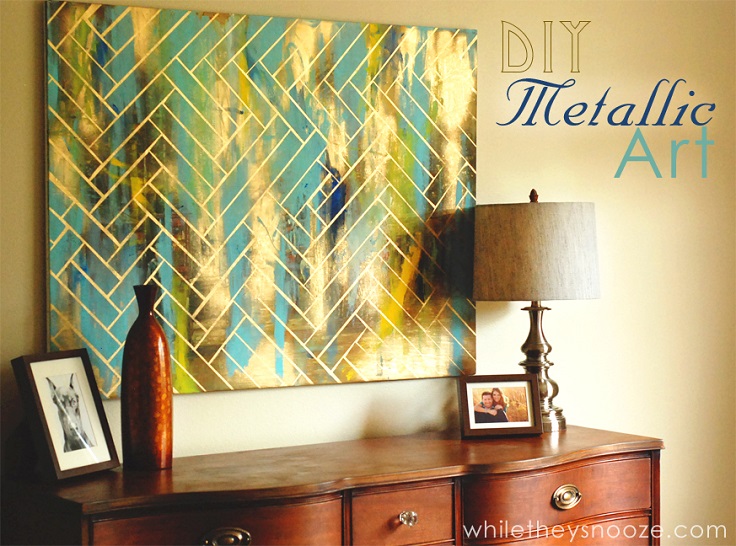 via whiletheysnooze.blogspot.com
Get inspired from the herringbone shape and create this beautiful painting with natural colors. You can choose the size that you want and it can go in every area of your home: living room, bedroom or the hallway.
2. DIY Pinwheel Painting
via avarinecreative.com
For all that bare walls in your home that need a pop of color, this is an amazing way to bring them into life. This painting is so easy to do, that you can even give it to your children do to it.
3. DIY Ombre Painting
via thepinkdoormat.blogspot.com
How adorable looks this initial painting with an beautiful ombre green background? It may take a little longer to make, but the result is totally worth it. You can make it as your home decor or give it to someone as a gift.
4. DIY Quotes on Canvas
via six2eleven.net
This is one of the best ideas that we have yet seen! The unique paper design looks so professional but it is easily doable at home. Open the link to find out just exactly how you can make it.
5. DIY Paint Chip Project
Cam you recognize the peacock in the picture? It somehow looks 3D and interesting, and it's really hard to tell that it actually is an diy project. You can chose the color pallet that will suit your home the best, and start this easy peacock.
6. Simple But Striking DIY Painting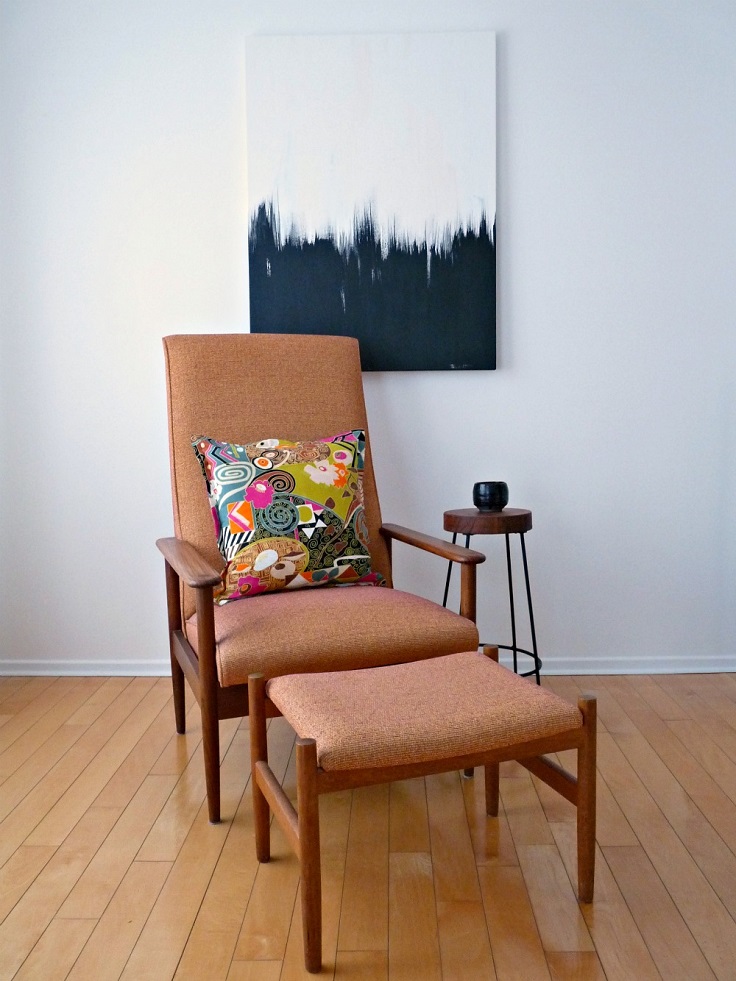 via dans-le-townhouse.blogspot.com
Less is more, right? Black and white are the most simple colors that exist, and together are showing the beautiful meaning of yin and yang, This particular image is so easy to recreate and it will still look like some pro did it.
7. Graphic Canvas Painting Using Tape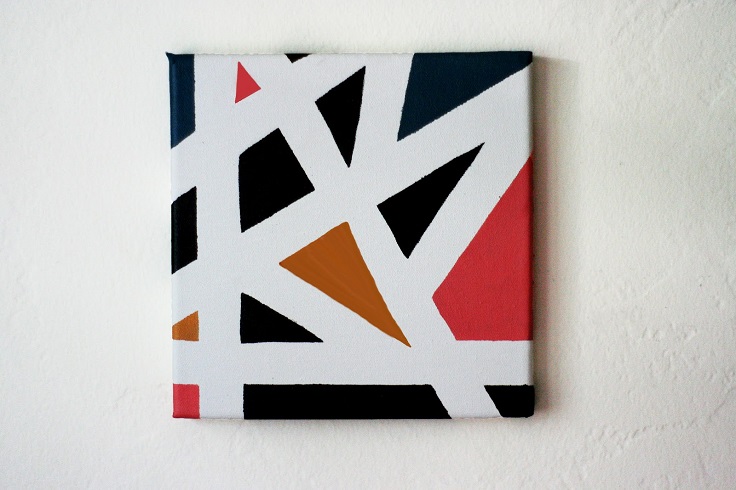 If you have an desire to make arts, but you have an big lack of talent, here is the way on how tapes can help you out. Do this beautiful art for your walls without any real spending.
8. DIY – Hot Glue Painting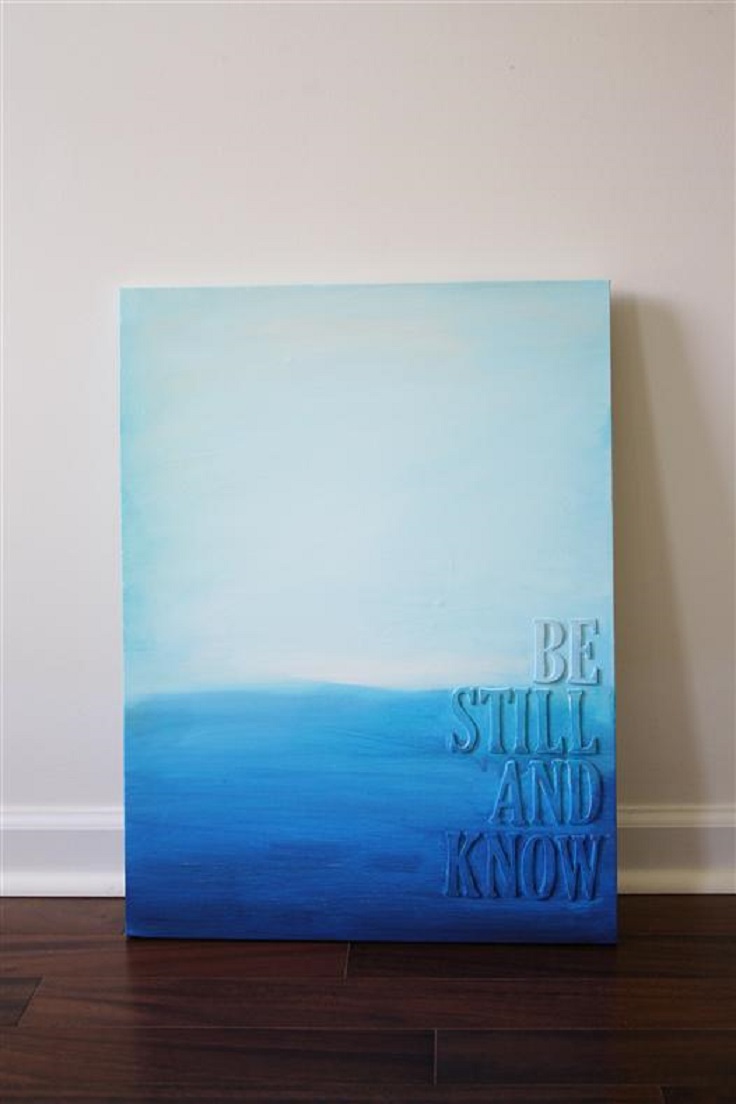 Another quotes painting which is a big hit this days. This ocean blue color will fit perfectly if you don't have many other colors in your home. Open the link to see the whole instructions.
9. DIY Text Painting
via dans-le-townhouse.blogspot.com
Sigh. Are you relieved after reading this post? We hope that you found your inspiration yet, and if you specially like this picture, you should probably know that it also is made with the help of a duct tape (the best friend of the non-painter painters). This colors combination is great for lighting up a space.
10. An Abstract Painting Anyone Can Make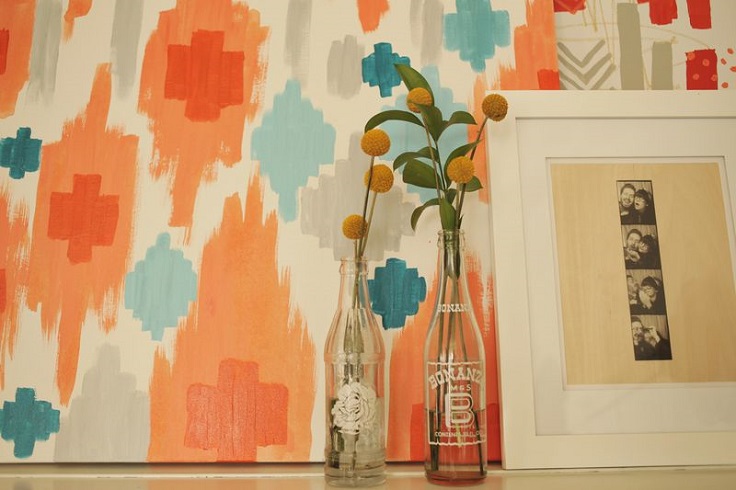 There are many similar paintings like this in the markets, and they all have prices that need thinking. But, if you want to not feel sorry if you trow it someday away (after it bores you) then we suggest you to do it by yourself. Open the link and find out exactly how to put together this this beautiful abstract art.