The word recycling has been a household name for many years. Overall, many of us are becoming more Earth-conscious and aware of our polluting abilities. And for that, recycling enables us all to do our part for the good of our planet protecting every breathing thing all around us. And, it is a great way to add funky touches to a home interior while looking after the pennies so to speak.
We save hard-earned cash, and we fancy ourselves as home decorators. Get the inspiration going, get a paintbrush, and get out give a second life to some leftover valuables waiting to be spruced up.
DIY Recycle-Your-Old-Zine Photo Frame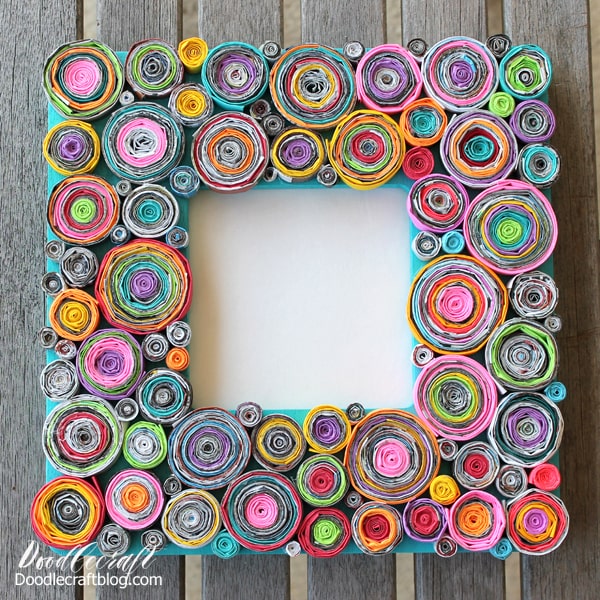 DIY via doodlecraftblog.com
We all had that present one day arriving in our home. Great to showcase some of your favorite, personal pictures, but always seem to look a little unloved design-wise; especially if you wish to spruce up your home a little. This design has stunning colors and textures that will for sure make the room stand out and for you to forever notice the photograph in the first place. We all have that one special photo that is close to our heart, so why not give it a little more love.
DIY Storage Box Organizer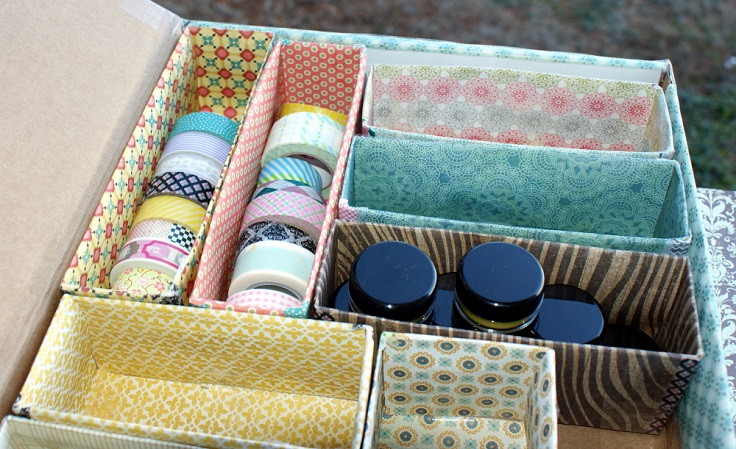 DIY via soapdelinews.com
Most of us love a bowl of cereals in the mornings, and what do we do, finish the entire pack, and throw it away? Now, this should give you a great idea to get creative and recycle the cereal box and other small boxes of any size you might have handy. Also, this exercise is perfect for your young child whether you're a parent or relative, and do not fully know how to preoccupy the little ones! This box can work just fine in their bedrooms to store their favorite belongings such as cars, barbie dolls, jewelry, and others.
Recycled Craft: DIY Desk Organizer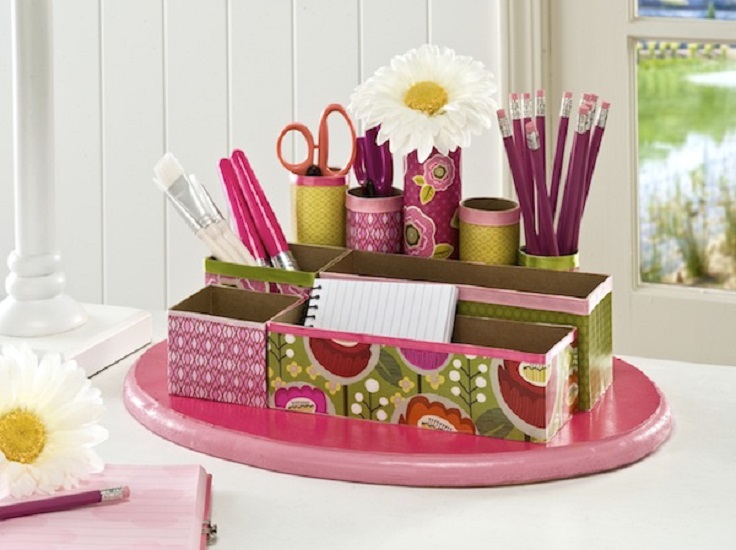 DIY via modpodgerocksblog.com
Christmas came and spending was the number one word within your household? Enough is enough then! And recycling is just the thing that for one, preoccupies with almost no money at all and for two, gives another life to an unloved object. Small carton boxes that once held someone's present or any other small boxes too. If you have children of any age, it is always great to make them understand, with fun creativity, the importance of recycling proving it can also be fun. After all, it is a unique craft. This desk organizer will make anyone really proud of their belongings which will have a special place on a drawing desk for example.
DIY Recycled Bottles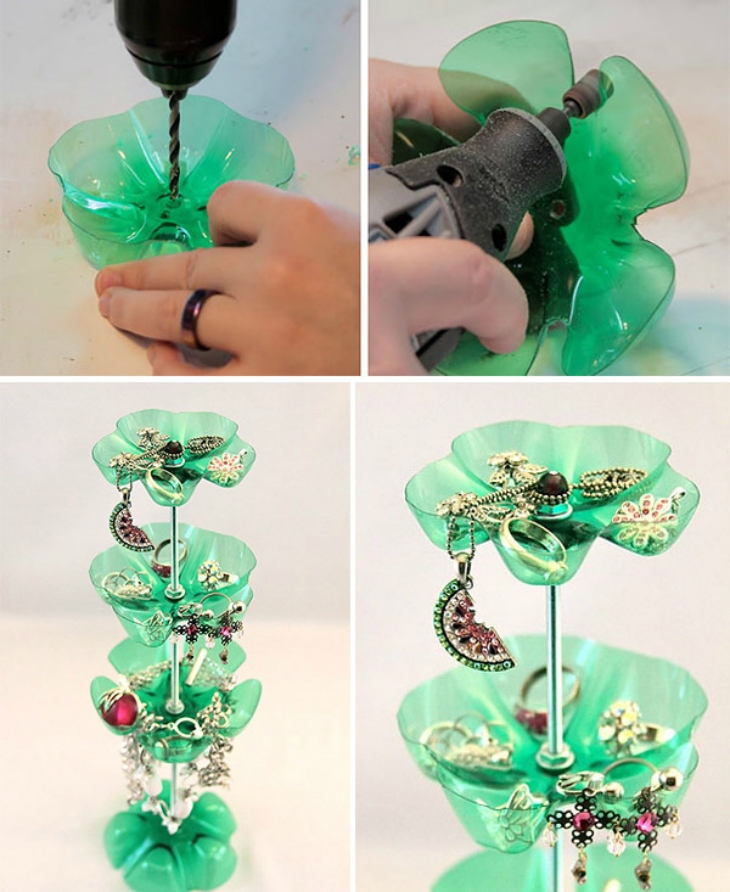 DIY via ellustrations.wordpress.com
We on average, use over 100 Million Plastic bottles every minute. One good thing would be to totally stop buying anything plastic as it could take hundreds of years to disintegrate. That's over 580 Billion plastic bottles a year. So, as it happens, if we do have them in our households let's get creative. It is a great way to spend time with the family and has something productive to do that is also fun arousing everyone's imagination and coming together. Let's do our bit to save the environment.
Recycled Can Succulent Centerpiece
DIY via bellalimento.com
Can products are in abundance on every supermarket shelves around the world. And let's face it, we all have the odd can lying there. This craft explains how you can use this as a centerpiece, but also can be used to show your children how plants become, well, a plant. As an example, cut an apple, orange, lemon, tomato, or anything that contains a seed, and get planting. Use up your old tomato cans or anything relating to the same, and get growing! Kids will love it and take ownership
Plastic Spoon Chandelier
DIY via demilked.com
Have you ever been on a picnic or had a house garden party were, unfortunately, you did have to buy plastic cutlery? Well, you might have some leftovers as they always come in great quantities. If you have a Sunday free of house chores and wish to spend it creatively, then this is a must-try. It will change your room dramatically and will have such great use to combat us polluting more and more our environment. You can also paint the spoons themselves in a unicolor or get colorful and take out your entire panoply of paint colors to brighten any room smartly and beautifully.
Recycled Plastic Triangle Earrings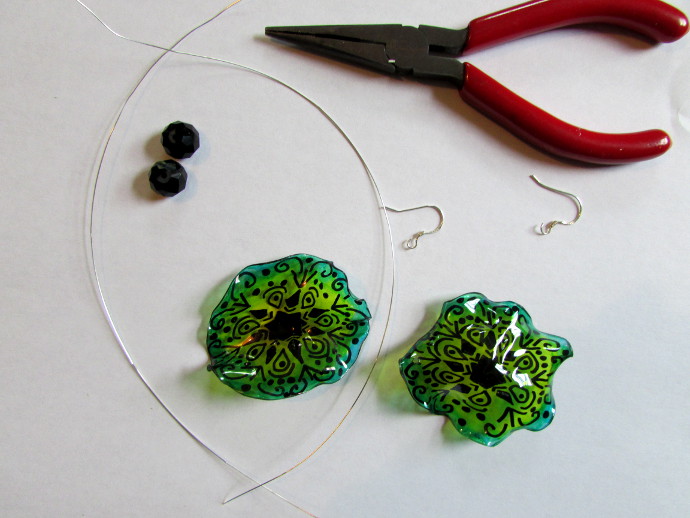 DIY via happyfamilyart.com
When we think of recycled plastic anything we tend to think, right, child's play. But sometimes given enough imagination and willingness, we find genius behind what is in front of us all along. Plastic bottles as mentioned previously are far too involved in our everyday life and one must stop these crazy figures of sold plastic bottles worldwide. Beautiful art and craft earrings that could honestly be sold as a hobby, or created for the family. A lot of us love uniqueness, even more, so that big clothes chains are taking over our creativity and fashion sense. Time to do some self DIY fashion for most to be jealous. Super stuff on this check it out.
DIY Key Wind Chime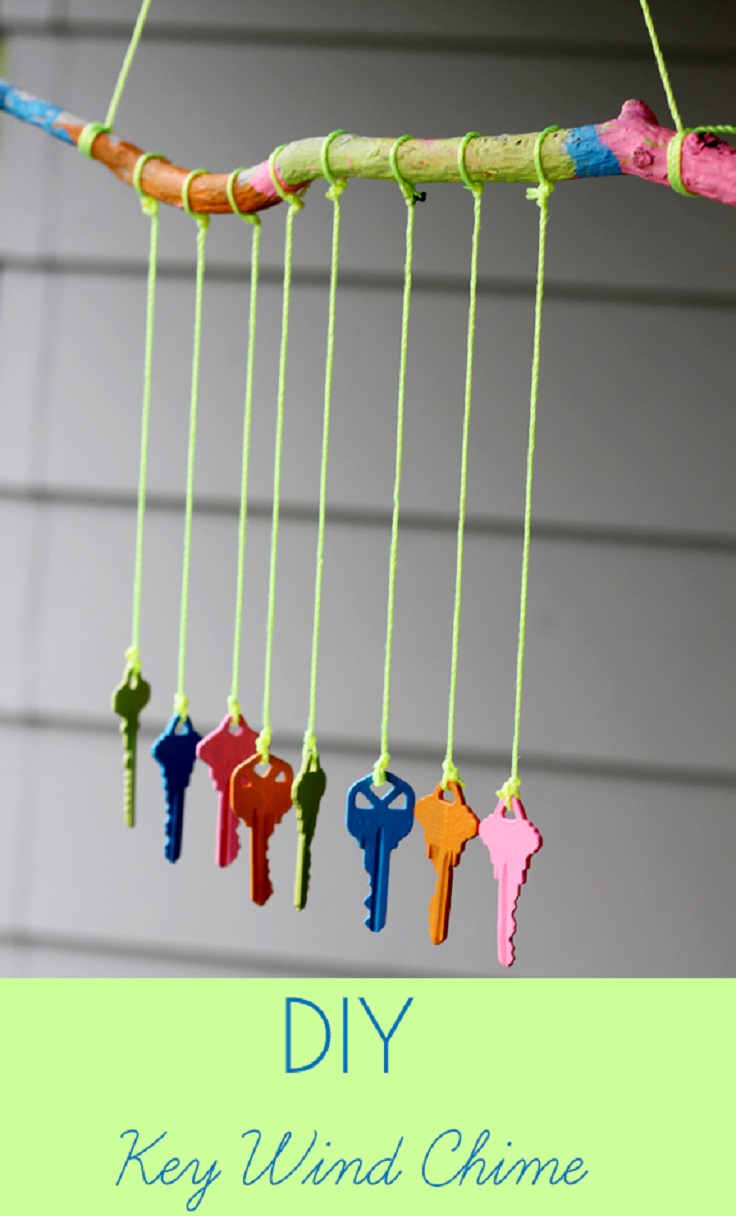 DIY via giving.innerchildfun.com
If you are looking to give your parents something from their grandkids, this could be something they would love. And it doesn't have to cost much money and be unique in style. This creativity will make anyone fall in love with this present from someone's own little hands. A great way to occupy a bored child too. Some of us might have an abundance of old keys lying around and what a great way to recycle them but to make a very organic chime in the front porch or in the back garden. It will cost you a bit of paint, a graft, and that's it really.
The Resurface Table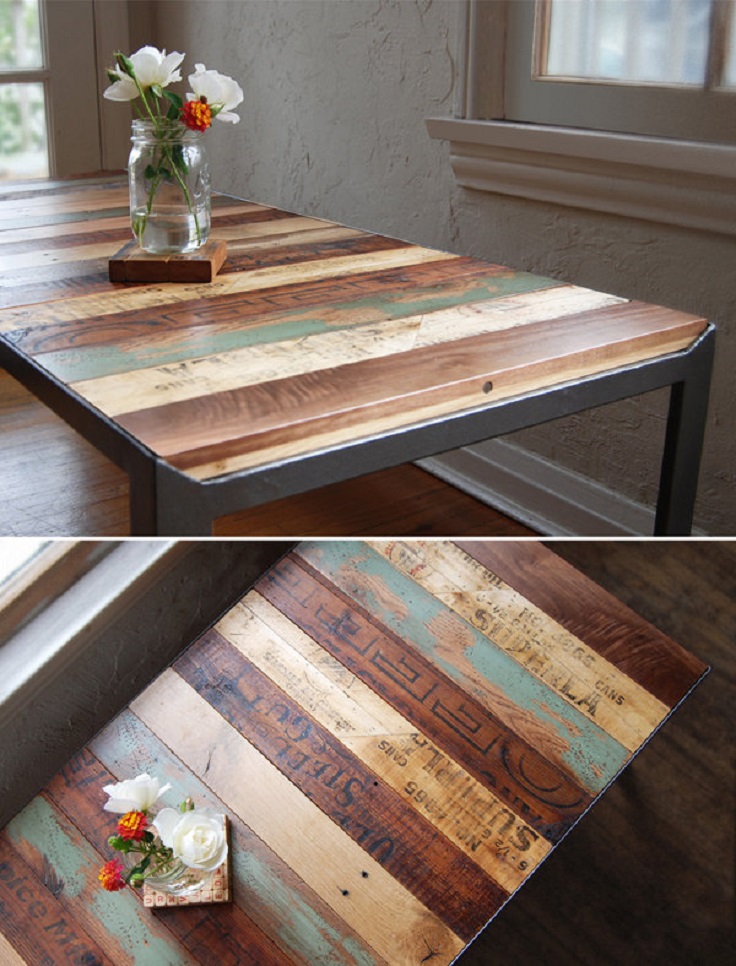 DIY via recyclart.org
If you're all about salvaging and wish to make somewhat a big change to an old table and wish to spruce up your dining area with a homemade, recycled wooden top table then this could be right down your street. Amazing things can be used, reused time after time if we spend a little time looking at options. If you're a homeowner with a garden y0u might have wood lying around waiting to have a second life and purpose. Could even be wooden crates. This is a fabulous idea to get your hands dirty and give back a little to the environment without offending it. Or could be a week's project that might turn you into a salvage professional! The unique room centerpiece will give your living area a one-of-a-kind self-made table entertaining the best of the people you know.
DIY Vinyl CD Clock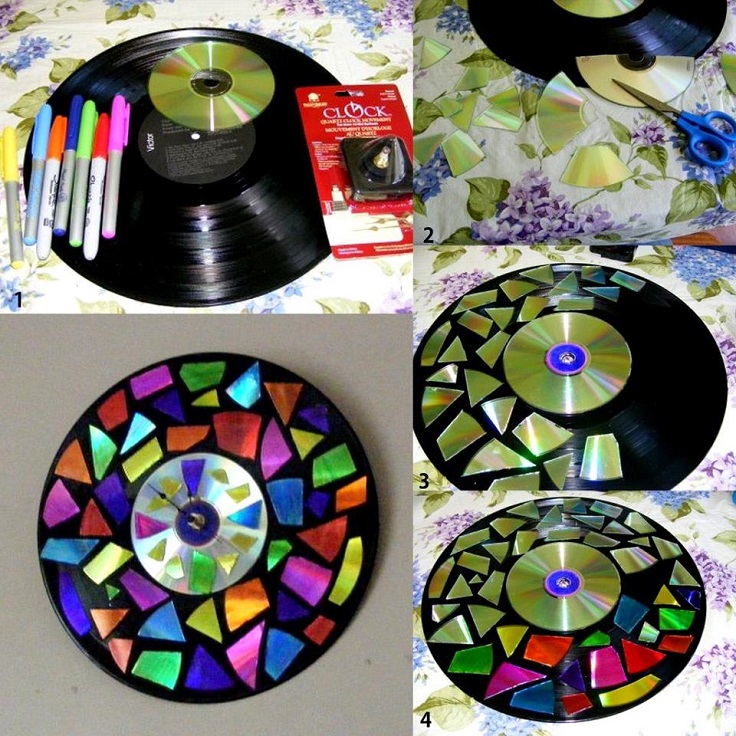 DIY via usefuldiy.com
A hoarder of old CDs and Vinyl? Don't have too much time to listen to them and they're safely tucked away taking a lot of space in your home? Wish to discard them? Well, not so fast. Here's an idea to make a wall stand out, and a great excuse to clear out some old things you never thought of reusing. A few colored markers, a pair of scissors, and honestly, you're set to go. Doesn't have to be a clock, can also be a frame or a simple wall ornament making your space feel unique and colorful…