We use them every day, yet rarely notice them, except when we lose our keys and they are the only thing preventing us from entering our home. Doors are what keep our entryways closed and secure, and all we care about is for them to be sturdy, whole, and not to the creek when we open them.
When they become too old, we replace them. But don't throw away something that has great potential. Old doors can be reborn into something wonderful and very useful for your home if you know how to do that. If you don't, we will teach you with these top 10 tutorials for repurposing old doors.
Colorful Glass Door Table
Add some life and color into your living room with a repurposed glass door transformed into a coffee table. This unique piece of furniture will be the envy of all your friends.
From Door To Daybed
via perfectlyimperfectblog.com 
If you have basic knowledge in woodwork and want a new daybed, save some money on material by using your old door as sides for the bed. You bed will look even better if the door has carvings.
Vintage Door Shelves
Want to display some knick-knacks but don't want to drill any more holes in the wall for new shelves? Solve your problem by putting the shelves on an old door and placing the door against the wall.
Dressing Vanity From A Vintage Door
via thisoldhouse.com
Want an old-fashioned vanity, but can afford a new one, or all are just too bulky for you? Make the cutest little vanity by putting a shelf, a drawer and a big mirror on a vintage door.
Entry Bench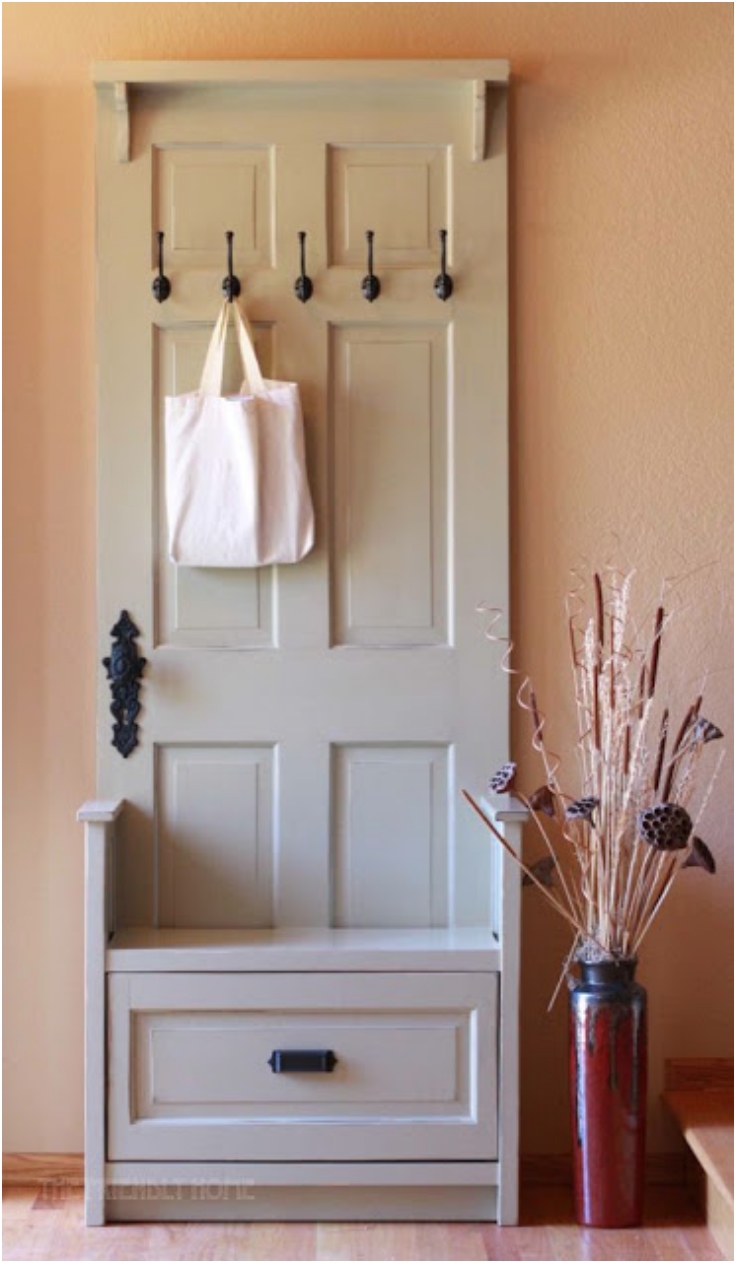 Organize your shoes and coats by putting a homemade entry bench in your hallway, made from the very door you entered through for years.
Picture Frame And Coat Rack From Old Glass Door
via photogmommie.com
If you think that your hallway is too bare, but you just can't find a way to put a coat rack and photographs on the same wall without all that looking awful, then this project is the thing you've been waiting for.
Repurposed Door Headboard
You've decided that your bedroom needs a king-size bed with a matching royal headboard. If you've found the perfect bed, but without a headboard, then make it yourself by using that door you wanted to throw away.
Door Turned Into A Corner Door Shelf
Another excellent idea for displaying your precious belongings. With this you can finally fill that annoyingly empty corner and it will absolutely earn a double-take from all your guests.
Illuminated Photo Door
Create your own little illuminated photo gallery with just a glass panel door and some rope light. You dull empty wall will look heavenly.
Repurposed Door TV Console
Want a minimalist TV console, but you've spend all your budget on the TV? Just take that old door from the garage, piece of plywood and four small wheels. The end result is surprisingly satisfying.