Every room has its own set of challenges when it comes to organizing and keeping things organized can be a tricky and for some a frightfully daunting task. Nowadays there are many products and gadgets that will help you do this task with a lot less fuss.
Yet, when we think about organizing the house, our thoughts go to things that belong in the bedroom, the kitchen, or the garage. Yet we often overlook the bathroom, which, especially for a household with women, needs a lot of space to store all those hygiene and beauty products.
Speaking of which, you might think that your bathroom vanity is enough space for all your toiletries, but how about the bathtub or the shower. This is where some extra shelving is always a good idea. But, each bathroom is different so, you might not have enough space for some fixed shelving, or you just want to have the option to put keep your toiletries in one place and move them around easily. Then what you need is a bath/shower caddy.
Almost any basket, tray, or container really, can be turned into a shower caddy. You can get small ones that you can easily move around or put away until needed while others can be fixed in place.
Another great thing is that you don't need to go out and buy special shower caddies unless you want to because they are very easy to make or put together from things you might already have around.
So let's see some of the most amazing DIY shower cadies you can make today.
1. Ladder & Shower Caddy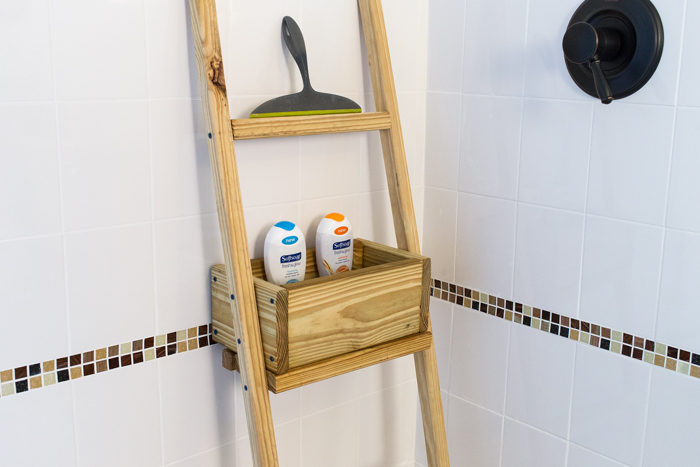 If you ever searched for ways to organize your bathroom, you most certainly have come across the idea to use a vintage ladder in the bathroom as a sort of a rack for towels or clothes. If you love this idea, you can also turn one of the ladder steps into storage for some showering products. Doesn't it look cute?
2. Rossette Shower Caddy Storage
Maybe the caddy you like to have in your bathroom is a bit over your price range, but you really like a cute looking caddy for your home. Don't worry, you can still have it for a far lower price. How? Find a shower caddy that looks approximately like the one you like and once you bring it home, it's time to start glamming it up. You can easily make a fabulous looking shower caddy with some artfully tailored fabric, like this one.
3. Spice Rack DIY Shower Caddy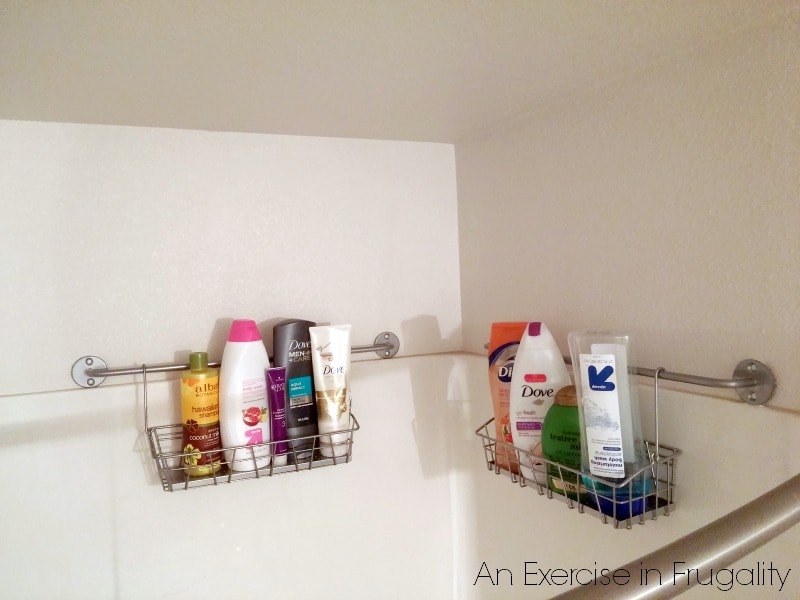 Most types of fabrics easily get soaked and since you'd probably want your toiletries in the shower with you, you'll need something more water-resistant. Metal spice racks are perfect for this. Get a few metal hooks and mount bars or handles in the shower and these portable caddies will be ready to go.
4. Make a Chic Bath Caddy for Guests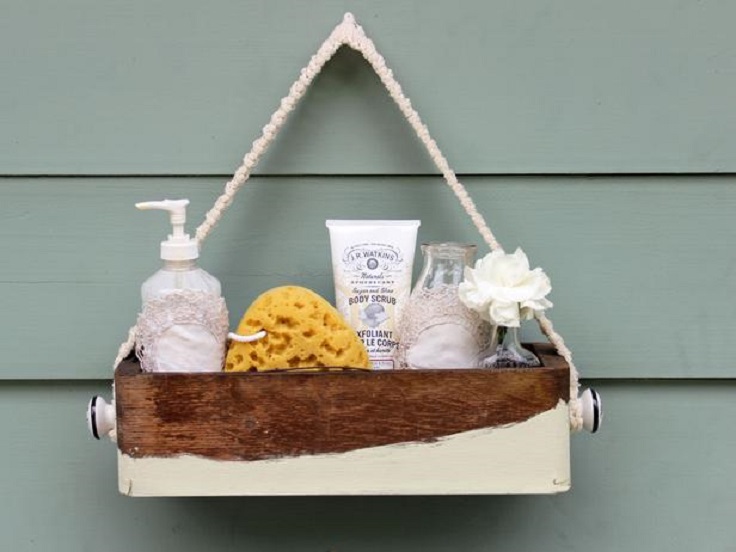 When you have guests that are planning to stay a few days, it is nice to provide them with their own space for their toiletries. If you have a big bathroom, great, but if you have a small one, space is probably scarce. But, making one of these little wooden caddies with a hanging string, your guests can bring their toiletries with them all neat and in one place and just hook them up in the shower. And when they leave, you can put them away or use them for something else.
5. Wood Caddy with Rope Handles for the Bathroom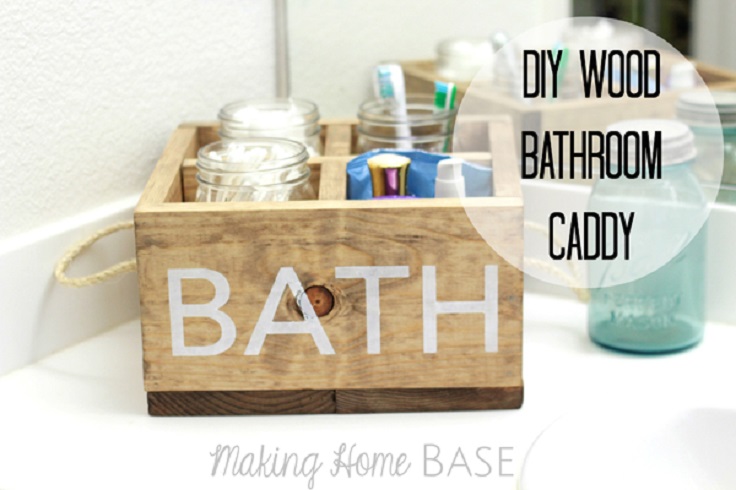 In most homes, the vanity is often in a disarray, and you need something to keep all your small hygiene products neatly in one place. This sectioned wooden caddy is very easy to make and great for storing and organizing your toothbrushes, make-up, Q-tips, and other smaller items in the bathroom.
6. Scrap Wood Bathtub Caddy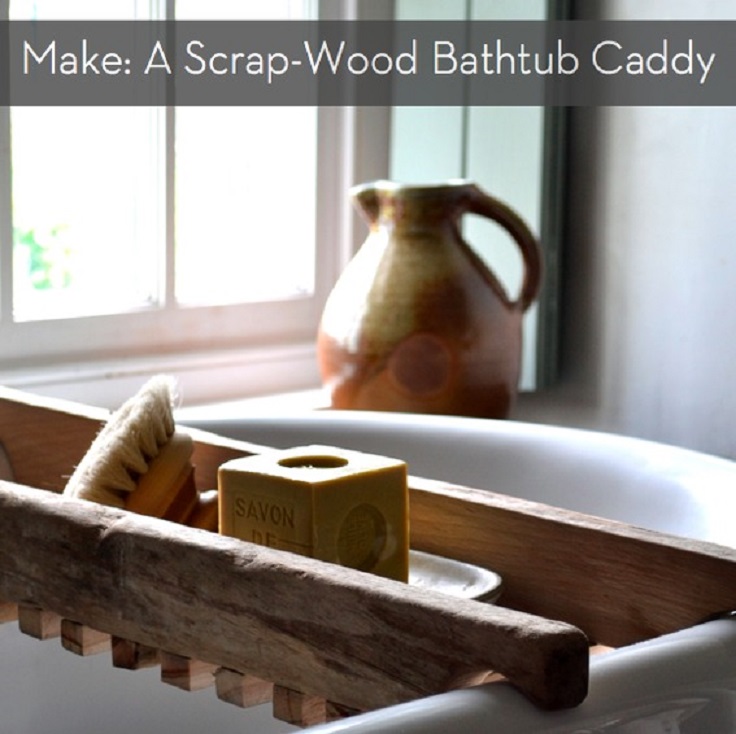 This project is for a bathtub or a deep shower base will do. It is a reach that goes over and across the bathtub, great for keeping the soap and wash towel in place without worrying that it will slip and fall, meaning you have to chase it around the bathtub. And the vintage look sure gives it that extra touch of decor.
7. Fast and Easy Bathroom Caddies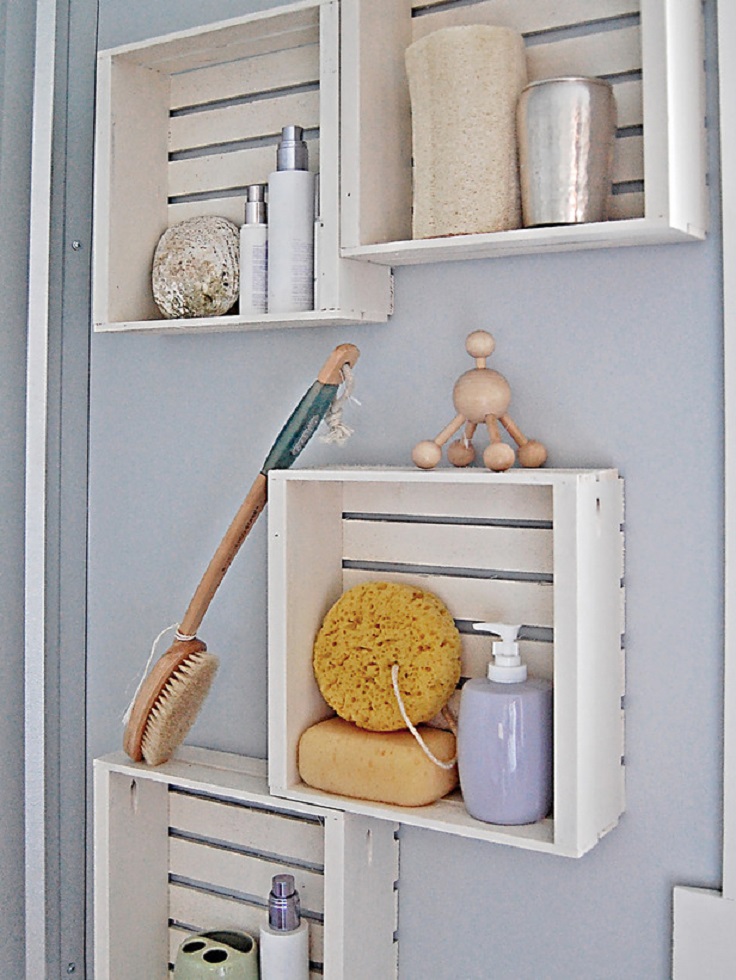 There are a lot of ways to reuse or repurpose old wooden crates, and you can add this one to the list. The simplest project ever, with the most extra storage space to gain. hang a few pained crates in your bathroom and you've got yourself some nice rustic look.
8. Mason Jar Caddies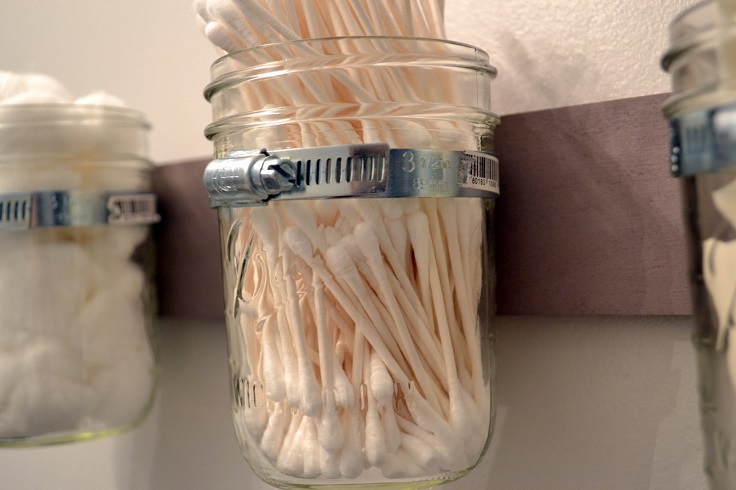 Speaking of the most popular items for reusing or repurposing, the list will not be complete without the crafty mason jar. And we're not saying, put a plain old mason jar on your vanity and you're done. No. We suggest you look at this project on how to make a rack with a few of these mason jars and hang them near the bathroom mirror. Easy to do, space-saving and great looking item for sure.
9. Manly Space Saving Shower Caddy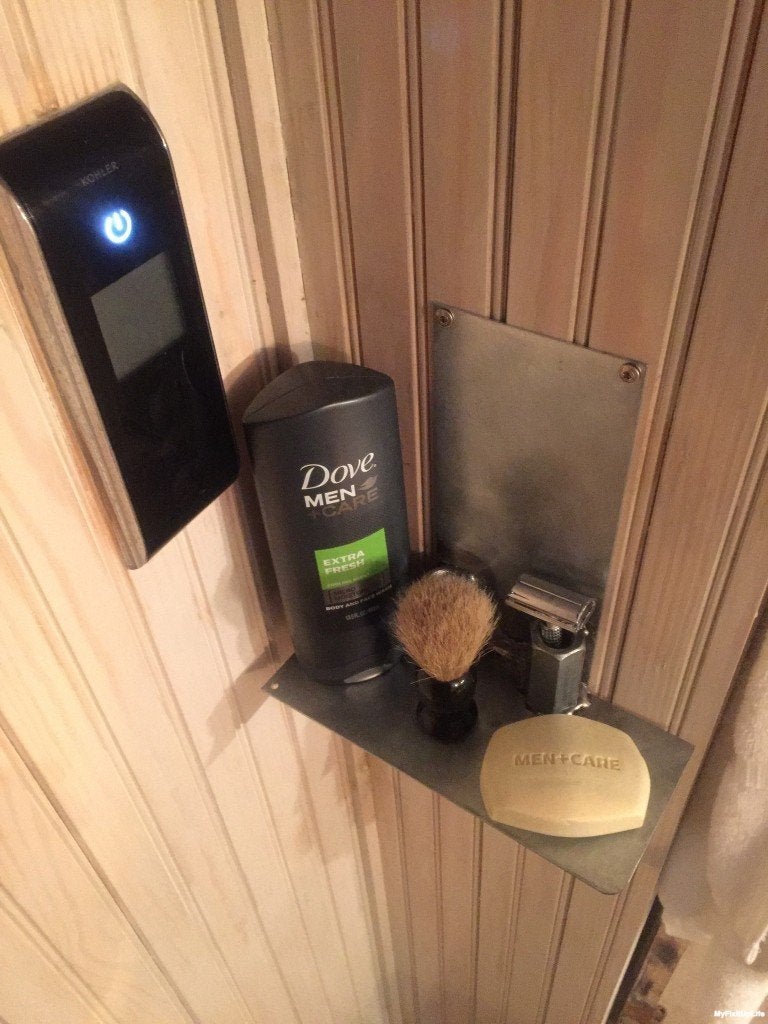 Not all things have to be cute in the bathroom. You can also have some pretty useful manly items as well. For example, this steel shower caddy is perfect for men in its simplicity and practicality. It has large coupling nuts to serve as holders for the shaver. What kind of man wouldn't like that?
10. DIY Bath Caddy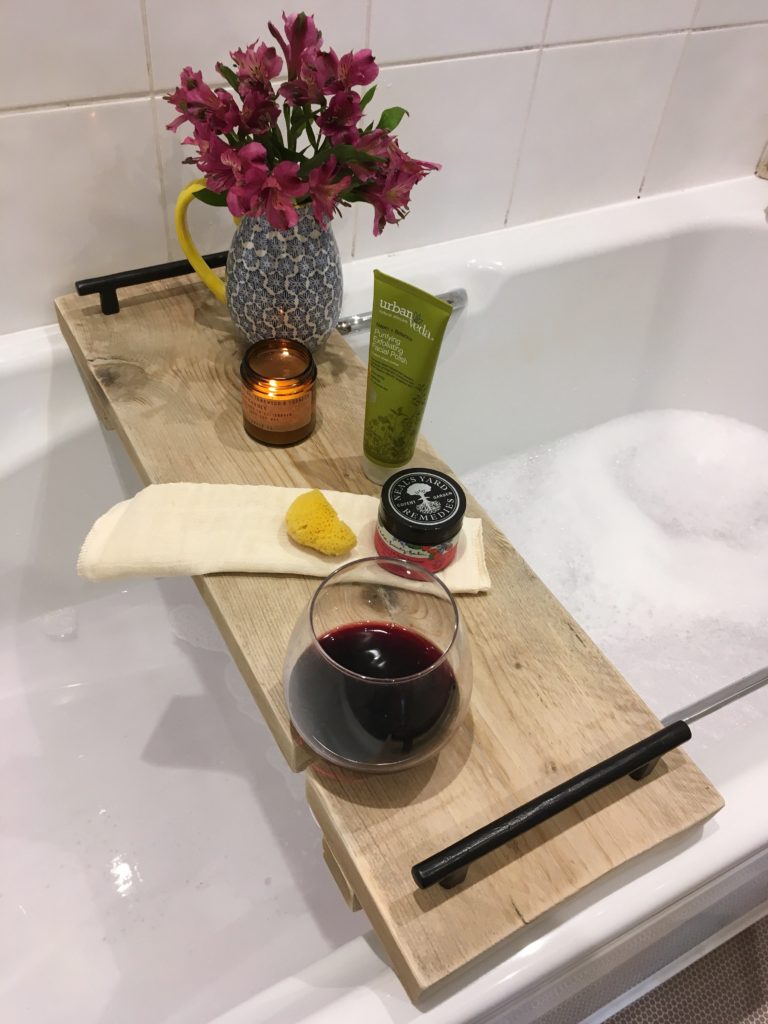 Last, but not least, we suggest making yourself a luxurious bath cuddy like this one. Because we all deserve a nice soak in the bathtub from time to time, and while we're washing the stress away, why not have a glass of wine or read a book, while we're at it? Relax and unwind, while everything you want is at hand with this perfect bath cuddy. It even has a wine glass holder.
That's all we have for now. We hope you liked our ideas and projects. Tell us your favorite shower caddy project in the comment section below.