We can't get enough of pillows just because there are so many to choose from. They are the key to an easy fix and can change the appearance of the entire room. A huge trend are the stenciled pillows and instead of buying the cute little muffins why not make some for yourself. It's a money saver, plus you get to choose and make the design. With just a little fabric paint& stencils you can restore and old pillow that you wanted to throw away so badly. Don't throw away old pillows, make something out of them. You now what they say " If you take care of things, they last", so remind yourself that every time you want to throw something away. Make sure you check out these fun and easy stenciled pillow ideas and try them.
Golden Print Pillow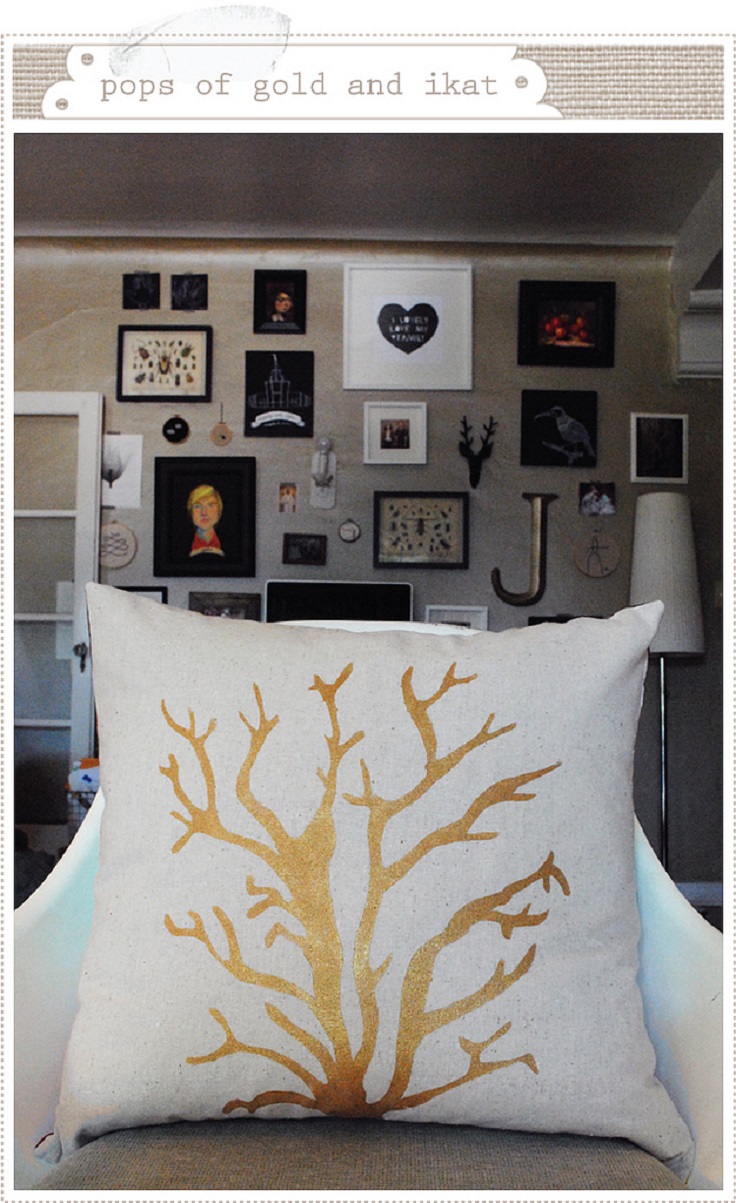 Measure your pillow and cut a freezer paper that size. Draw the pattern that you wish and cut the inside of the design. Put the design on the fabric that you have chosen and paint it. It doesn't have to be perfect because after one night you have to remove the stencil and sew the designed fabric on your pillow. That easy!
Owl Pillow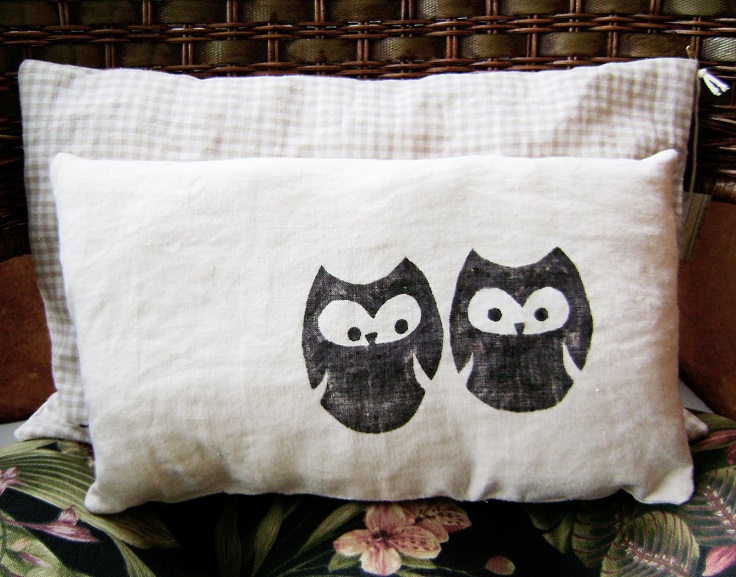 via theverandahonthediamond.blogspot.com
You have to make these adorable owls! Same goes for this one. Cut a stencil paper with the shape of an owl and if you want to use the same fabric then paint it directly on it. Let it stay overnight and remove the stencils.
Rustic Pillow
Try making this cool, rustic looking pillow. For drawing precisely, use Word or any kind of writing program on your computer, find the right font and type the letters that you want. Place the stencil paper on your computer screen and using a marker draw the letters. Cut them out of your stencil and on to your pillow case.
Word Pillow
You don't need fabric paint just a regular permanent marker. Go and get a letter board and just type whatever you like on your pillow. Let it sit for a while before using it. Voila
Patterned Pillow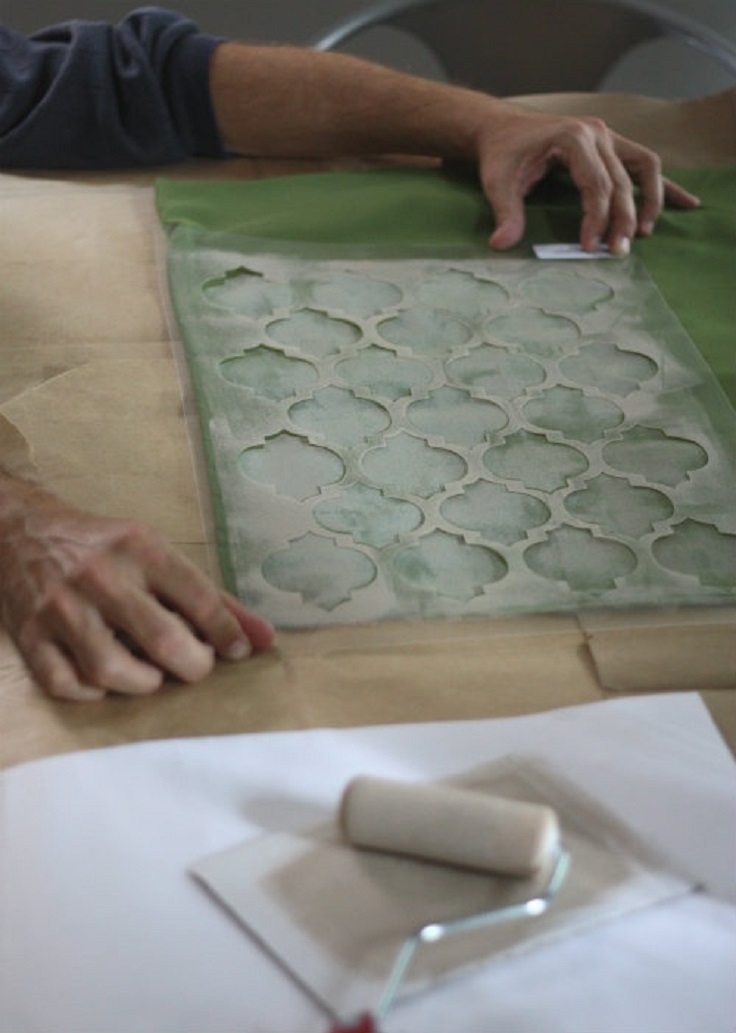 via 17apart.com
Now, the pattern has to be really precise. You can buy the stencil or make it yourself, it is your choice. First paint over the stencil with metallic golden color, you will probably have to repeat this at least 3 times. Take the stencil off and admire the fresh pattern.
Stamped Pillow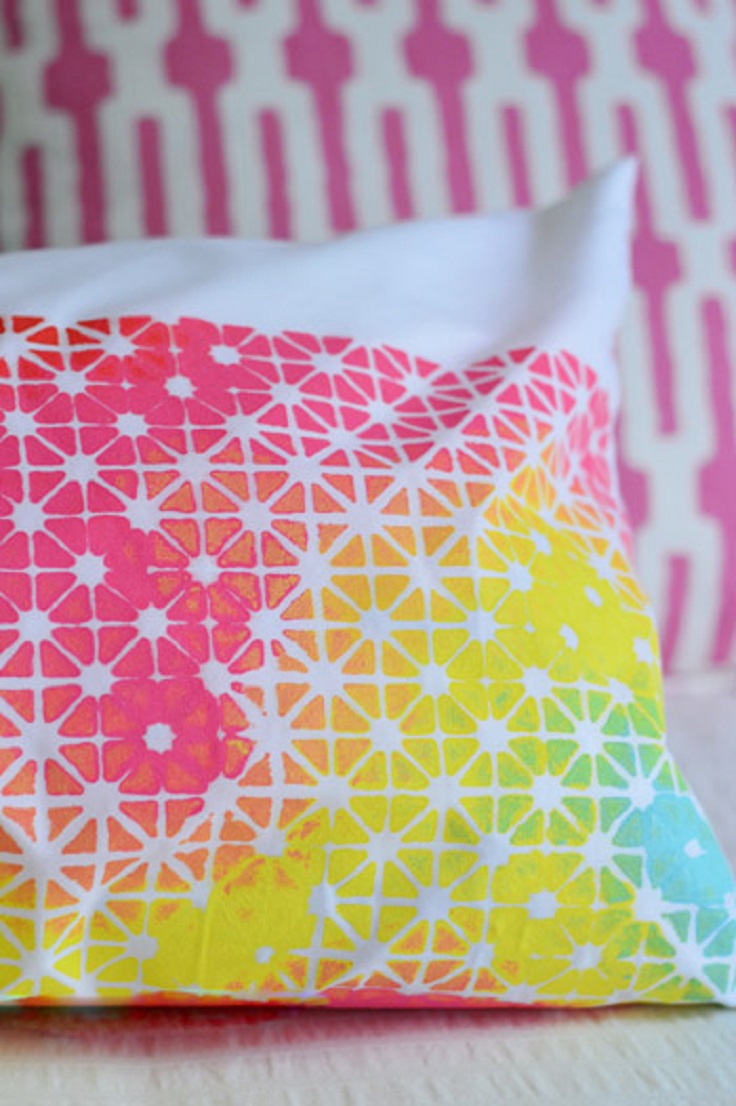 Get a little crafty with this one. You will need a pillow case, stencil pattern, fabric colors and a stencil brush. Place the stencil on the pillow and using the brush start stamping on the stencil, you can mix color or not, anyway when you remove the stencil  expect magic. Preferably use more colors so it turns out like the picture.
Vespa Pillow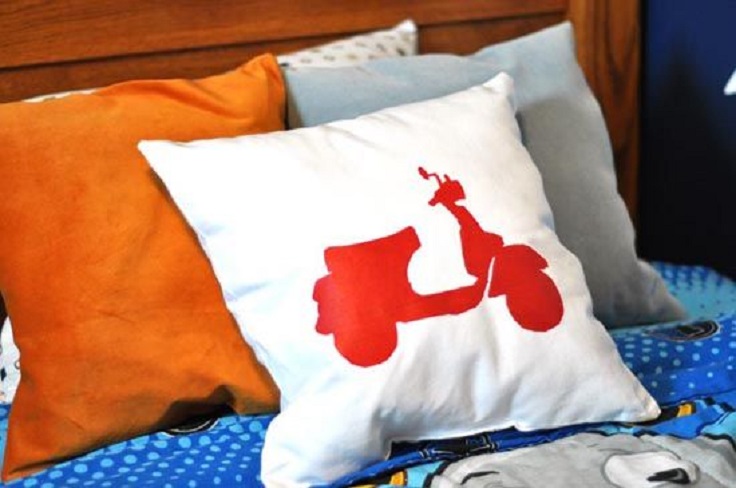 via doseofhappy.com
Find a silhouette of a moped, enlarge it and print it. For the next step you will need a freezer paper. On the matte side, tape the pattern and cut out the black area. Iron the freezer paper on the pillow case and paint it as many times as you think is enough. Remove the stencil and let the fabric dry for 24-48 hours.
Simple Dot Pillow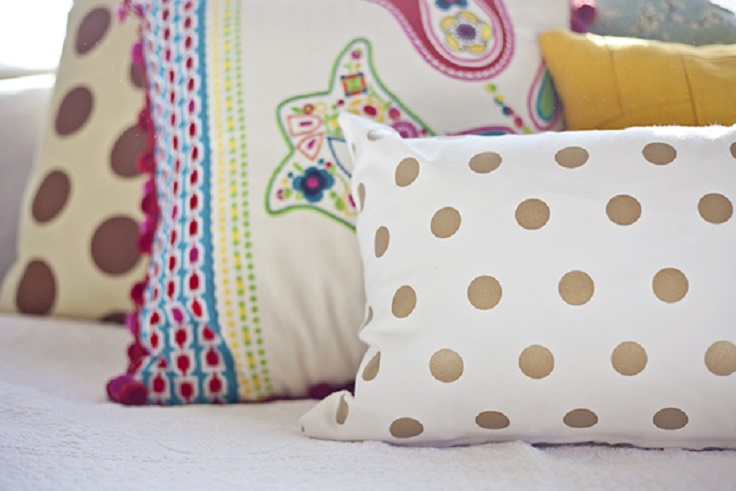 If you want your pillow case to be more simple with just a few dots here and there, then make a dot pillow case. Draw circles on a stencil paper and cut them out. Once you are done with the cutting, place the stencil on your pillow and fill the holes with whatever color you like.
Quoted Pillow Case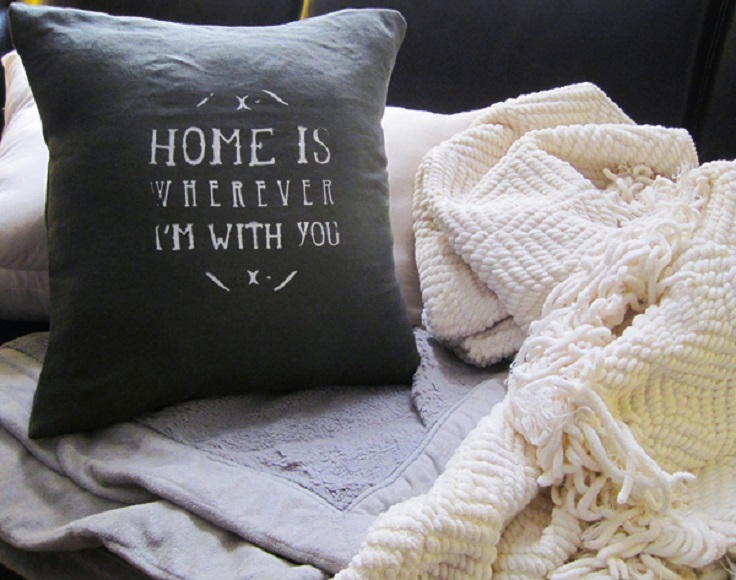 Make a pillow case for your loved one, it is the perfect gift for this upcoming Valentine's Day. Find a lovely quote and draw it on a freezer paper. Cut the inside of the letters, place them on the pillow and using fabric paint or marker paint them. Wrap the lovely pillow and wait for the reaction, he will love it.
Easter Pillow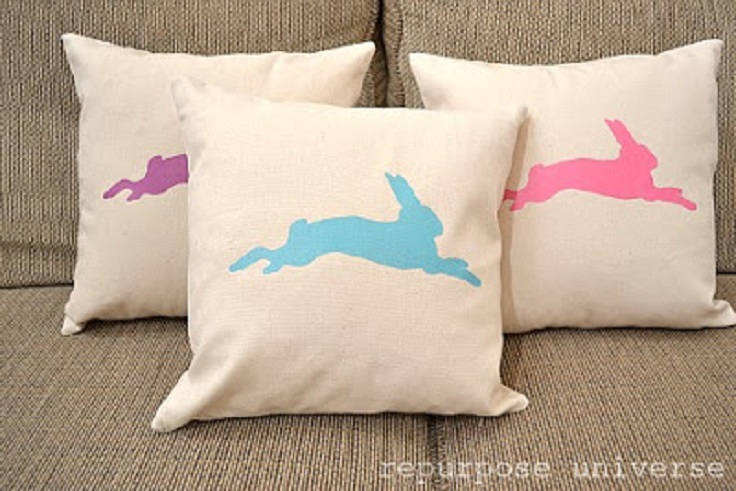 via repurposeuniverse.blogspot.com
It's a bit too early for Easter but it is always good to be prepared. Make these adorable bunny pillows with a bunny stencil that you can make or buy. Choose different colors, it is a perfect accessory for the kids room.