If you want to make the most of your outside space, here are some great DIY yard games. You can have as much fun crafting and making them like you, your friends, and your kids can have to play them. We've got some classic DIY yard games and maybe some newbies for you too. Follow the tutorials, and you'll have no excuse for that mournful cry of "I'm bored…" this summer.
Give kids and guests a buffet of playtime options, and your backyard could be the season's hottest destination. All it takes is games suited to all ages and abilities, a place where family and friends can gather to face off—whether it be for an innocent competition or a heated grudge match. In other words: If you build it, they will come.
We know that some of these DIY yard games might cost more than if you bought a retail version, but you can get a great deal of satisfaction from a DIY or craft project well done. Bragging rights at your next BBQ or picnic! Do you know of any other DIY garden games?
1. Bean Bag Toss
Whether you call it Bean Bag Toss or Cornhole Toss – no matter; it's one of the most fun DIY yard games. It's a simple game that anyone can enjoy. Hardly any rules are involved, and you can make a set of bean bags small enough for little hands, as well as some regular-sized ones. We've seen the "corn board" made out of a lidded cardboard box, but if you want one to last for a few years, watch the tutorial on how to make it.
2. Giant Jenga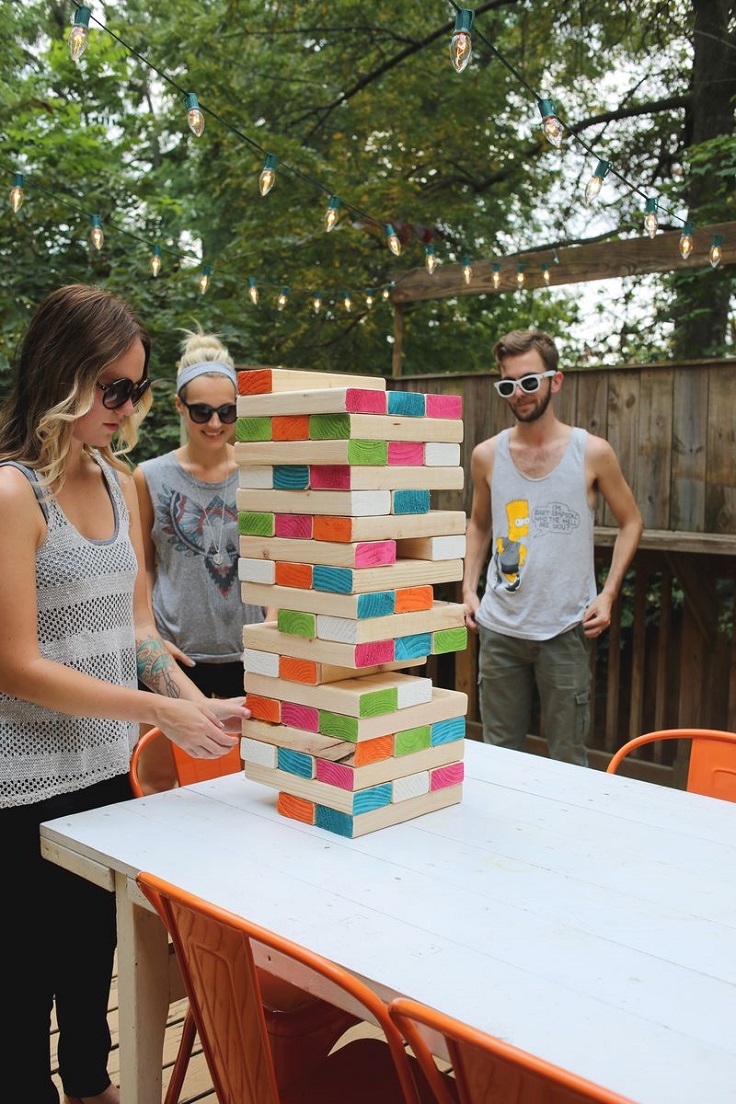 Regular Jenga gets a tad tedious after a while. What you want is a big Jenga tower that really clatters when it falls over. We love the idea of a DIY giant Jenga because if you're a woman who has never handled a saw before, this is a chance to cut your teeth! You could ask the woodshop to cut the pieces, but we think it's more fun to get the wood's lengths and see them yourself.
3. Twister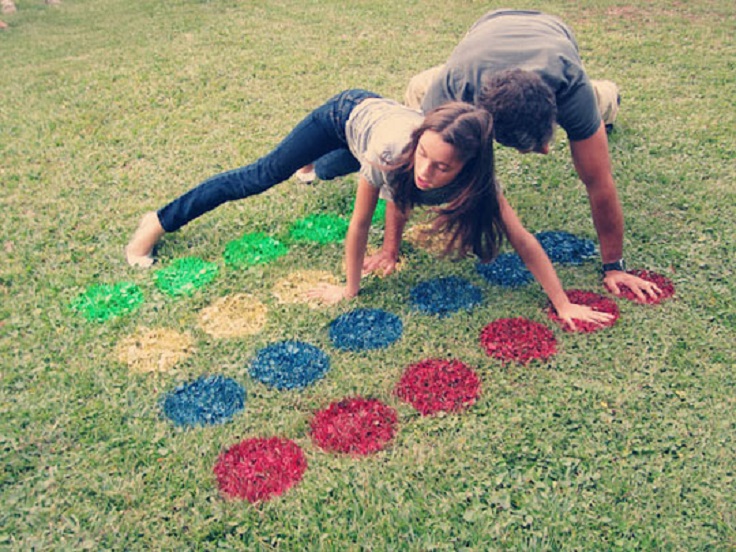 Yep – you can buy one, but Twister is fun to make as well as play among the DIY yard games. It would help if you went with the dimensions as large as you want and use a white cotton flat sheet instead. And like the tutorial suggests, there's no need to stick with the traditional Twister colors – go with your creative flow!
4. Garden Skittles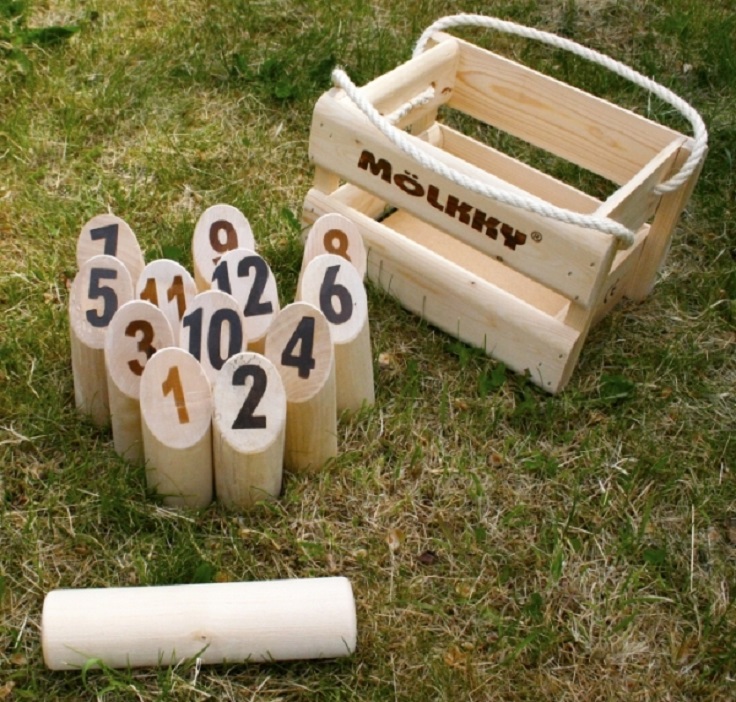 Garden skittles is really no different to tenpin bowling – you need something to knock down and something to knock them down with. So that means bottles and balls. Collect a few drinks bottles – all the same size. Then make them into skittles. They need to be weighted in some way, and this is where you'll need to get creative. They need to weigh enough, so they fall over when hit, but not so heavy they stand firm. You can consider things like rice, beans, and sand. It's up to you if you want to decorate the outside of the bottles. We think it's more fun if you do, and they look less like "here are some old bottles I filled" when you do. Get the kids involved and have the funkiest, brightest, most colorful skittles on the block. Have a selection of balls too. It's then up to you to place the skittles and set the rules.
5. Beer Pong Table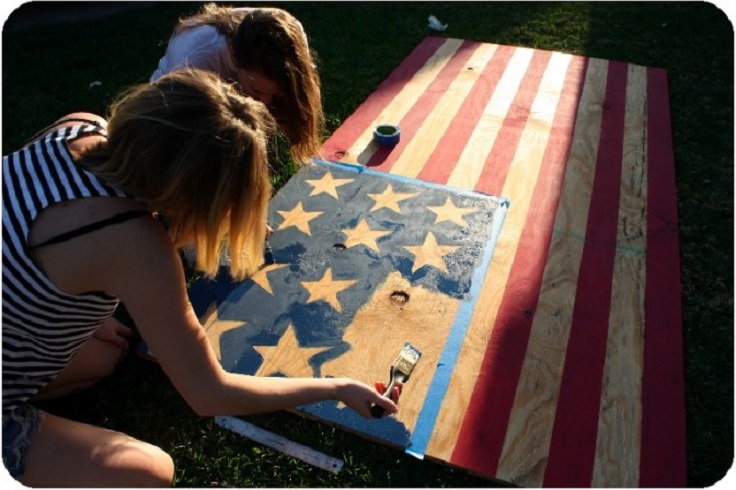 via mrkate.com
The classic, of course, is the favourite drinking game – Beer Pong. We know many Americans who love a game of pong will love this idea for July 4th – not too far away now, girls! – but you can let your imagination go to town and decorate it however you like.
6. Pipe Ball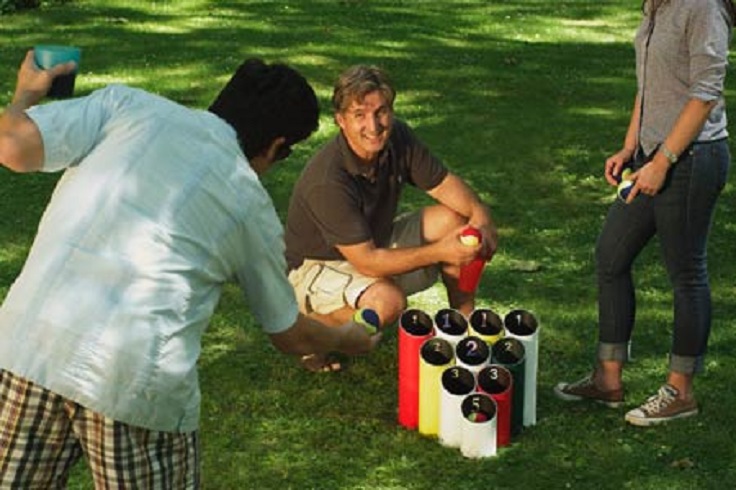 via thisoldhouse.com
So, none of the DIY garden games we've shared so far are challenging enough? Hold up, because Pipe Ball is coming. That is if you're handy enough to cut and stick differing lengths of drainpipe together.
7. Glow In The Dark Ring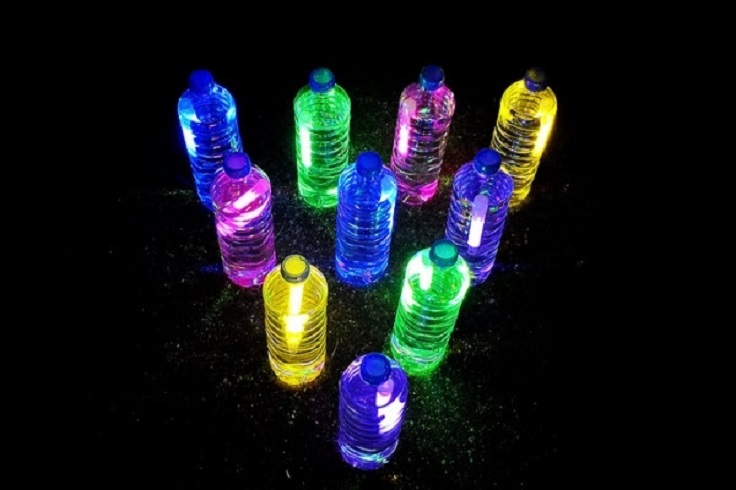 via alittlelearningfortwo.blogspot.co.uk
Who doesn't love a game of ring toss? And now, you can play it after the sun goes down. Use glow sticks to make the hoops and the pole, and you're good to go. Fun for all ages! We think it would be even better if you made a few targets, set them up at different distances, and allocated points to each target.
8. Ricochet Game Table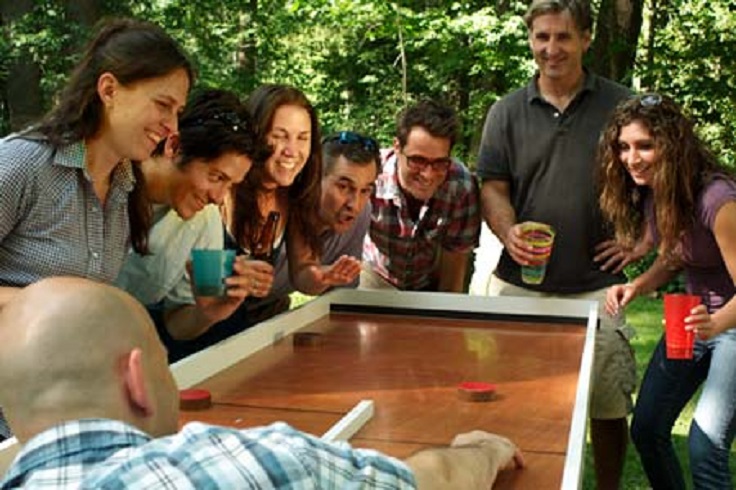 via thisoldhouse.com
Indeed you've enjoyed a shuffleboard match somewhere along the line and experienced the joy of knocking your opponent's puck into oblivion. Now you can take that competitive spirit to tabletop heights with the TOH version, Ricochet, which employs an elastic band and a hollow-core door to transform the traditional playing surface into a challenging U shape.
9. Ladder Golf Game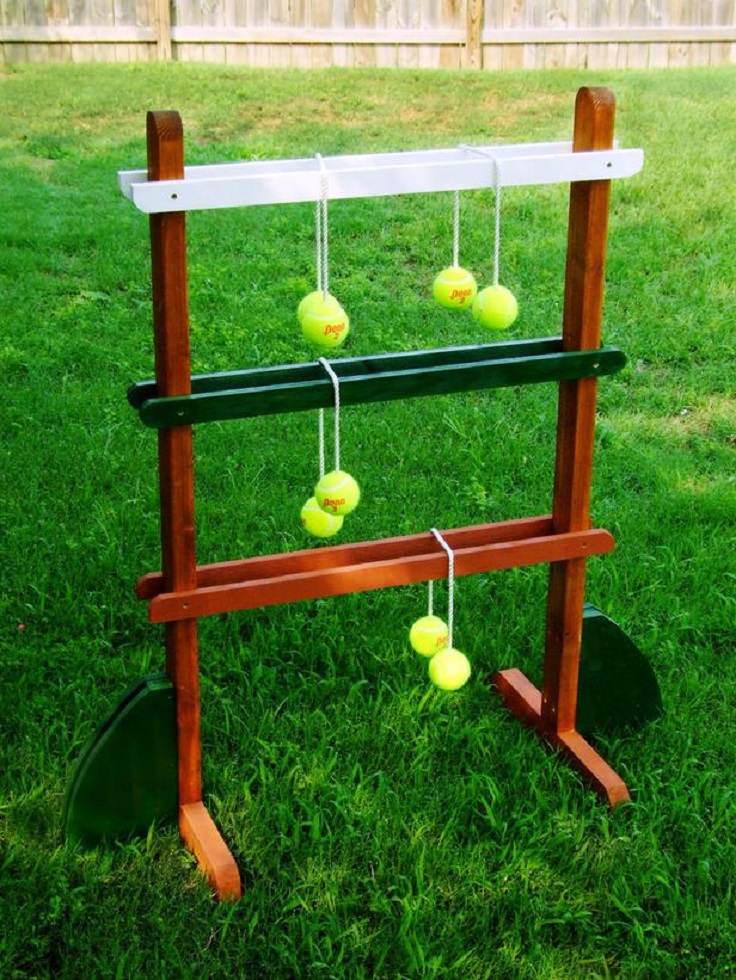 via diynetwork.com
Nope, this isn't like golf at all. Golf balls take on a different form in ladder golf as bolas—a pair of golf balls connected by a length of nylon cord. Wrap one of the bolas over a rung, and you score. If it stays put, that is.
10. Soccer Goal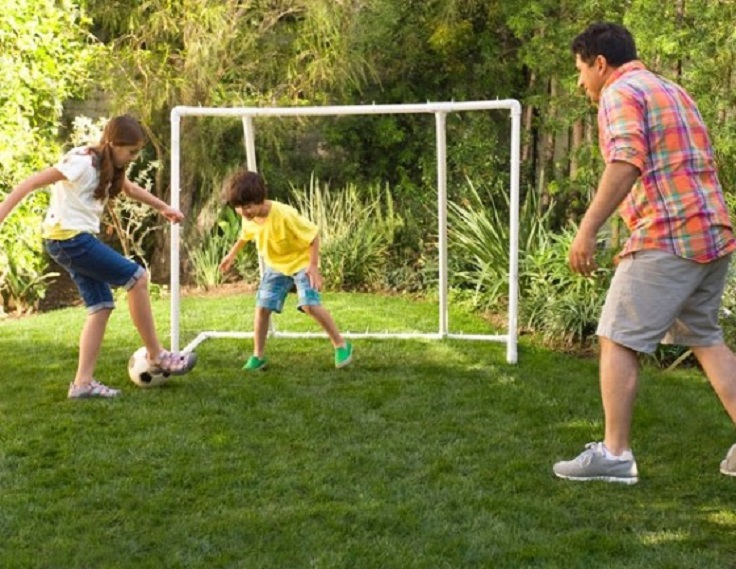 via thisoldhouse.com
This project is a win-win for the whole family. The goal shown here has a basic design and is easy to build to be assembled in an afternoon. Because it's made from PVC pipes and deer netting, this unit is so lightweight and easy to move that you can set it up whenever you're ready to play. Get the whole family outside and turn the backyard into a playing field.