Every kid owns a lot of different toys and no matter how much it has, you always buy new ones to make your children happy. But a bunch of toys can create a real mess at your home and that's why you need well-organized storage which will help you to hide them.
Sometimes toy storage can be pretty expensive, and that's why making one by yourself is always a good solution. We've gathered 10 inspirational DIY ideas for toy holders, sacks, and boxes which are really easy to make when you'll have free time. By making them you'll be able to quickly clean up every room by simply walking around and tossing things in!
DIY Toy Chest That Doubles As A Toy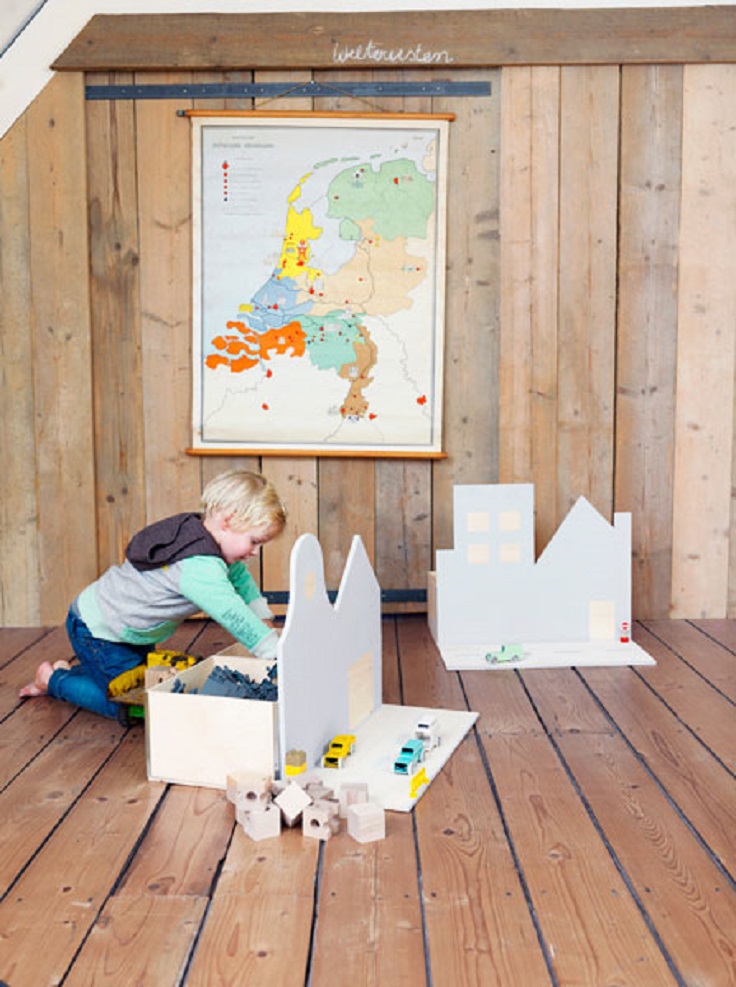 DIY Tutorial via shelterness.com
If you love "clean and tidy" then by all means click away! It will make the mess all go away in minutes leaving peace and serenity in the room. Some might say, a Feng Shui for the kids. We sometimes think of over clustering their rooms putting everything on show, but space often is an issue. So, we believe this is a great way to teach them how to put everything back after plastering the room with toys in every possible floor space of the room. They would love the multi-use of these toy chests. For one they could use a drawing and creative table, to hide their most beloved toys away from the monsters wishing to take them away!
DIY Car Toy Magnets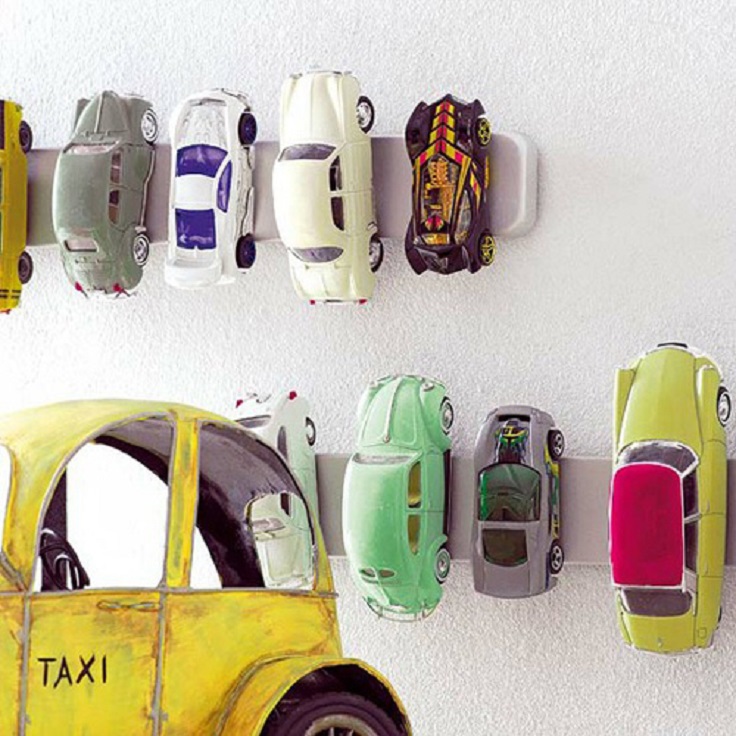 DIY Tutorial via style-files.com
Even adults love magnets so imagine the children! They are crazy about it. Things that stick to things. Wow. Not only will this entertain them, but it will make them clear away neatly their room leaving them in a reasonable state. All their toy cars could be on a chosen wall which will act as a feature in itself, and also something that they can take and play with time after time. Use something similar to a wall knife holder, and use it to store their favorite cars.
"Peek-A-Boo" Toy Sack Tutorial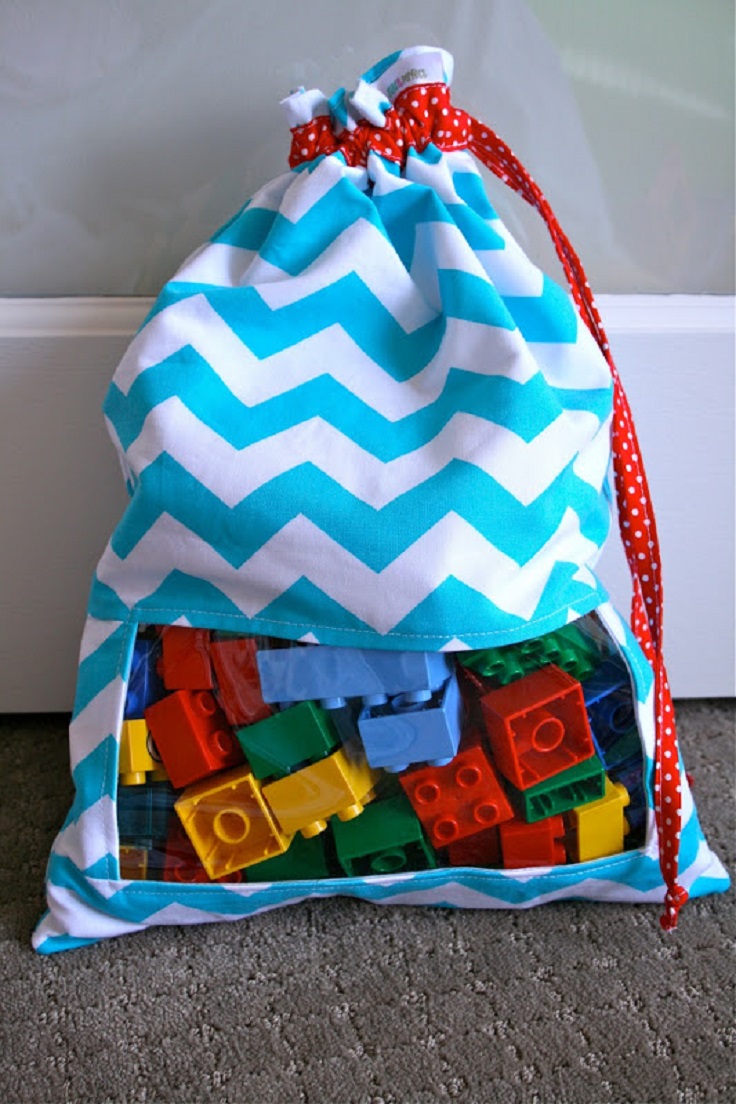 DIY Tutorial via tonicoward.blogspot.com
Some of you might have everything done to a T. Literally. You have thought of every single solution to making the children's room look clean and tidy – without you having to do too much work once playtime is over. Then suddenly, your child asks you, hey, have you seen my toy something? He starts a tantrum and all of sudden, your peace and quiet are frankly over! The mum and dad thing is back, no more adult time in peace! This simple yet ingenious idea is great for the kids to leave their belongings in see-thru bags. Dead easy to do, and will save you extra adult time minutes!
DIY Fun Coffee Table Holder
DIY Tutorial via ana-white.com
If you live in an apartment, space is your enemy, unless you have ample space. But even then, why not make the most of it without your home has to look like preschool? Utilizing the most out of your space is something super, hiding away all of the toys and the beloved articles of your kids. You love them dearly, but you wish to have your home back! This coffee table idea is perfect for a saving space idea, which is also great for your little ones having more space in their rooms without the cluster enabling them to move around freely. Plus, they can be the "mini-boss" of the coffee table – ensuring to always put back their toys away neatly.
DIY Basket Toy Storage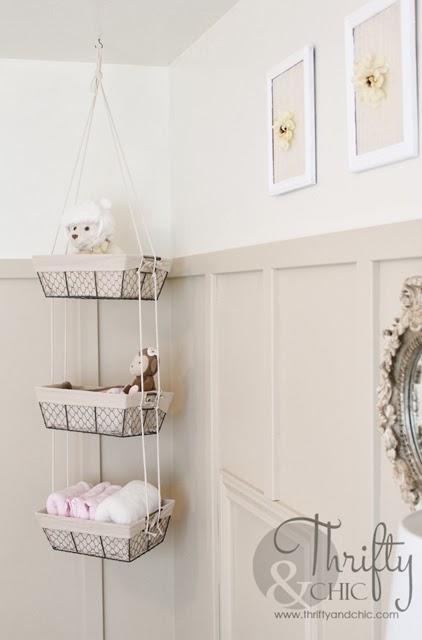 DIY Tutorial via thriftyandchic.com
If you are expecting or shortly gave birth to the most wonderful fluffy little human on the planet, you might have noticed that for such a small being, they take an enormous amount of space. From the pushchairs to the cradles, to the pantry, to the toys, the swings, the mats, everything, you might wish to think outside the box here. Like skyscrapers from the big cities, one must pile things upwards as no more space is available on the ground! These little boxes are great to hang on the ceiling living your floor space to comfortably and security go around ith your daily business without risking a fall or something similar.
Pottery Barn Toy Storage
DIY Tutorial via leafandletterhandmade.blogspot.com
There are many fabulous home and decor shops in pretty much anywhere on the planet. We love these little things and love the idea of passing on our legacies! Anyway, chances are, these fabulous baby, small children's shops are super expensive even for the basic of things. And maybe, you have a little time on your hand because you are missing work anyway. So, find something useful and make your very own Pottery Barn or whatever similar you have next door to you. You'll see, you'll start making things for every room and save a buck load of cash! Plus, you've done it!
Restoration Hardware Inspired Industrial Baskets with Fabric Liners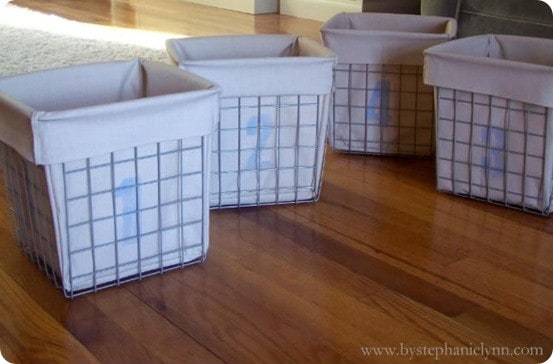 DIY Tutorial via knockoffdecor.com
These fabric linen industrial wonders are super fun to create and easily so. Your children's toys are taking over your life, and the entire of your home. You went to bed one night and cuddly toys and small cars and barbies are all under your bedsheets. Enough is enough! The romance is in jeopardy! Quick thinking is in order. And recreating this simple arts and craft will ensure that some of your homes will be yours again. And the kids will love having their own space and own toy hangout baskets. The same way as you love more and more the wine rack!
DIY Playroom Baskets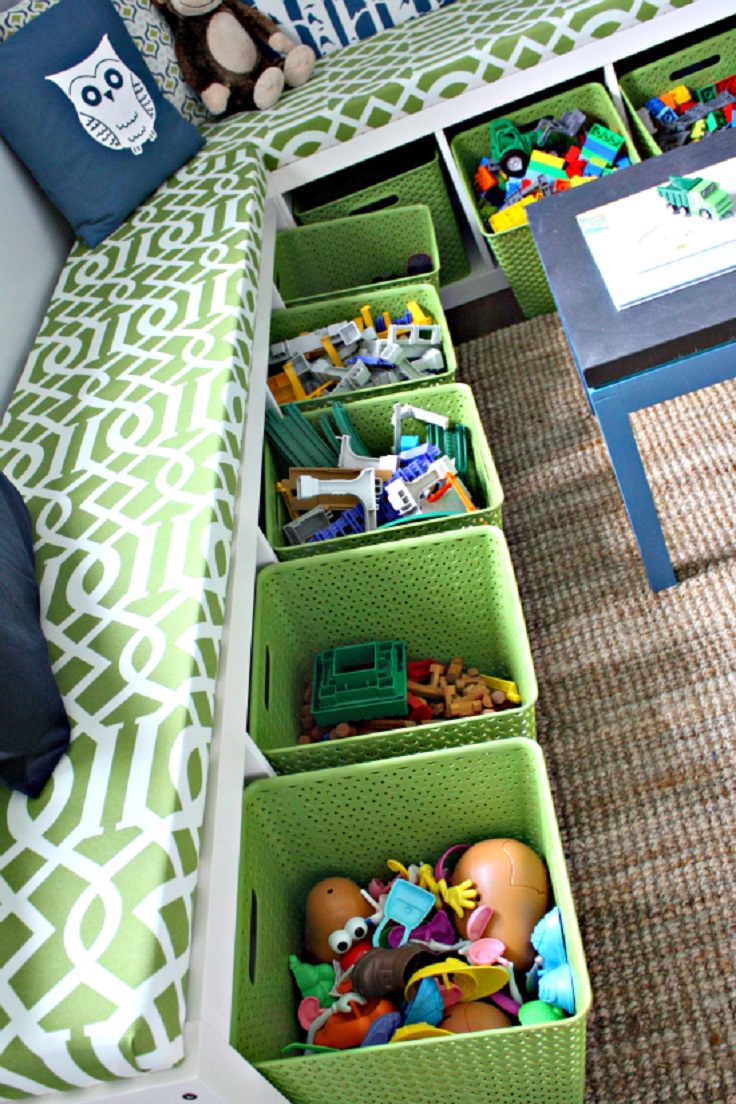 DIY Tutorial via iheartorganizing.blogspot.com
Do you have a corner that is empty but always with toys all over the place? Maximizing space for your little one to create their own peace of wonder is really something to consider which will save you so much time and effort in the process. Creating a bench is not only great for their creativity and senses of being an explorer but also for teaching them to clean after playing. Space-saving options are everywhere if we look closer to what is available. Let us not wish for what we do not have, let's be creative using every square inch that we have at this very moment. You would be amazed at the transformation this will make without costing a whole lot of hard-earned cash.
DIY Rolling Storage Crates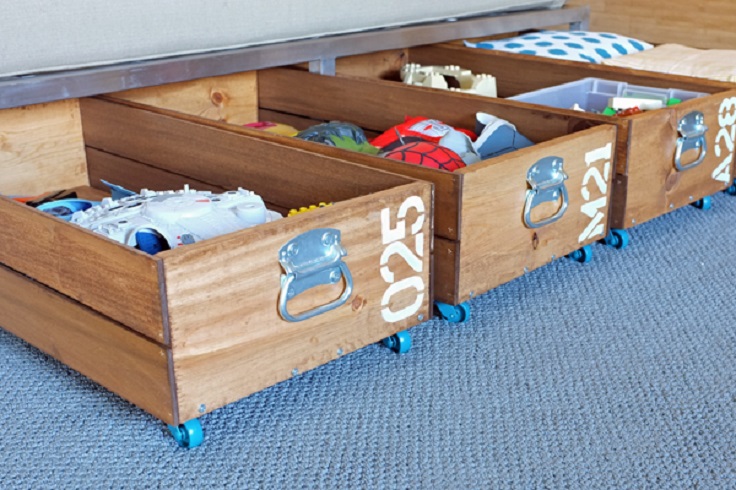 DIY Tutorial via schoolofdecorating.com
If you are the crafty kind of human, then these storages on wheels are amazing! They can fit under any sitting benches, or low shelves units you may have in your home. Often when we have children is that for such small people, they need a lot of space. Everybody buys them extra on top of it, that you wish to throw half away! But fear not, this is a super solution that will still make your home feel like a home, and not as a school nursery! If you already have odeon crates simply go to pretty much any hardware store and get yourself a set of wheels, literally and fix them up.
DIY Toy Holder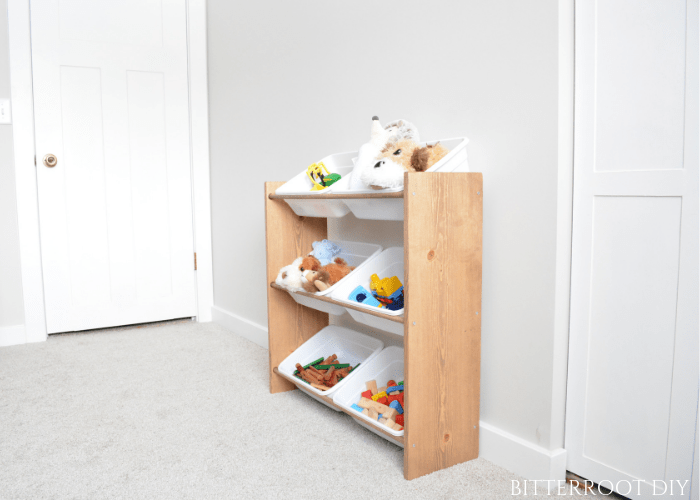 DIY Tutorial via bitterrootdiy.com
If you have an old shoe rack, or indeed can find a reasonably cheap holder, then this is your ticket. If it is an old shoe rack you can sand it down to bare wood then varnish it if you wish. The hardest part would be to find the fit to size plastic containers acting as storage for the kids, many cuddly toys, and others to all fit within one space getting rid of the cluster. A great solution to keep the room livable walking through it without breaking a bone but falling down from a parked toy car in the middle of the path!