People tend to hate rainy days, and for different reasons too. The cloud-darkened sky and the pitter-patter of rain hitting the ground creates a sort of melancholy that affects most people, making them feel down while raining. Others just hate the inconvenience of having to walk around with an umbrella as well as getting wet, especially if you're off to a specific meeting or event. Whatever the reason, if you live in a country that has a significant amount of yearly rainfall, you could go to a place where there aren't any rainy days, like in dessert or you'll just have to accept it and move on.
Almost all countries in the world have had their fair share of rainy seasons, and it appears they might keep on happening more and more often. So it is a good thing to invest in some sturdy umbrellas
And after getting now for the entire family, means you'll have to have a place where the umbrellas would be kept once you get back home. After all, no one wants to get their home getting wet and dirty. Umbrella stands are one of those handy items in your home that is rarely of use, but when it is, it's irreplaceable. When you think about it, and tall enough container can serve as a decent umbrella stand, so why spend your time and money shopping for something you'll only need on rainy days, literally.
Making or upgrading an umbrella stands is a simple and pretty project, anyone can get behind and enjoy doing it. So, here are some cute and fun umbrella stand projects for your hallway you can recycle or start from scratch that will leave you to hang out to dry… But in a good way. Let's get started.
Cute Sonotube Umbrella Stand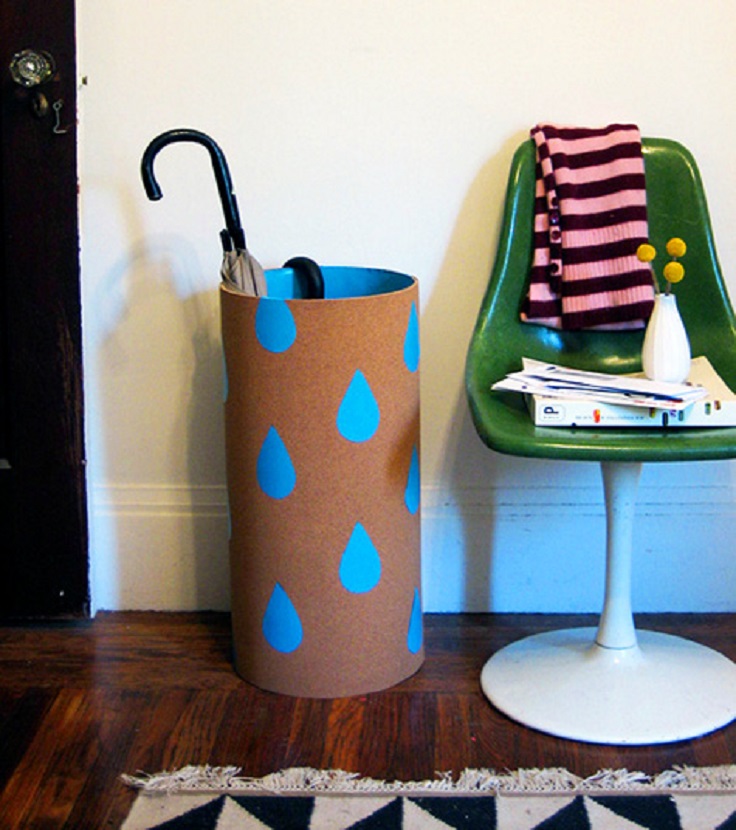 We start our list with perhaps the simplest solution for an umbrella stand. A Sonotube is durable and quite affordable, and it is available in different sizes in hardware stores. Transforming it into something that will blend with the rest of your interior is very easy and fun. So choose your Sonotube size and start decorating your umbrella stand.
Fun Umbrella Holder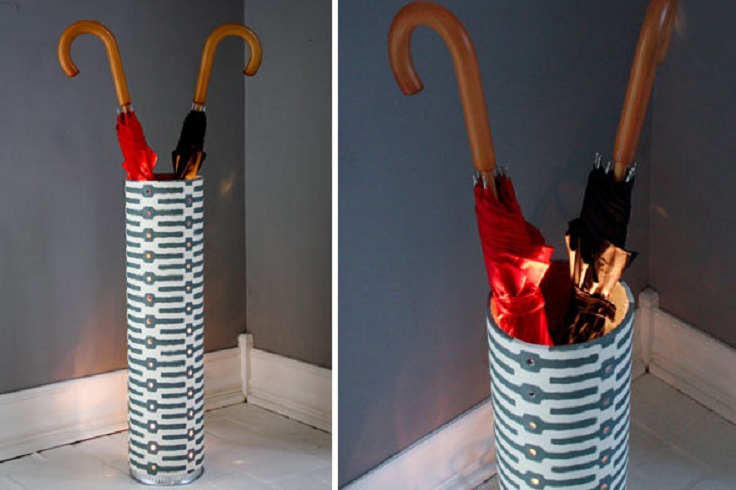 This umbrella stand project is quite clever if you think about it. Hallways usually don't have great lighting and when you're in a hurry you don't want to waste any time looking for the right umbrella from inside the stand. Having it shine from the outside will not only make choosing your umbrella easier, but this PVC pipe project is also quite unique and decorative.
DIY  Pink Umbrella Stand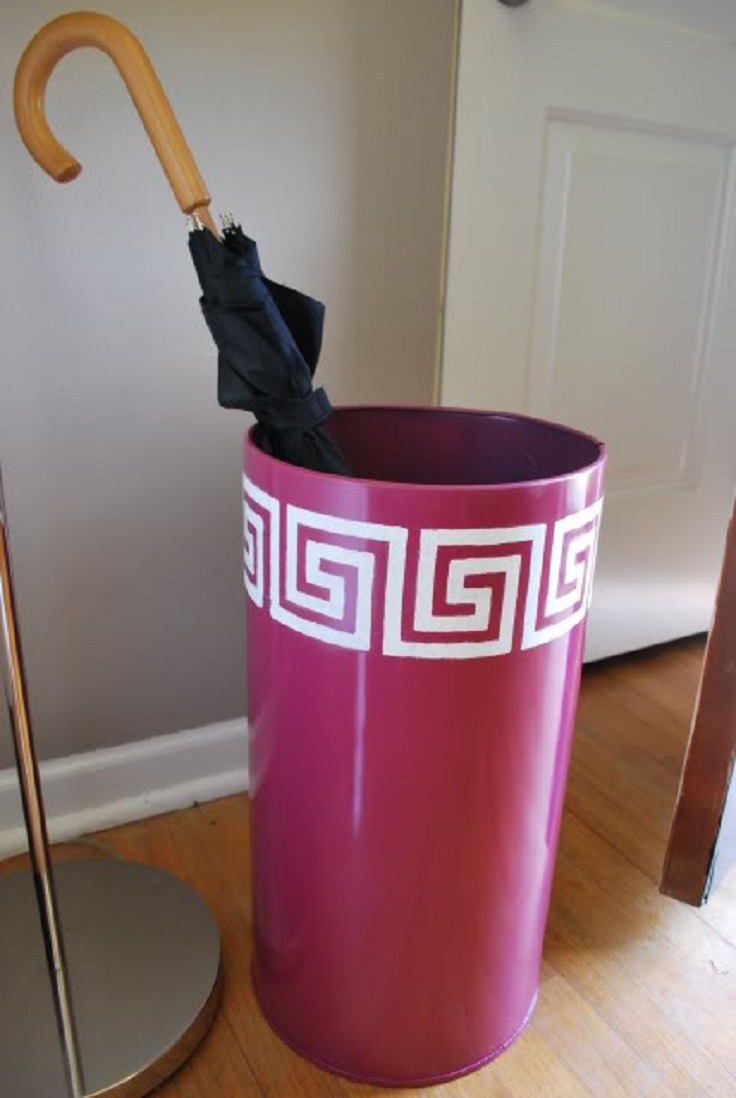 One man's trashcan is another one's umbrella stand. Or at least it could be. This project is the result of a small painted tin trash can. No skills needed, just a cylindrical container and some creativity.
One Board Umbrella Stand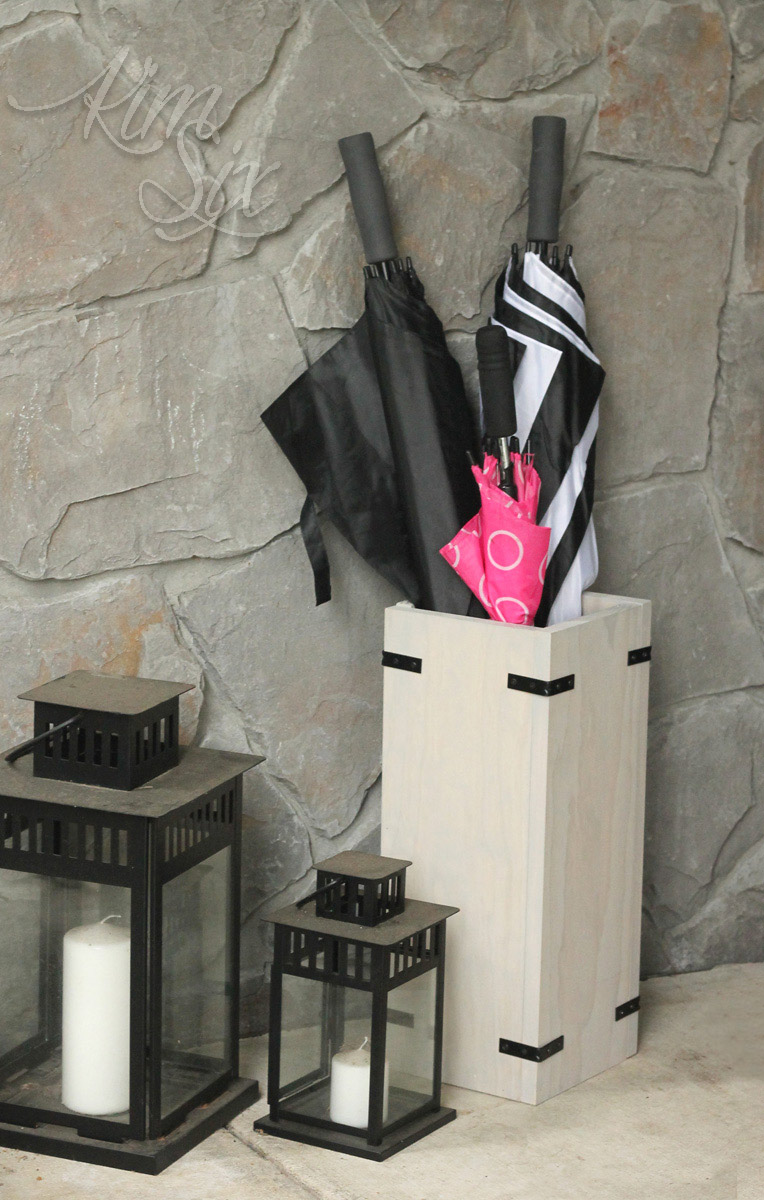 Building your own things brings a certain feeling of satisfaction, even if it is something small like a rectangular box. This wooden umbrella stand is a good beginner's project that can be done in a short amount of time and with just a few supplies, mainly one wooden board, some corner braces, and a few other things. It is a project suitable for both the indoors and outdoors.
Shipping Pallet Umbrella Stand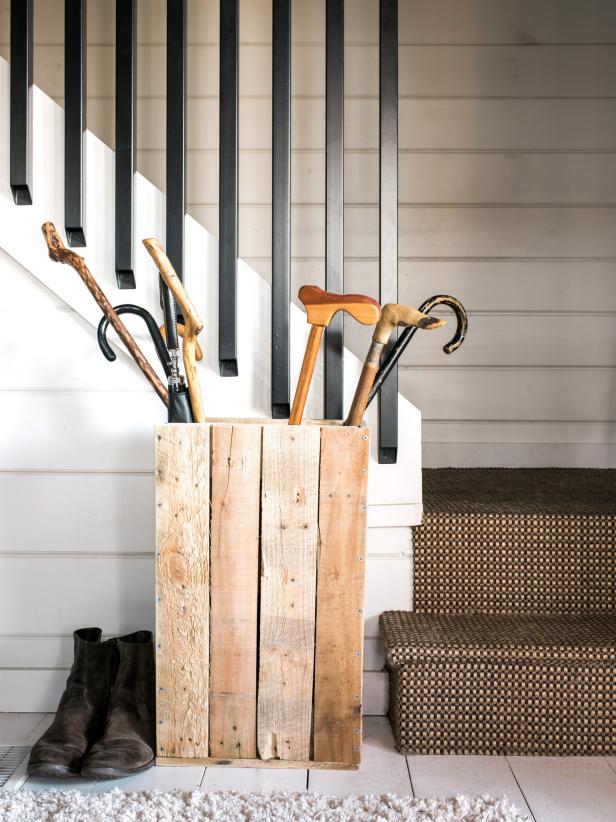 If you're looking for a rustic umbrella stand project and preferably made from old materials, then the old pallets are the things that you'll need. You'll probably get a workout from disassembling a wooden pallet and then reassembling it to create a very organic piece for your hallway.
Wire Mesh Umbrella Stand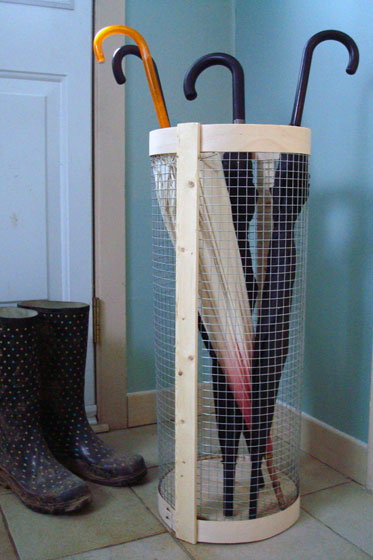 Umbrella stands are a place to keep all the umbrellas in one place and keep them from making your home wet, but it is also handy if the stand allows you to see exactly which umbrellas it holds, not only their handles. A mash wire is sturdy enough to hold a lot of umbrellas, it is see-trough and playable, making it the perfect material for this project.
Cinder Block Umbrella Stand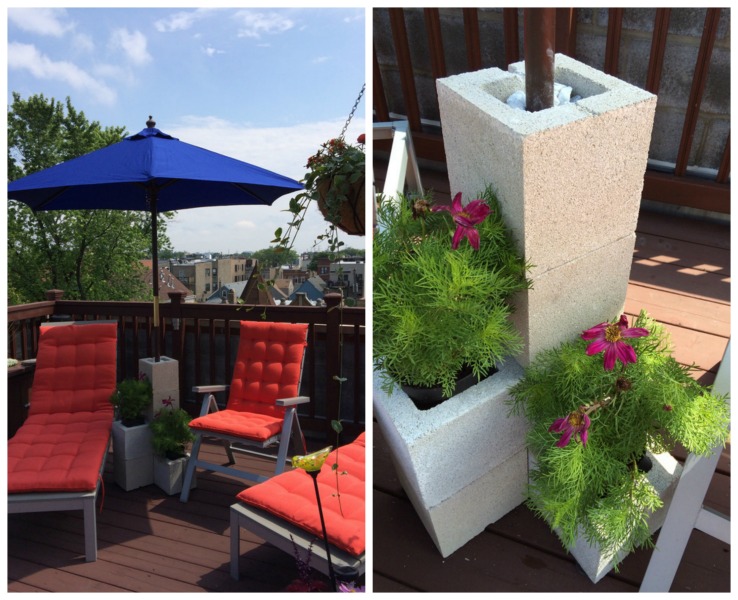 Most umbrella stands are flimsy, light, and can easily be knocked down. Some add weight to their stands, which won't be a problem if the umbrella stand is heavy as a brick… Or in this case a cinderblock. And the best part, you can use it as an outdoor umbrella stand, for your large patio umbrella.
Umbrella Watered Plants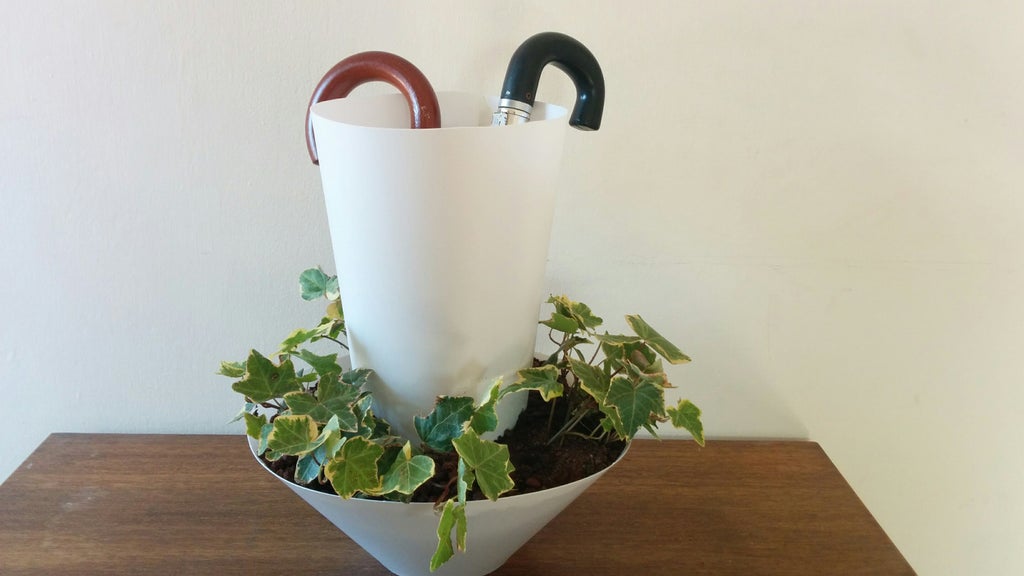 umbrellas gather a lot of water from the raindrops, so much so that they can make quite a decent puddle once you've put them away. Why let that water go to waste? Make this green planter umbrella stand, and you can at least be sure that your houseplants are watered on rainy days.
Jute Bucket Stand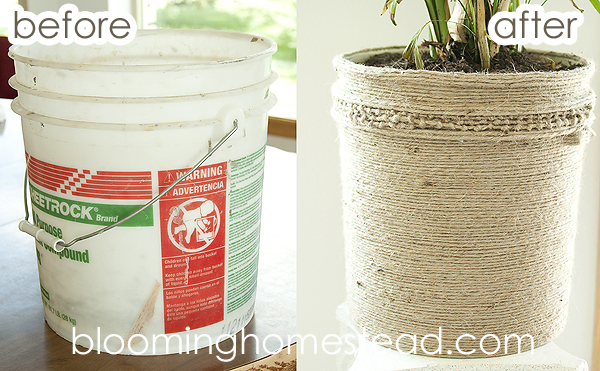 Yes, this isn't an umbrella stand project, but the idea behind it holds true nevertheless. As we said, any high enough container will do just fine, and a paint bucket falls into that category. Since the paint bucket is not something you'd like just lying around your hallway, transform it into a nautical vintage bucket with some glue and jute rope. Use the end result for whatever you like, be it an umbrella stand, planter, laundry basket, or whatever.
Sectioned-Off Umbrella Stand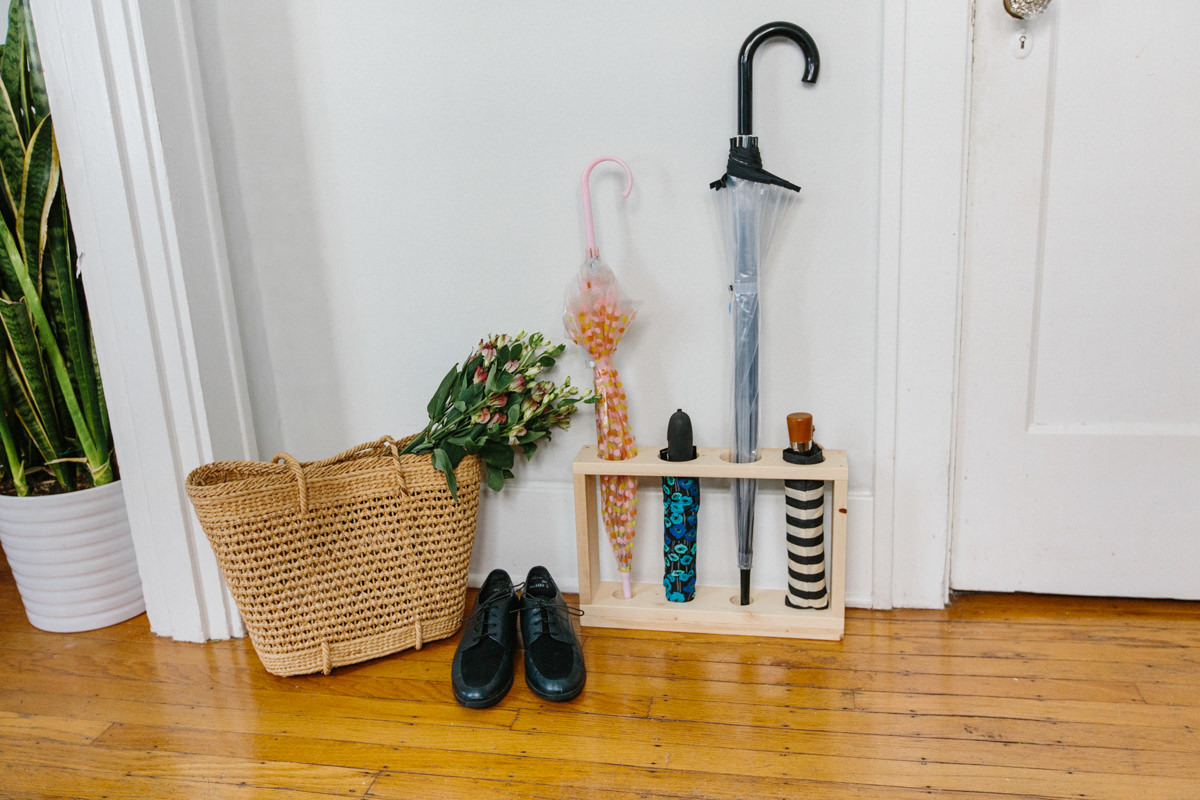 We left our most difficult and most modern project for last. A nice, clean, wooden umbrella stand, with separate holds for 4 umbrellas. Neat and slim, so you can tuck away behind the front door. It certainly is a cute little project, that just might worth getting hose power tools out before the next rain comes.
That's all we have for you for now. We hope you've enjoyed the projects we selected for you and that will give you an idea on how to solve your wet umbrella problem. Which project was your favorite? Leave us a comment in the section below.