If you want to be more creative this year, and you still want your Christmas tree to be unique, then we are offering one fun and easy solution for you. You can always have more fun just by yourself or with your kids or your friends while personalizing your Christmas tree.
Personalize your Christmas tree with these DIY fun and easy ornaments that you make with your friends or family. With these 10 DIY ideas for Christmas ornaments, you can add precious memories to your tree or lots of fun colors to make the tree truly shine during the holidays.
Or you could use these DIY ideas for ornaments to inspire your own creations. The possibilities are limitless! So, start now and be creative!
Ribboned Ornament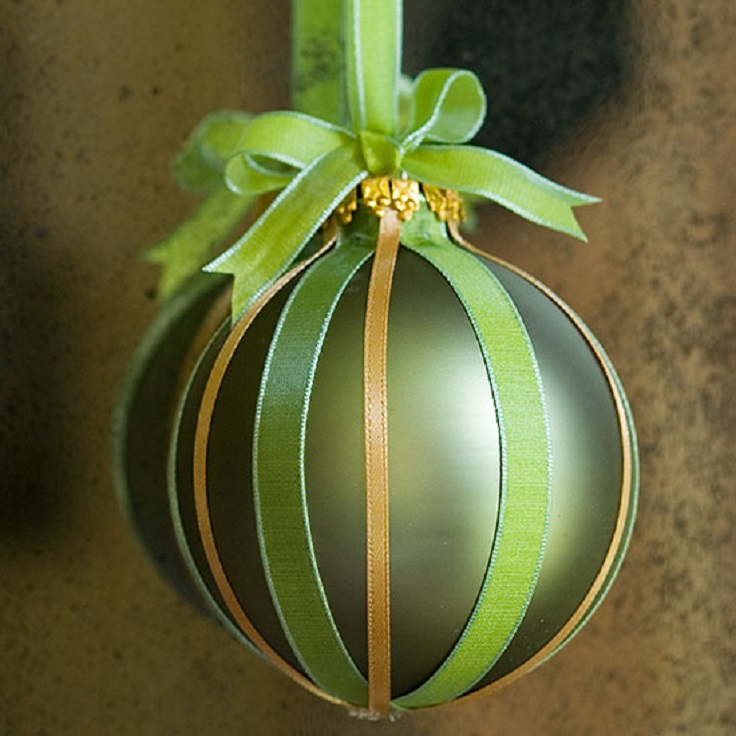 via bhg.com
Add ribbon stripes to an ornament for holiday flair. Remove the ornament cap and cut strips of ribbon. Hot-glue the strips, beginning at the base, to the ornament. Tuck the ends of the ribbons into the top opening and glue them into place. Replace the ornament cap and tie a bow around the hanging loop.
Bejeweled Ornament
via bhg.com
Choose a single color for your ornament crafts for a stylish result. Find rhinestones to match the color of your ornaments and adhere the jewels to the ornaments in pretty patterns using crafts glue.
Glitter Filled Glass Ornaments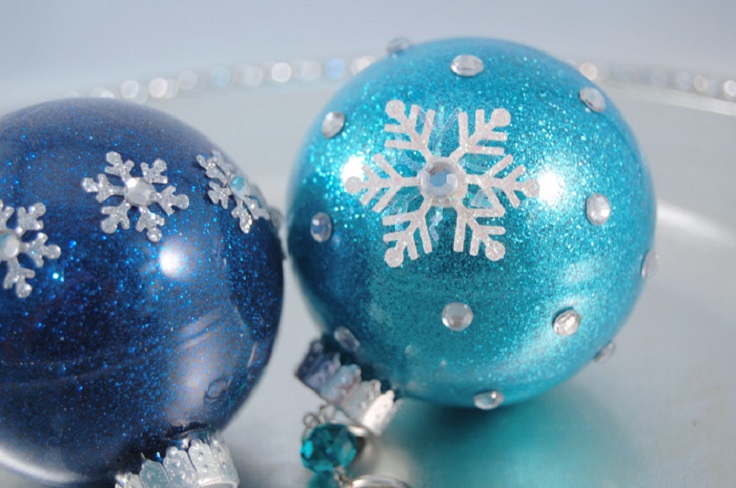 Raid your crafting supplies for interesting embellishments to adorn plain glass ornaments. This turquoise ornament was updated with a snowflake scrapbooking applique adhered to with hot glue.
Candy Sprinkles Ornament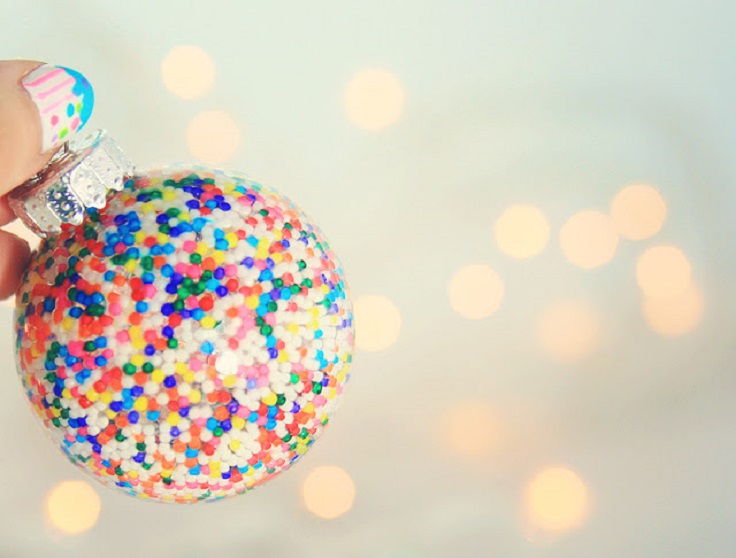 via littlegrayfox.blogspot.com
This cute ornament is poured with some different colors of candy sprinkles inside! These would be great stocking stuffers for kids..just make sure they don't try to eat them! You could seal the metal top with some glue on the inside if you're worried about that.
Add Fabric Ornament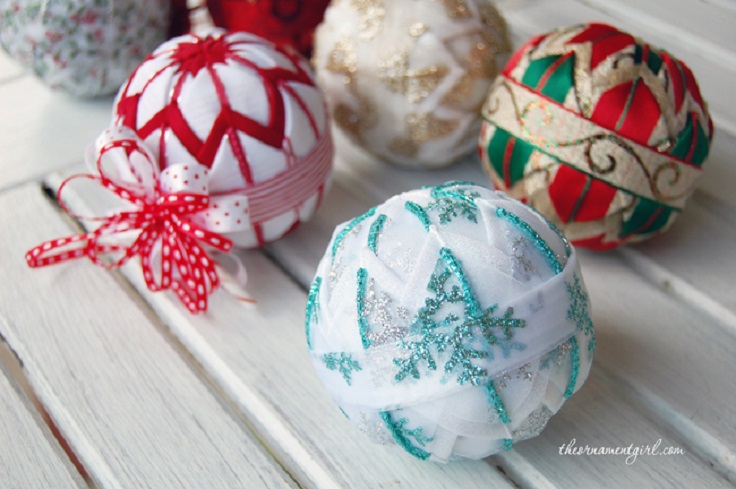 If you have strips of Christmas fabric – or just any old fabric, you can cut and glue them onto your old ornaments and cover up any imperfections. Create a theme with your fabric and you can make the ornaments look as if they were quilted together. This requires a bit of work with regards to measuring and cutting the fabric but you can do it with absolutely no sewing involved.
Silk Flowers Ornament
These flower petal ornaments are really going to complete your crafty Christmas decorations! First, separate the flower petals from the stem. Cut out the individual flower petals (if needed). And after, starting from the bottom of the ornament, glue petals one by one until the surface is completely covered. First, cover the bottom layer, then work your way up until you reach the top. You can always try mix 'n matching different colored flowers to add some warmth and handmade love to your home for the holidays!
CD Mosaic Ornament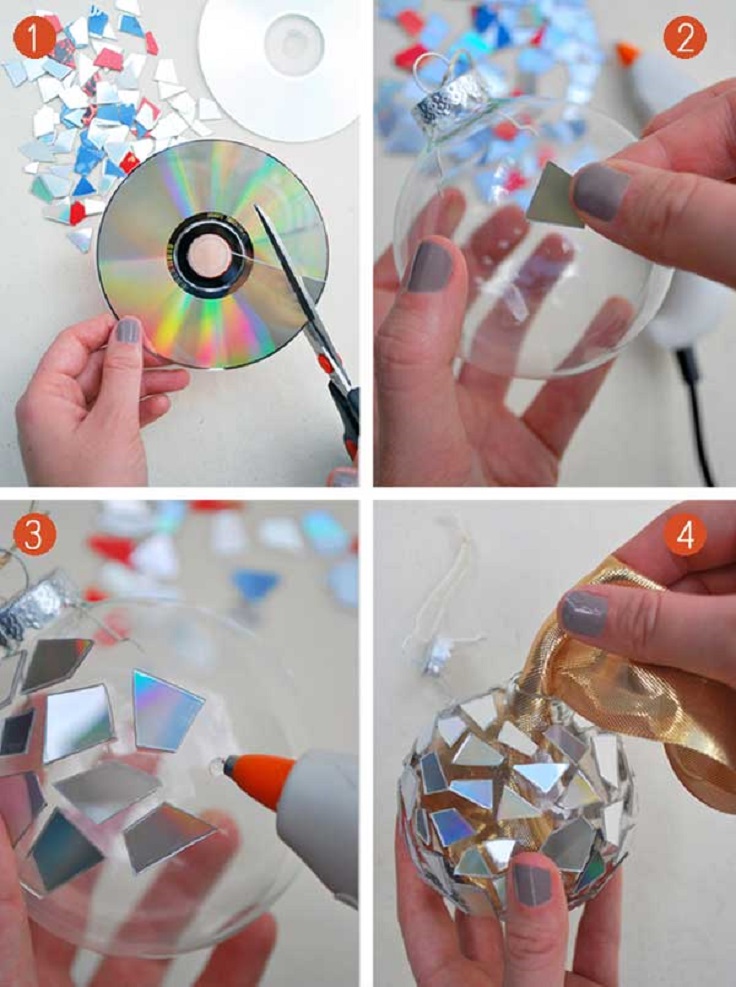 via cremedelacraft.com
Cut CDs into various small shapes and sizes. Glue a small dot onto the ornament and press a piece of mosaic on top with the shiny side facing up. Continue gluing until the entire ornament is covered. Place some ribbon inside the ornament. Since you can see through the glass ornament, this will cover up the glue dots on the inside and the backside of the CD pieces. And finally, you're done! Now make a bunch, hang 'em up and watch your tree sparkle!
Candy-Filled Glass Ornament
via tipsaholic.com
Remove the hanger from the ornament and then, using the funnel, fill the clear ornaments with some candies. Smaller children may require help to hold either the funnel or the ornament. Place the hanger back onto the ornament. Use the glue to attach a small bow. Set aside to dry. It only takes a few minutes to make each candy-filled ornament, and this is the perfect activity for kids to help with. They will love making these fun treats to not only hang on the Christmas tree but also to give as a classroom or neighbor gifts. The holidays are all about the candy, so celebrate that by filling your clear glass ornaments with candy! These would also work great as gifts.
Nature Ornament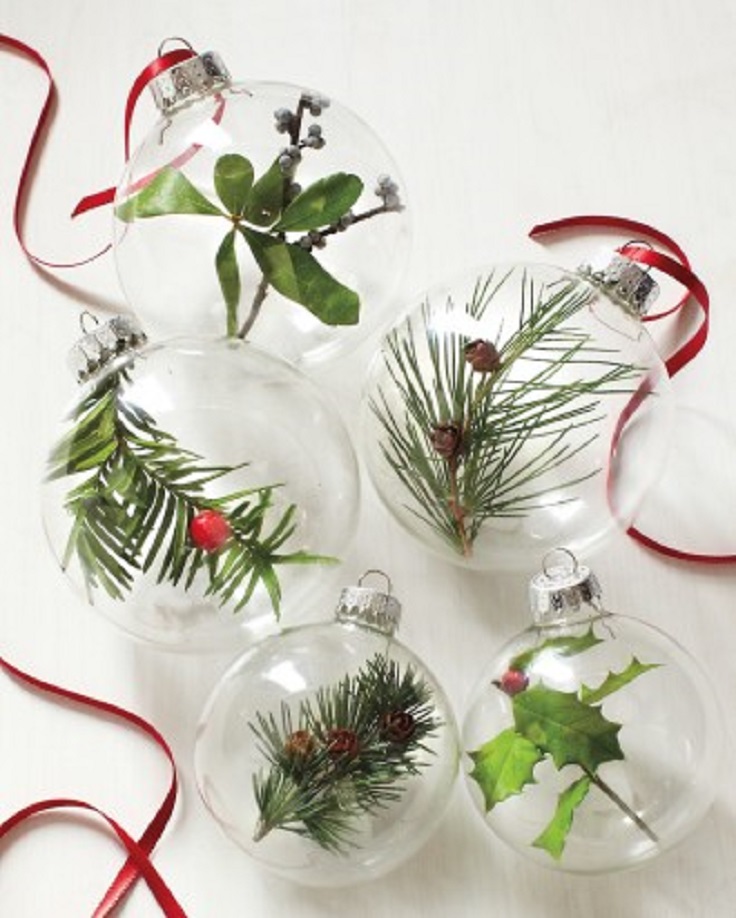 via wart.com
It has the charm of a ship in a bottle but is far more festive: winter greenery contained in a delicate glass ornament. Crafts editor Hannah Milman fills glass-ball ornaments with sprigs of holly, bayberry, and evergreens. Remove the cap from an ornament, and carefully place a small piece of trimmed greenery inside. To prevent condensation from forming, leave the cap off for 24 hours before replacing it. Thread ribbon through the top loop, knot, and hang from the tree.
Quote Ornament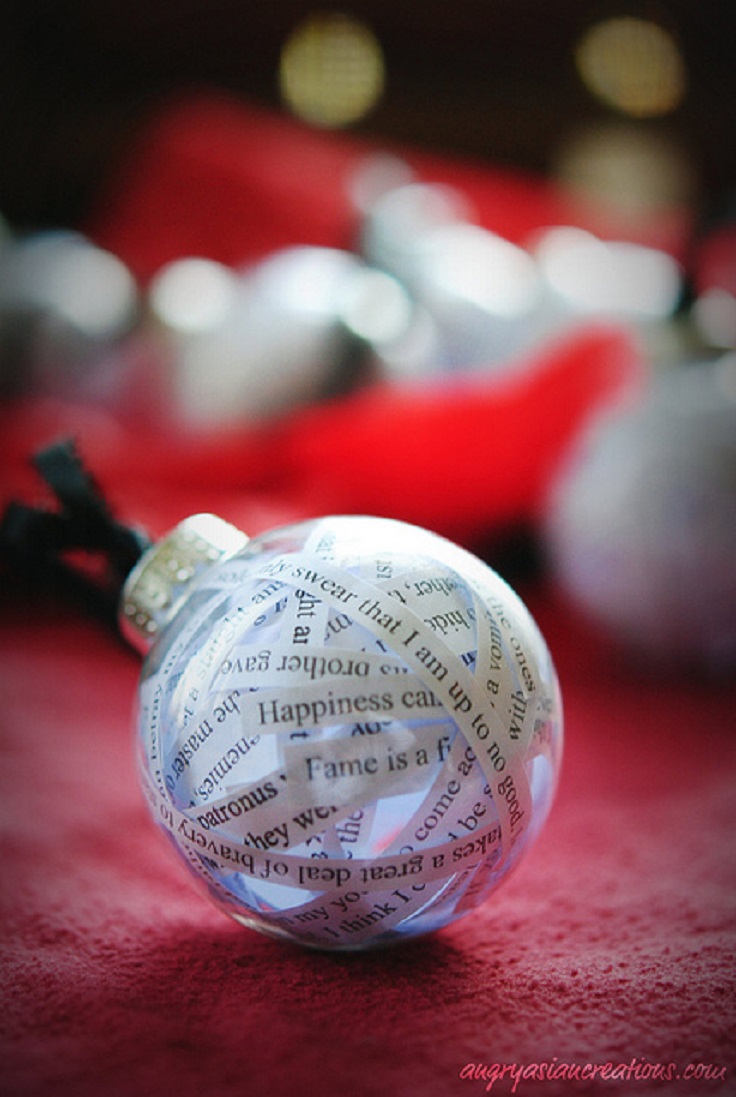 Which are your favorite famous quotes? Love music or literature? Find special pieces of paper, make copies, cut them into strips, and put them in your glass ball ornaments.