Of all the rooms in your home to keep neat and organized, the kid's room is probably the most challenging one, along with a garage and a basement or an attic. Relying on the kids to keep their toys, painting supplies, and all the other stuff you might find in their room in order is probably a bit too much to expect or hope for.
Let's face it, it is just too hard to pick up the toys after they're done playing as it is to take them out and scatter them all over the room.
One way to help ease the burden of keeping their toys neat and organized and teaching the kids on being responsible is to provide them as much practical way to store all of their things.
Buckets, crates, and bags are an easy way to achieve that, and the best part, all of these things don't have to drain out your wallet. There are plenty of ways to reuse, repurpose and create some very cool and fun storage solutions that your kids will be happy to use.
So let's start with our list and the best 10 storage solutions for your kids' room that will keep the clutter at bay.
Easy DIY Basket Toy Organization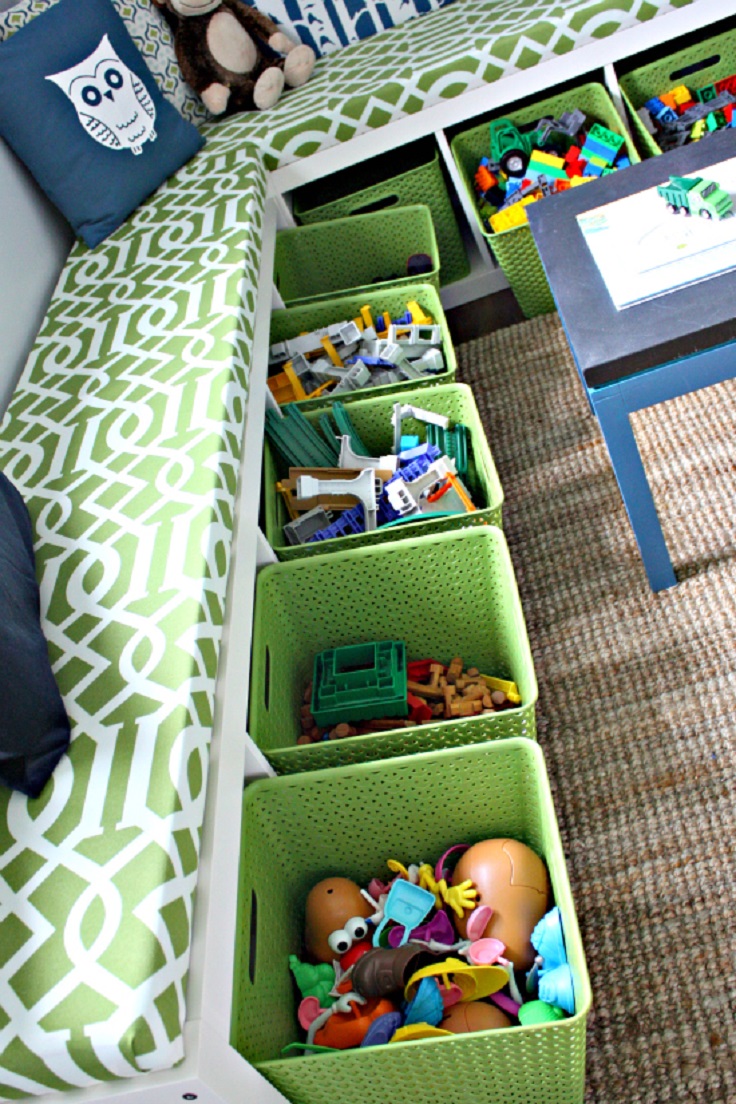 Starting with an easy and simple one: baskets. Whether you have or plan on making a corner bench or sitting area in the kids' room, having it made with some extra space, sections if you will, that you can keep well organized with some nicely placed baskets. This all looks very nice and very practical, making it a great project to consider making.
DIY Flip Down Wall Art Desk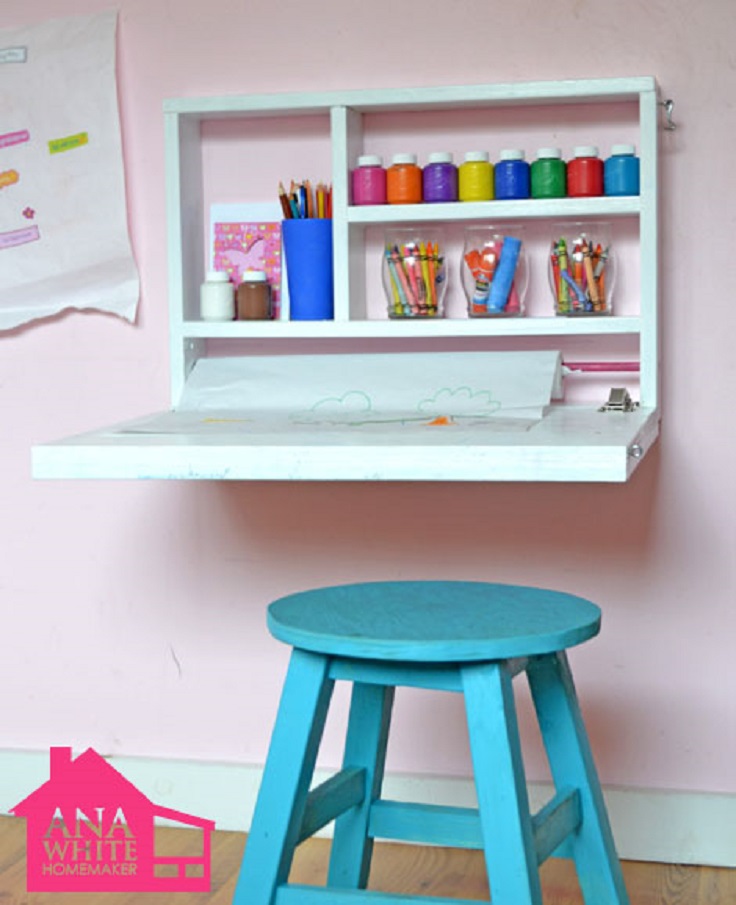 Many kids prefer drawing to playing and it is always nice to provide them with a cute little space they can easily keep organized, and one that won't take up to much of the play area. A wall-mounted flip-down drawing desk is not only space-efficient, but it also looks so adorable, your kids will enjoy using it all the time.
DIY Homework Station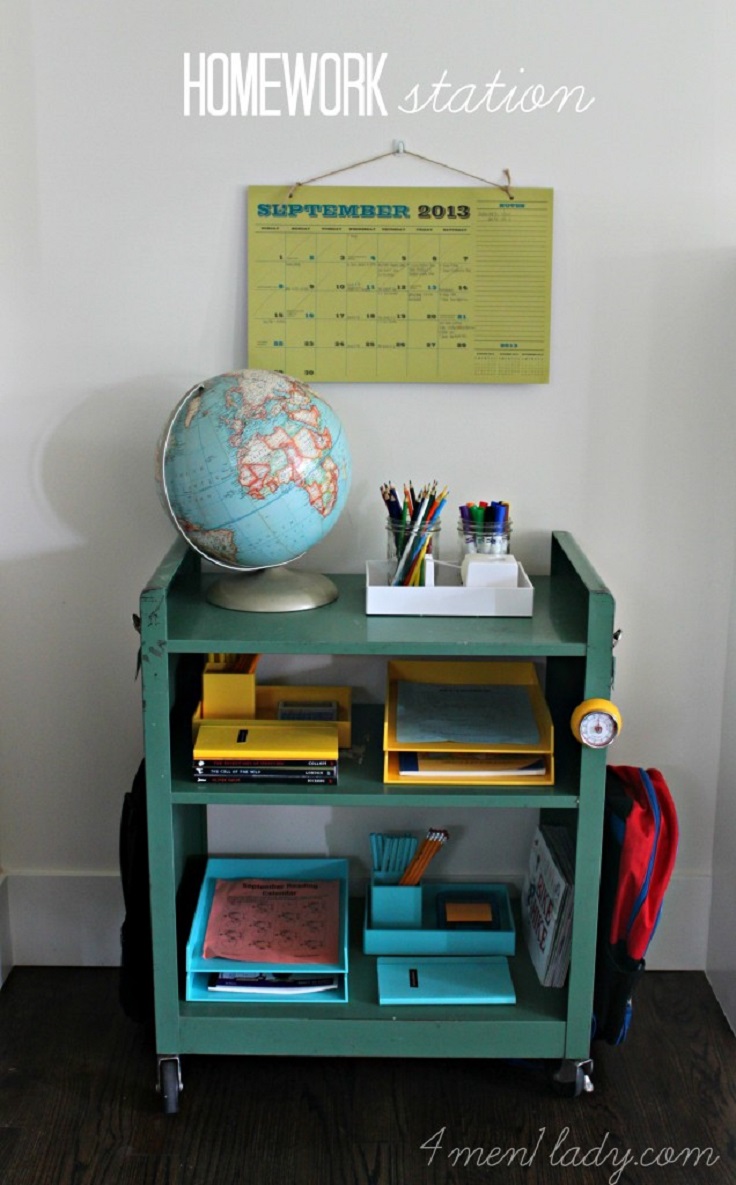 Once kids start going to school, they will need some time to learn how to keep their books other school materials organized and at hand, without cluttering their already small desk. An old cart can easily be transformed into a homework station, holding all the things at hand to make homework time a little less boring.
Door Shoe Organizer For Small Toys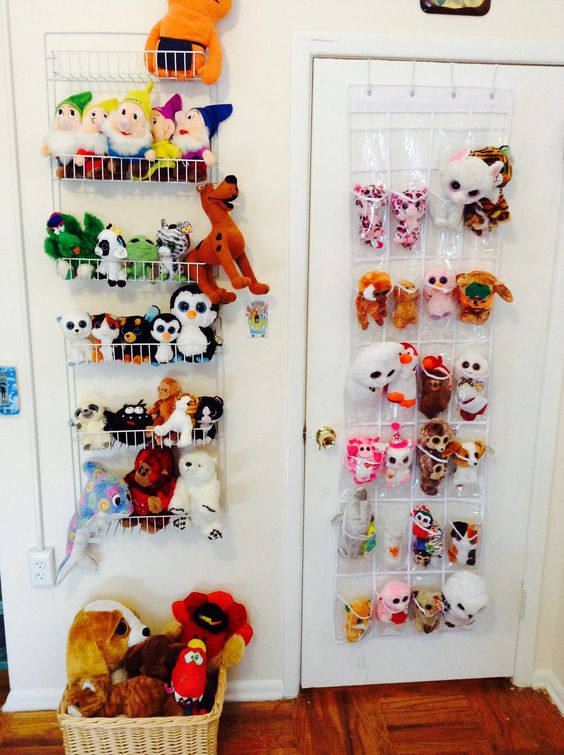 Sometimes the simplest solution is the best, and one that needs absolutely no effort at all. The door shoe organizer has found many uses over the year aside from keeping shoes organized, and now you can add this alternative use to the list: storing small toys into their won little pockets. Lovely.
PVC Stuffed Animal Zoo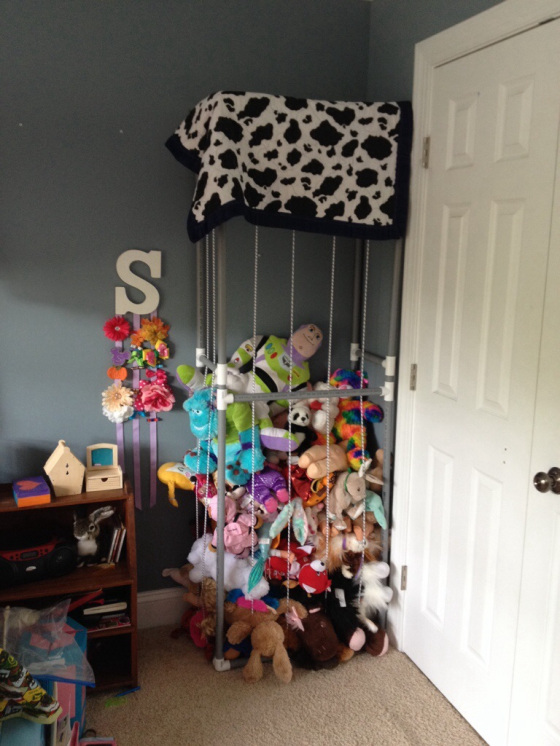 One of the most challenging toys to put away are the stuffed animals. Kids love them but don't actually play a lot with them. Yet, we still buy them new ones all the time. One way to keep all those stuffed animals in one place without taking up too much of it is by making a little stuffed toy ZOO, like this one. Doesn't it look great? A lot of free space and all toys in one place.
Peek-A-Boo Sacks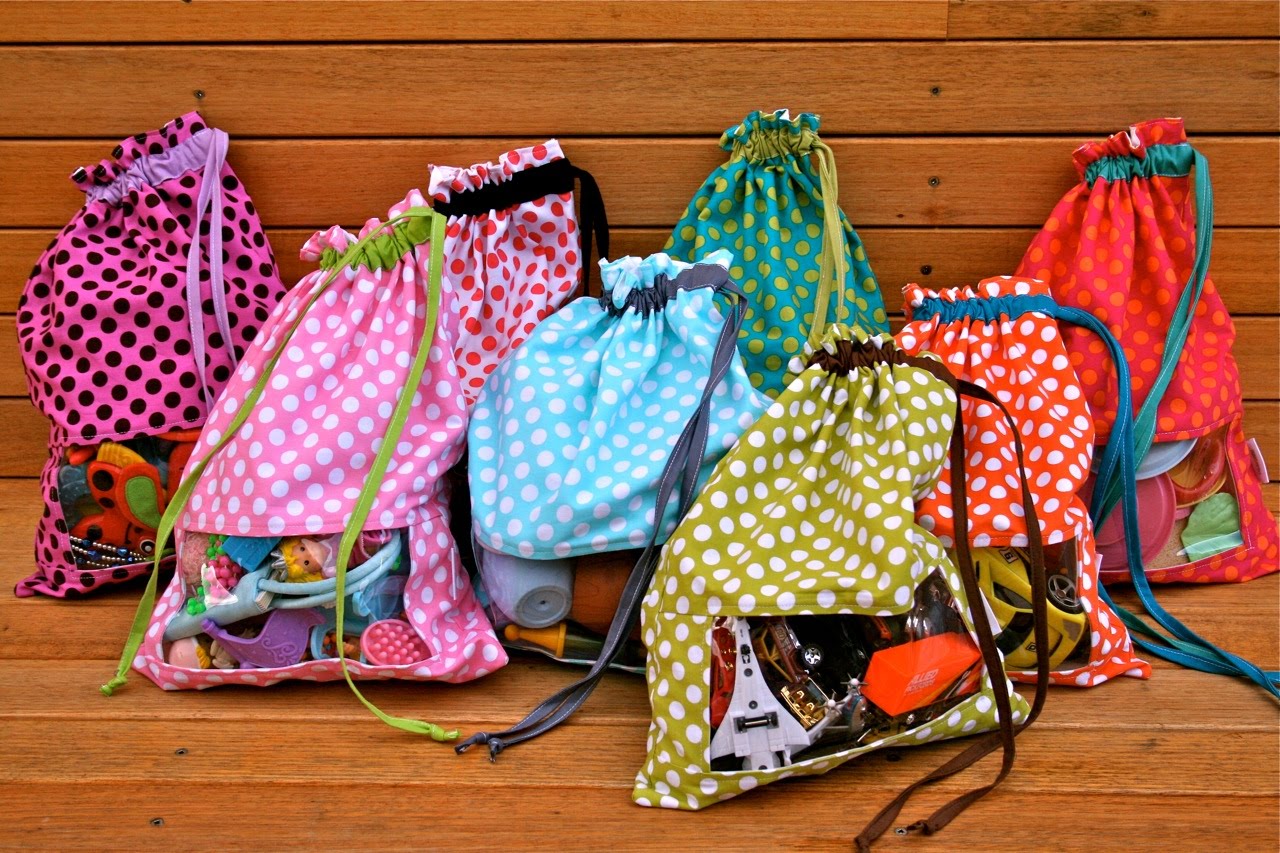 Bags and sacks are a good storage solution because they are so mobile. Kids can take them to the place they want to play and gather everything up once they're done. And a sack with an option to peek what's inside it without actually opening it is absolutely brilliant. So take a look at this project and make your own peek-a-boo sacks today.
Rolling Storage From Old Drawers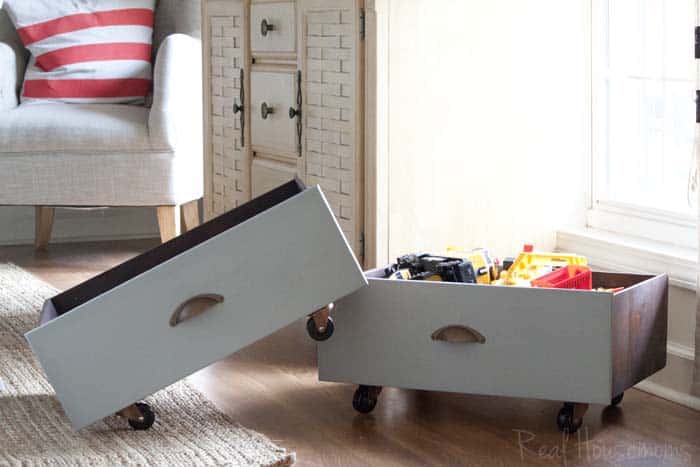 If all the storage you can spare in your kids' room is the space under their bed, then we have a project for you. Screw-in some wheels on old drawers (or wooden crates or something similar you might have) and you have the best rolling storage for the kids that can be pushed under the bed whenever playtime is over.
Hanging Storage Baskets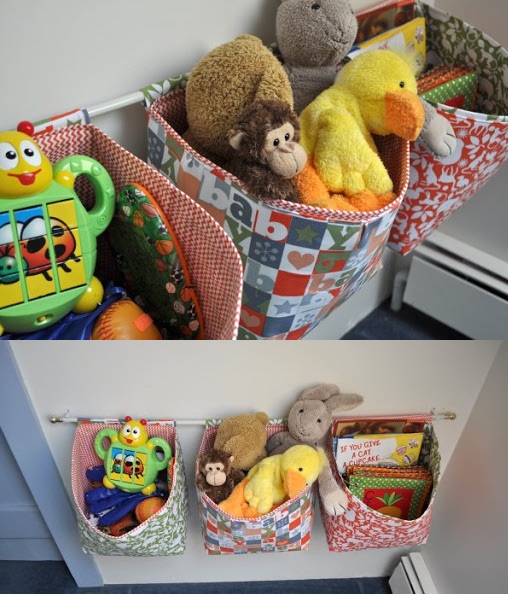 We often forget that our closet is not the only storage space we have in the room. Wal offers a lot more storage space than we give them credit for, and you don't need to build shelves or cabinets to make use of them. A rod, some bags and maybe a few hooks, and you have some nice place for your kids' most-used toys and books.
Play Mat Sting Bag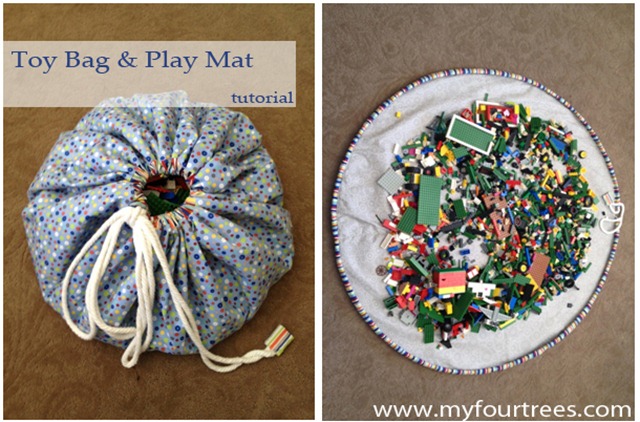 Legos and other small blocks are your child's favorite toy? Then you know how bothersome it can be to gather all of those little pieces after playtime is done. This is the thing you've been looking for. A foldable play met that transforms into a large sack. All that time of gathering stray legos all over the room will come down do pulling a single string. Genius.
Bench And Desk Set Toy Box Storage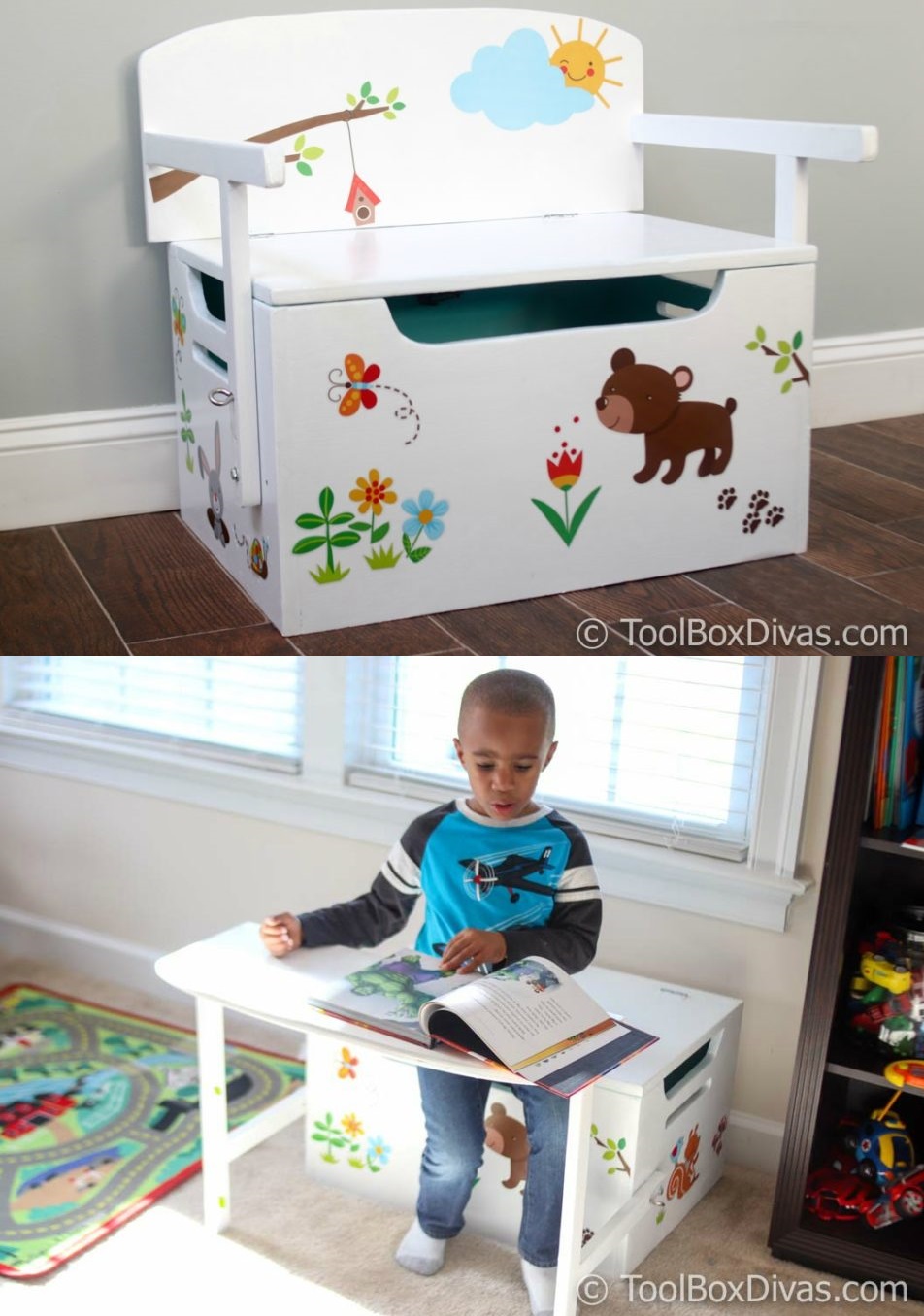 For our last project, we give you a 3 in 1 project that has it all. A bench, a desk for drawing or homework, and a storage box. All in one brilliant piece of furniture. The design is elegant, practical, and most important, your kids will love the transforming properties of it, so you can be sure that they'll use it regularly. And you don't have to look high and low for it, because you have the tutorial here to make it yourself.
That's all the storage ideas we have for now. We hope that we've inspired you and gave you some ideas on how to finally make your kids be more responsible and organized with their toys. What was your favorite project? What is your best storage solution for your kids? Leave us your ideas and suggestions in the comments section below.