Summertime is party time, and from baby showers to bachelorette parties to weddings, all good parties need a creative invitation. Your invite sets the tone for the type of event you are throwing and is a great way to get guests in the mood to party well before the big day. While we know it can be tempting to go the digital route, especially for eco-friendly reasons, we can't resist a good old fashioned paper invite.
This time we made a list of the top 10 exciting and unique wedding invitations. It's easier to order the invitations and not to worry about that, but be honest, they are all the same and not creative so much. Snub tradition and let your imagination go wild with these fun and unique wedding invitations and save the date ideas.
Modern Vintage DIY Wedding Invitation Set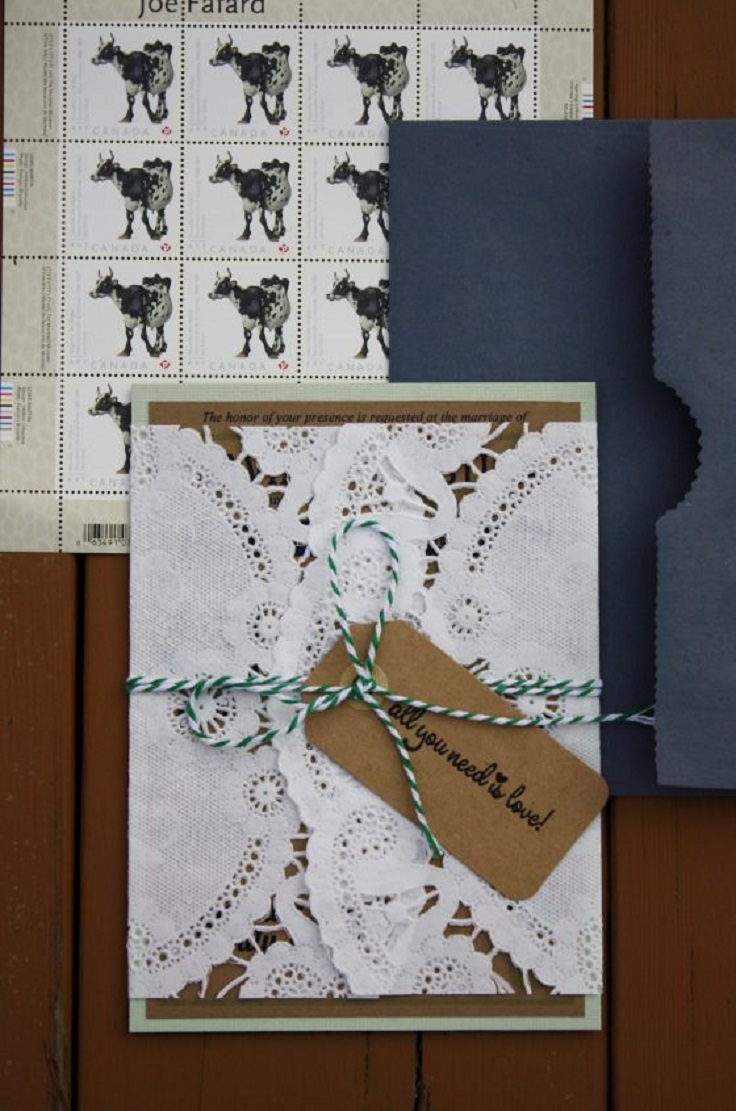 via itmadeallthedifference.wordpress.com
A brown kraft paper is simple, pure, natural, and ready to be created into something beautiful. You can use this for the major elements of the invitation, and it's nice the contrast of the 12″ bright white paper doily, which you can cut to wrap around all the sheets. Lastly, tie the whole package up in a green baker's twine with a tag embossed with "all you need is love."
Passport Invitations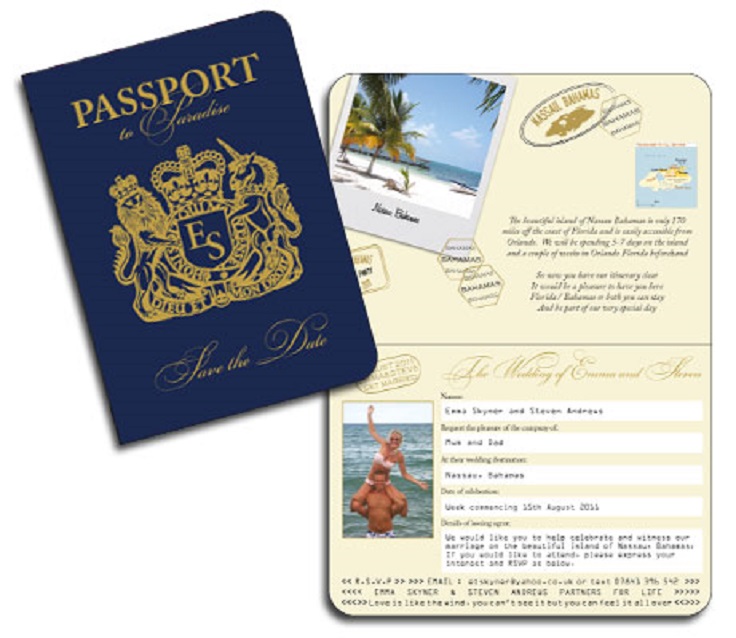 via weddinginvitationdesigner.com
If you are planning your wedding somewhere else, make your guests their "passports" invitations so they can come with you. This is an especially great idea for those who travel a lot; it's so authentic.
Tiny Airmail Wedding Invitations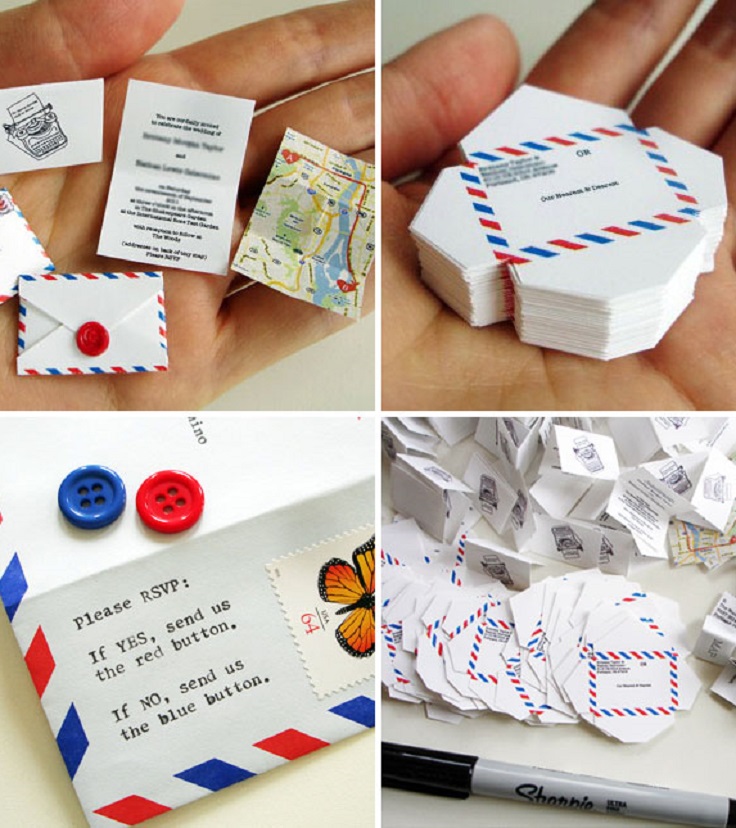 The invitation component of this snail-mailing includes: a tiny card with a hand-illustrated typewriter on front and the relevant ceremony details inside, a tiny map printed in full color, and airmail themed tiny envelope with red and blue stripes, recipient name and address, return address, and a tiny canceled heart stamp.
Paper Cut-Out Cards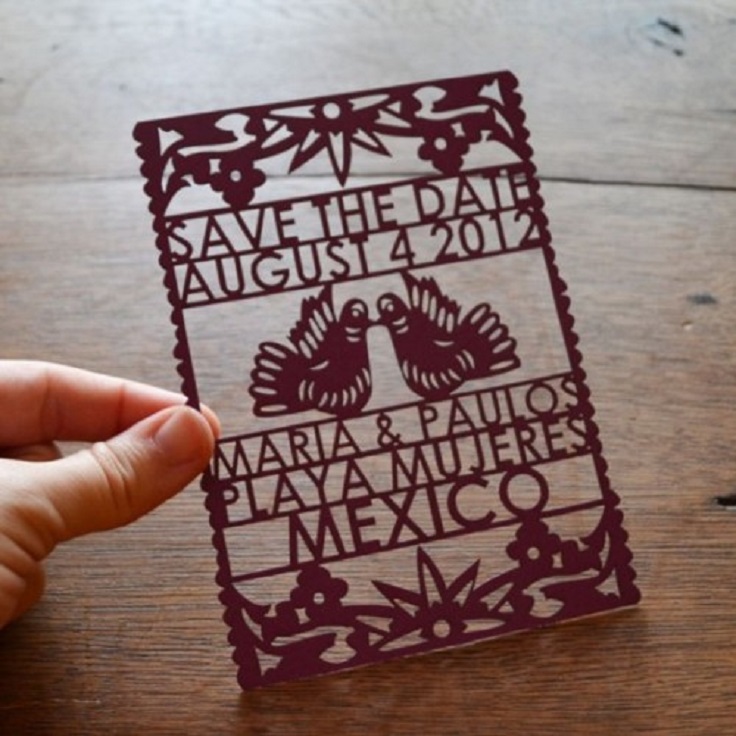 These beautifully rendered paper cutouts require only patience, concentration, and a careful hand to make. The materials required for even the most elaborate cutouts are simple and inexpensive — paper and pencil, scissors and knife.
Tie The Knot Wedding Invitation Suite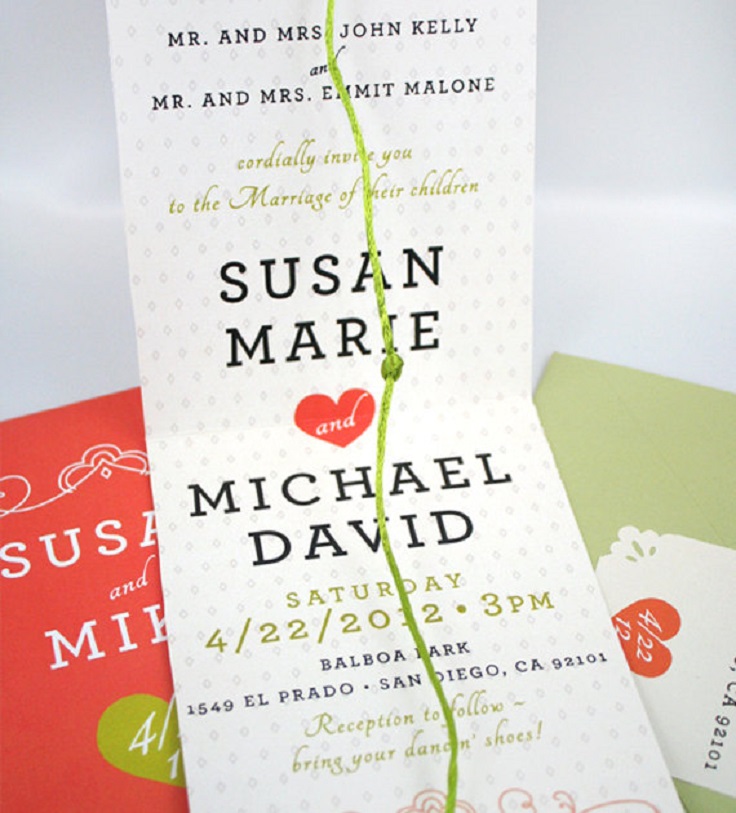 via chickadvisor.com
One of the easiest ways to dip your toe into the DIY trend is to create your very own invites or 'save the dates.' This piece of paper may not seem all that imperative to your day, but the invite can set the tone for the theme or atmosphere of your wedding.
Confetti Invitations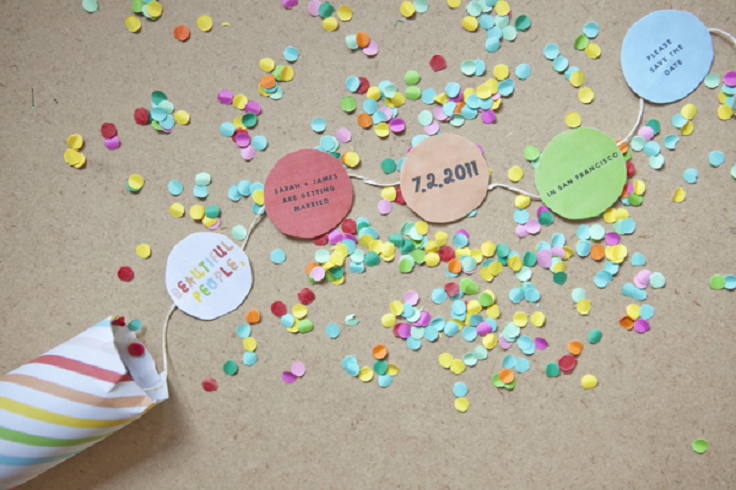 via ohhappyday.com
These little tubes shoot a little burst of confetti when you twist them. The problem is they are usually ugly, and the confetti inside them is usually poor quality (like five little sad strands.) So what we did here strip the label, disassemble the spring mechanism. Then put it back together with our own confetti plus an invitation inside. Then the recipient twists the canister for an exciting little moment to get their invitations.
Blow Up Balloon Invitation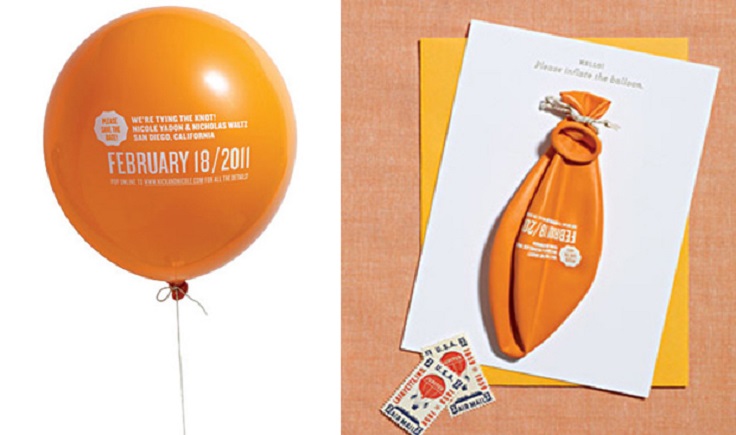 via yesbabydaily.com
Test your guests. Printing your wedding invitation on a balloon that your guests then need to blow up to read your invitation is a fun change from conventional printed invites.
Fairytale Wedding Invitations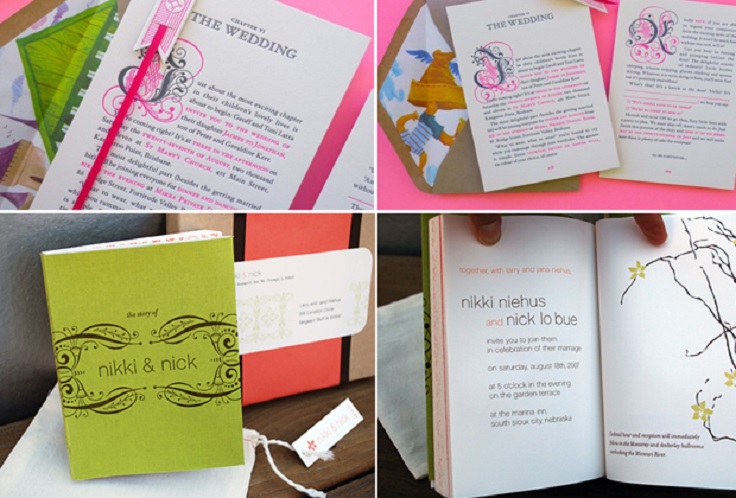 via yesbabydaily.com
Want to tell your guests your story? Why not create something like this lovely storybook invitation. It not only gives guests a more intimate insight into your story as a couple, but it can also be incorporated into your wedding theme too!
A Retro Movie Poster Invitation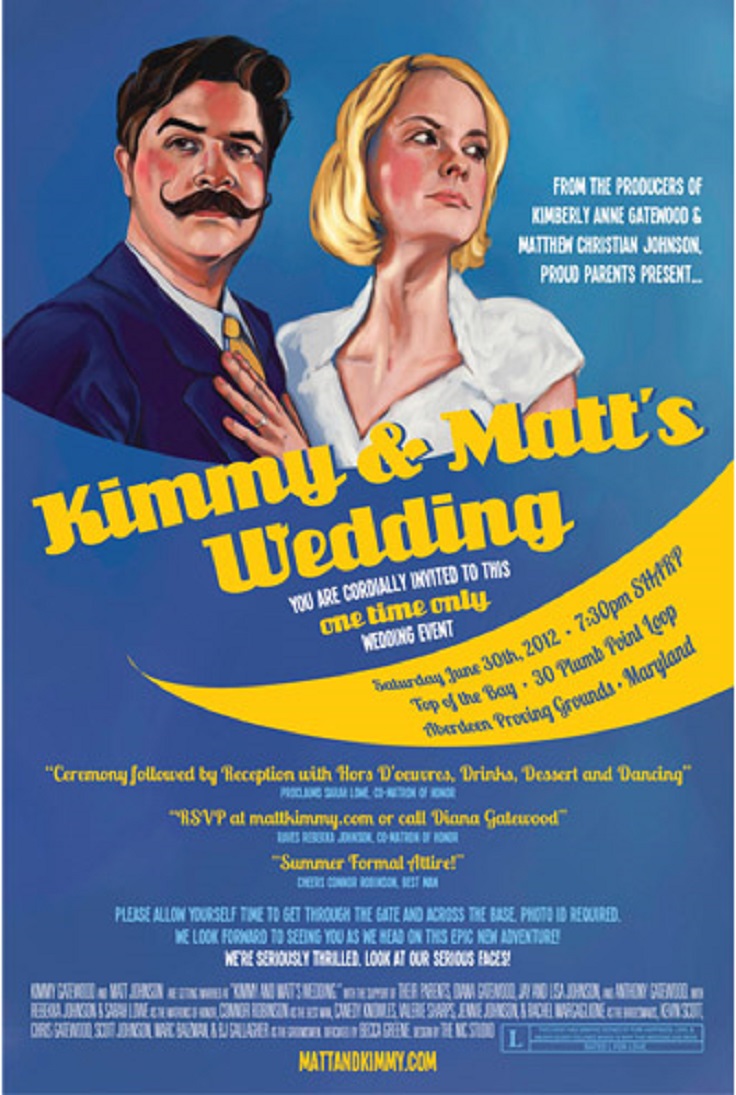 via thenicstudio.com
What a cool idea! Because you two are the protagonists in today's romantic movie, make your invitations like a retro movie poster. We bet you are gonna have the unique invitations ever!
Cootie Catcher Wedding Invitation Suite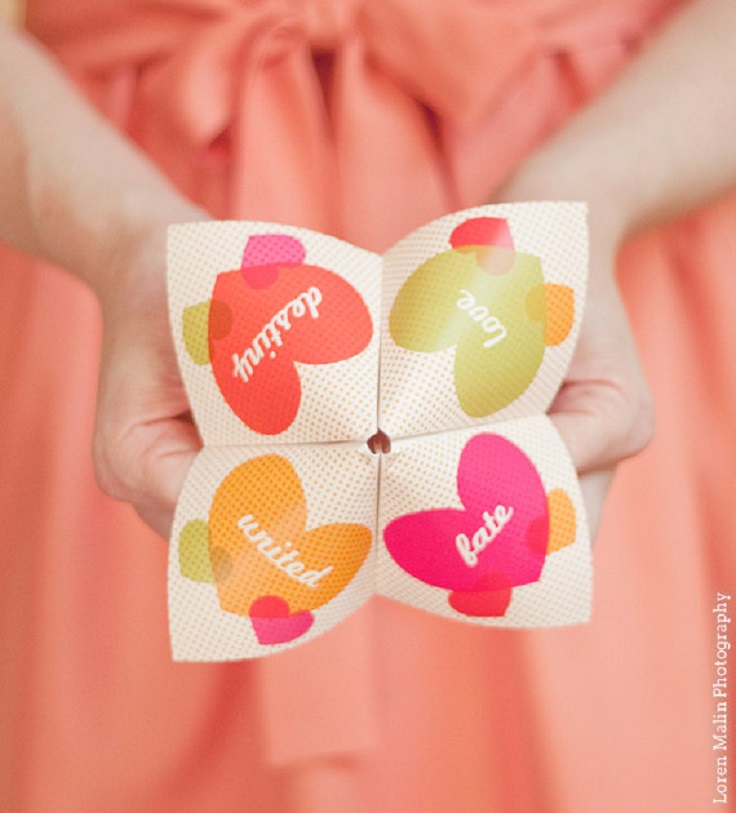 via ohlovelyday.com
Remember cootie catchers? Pick a color, get a message! This unique origami-folded invitation gives your guests something fun to play with as the exciting news of your big day is presented to them.