In this post, we will show you how to decorate your wine glass for every occasion and how to give them a new interesting look. You can decorate your glass with different things, for different occasions like birthdays, weddings, parties, for decorating your table at home and many other events.
It's good to input something different on your ordinary glass and transform them into unique ones. Below we are going to show you 10 interesting ideas on how to do it.
Be creative and practical, and always practice the homemade projects; they are so much better choices every time. Everything you need is patience and imagination to do it. We highly recommend you to give them a try, and we know you won't be disappointed. Enjoy!
Animal Print and Names
via trusper.com
This kind of glass you can use at parties. For more fun, you can put into each cup the first letter of each guest's name, and they can take it.
 Pink Bow
It's hard not to love this kind of glass. Very sweet and different for the glass you can find in the stores. Who could resist this kind of glass? They are too cute and appealing for birthdays and parties. Make them!
Bridesmaid
via etsy.com
If you want to surprise your friend or neighbor for her maiden night, you can decorate wine glass with a ribbon and stick the patch on it in the form of a bride and bridesmaid. This will be a pleasant surprise.
Birthday Wine Glass
via emaratiya.com 
My birthday is coming! Now you can do your glasses differently than the others. Paint the glass color and write something interesting on it, and your party can start.
Christmas Wine Glass
This is perfect for people who want to decorate their home for the new years holidays. This can be used as decoration or a gift for the holidays. It's very nice and unusual.
Ladies Night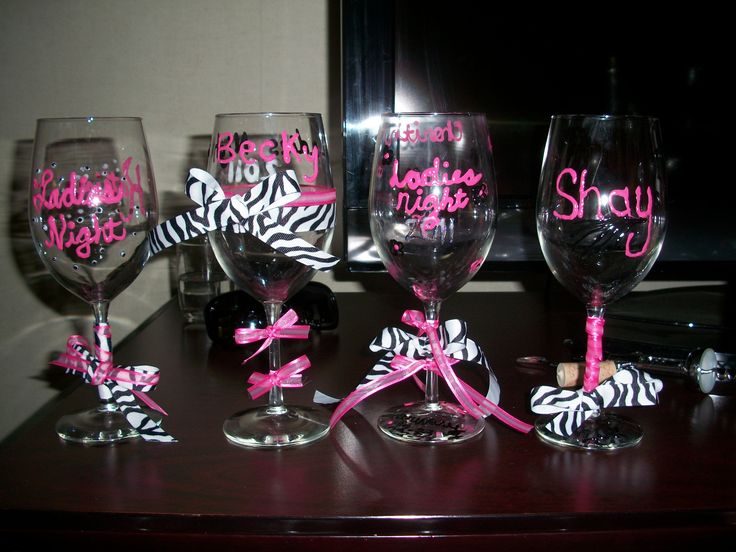 via pinterest.com
These elegant wine glasses can be used on parties and birthdays. To make each of these, you need lush imagination and interesting posts to put it on the glass. Try it!
Little Rocks and Candle
Beautiful glass! These can be used in your home, or you can make it for a gift. The candle and the rocks give it the sense of stylish decorate home.
Sparkle Wine Glass
via glamandglitter.co.uk
These kinds of glass can be used on girls' nights. For people with refined taste and unusual decoration, this is the right thing. Now you can drink your drinks in unusual and sparkling glass.
Wine Glass and Candle Glass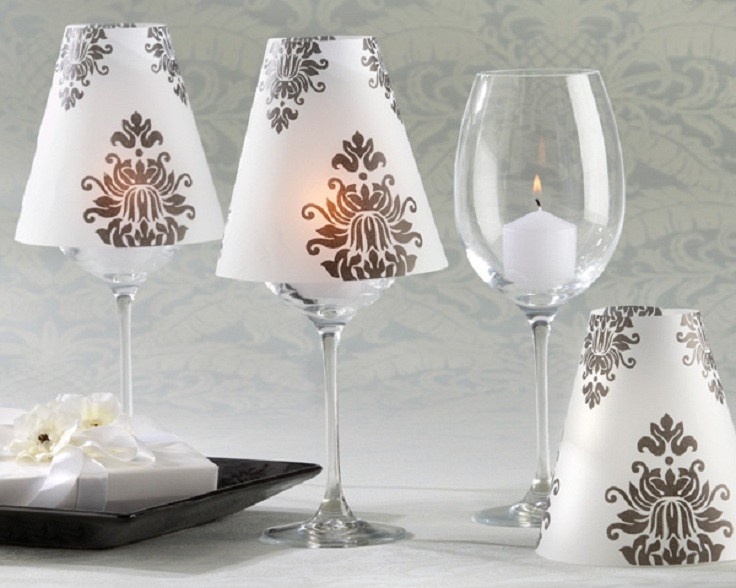 The simplicity and beauty that can make this cup. It can be exposed in a detailed table of the wedding or put your home on your table. Very gentle and lovely decoration. Try it!
Wine Glass Centerpiece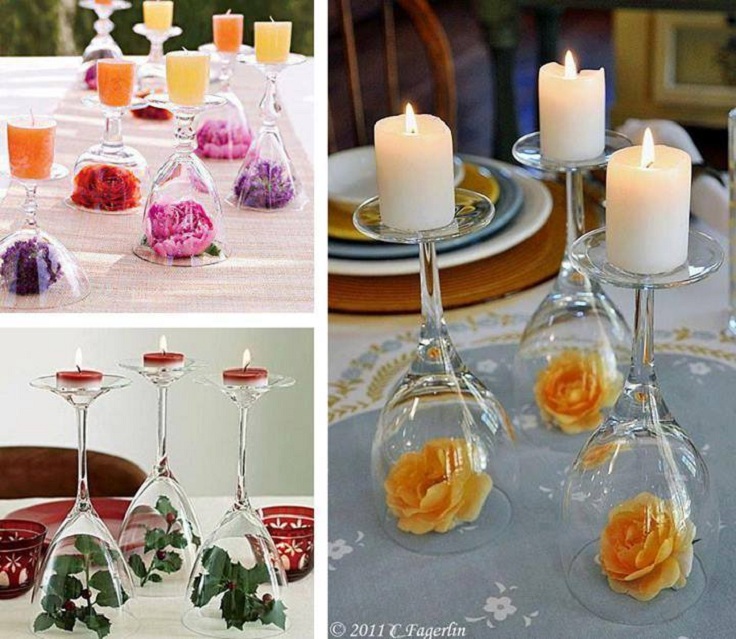 via tumblr.com
Here is a great and elegant DIY idea that will help you set the mood in case you are planning a romantic dinner. It is a great centerpiece made out of wine glasses. Turn the wine glasses upside down and place a flower under them. Then just put a candle on the top of each wine glass, and that is all. It creates a magical atmosphere.