Having pretty flowers in our garden comes with a responsibility. To keep them that pretty, we have to take good care of them. Over some time, it can get tiring.
What you can do to spare time and effort is to plant flowers that are drought – tolerant. There are many flowers that you can pick, and we already did that for you. You can find some with wonderful scents like lavender, or you can go after succulents, like the Sedum Spurium.
Read along, pick the one you like the most and read more about these ten drought-tolerant plants.
1. Lewisia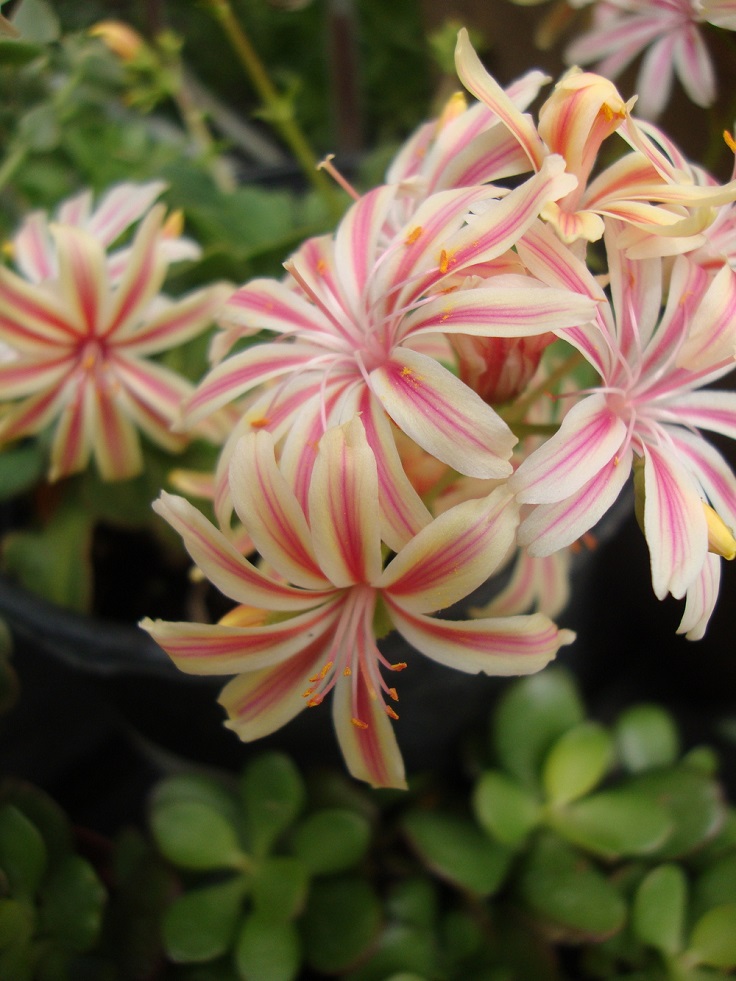 via garden.org
Once established, the Lewisia or also known as Sunset Strain is drought – tolerant plant that is going to make your garden so pretty with its' star-shaped flowers. They come in few colors, most often in shades of pink and orange.
The flowers bloom from early spring to mid-summer and are best in a cool rock garden setting. Lewisia requires sandy or normal soil. They grow low, and their growth rate is slow. The flowers require full sun position with excellent drainage, while on hot summer days, they need partial shade.
2. Tall Bearded Iris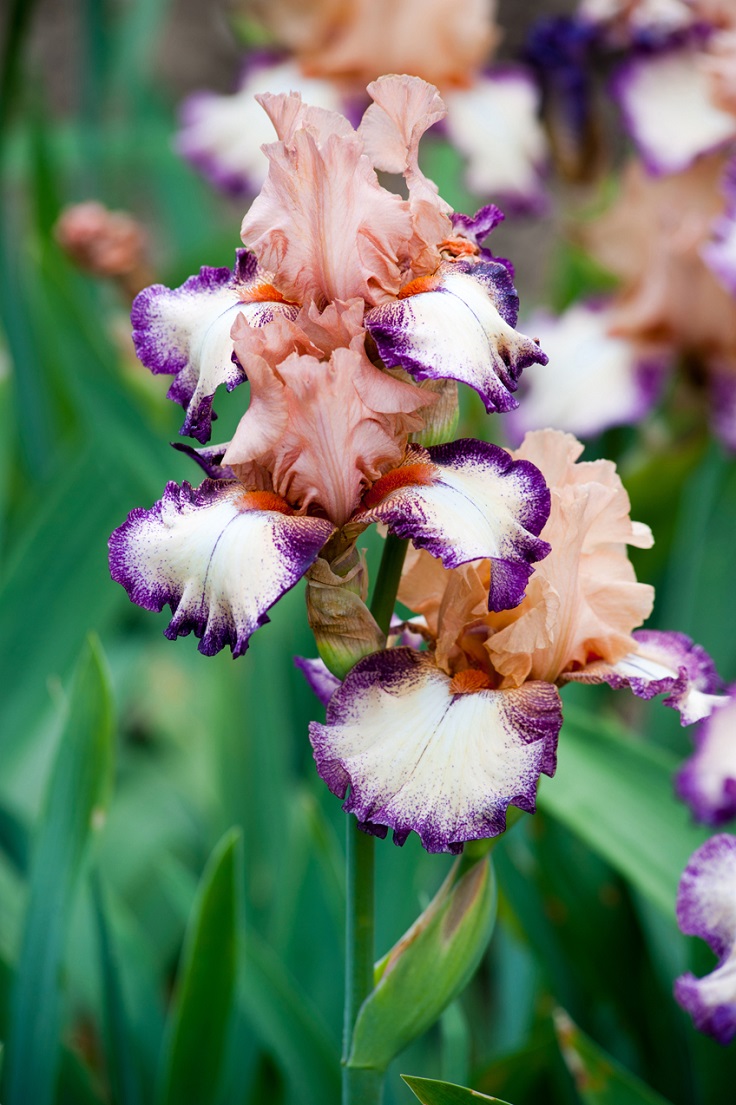 The bearded iris requires well-drained soil and plenty of sunshine, preferably at least six hours per day. When planting the bearded iris, make sure there is enough space between the plants because they need good air circulation. The flower also needs low – nitrogen fertilizer and neutral soil with a pH of slightly less than 7. Besides being drought – tolerant, you also don't need to mulch the flowers because it retains moisture, which can soften the rot.
3. Lavender
via chelseaclassicalstudiofineartmaterials.com
The lavender is the perfect choice if you want to add a scent to your garden. Plant the lavender in a full – sun position and a well-drained neutral to alkaline soil. You can also plant certain varieties in pots. Depending on the lavender's size, make sure there is space between them starting from 45 to 90 cm. Watering is unnecessary after the establishment of the lavenders. Besides being in your garden, there are many benefits of the lavender. Check out the DIY section to see more about that.
4. Cape Blanco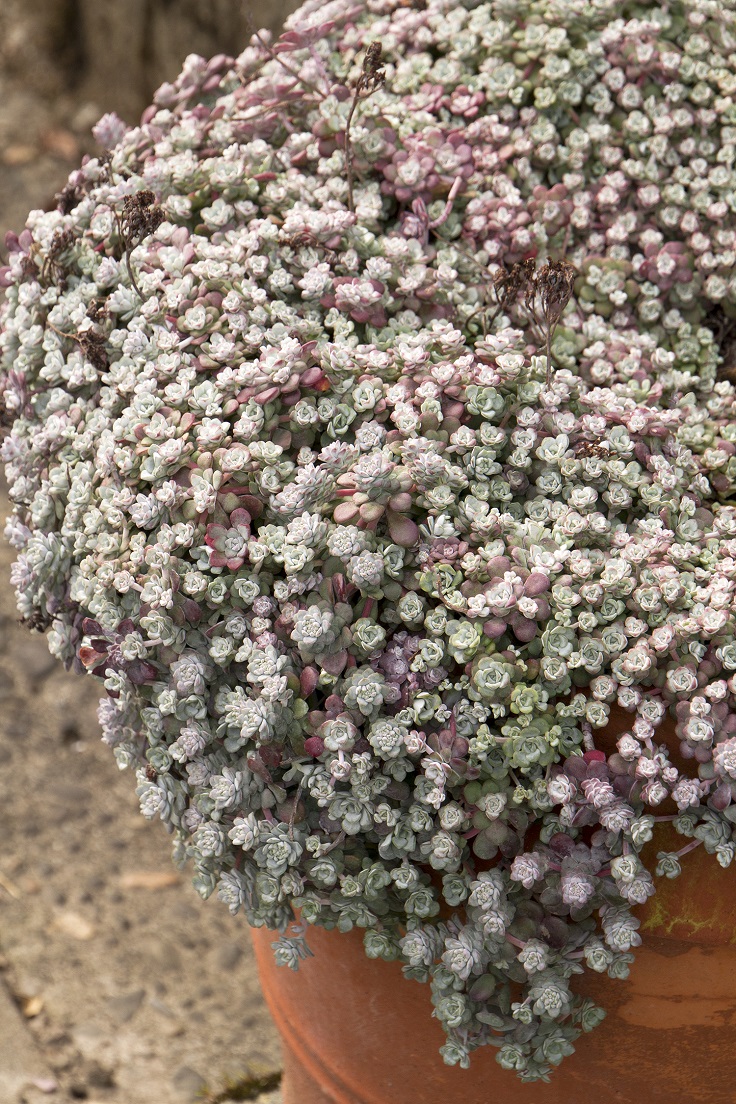 via monrovia.com
The cape blanco is an evergreen perennial known by the Latin name as Sedum spathulifolium. It is a native wildflower from coastal Oregon. They spread low and slow, with their ultimate height of 10 cm. The cape blanco needs well-drained soil, and it should be neutral or alkaline. It doesn't require pruning, and you should only take good care of it when it comes to pests – the cape blanco can be attacked by glasshouse whitefly, aphids, and glasshouse red spider mite.
5. Rosemary
via seedsofeaden.com
The rosemary is a  perennial evergreen shrub that is largely used in cooking. Still, it can make it more beautiful when it comes to your garden because the rosemary has beautiful blue flowers. The rosemary grows four feet tall and spreads four feet as well; because of that, make sure that there is enough space between each seed or cutting. Plant the rosemary 8 – 10 weeks before the last spring frost. Prune the rosemary regularly and water even while they still grow.
6. Hens & Chicks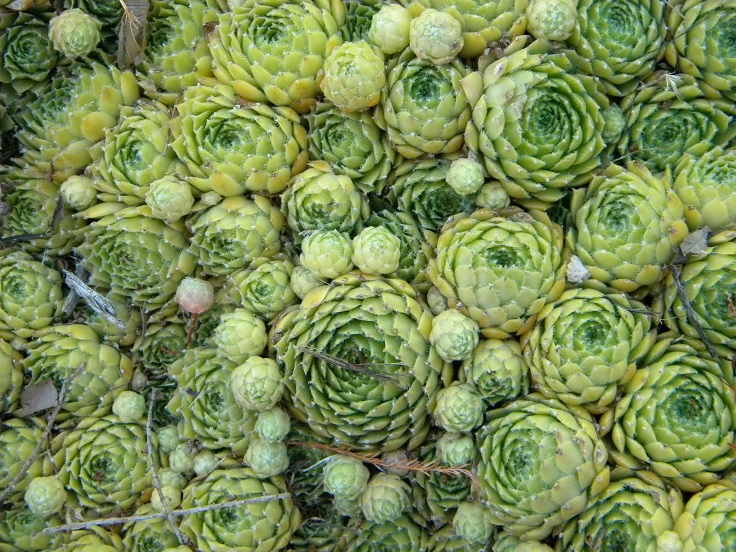 via sarilia.com
The hen and chicks are also known as Sempervivum, which means "live forever." There are many varieties of these succulents to find in different sizes and colors. They require full sun position or to be at the partial shade. However, they tend to have more lasting colors when they're more exposed to the sun. Otherwise, their color fades to plain green. They need sandy, well-drained soil. These succulents are drought-resistant because they store the water in the leaves, but you still will need to water them to thrive.
7. Sedum Spurium "Voodoo"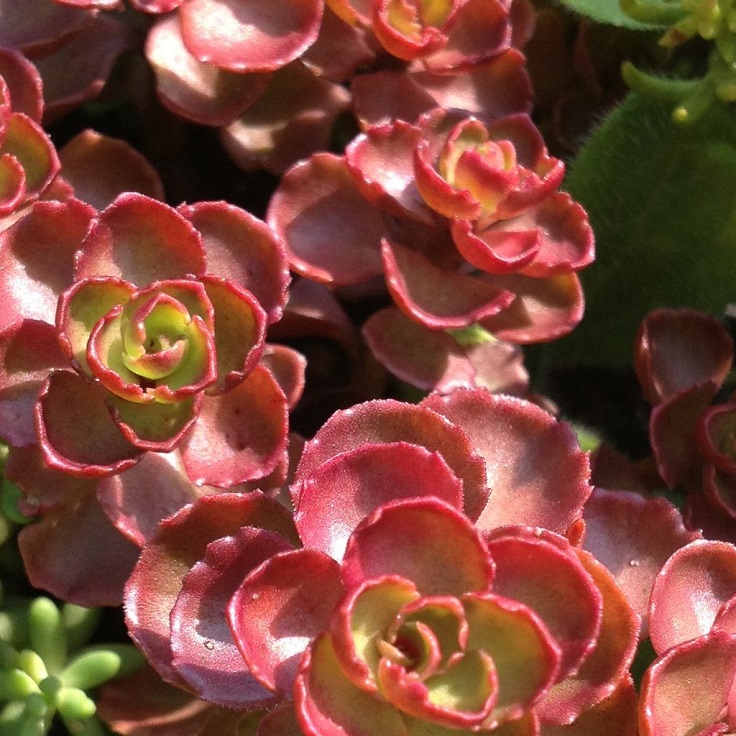 via sedumgarden.net
Who wouldn't love red succulents which in summer bloom with rose-pink flowers? These succulents need a full sun position or partial shade, planted in normal or sandy soil, and make sure it's well-drained. If you're dealing with poor soil, use balanced low-number fertilizer. These succulents are also known as "Voodoo," need to be sited 12" apart and can be grown from seeds, but in this case, might not flower during the first year.
8. Snow in Summer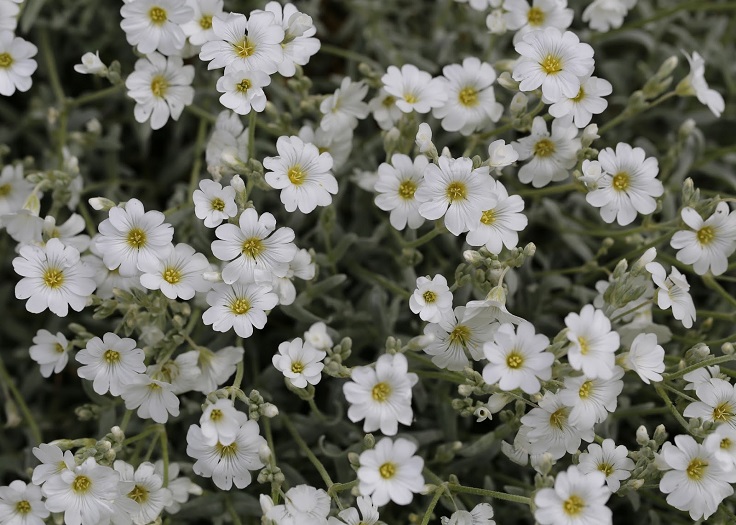 via gardeners-word.blogspot.com
Favorite flower for rock gardens, with its' white-colored, pretty flowers you understand why is called Snow in Summer. These flowers bloom in spring during the second year after they're planted, and besides rock gardens, these tiny flowers look great as ground cover as well. The Snow in Summer is easy to grow – it needs full sun position and prefers slightly dry soil. Even though the flower is drought – tolerant, make sure to water it on the hottest days during summer.
9. Creeping Phlox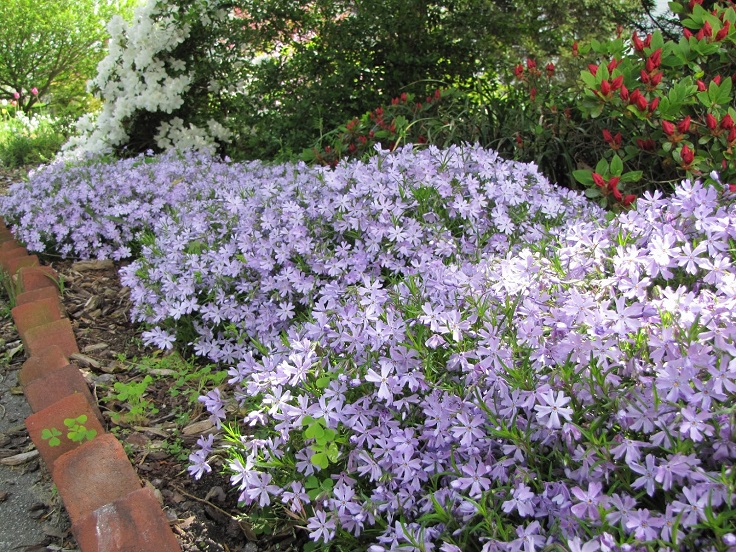 via viewsfromthegarden.com
Having a carpet of pastel-colored tiny flowers can surely make your garden look like it's some sort of a fairy tale place. Grow the Creeping Phlox between pavers, but you can also grow the flower in a planter or a spring bed. You can grow the flowers in almost any soil as long as they get the full sun they need, or at least to be in partial shade. However, for the best results, you need moist and well-drained soil. Water until the flower is established and after that only during hot summer days.
10. Yarrow 'Coronation Gold.'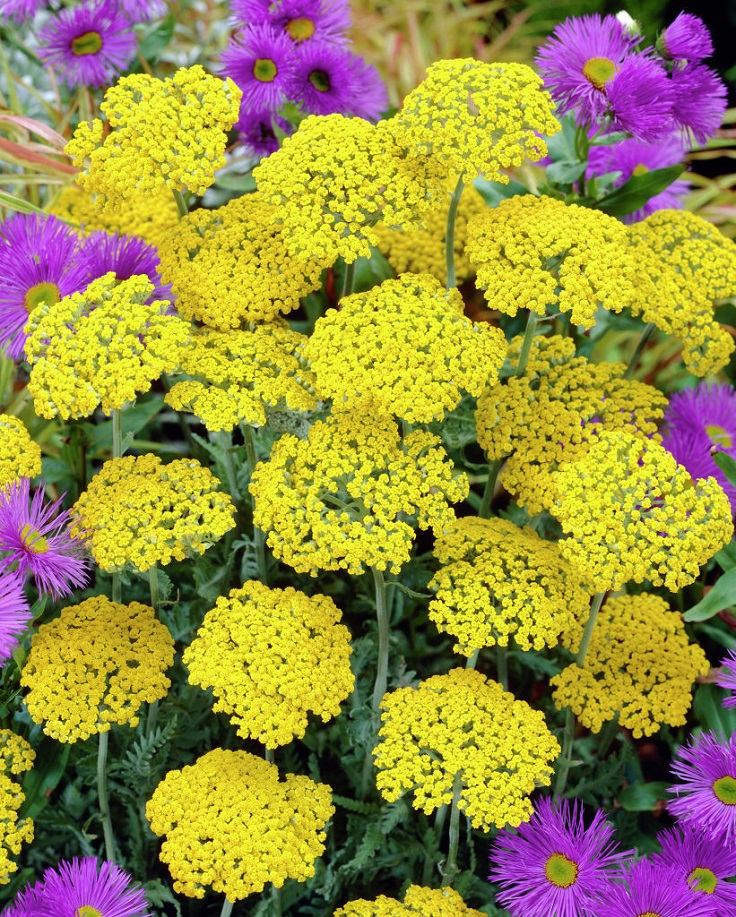 via 99roots.com
They say yellow is a lucky color, so why not bring some happiness into your garden? The yarrow coronation gold needs full sun, preferably in a South-facing, East-facing, or West-facing position. It needs moist and well-drained soil and 2 – 5 years to reach the ultimate height of 0.5 – 1 meter. The yarrow coronation gold needs to be propagated by division in spring, and when it comes to pruning, you should cut back untidy foliage in spring as well. With the right care, what you'll get is gold – yellow flowers with green leaves.