Cookie butter, who can ever resist that delicious sweet treat? It can be used in cookies, pies, bars, ice – cream… Every sweet pleasure you can imagine can contain cookie butter! If you want to prepare such dessert, check out the recipes below. They are easy to make and so tasty that you will make them as soon as possible again. The cookie butter can be bought or homemade, so depending on how much time you have, choose what you are better with. Enjoy the cookie butter treats!
1. Cookie Butter Bars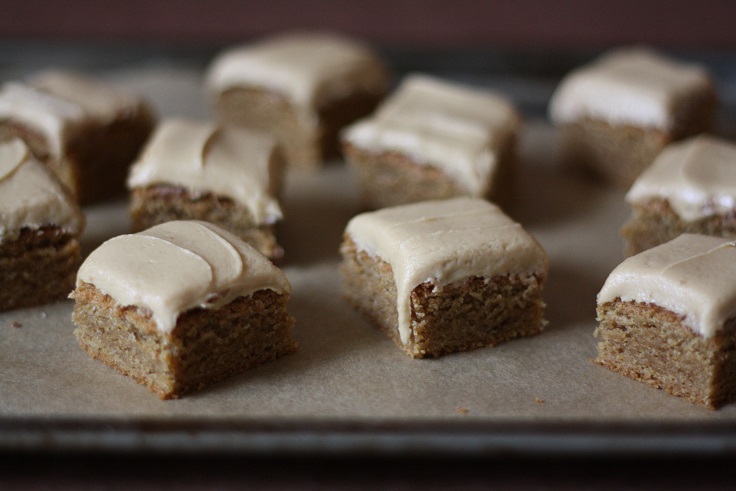 via buttermeupbrooklyn.com
These bars represent a cookie butter overload – and you are going to love them because of that! The recipe makes about 25 bars, so if you are expecting guests to come over, making these cookie butter bars would be a great idea. You will have enough to serve more than just one round.
2. Speculoos Cookies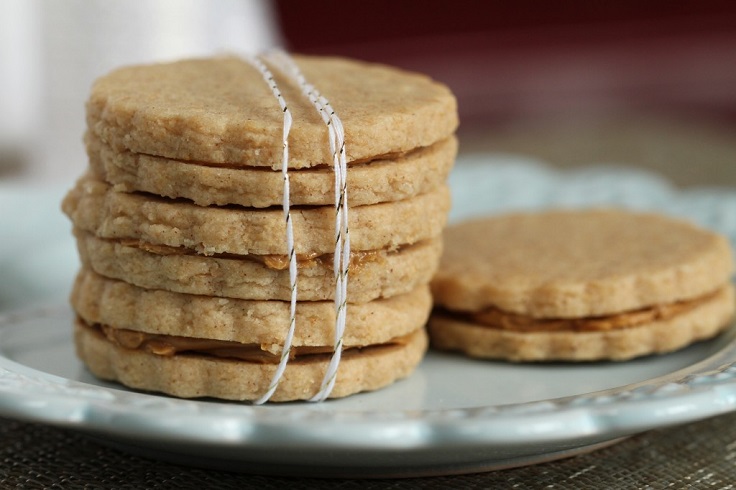 via satisfymysweettooth.com
These honey plus cinnamon spiced speculoos cookies are a super tasty sandwich when two cookies are put together and between them there is cookie butter. First you prepare the dough, then you wrap it in plastic bag and leave it to refrigerate for 30 minutes. After that, you cut the dough into desired shaped and leave it in the fridge again. Then you bake it, spread the cookie butter and top with other cookies.
3. Vanilla Bean Cookie Butter Cups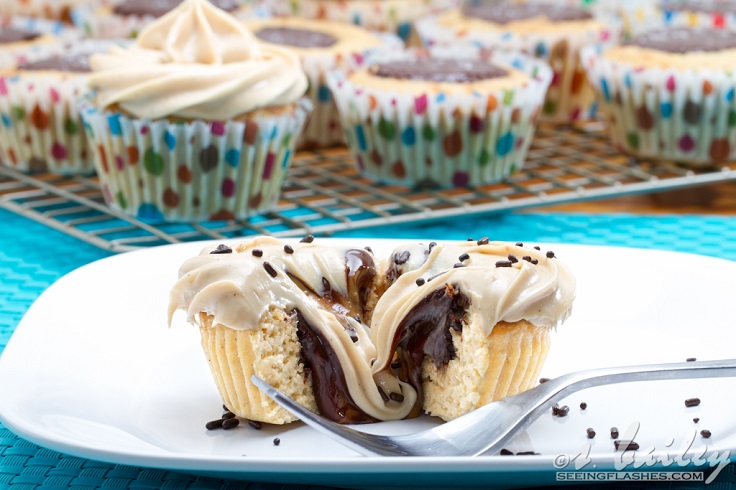 via arismenu.com
This recipe will take you to amazing soft cupcakes, with chocolate inside them plus cookie butter cream cheese frosting on top. They will probably be one of the tastiest stuff you ever tried. For the cookie butter cream frosting, you need powdered sugar, cream cheese, homemade cookie butter or TJ's Cookie Butter and vanilla bean. After you prepare the frosting, leave it in the fridge.
4. Cookie Butter Ice Cream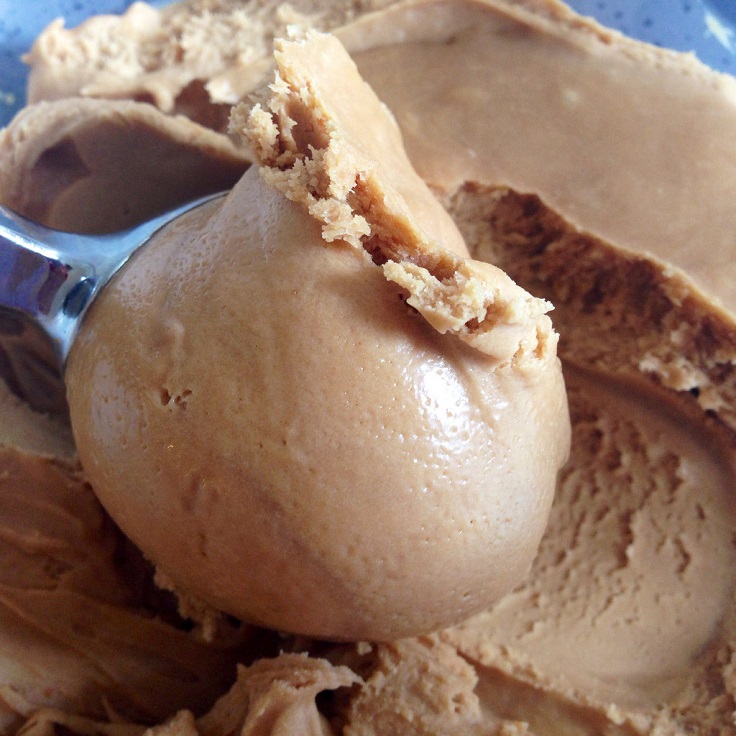 via the-cooking-of-joy.blogspot.com
To  make this cookie butter ice cream you only need evaporated milk and cookie butter. You whisk the ingredients until they are fully combined. If there are lumps of cookie bits, leave them. When you're done, leave the ice cream to refrigerate. You can make ice cream sandwiches by using stroopwafels.
5. Cookie Butter Caramel Chocolate Candy Barks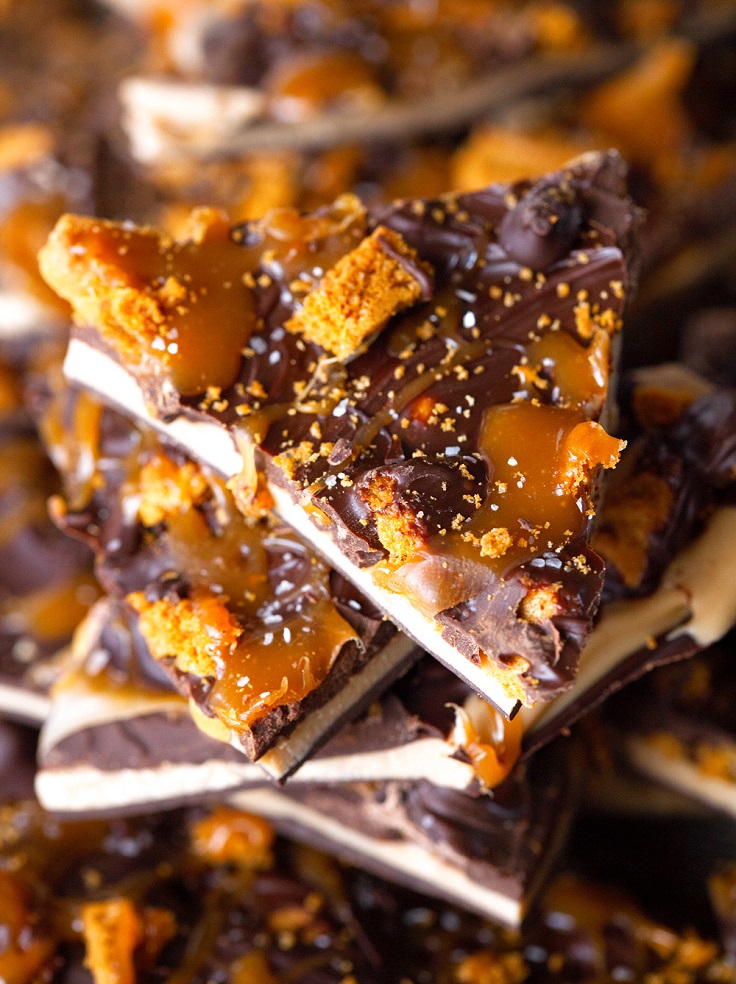 via deliciouslyyum.com
Imagine how badly delicious these barks are, because they really are. The recipe is the ideal combination of cookie butter, dark and white chocolate, caramel bits and a salted caramel sauce. With all those oh so tasty ingredients, don't be surprised if you get addicted to these candy barks!
6. No Cake Cookie Butter Cashew Cheesecake
via onegreenplanet.org
If you are looking for a dairy free and vegan dessert that includes cookie butter, here's one for you. Except the cookie butter, it contains nuts such as almonds, walnuts and cashews, agave, pitted dates and some coconut oil. Together, they make an amazing no bake version of cookie butter cheesecake. Must try!
7. Cookie Butter Muffins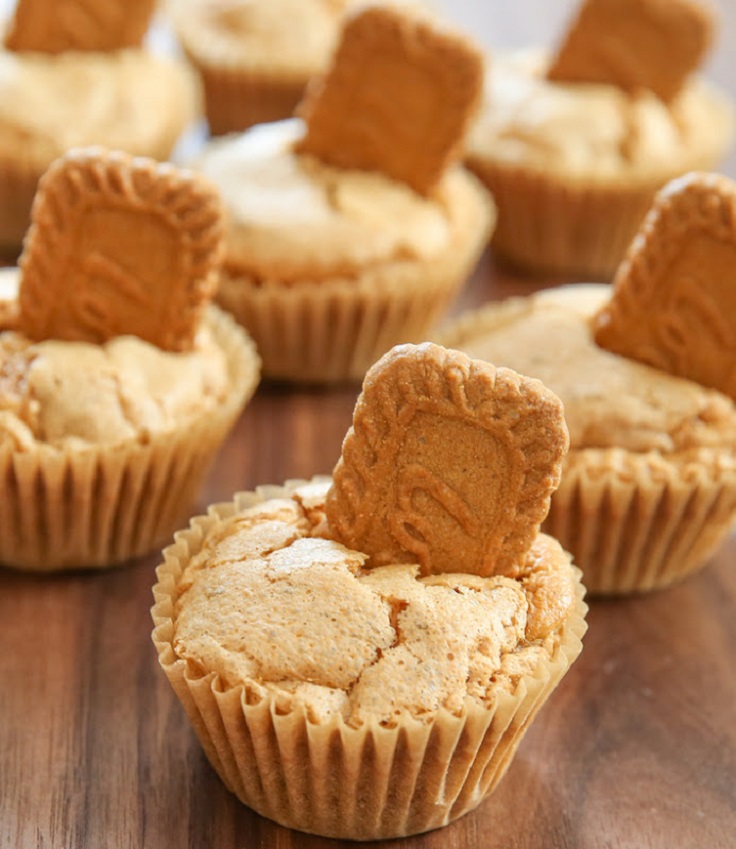 via kirbiecravings.com
You only need three ingredients (besides the cookie butter) to get this super tasty cookie butter muffins: baking powder, eggs and granulated white sugar. Other great thing about these muffins is that they are ready in about 30 minutes. If you want to decorate them, then make a small slit in the center of the muffin and put a biscoff cookie inside. Of course, you can decorate them with chocolate or caramel sauce, sprinkles and so on.
8. Sugar Cookie Butter Bars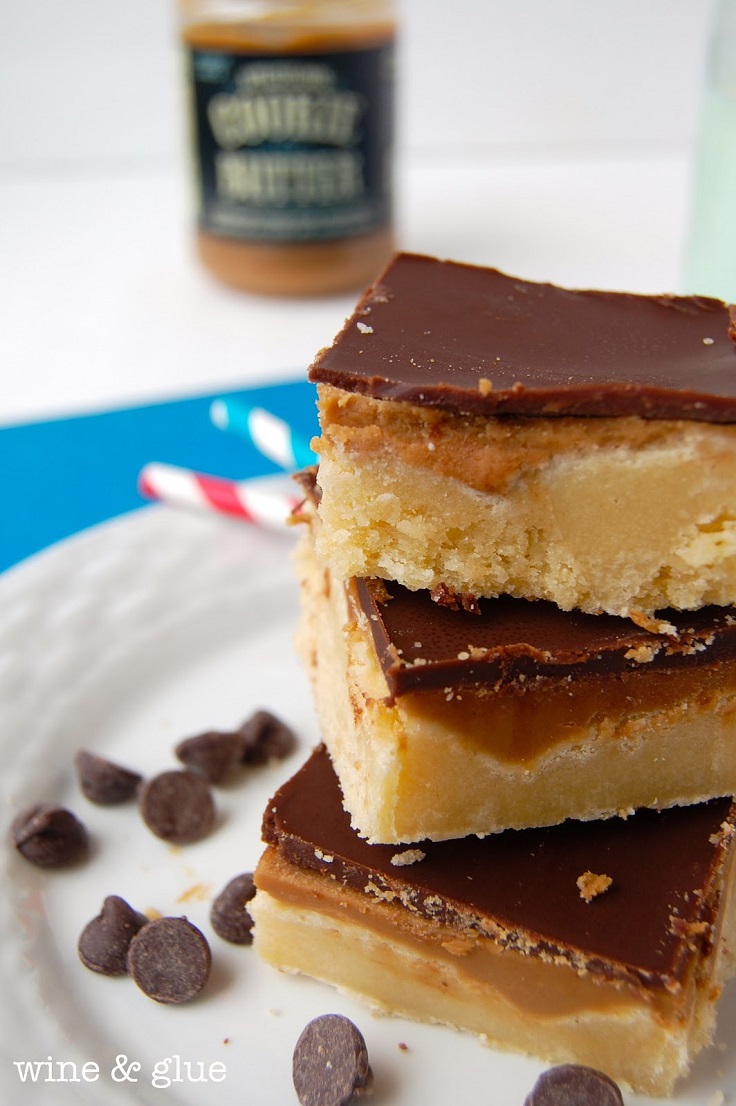 via wineandglue.com
The sugar cookie butter bars are a must make. It's all about chocolate and cookie butter layers. Carefully follow the instructions and when the bars are done, in order for the chocolate to not crack and break, make sure the bars to come in room temperature.
9. Creamy Cookie Butter Fudge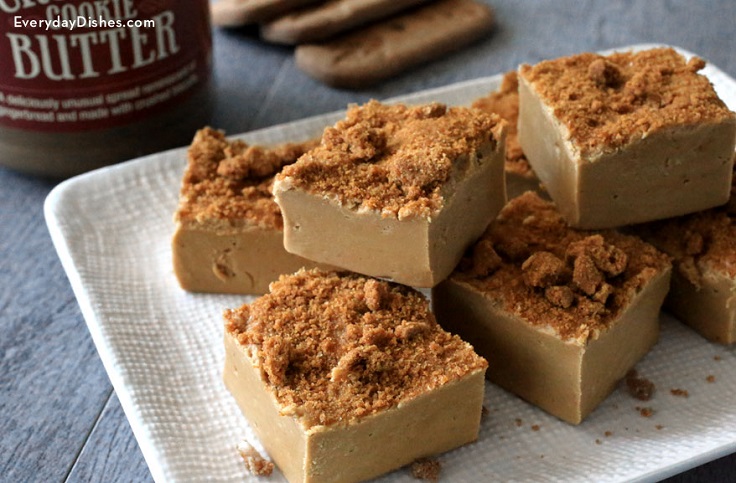 via everydaydishes.com
Looking for a dessert that can be done in a very, very short time? Here's the cookie butter fudge to save the day. To make this fudge you need unsalted butter, powdered sugar, Speculoos cookie crumbs and a cup of cookie butter. It is better to serve the bars slightly chilled, because on room temperature they might get too soft.
10. Cookie Butter Dip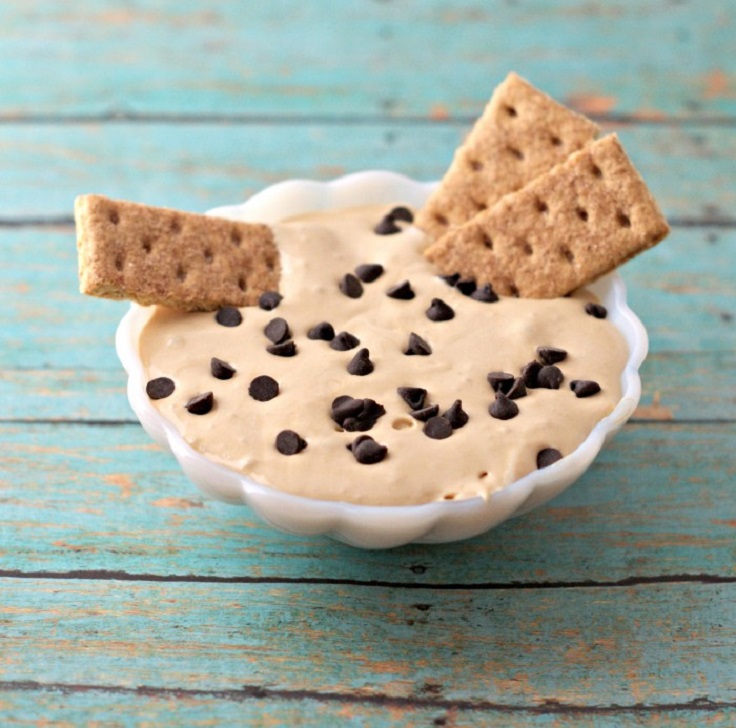 via cleverpinkpirate.com
Yes, there's even a cookie butter dip. It's done in only 5 minutes and in order to prepare it, besides the cookie butter, you need marshmallow cream, whipped cream and chocolate chips. You mix them until they are fully combined and the last step is adding the chocolate chips. Enjoy your dip!