Did you know that the crostini originate from Italy and is thought that during medieval ages the peasants that couldn't afford eating on ceramics, used to eat their meals on slices of bread? The crostino, which actually means "little toast", is a popular appetizer that can be found on parties, gatherings, but they are also easy to make and you can even have them at home. To make some of these crostini will even take you less than ten minutes! That is why they are always a great option when you don't have much time or will to be in the kitchen. In those times, you can use any оf the recipes below, because they are easy to make and so delicious that you won't get enough of them!
1. Peach, Tomato and Mozzarella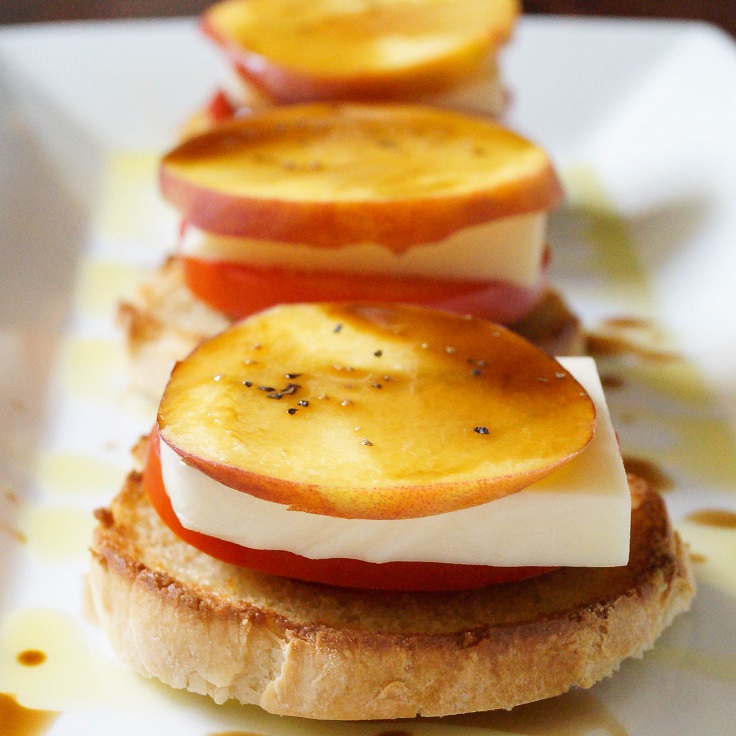 via tarasmulticulturaltable.com
It's quite unusual to try a combination that includes peaches, tomato and feta, but it's definitely worth trying. The recipe is very simple and cheap. All you need is the three ingredients above. If you think that the peach is too much for you, you can always leave that one out and instead of it, to to place something else, such as prosciutto, oregano, cream and so on. There is always so much to add.
2. Pear, Feta and Walnuts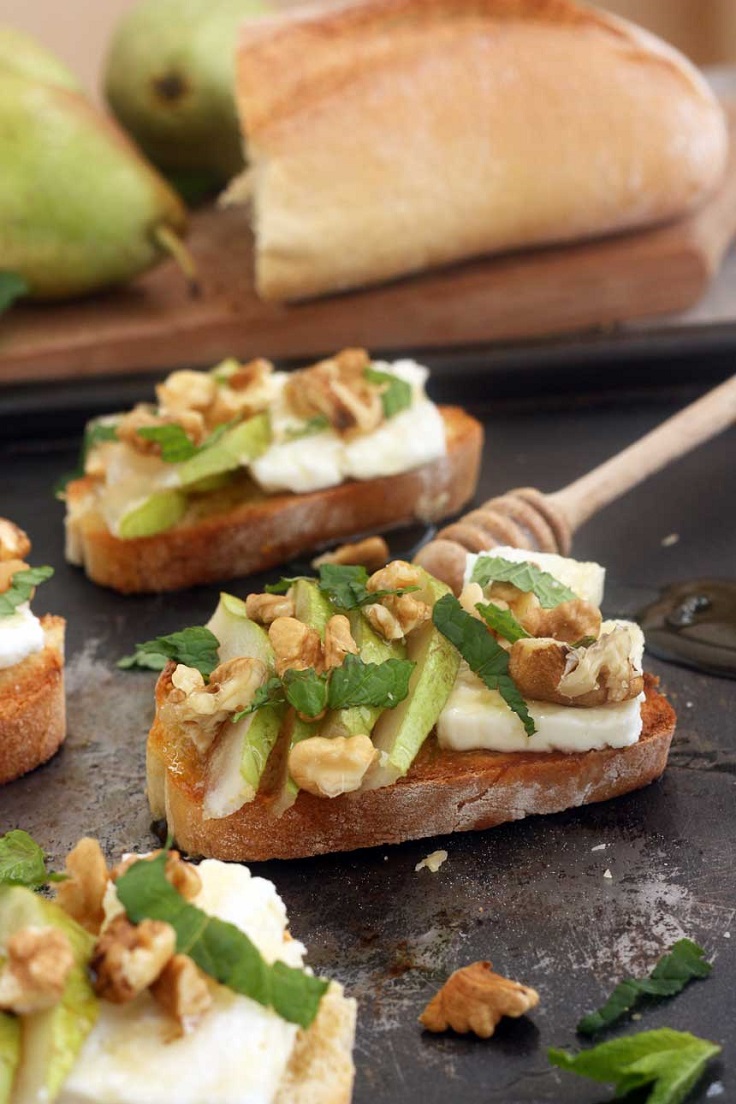 via scrummylane.com
The feta cheese combined with some fruit such as the pear is a very tasty combination, and the walnuts proves that they all can be the ideal morning breakfast or brunch for any day and any occasion. If you wish, you can also chop mint leaves and add some honey. These ones will surely leave you craving for more!
3. Smoked Salmon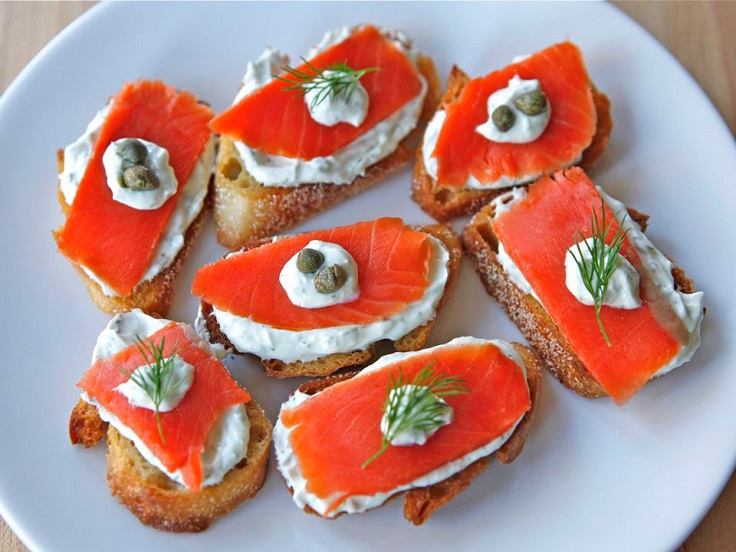 via toriavey.com
If you experience any cravings for savory, here's a way go please them, especially if you love fish. With this recipe, you will get thirty crostini in less than thirty minutes. You will need Greek yogurt and cream cheese, and then you place the smoked salmon on top. Additionally, you can add capers or some spice.
4. Almond Butter and Blueberries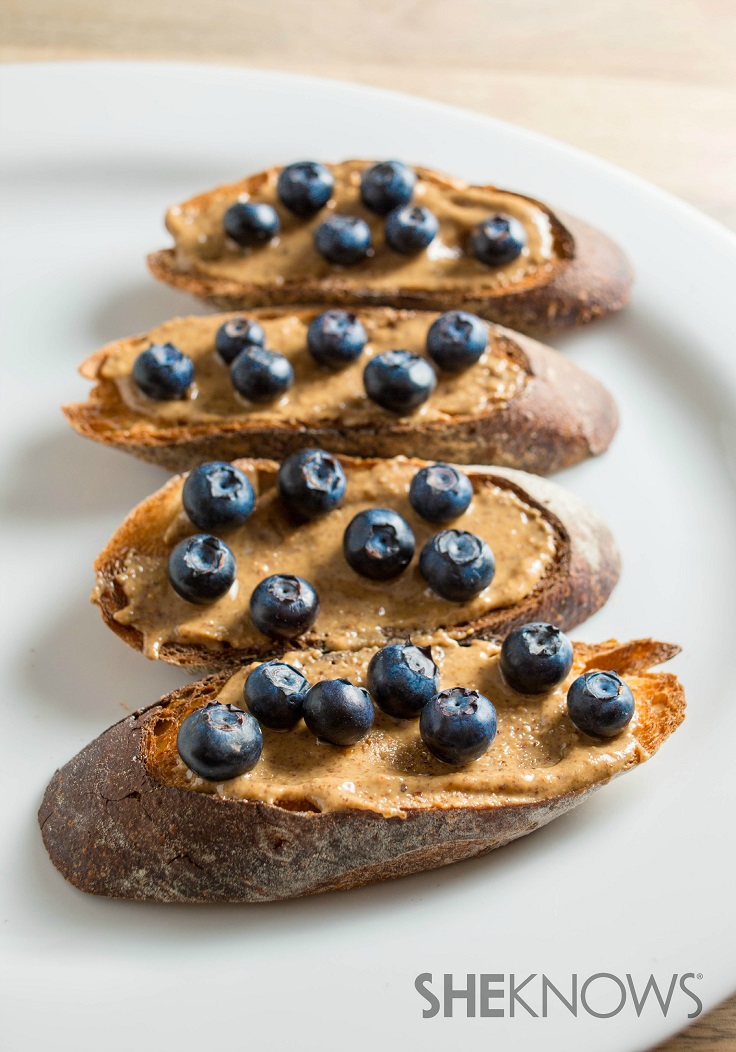 via sheknows.com
Can it get even more simple than this? All you need is slice of bread, almond butter and some blueberries. If you are in a hurry, then this recipe is the perfect for you because it will take only five minutes of your time, and you will still have something delicious to offer.
5. Strawberry, Lime and Ricotta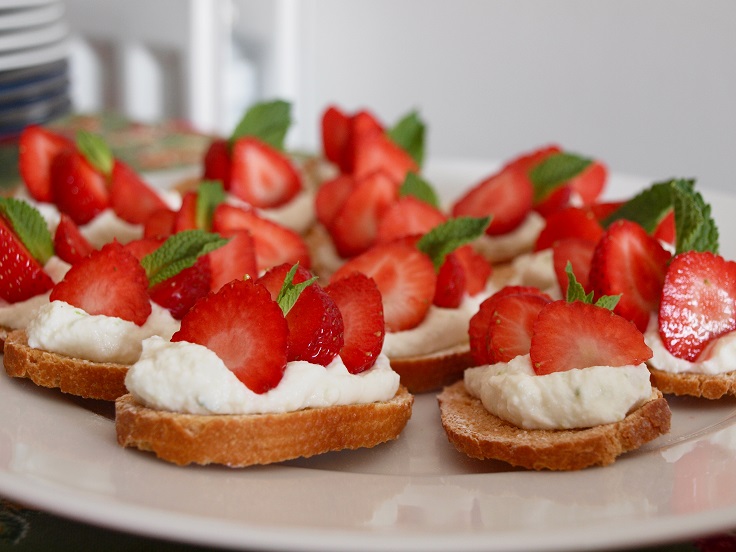 via foodwithrespect.wordpress.com
Your sweet tooth is looking for something to satisfy it's cravings? Here's a refreshing and delicious recipe: slices of bread with ricotta creme, with strawberries and on top of this all, the crostini has mint as garnish. This is such a tasty dessert, a perfect treat for a gathering with the friends over a cup of coffee.
6. Avocado and Prosciutto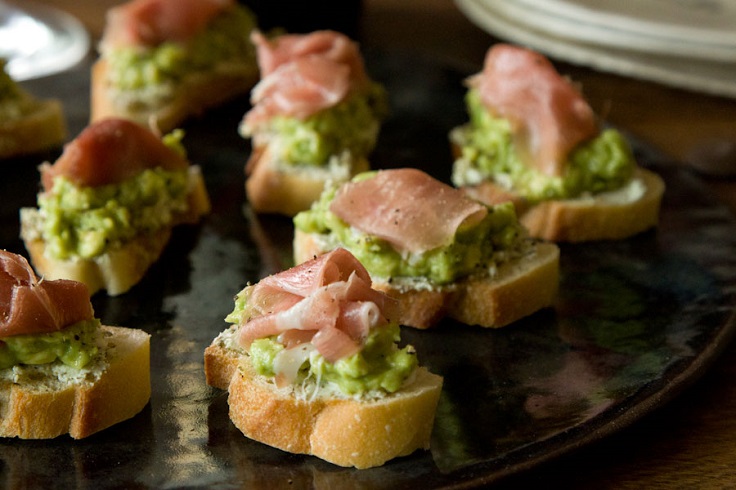 This super tasty crostini topping includes a mix of pesto, goat cheese and avocado. On every bread put a spoonful of the mix, and after that season it with salt and pepper. At the end, place small piece of prosciutto on top. You can also sprinkle black pepper, but that's your choice. Either way you are going to love this delicious mix of prosciutto, avocado, goat cheese.
7. Pumpkin, Feta and Rosemary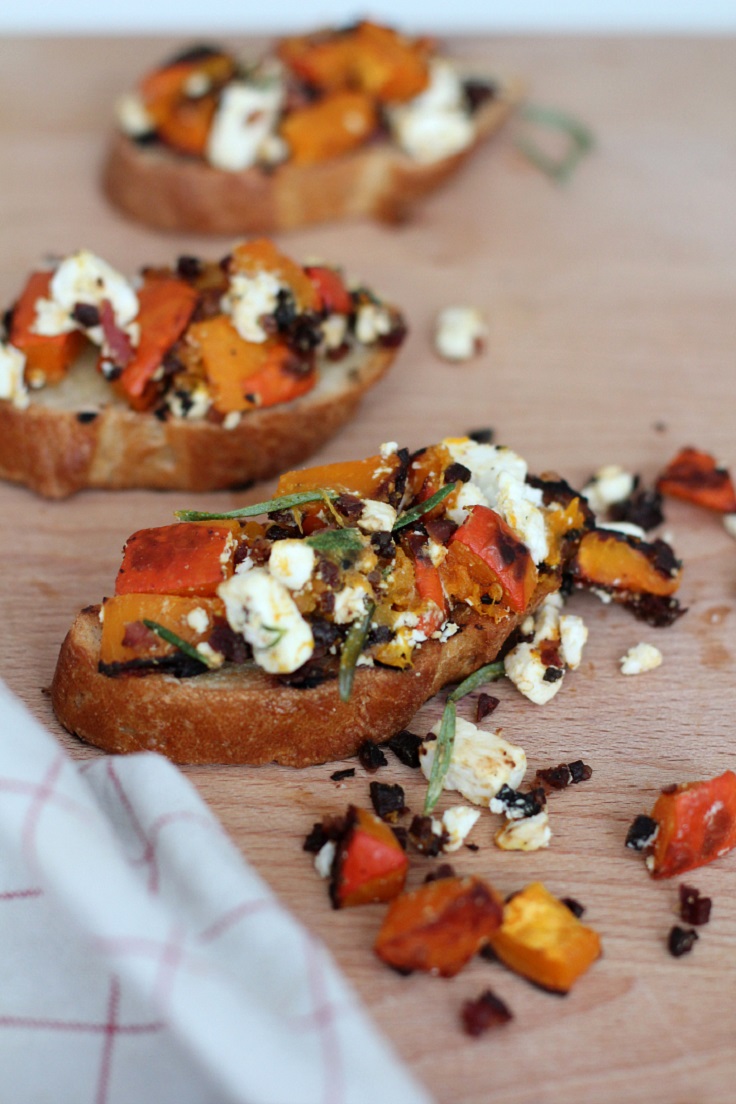 This topping includes pumpkin, bacon and rosemary which you all put together to bake. Meanwhile, you can brush the bread slices with olive oil. When the topping is well baked, you mix it with feta cheese and you place a spoonful of it on every slice. What you'll get is a crispy, hot crostinis that will melt your heart.
8. Grilled Mango and Raspberry Mint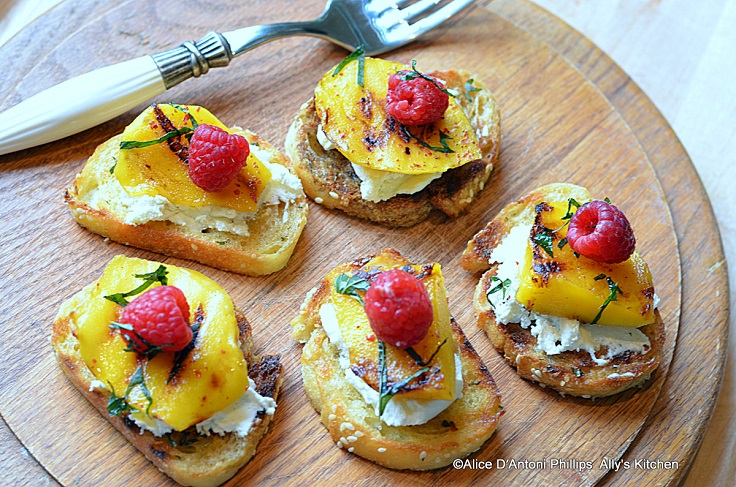 via allyskitchen.com
If you are looking for a fresh fruit version for a hot summer day, here's one for you. You add a tablespoon of cream cheese on every slice and then you place the already grilled mango. And on top, you put raspberries and if you're able, then it's a good idea to sip Cutrer Chardonnay!
9. Sweet Ricotta, Honey and Roasted Hazelnuts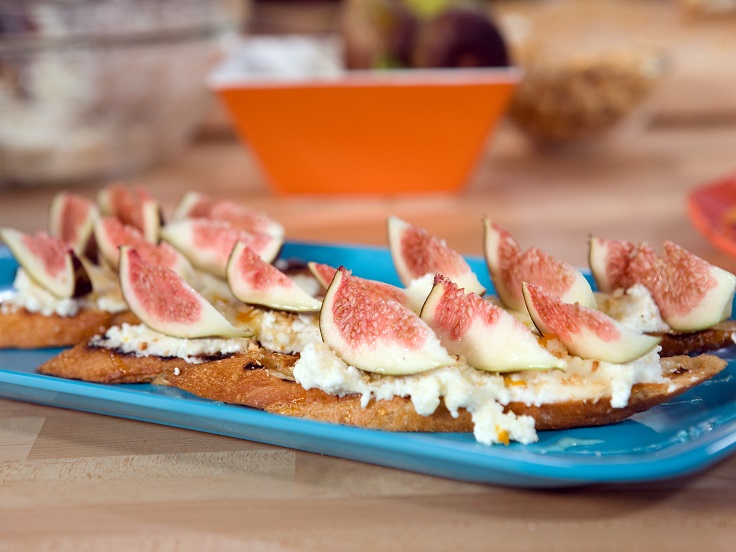 via foodnetwork.com
Looking for another easy recipe you can make in 5 minutes? These crostini with sweet ricotta, honey and roasted hazelnuts is the thing you need. You should drizzle some honey, zest some orange, scatter some hazelnuts and put a wedge of fruit on top. They are so delicious, so you might consider making more of them.
10. Apple, Cheddar and Prosciutto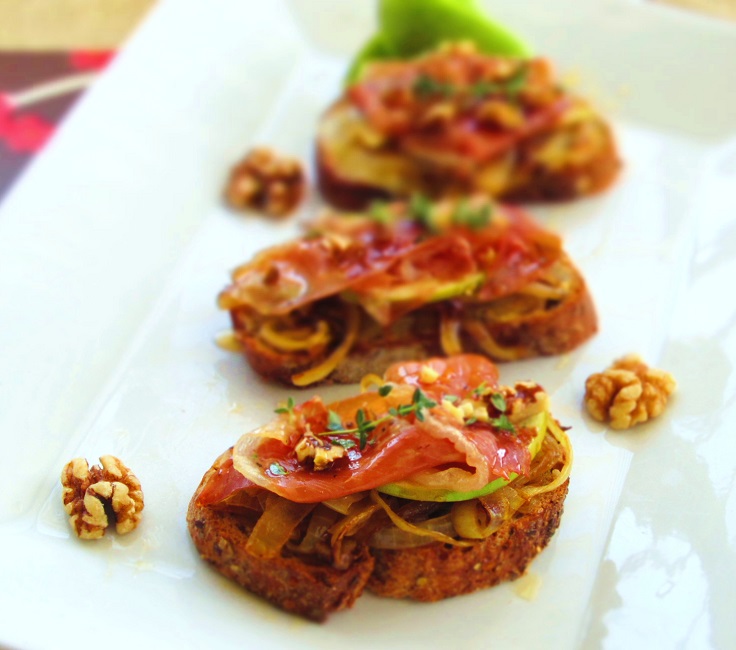 via repurposedlife.wordpress.com
When you think it can't get any better with this crostini stuff, here's another to try that will prove that crostini are seriously one of the best recipes that are easy to make. This time, the recipe includes creamy mix of cheddar cheese, green apples and prosciutto. Nuts aren't a must, but if you wish you can add walnuts, and honey along with them. Enjoy!