In the constant aim for a healthier life, it's not bad from time to time to indulge into something sweet and oh so guilty pleasure. For some that is chocolate, for others that is ice cream. But, every once in a while, you should really combine snacks with a dessert dip. It can be made in so many flavors, with so many toppings. It's easy to make them and can be the perfect sweet treat when you're in hurry, when you're expecting guests or when you just want something sweet and easy to make just for yourself. Check out our list below with ten recipes that offer you dessert dip ideas. Choose your favorite and have fun!
1. Banana Pudding Dip
This banana pudding dip takes 15 minutes to make. You need cream cheese, powdered sugar, sweetened condenses milk, heavy whipping cream, instant vanilla pudding, bananas, lemon juice and vanilla wafers. Prepare the pudding according to the given instructions and the rest is really easy: the whole process of cooking is just beating some of the ingredients, adding, mixing. Before you serve, chill for an hour, and use crushed vanilla wafers for topping. Also, if you want to, you can prepare your own pudding instead of buying and instant one.
2. Red Velvet Cookie Dough Dip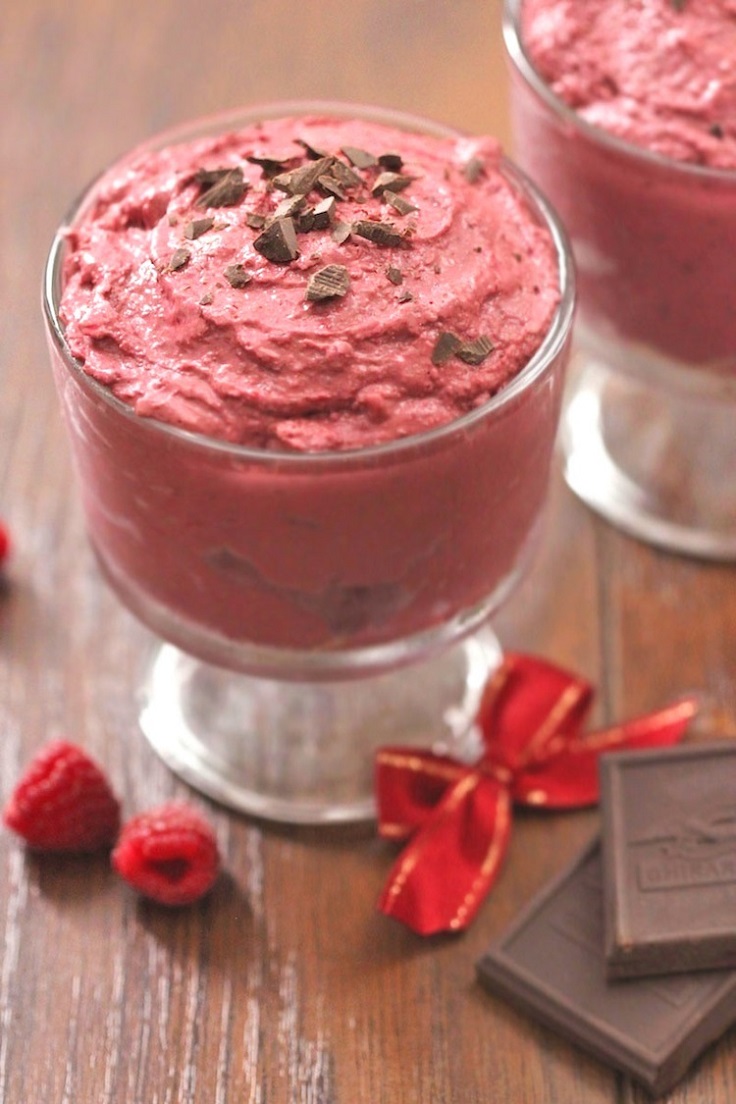 You can eat this dip without feeling that guilty, because it's vegan, gluten – free, refined sugar – free and has no artificial food coloring. It is high in fiber and in protein and it's no bake recipe. The dip is all done in approximately 20 minutes (15 minutes preparation and 5 cook time) and the recipe makes four cups. Also, you can use any neutral nut butter, such as walnut, almond, cashew or pecan butter. You can serve the red velvet dip with fruit, graham crackers, biscuits or whatever you'd like with.
3. Tiramisu Dip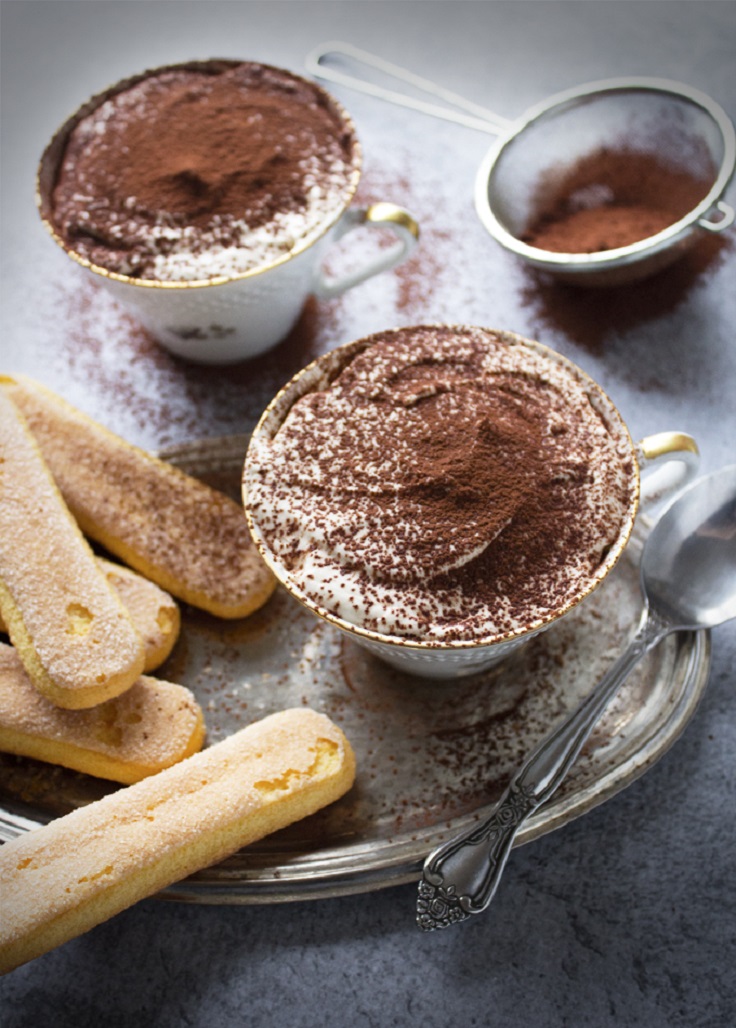 via portandfin.com
A tiramisu dip done in 5 minutes? Yes, please! You need Mascarpone cheese, coffee liqueur, 35% cream, granulated sugar, cocoa powder for dusting and ladyfinger biscuits to serve with. In a mixing bowl, whip the Mascarpone until it gets creamy and then add the cream, sugar, coffee liqueur and beat until you get a thick mixture. Divide it in serving dishes and dust it with cocoa powder on top. Serve the ladyfinger biscuits on side.
4. S'mores Dip
What's better than the good old S'mores dip? It's done in 10 minutes and those who have tried it by now know that is very delicious. Those of you who haven't, you should really try this one out! In a baking dish, arrange chocolate bars at the bottom and top with marshmallows. Leave some space between marshmallows because they expand in the heat. Put the baking dish in a preheated oven for 5 – 7 minutes. Serve with graham crackers and enjoy!
5. Decadent Turtle Cheesecake Dip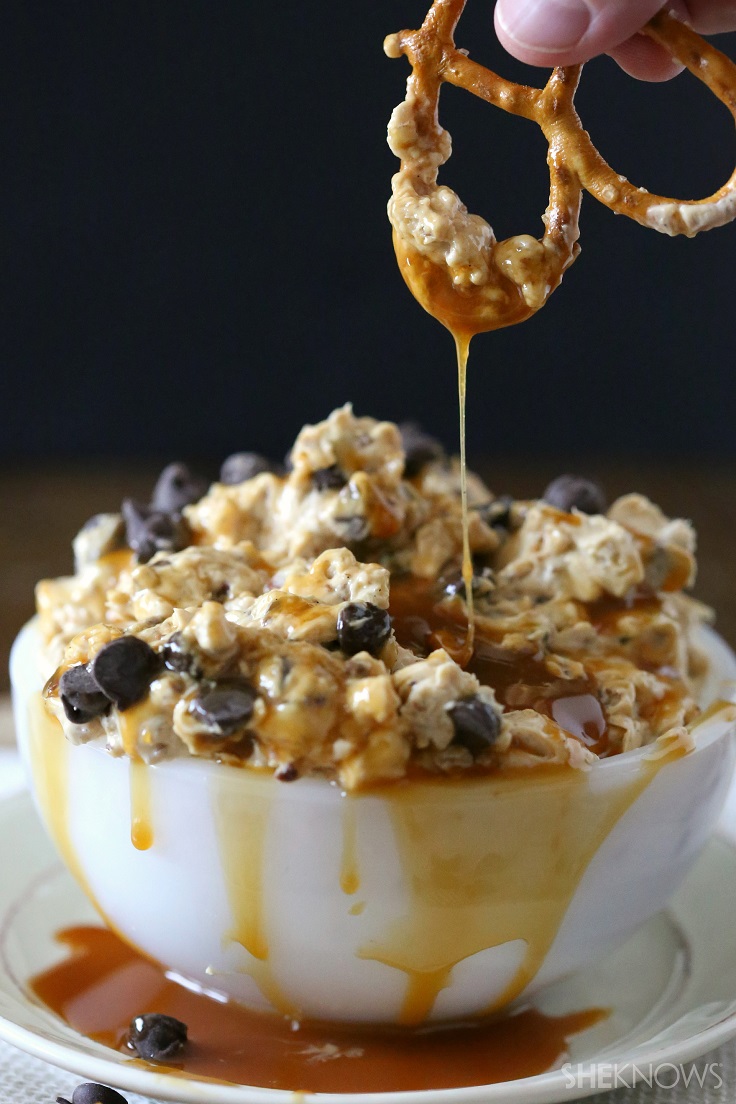 via sheknows.com
Another oh so sweet way to satisfy your sweet tooth is the turtle cheesecake dip with chocolate, caramel and pecans. You need cream cheese, instant cheesecake-flavored pudding mix, powdered sugar, caramel sauce, vanilla extract, pecans and chocolate chips. You can use the remaining caramel sauce and few chocolate chips as topping and for serving, pretzels go really well with this combination, but you can always choose something else you prefer more.
6. Bailey's Irish Cream Dip
Saint Patrick isn't coming anytime near, but that doesn't mean we shouldn't indulge in a sweet Irish dip, especially if it includes Bailey's. Done in 10 minutes, what you need in order to make this dip is heavy whipping cream, block of cheese cream, powdered sugar, Bailey's Irish Cream, vanilla extract and a chocolate syrup for topping. It's best when served with fruit, chocolate, graham crackers or vanilla wafers.
7. Peanut Butter Yogurt Dip
A five ingredient dip that has a peanut taste is definitely something worth trying. You need peanut flour, pink Himalayan salt, unsweetened vanilla almond milk, stevia extract and plain, non fat Greek yogurt. In a large bowl, mix ingredients in this order: first whisk together the peanut flour and salt, then separately add almond milk, stevia and last the yogurt. Cover the bowl and refrigerate it overnight. You can top the dip with chocolate chips or chopped peanuts. Serve the next day with fresh fruit or anything else by your choice.
8. Toffee Apple Dip
The ultimate last minute dessert dip on the list is the toffee apple dip – It's all done in only two minutes! In a small bowl, mix cream cheese and brown sugar and then stir in the toffee bits. You can serve this with apple slices or you can eat it with pretzels too. Keep it covered in the fridge until you use it and then you can also top it with extra toffee bits. Easy and delicious, what more can we ask for?
9. Pumpkin Pie Dip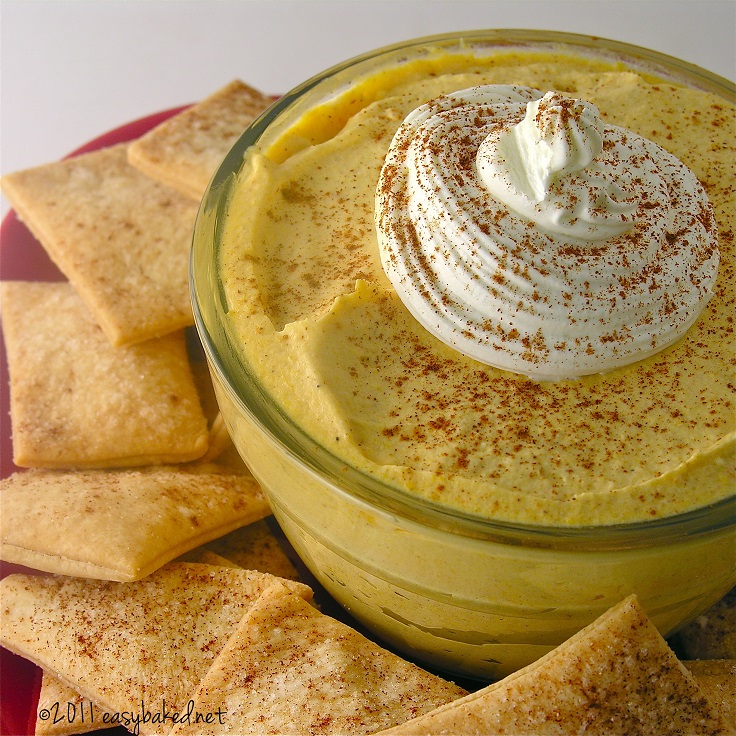 via easybaked.net
In a bowl mix cream cheese and brown sugar until you get a smooth mixture. Add pumpkin and pumpkin spice and mix everything on medium until again you get a smooth and creamy mixture. Fold in the whipping cream and place in serving dishes. Top with the creaming whipping cream and dust with cinnamon. It's best to serve the dip with crispy cinnamon crust squares for which you only need pie crusts that when preparing, you dust with sugar and cinnamon.
10. Coconut Rum Fruit Dip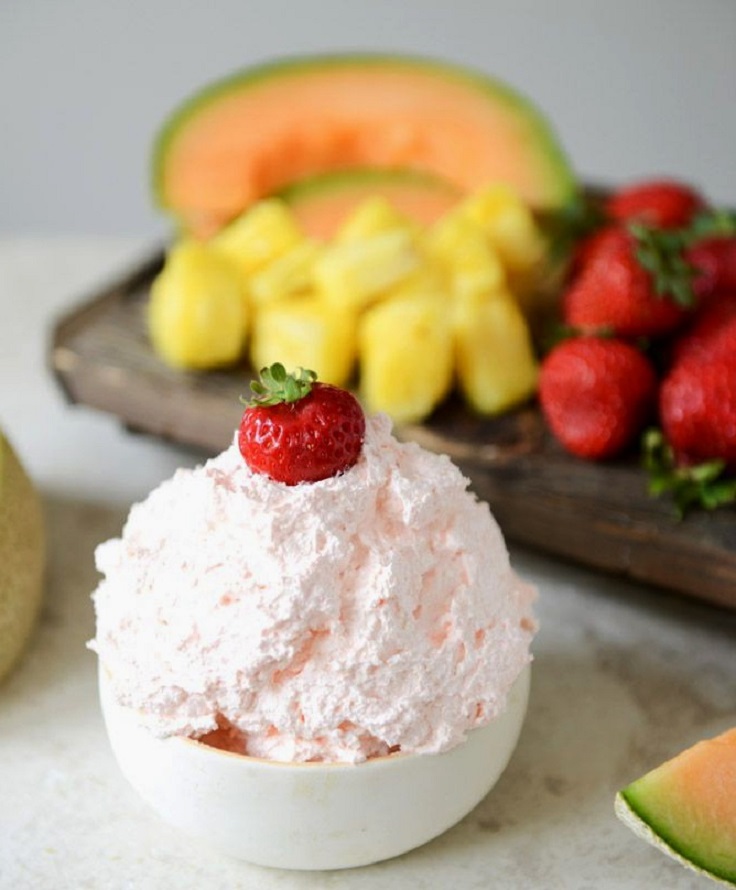 via holicoffee.com
There's something for the coconut lovers too! For this dip you need whipping cream, instant coconut cream pudding mix and few tablespoons of coconut rum. Mix everything until you have a creamy mixture. You can also add a drop of pink food coloring, but that's optional. Fresh fruit goes the best with the coconut dip, especially strawberries or any other berries, mangoes and so on.