Besides the architecture, food, festivals, music, nature, and everything else that Europe offers to a tourist, one of the things that you really need to cross off of your bucket list is visiting a European garden.
Royal or botanical, Europe has hundreds of gardens proving that garden-making is a unique form of art, and it allows visitors to be more in touch with history and nature at the same time. Even though there are much worth seeing, some are definitely standing out from the crowd, and you should visit at least one of these gardens if you can. See them below and let us know which garden you found the most fascinating!
1. Keukenhof Tulip Gardens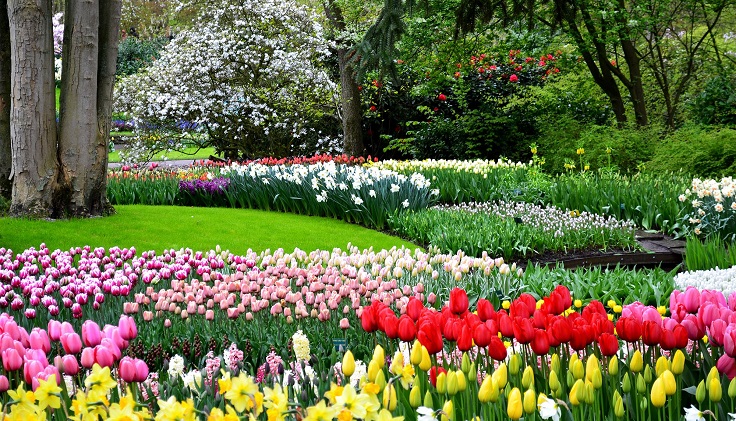 via boomervoice.ca
The Keukenhof gardens are located in Lisse, the Netherlands. They attract more than 800.000 visitors each year who come to this place to see the beauty that the Netherlands is famous for – the tulip flowers. More than 7 million bulbs are planted, and visitors can see more than 800 varieties of tulips coming in many different colors. Keukenhof is open only for about eight weeks, this year from 23 March until 21 May 2017.
2. Gardens of Versailles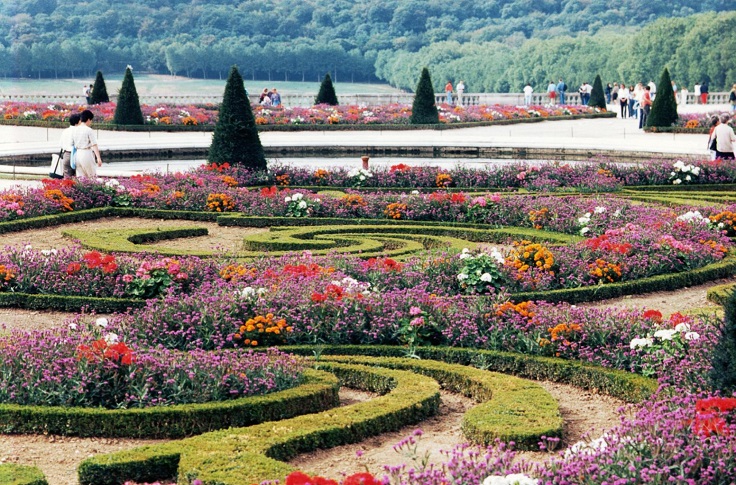 via gardenartineuropeanculture.blogspot.com
One of the most beautiful royal palaces in the whole world also has one of the most beautiful gardens that will fascinate you – as if the palace itself isn't enough. The gardens cover more than 30.000 acres, filled with plenty of pretty flowers and shrubs. Here you will find more than 400 sculptures and 1.400 fountains! Visiting the Gardens of Versailles, you will see why they are a recognized UNESCO World Heritage Site.
3. Chateau Villandry Gardens, Loire Valley, France
Located in the town of Villandry, the gardens of the Chateaux of Villandry are one of the most beautiful in France. They cover an area of 9 hectares, and here you will find water gardens with ponds and fountains, a huge vegetable garden, and an ornamental garden with plenty of flowers according to the seasons. The gardens are open every day from 9.00 am to 5.00 pm, and a ticket costs 6.50 euro.
4. Kylemore Abbey Garden, Connemara, Ireland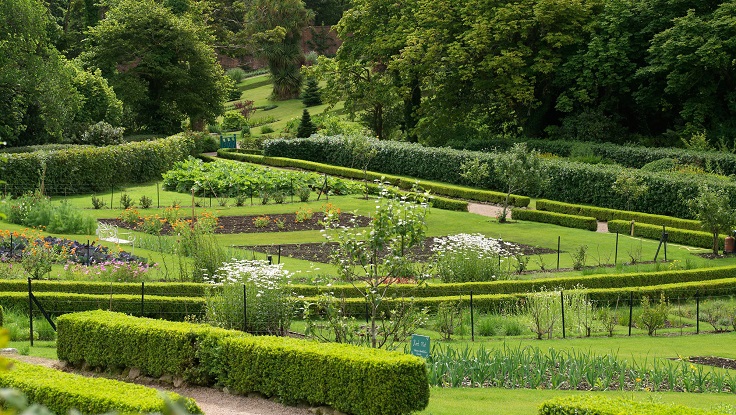 The Kylemore Abbey Garden is located in County Galway in Ireland. It is a Benedictine abbey with 21 glasshouses, a Victorian Walled Garden, Flower, and Kitchen Garden. The whole place, with its beauty, will make you feel as if you went back to Victorian times! The Kylemore Abbey Garden is open every year from mid-March to the end of October, from 10 am to 5 pm. The entrance fee costs 12 euro for adults.
5. Kew Gardens, London, England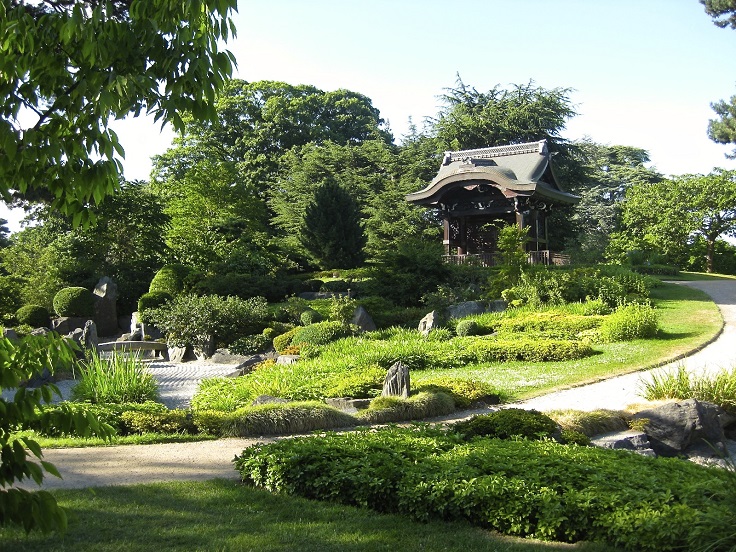 via sequinsandcherryblossom.com
The Royal Kew Gardens are located in London, England, and unlike the rest on the list, these are a bit different. They have the largest and the most diverse collection of living plants, for which the gardens are a global leader in plant and fungal science. Here you will find more than 14.000 trees, 30.000 plants coming from different climates, and galleries with botanical art and illustration. The gardens open every day at 10 am, and the ticket costs £14.
6. Alhambra Garden, Granada, Spain
The Alhambra Garden is a wonderful example of the East Mediterranean tradition in garden-making and from that period of time in general. It is located in Granada, in the Spanish region of Andalucia, where you will be amazed not only by the garden but also by the castle. A Lion Fountain dates even back from the 11th century and a Court of Pool decorated with beautiful Islamic details. The gardens open every day at 9.30 am.
7. The Eden Project, Cornwall, England
The Eden Project isn't the typical garden you're used to seeing. There's nothing royal about it, but there it will make you feel as if you're in some sort of a futuristic garden. It is the world's largest rainforest in captivity, with steamy jungles and waterfalls, including garden displays, rainforest canopy walkways, and fascinating buildings and sculptures. The Eden Project is a family-friendly place, but most of all, it is one of the most popular attractions in Cornwall, England.
8. Royal Botanic Garden, Edinburgh, Scotland
via vizts.com
Besides being a popular destination for tourists coming to Scotland, the Royal Botanic Garden Edinburgh is also a scientific center for studying plants, their diversity, and conservation. It occupies four sites located across the country, with Edinburgh being the main site. There are about 273.000 individual plants, or about 13.300 species of plants coming from different parts of the world.
9. Villa Lante Garden, Bagnaia, Italy
via flickr.com
Italy is known for its beautiful palaces with gardens, and this one surely stands out from the crows. The gardens in Villa Lante are so gorgeous that they will make you feel as if you're centuries back. Besides the flowers, shrubs, fountains, and sculptures, the garden has cascades and dripping grottoes and parterre, typical for royal gardens. You can visit the Villa Lante's Gardens every day, except for Mondays and public holidays.
10. Monet's Garden, Giverny, France
via redbird-patricia.blogspot.com
This is the third French garden on the list, but we believe that you will agree with us that when it comes to this, the French really know how to make a wonderful experience out of it. Here we have the famous Monet's garden located in Giverny, named after the painter Claude Monet, who lived here with his family. He planted so many flowers and later bought a neighboring piece of land where he had his pond. His garden is like a real live fairy – tale; we definitely recommend it!