Everyone has this tiny handy thing it their house, and they are always in hand when you need them, but did you know that you can use them to make your own bracelets, necklaces and spice up your usual fashion pieces?
Well, we give you this then amazing and easy idea how to use the safety pins in many different and original ways. Look at the pictures below to get inspired and make your own unique accessories by your taste, with a little help from the tutorials that you can find in the links below the pictures.
We are sure that you will love them, so give them a look and don't forget to tell us which one of them catches your eye the most!
5 Minute Necklace
In some weird way, this piece looks so classic and universal, and the way it looks with this white shirt is just perfect. If you are going for a simple and classy look, give this a try.
Edgy Bracelet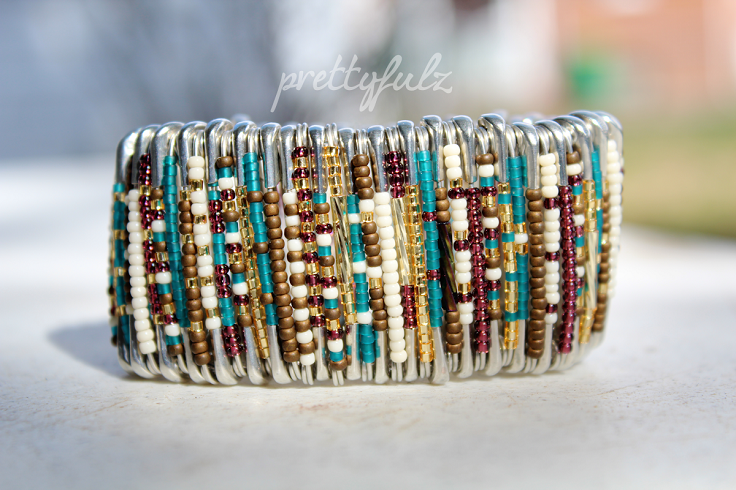 This is just one of the thousands of ways to decorate your safety pins bracelet; the colors, shapes, and the quantity of the beads are up to you and your taste.
Spice Up Your Pants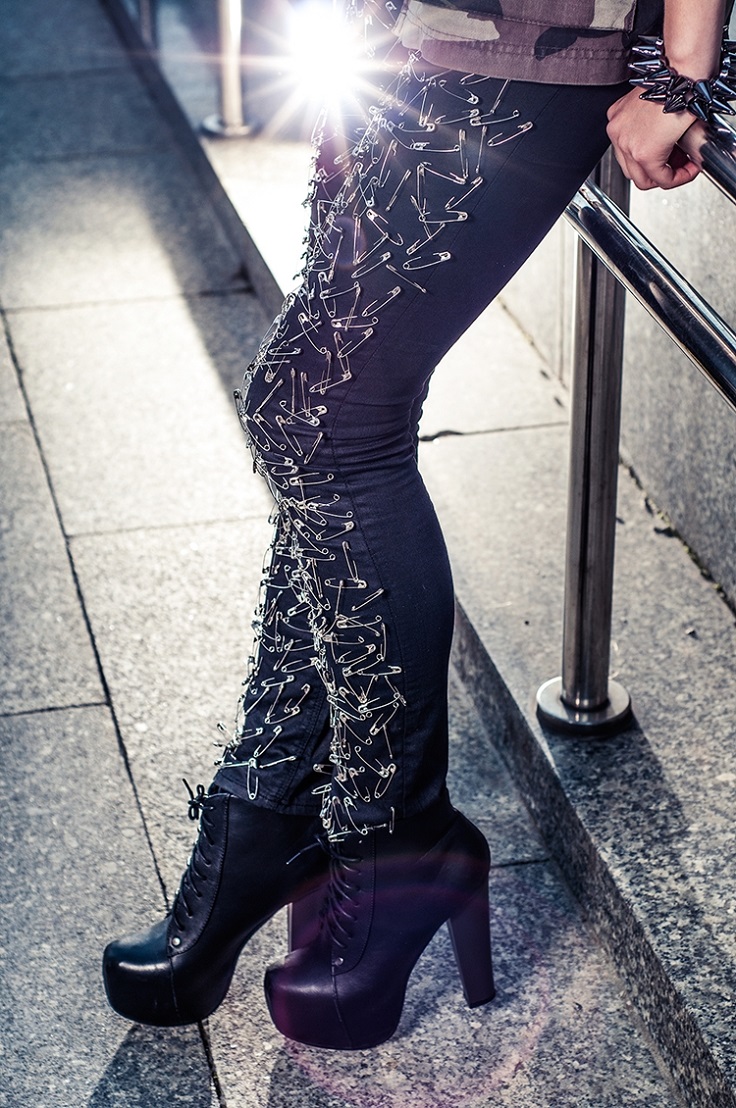 via glampaula.pl
Glamorous and dangerous at the same time! No one will try to mess with you while you wear these pants. This idea is so genius, so if you are a bold girl that is opened to experimenting with her look, this is perfect for you.
DIY Collar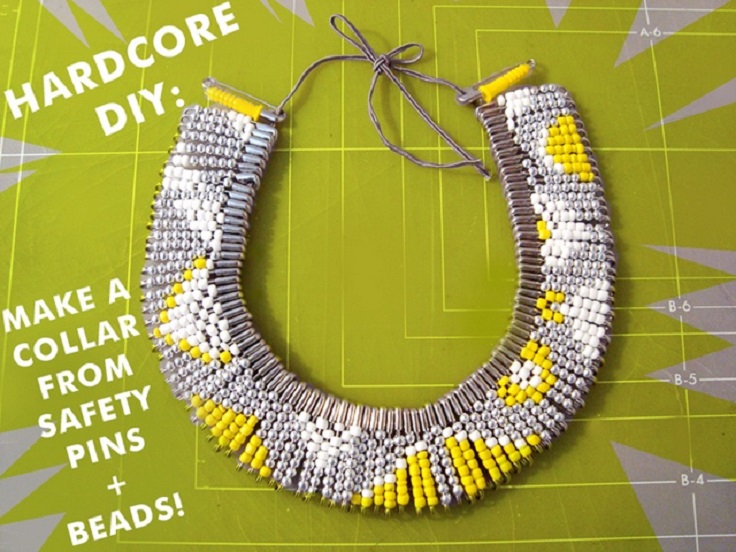 via stylecaster.com
The collars are so in, and this is a great DIY one. Very simple to make and so beautiful to wear. Find some beads and get your hands full with work!
Decorate Your Blazer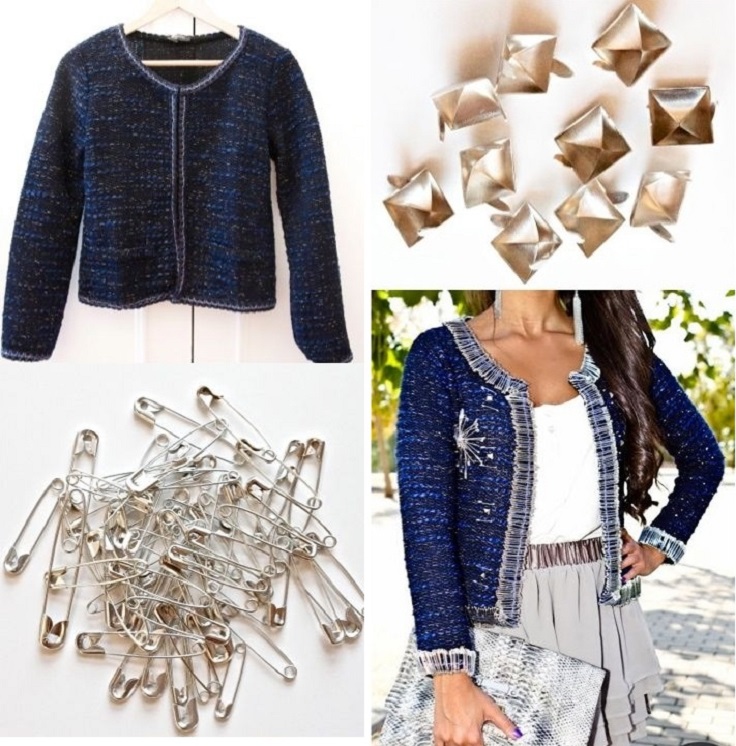 via blog.zocoapp.com
If you are bored with your one-color blazer and you want some glam in your wardrobe, try this awesome tutorial that will leave everyone speechless.
Pearls and Safety Pins Necklace
via honestlywtf.com
We all know that pearls are classy and never go out of style, but if you want to give them a little sparkle of life them, just pin the safety pins all over the necklace. Golden or silver,  it's up to you.
Sequin Bracelet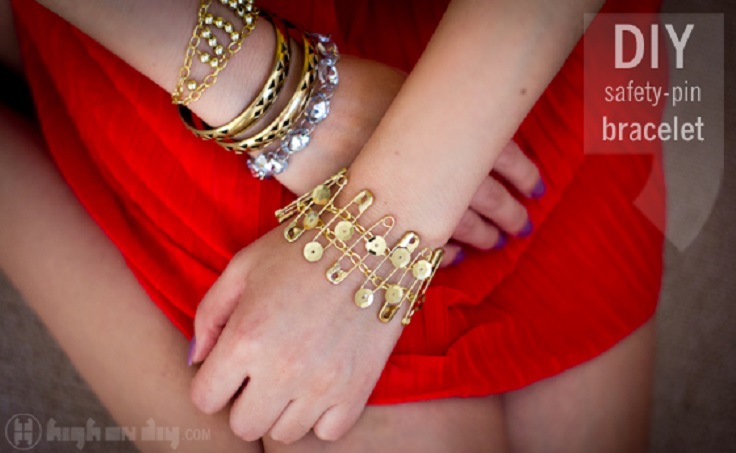 via highondiy.com
Simple and girly bracelet that you can easily make. All you need is safety pins, sequins, and chains. You can wear this bracelet with every outfit, in combination with other accessories or just by itself.
Choker
via 312style.com
An amazing colorful choker that is so bold, eye-catching, and modern. Follow the steps of the tutorial and make it in the comfort of your home.
Earrings
via carryon-carryon.com
These cute DIY earrings make an amazing gentle accessory. The pearls complete the look perfectly and give the earrings a girly and classy touch. Follow the tutorial to find out how to make them.
Belt
via blog.zing.vn
Our last idea for this post is this beautiful belt that is so easy to make. Just find one black band that matches your waist perfectly, and then get the safety pins and attach them one to another, until you get the look from the picture.