Christmas means getting decorated everything you can possible imagine, including the food. There are so many traditional dishes and desserts that are prepared for this holiday and very often, these recipes leave space for creativity in cooking.
If you're that kind of person who likes being in the kitchen and experiment, we're sure that you will find these ten recipes very amusing and creative! We picked ten festive cookie recipes, all decorated in the spirit of Christmas and all being very easy to prepare. You will have so much fun while waiting for Christmas with this kind of cooking!
1. Frosted Sugar Cookies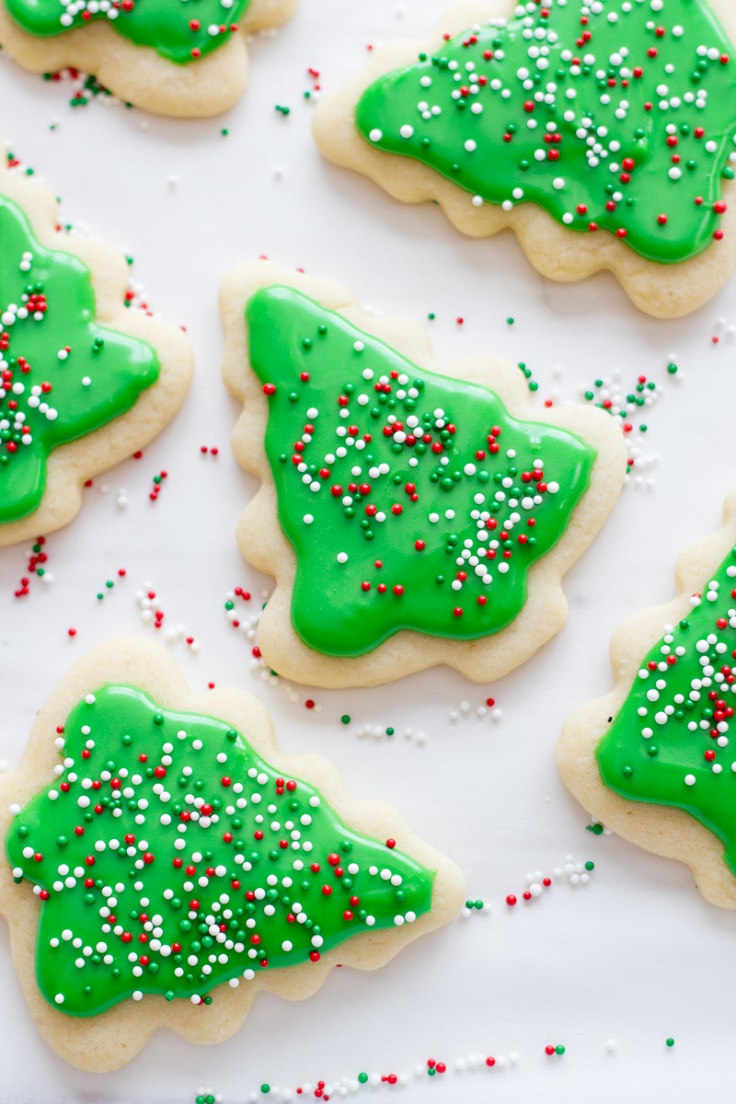 via wholefully.com
Who said Christmas trees can't be transformed into pretty, little cookies? Just looking at these cookies make us want to cook right away and Christmas to come sooner to bake some more! For this recipe, you'll need to prepare separately the cookies and then the frosting. You can choose your favorite cookie recipe and prepare the frosting with 2 cups powdered sugar, 2-4 tbsp. milk, 1 tablespoon honey, 1 teaspoon vanilla, almond, peppermint, or coconut extract and food coloring.
2. Red and Green Sugar Cookies
One of the best ways that you can make cookies in the spirit of Christmas is by using two colors that make this holiday easy to recognize – red and green. You can come up with so many ideas and recipe, and we want to share this one with you – simple sugar cookies! These are very easy to prepare and you won't need too many ingredients, just these – 1 cup butter, 3 ounces cream cheese, 1 cup white granulated sugar, 1 egg yolk, ¾ teaspoon vanilla extract, 2-1/4 cups all-purpose flour, ¼ teaspoon baking powder, ¼ teaspoon ground nutmeg, ⅛ cup red and green sprinkles and of course, red and green food coloring.
3. Thumbprint Snowman Cookies
With adorable cookies such as the thumbprint snowman cookies, we are sure that no matter if you bake them only for yourself or for guests, eating one will simply remain impossible, because look just how adorable these cookies look! If there are children involved, trust us that they won't wait to try these. You can choose your favorite cookie recipe, but for the frosting you'll need 1 1/4 cups powdered sugar, 2 tablespoons milk, 1/2 teaspoon almond extract or vanilla, gel paste food coloring in black and orange for decoration.
4. Wreath Cookies
via myrecipes.com
Yes, baking wreath cookies is real and so delicious – not to mention the fact that it looks so adorable and makes us want to try them right away. They are simple, easy to prepare and don't require too many ingredients, which makes them really budget – friendly. You just 1 (12-oz.) package vanilla candy coating, green paste food coloring and 2 1/2 cups coarsely crushed mini shredded whole wheat cereal biscuit. It would be awesome if you also top the wreath cookies with candy-coated chocolate pieces, red cinnamon candies or swirled holiday white morsels.
5. Christmas Tree Sandwich Cookies
Cookie sandwiches are a well-known dessert for its deliciousness and look, and these Christmas cookies definitely are no exception to this! Plus, with the Christmas tree they even look more festive and adorable! For this cookie sandwiches, you need two of your favorite recipes, one for sugar cookies and the other for vanilla frosting. Adding sprinkles will also help in making them look as festive as possible. For the Christmas trees, you can use gel food coloring, or you can just skip this part… it's not like these cookies won't be gone right away!
6. Lofthouse Style Soft Sugar Cookies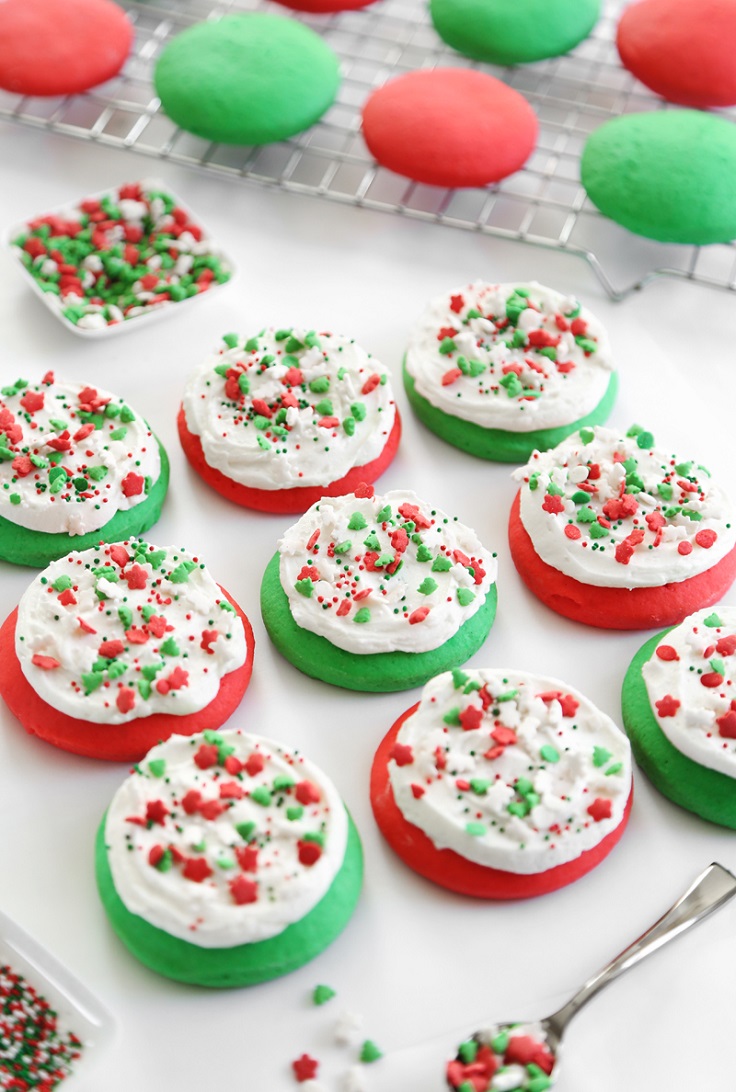 And we're back to the famous Christmas combination of green and red! You will find these cookies really easy to prepare, super delicious to eat – plus, baking such cookies is so creative, as you get to play with sprinkles, whip cream and colors! To prepare the cookies, you need 1 cup granulated sugar 12 tablespoons unsalted butter, 2 eggs , 1/2 cup full fat sour cream, 1 teaspoons vanilla extract, 3 1/4 cups all-purpose flour, 1 1/2 teaspoons baking powder , 1/2 teaspoon baking soda , 1/2 teaspoon salt, red and green gel food color.
7. Christmas Cream Cheese Sprinkle Cookies
One of the best decorative ingredients that can bring the festive spirit in your menu are exactly the sprinkles. These tiny, colorful edible balls can really make any dessert look so much better. These cream cheese sugar balls are ready in about 30 minutes and the recipes makes 3 dozen. These are the ingredients that you need – 2 sticks butter, 4 ounces cream cheese, 1 cup powdered sugar, 1 teaspoon pure vanilla extract, ½ teaspoon salt, 2¼ cups all-purpose flour and ½ cup sprinkles of your choosing.
8. Spiced Gingerbread Man Cookies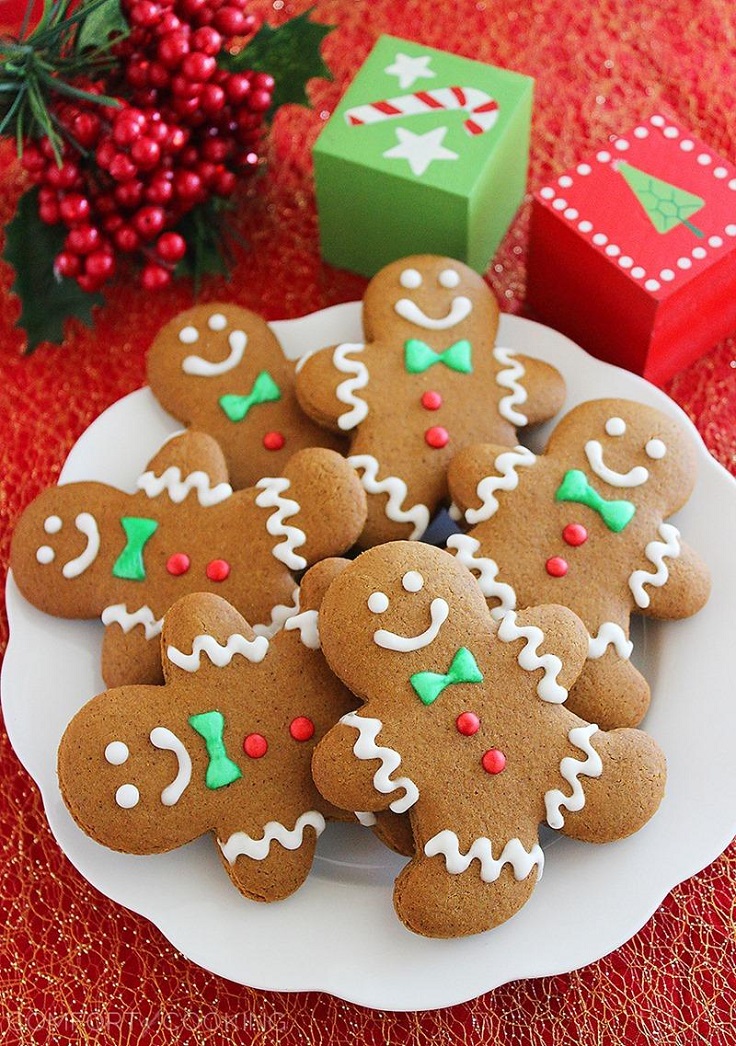 Let's face it – what's Christmas without gingerbread man cookies? It's like exactly these cookies give the ultimate Christmas feeling one can have! They are such a classic recipe and you won't make a mistake if you choose these, no matter what. To prepare this wonderful cookies, you need: 3 cups all-purpose flour, 1 1/2 teaspoons baking powder, 3/4 teaspoon baking soda, 1/4 teaspoon salt, 1 tablespoon ground ginger, 1 1/2 teaspoons ground cinnamon, 1/4, teaspoon ground cloves, 6 tablespoons unsalted butter, 3/4 cup brown sugar, 1 large egg, 1/2 cup molasses and 2 teaspoons vanilla extract.
9. Candy Cane Snowball Cookies
via wellplated.com
Snowball cookies? Yes, please! Especially if they look as good as these on the picture. If you're hosting a Christmas gathering and go for this dessert, we're pretty sure that having a dozen more in your oven will be much needed. It will take you something less than two hours to have all of them ready, and you need these ingredients – 1 cup (2 sticks) unsalted butter, 1/2 cup powdered sugar, 1 teaspoon pure vanilla extract, 1 teaspoon pure peppermint extract, 2 cups all purpose flour, 1/4 teaspoon kosher salt, 1 cup toasted almonds, pecans, or walnuts, 6 ounces chopped white chocolate or white chocolate candy melts and 2/3 cup crushed candy canes or peppermint candies.
10. Peppermint Brownie Cookies
And last, it's time for some Christmas brownie cookies. If you're a chocolate lover, be sure to try these, you won't regret it at all – who can resist brownie after all! These cookies are ready in less than hour and here are the ingredients that you need: 1 pound semi-sweet chocolate chips, 6 tablespoons unsalted butter, 4 large eggs, 1 cup white sugar, 1/2 cup brown sugar, 1/2 teaspoon peppermint extract, 1/4 teaspoon salt, 1/2 cup all-purpose flour, 1/4 teaspoon baking powder and 1 cup milk chocolate chip. You can top them with melted both white and dark chocolate chips and crushed peppermint candies.