In springtime you can't help but feel happy and giddy, like when you were a little girl, skipping and playing in the park and picking the first flowers of the season.
Now, that you're all grown up, you might not be able to wear that favorite floral dress or pick flowers along your way, but you may still hold a part of spring in your hands, or more specifically, in your nails. Painting your nail with a joyful floral pattern is a playful and subtle way to celebrate spring.
Choose a pattern today and let the smile spread on your face every time you look at your nails.
Purple Base With White Daisies
via airestsfavorites.blogspot.com
To get you into the floral mood, here is a simple and fun flower pattern that you can make, even if you have never done more than basic nail polishing. If you want you can make the pattern on one or all the nails and there is even a great tip on how you can make your own nail art dotting tool.
Colorful Flowery Nails
via article.wn.com 
If you want more color in your day, but are unable to incorporate it with your wardrobe, then do so with your nails. This tutorial will show you how to make a multi-colored mash of flowers on a white base that will certainly make you feel a lot more cheerful.
Splash Flower Manicure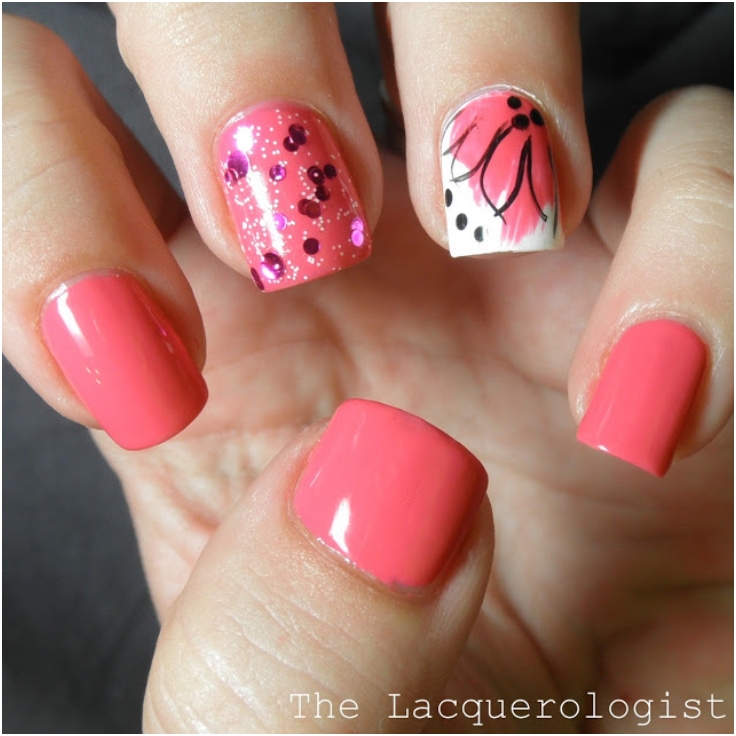 A less flashy, maybe a bit conventional manicure but with such a fun twist, that you won't be able to resist trying it out. The beauty of this design is that it doesn't require much precision and you can play with it making it look more or less flashy.
Poppy Flower Nail Art
via paulinaspassions.com
The poppy flower is an elegant, playful, warm and beautiful spring flower, so having a poppy flower design on your nails will make you feel the same. The fiery red against the white base will make your nails pop even more, and if you want to tone it down, you can use a different base color nail polish.
Dainty White Roses On Blue Base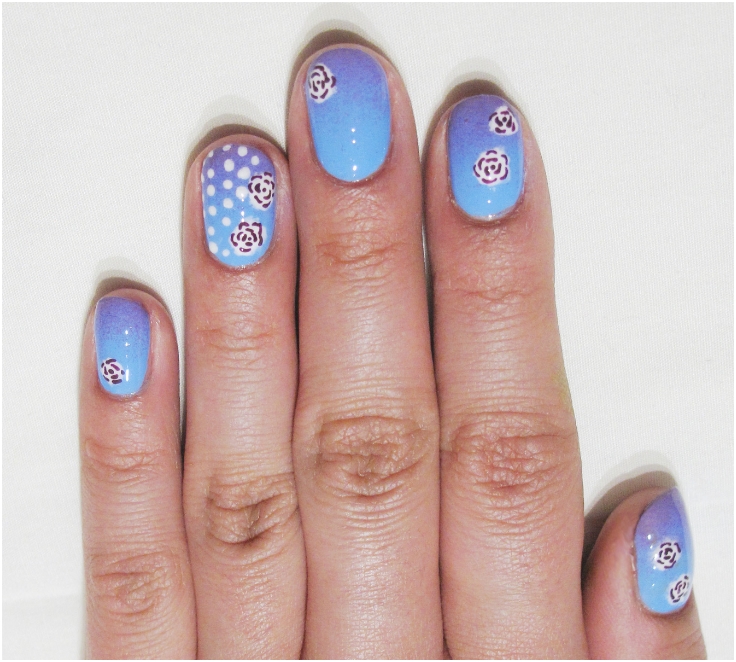 via inspirationail.com
Blue might be a cold color, but when combined with a bit of purple and some cured black on white roses, it makes one lovely spring-time nail art design, and the flowers made in a random pattern and the addition of dots on one nail, make it truly fabulous.
Easy Spring Nail Design With Dry Flowers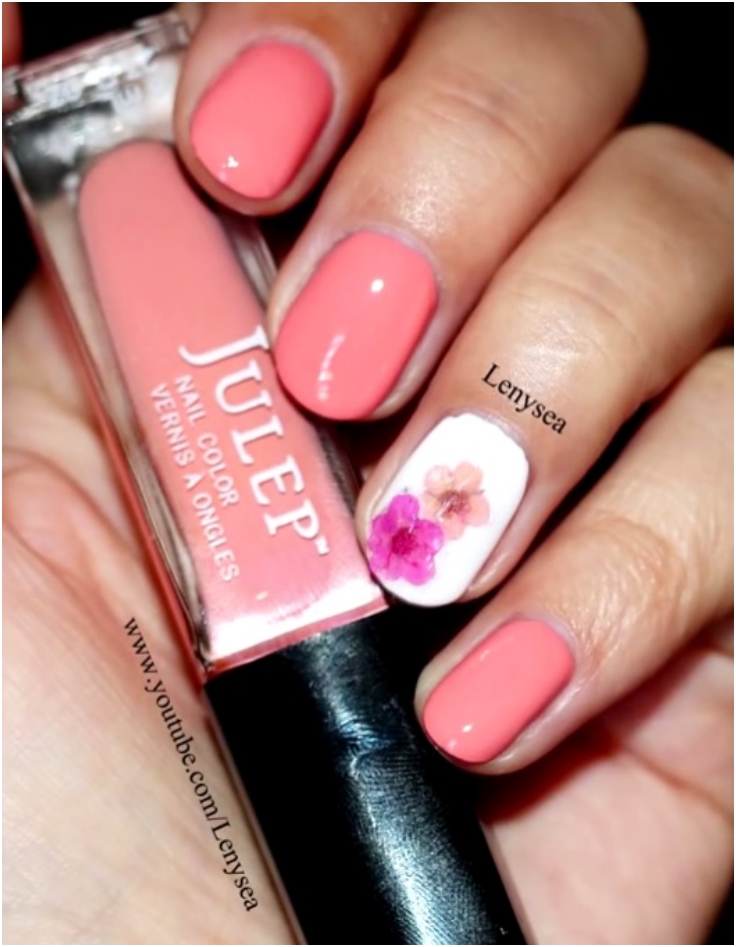 via diy-review.com
For those of you who have given up on drawing flower designs on nails because they never seem to turn out as you want, here is a fool-proof and easy tutorial that will leave your floral nails to look perfect every time. The secret is using dried flowers.
Cherry Blossom Nail Art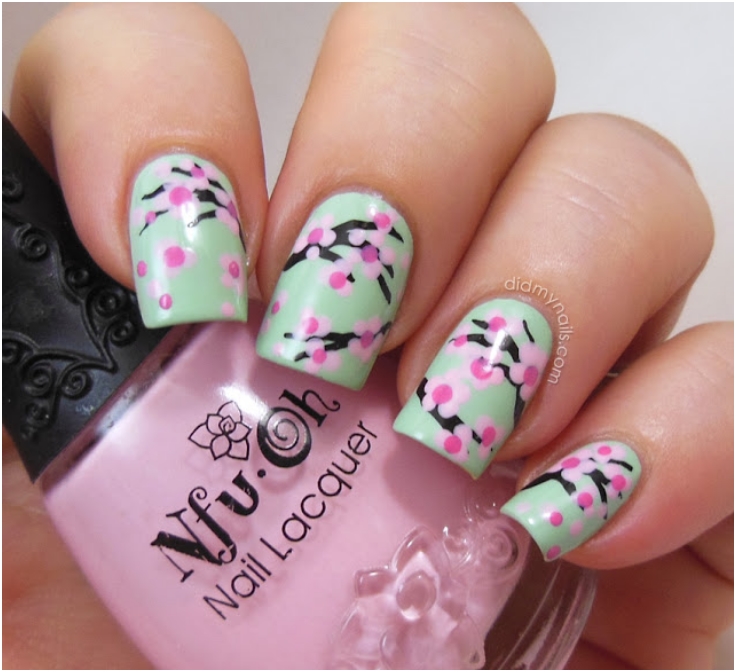 via didmynails.com
When you see the cherry blossoms blooming, you know that spring is truly here. If you don't have a cherry tree in your surroundings to remind you of that, then carry that spring reminder on your nails with this step-by-step tutorial.
Explosive Dots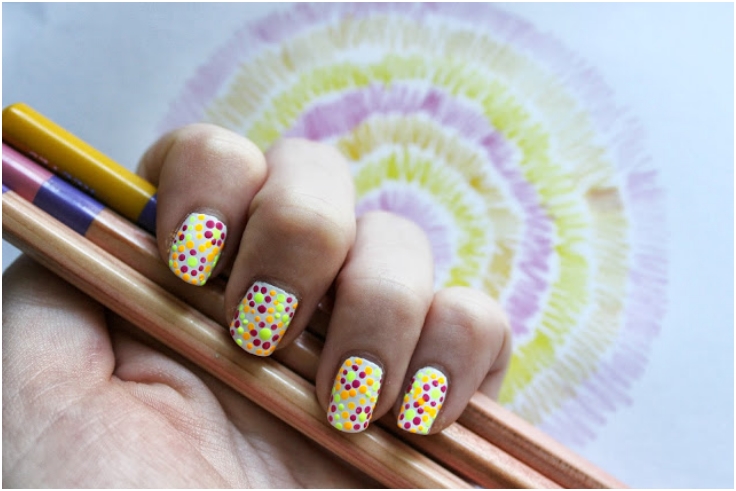 The bright neon colors are slowly but surely coming back into fashion, so if you are feeling a bit bold and like to have some truly bright and flashy spring nails, here is one way to achieve that. This design is easy and fun to do and all you'll need is a dotting tool.
Black And White Floral Nail Art
For all those formal spring cocktail parties you have to attend,  here is an elegant and classical black and white french manicure with simple flowers and a dash of silver glitter to make you truly shine and bring part of spring to the party.
Marc Jacobs Daisy Delight Inspired Spring Nail Art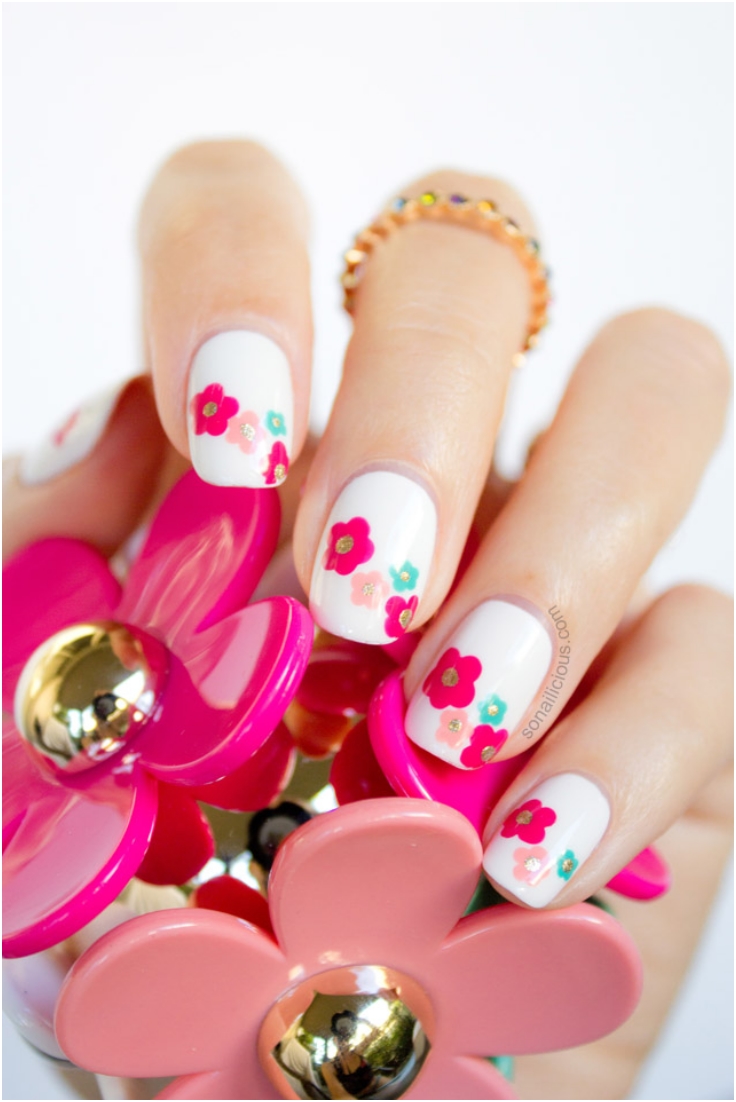 via sonailicious.com 
For our last nail design, we suggest the Marc Jacobs fragrance inspired nail art. This playful design with dark pink, baby pink, and blue daisies with a golden center on a white base is cute and fresh, and an example that you can draw your nail art inspiration from anything. Just remember always to enjoy and have fun in everything you do.