Fluorescent colors were always more fun then the normal ones. Have you ever thought about DIY projects with fluorescent colors. Nowadays there are so many types of fluorescent colors like body, glass, wall or paper fluorescent colors and many others. With all of these types you can create so many creative DIY fluorescent project which will fit excellent in you home decor, party or lifestyle. There are so much creative ways for different fluorescent DIY projects that will blow your mind. For this DIY projects all you need is fluorescent colors, black-light that will make your projects magical and your own talent and creativity. In this article we will present you how to use the different types of fluorescent colors to make you perfect DIY magical projects. Let the fun begin!
1. Fluorescent Graffiti 
Have you ever come up with the idea of painting your graffiti with fluorescent colors. First thing you can do to start this project is to buy a black-light and the fluorescent-neon spray more likely for a better effect in different colors. Paint your graffiti art idea like you already imagined. It will look cool during the day anyway but when the night comes and the black-light turns on the magic start over. It will give a feeling of a  totally different graffiti art like you have never seen before. If you are graffiti artist you must try this perfect idea and you will have the coolest graffiti.
2. Fluorescent Wall Decor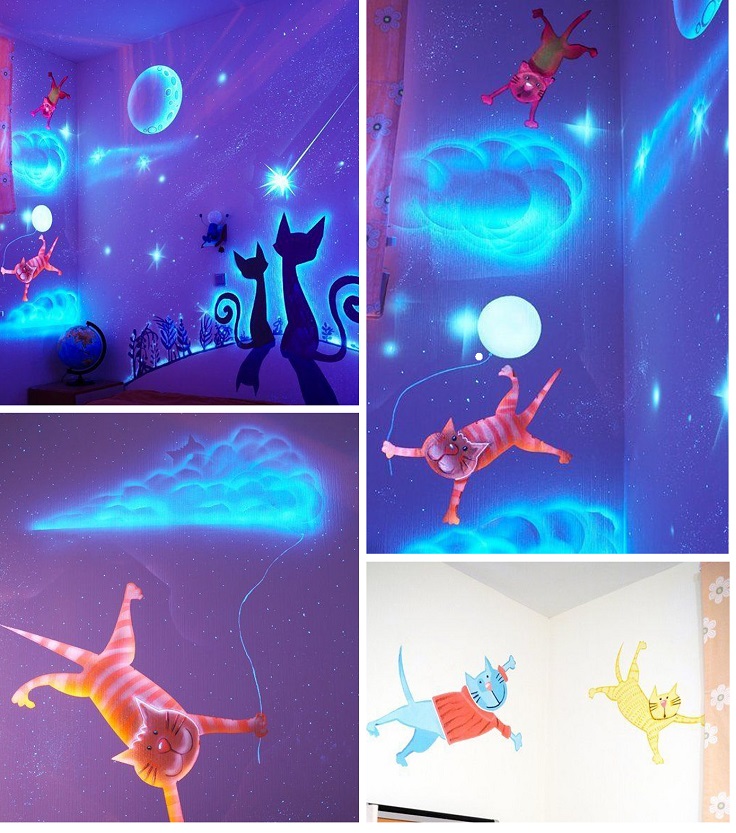 via umods.ru
For this project all you need is fluorescent wall paints and a black-light. If you have great painting skills and you do not like any of the wall decorations that are on the market for your kids room it is time for painting. Buy the fluorescent wall paints and a black-light. Start by painting the decoration that will be visible during the day and then with the invisible things that you will see only with the black-light for a better effect. You can paint on the walls your kids favorite animals or super-heroes or maybe princesses. This project with the fluorescent colors will turn yours kids bedroom into a magical paradise. You will notice the effect in your kids eyes when you will turn on the black-light.
3.  Fluorescent Halloween DIY ideas. 
Fluorescent colors could be fun much for Halloween. All you need for this project is to pick your perfect pumpkin and to buy different fluorescent colors with the black-light. Call your best friend and take your pumpkin in your hands. Paint it with the fluorescent colors and use as much colors as you can. Even if  you do not make the most amazing pumpkin ever this project will promise you fun with your friends while painting. DIY your great Halloween decoration and be the coolest in the neighborhood. One thing is for sure, you will be unique.
4. Fluorescent Candles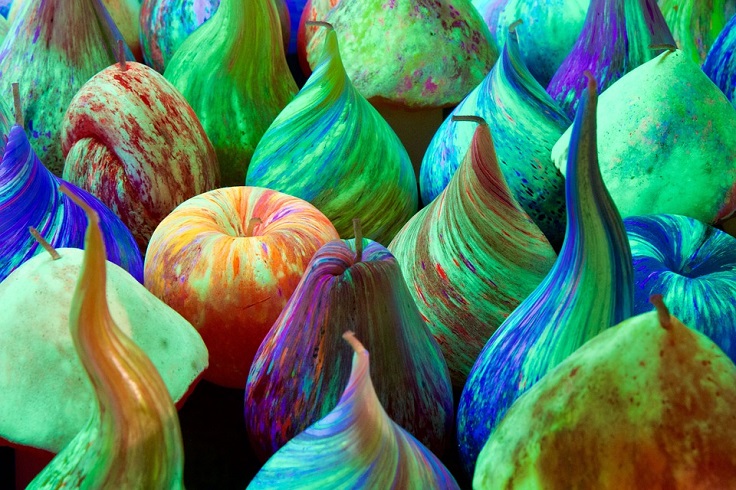 via pixabay.com
The only thing you need for this DIY project is few plain white candles in any shape, fluorescent colors and black-light. Start by painting them in one tone from darker to light color. Then make the same with another color and you will have the ombre effect on your neon candles. Paint one of them with more different colors and make your colorful fluorescent candle. Make your candles from plain color to amazing colorful ones. Your imagination will help you a lot. This is an amazing way to make a lovely decoration for your home decor.
5. Fluorescent Nail Art
Tired of the normal nail polish and want to try something new? Maybe you have your neon nail polish but on the party nobody can spot it. Buy fluorescent colors or nail polish then paint you nails with it. You can make them colorful, ombre, plain, you have million ideas over the internet but knowing the fact that your nails will shine on the party will make a totally different picture of your nails in your imagination. This is an amazing idea to be the only girl on the party with this different way of nail polish. Your creativity is the most important thing for this DIY project.
6. Fluorescent Art Paintings
Modern art has gone so far that nowadays fluorescent paint colors are used for creating a new different way unique paintings. Start by turning on the black-light and painting your art paintings. For a better effect we suggest you to make a pair of the paintings for example three paintings of a same flower each one of the paintings in different colors. Take the fluorescent paints and make the perfect painting for you bedroom. Use your creativity and paint the most interesting paintings.
7. Florescent body colors.
Are you tired from the Halloween costumes and do not have the idea of the costume that will be unique and different than the other costumes and masks on the party? Next Halloween buy body fluorescent colors and black-light. Before the party turn on the light and start by painting with the colors like you are using make up. Make your mask in different colors. Before the black-light turns on at the party nobody beside you will know how great is your DIY mask. Key thing for this DIY project is your own creativity and make up placing talent. For one thing we are sure there wont be someone else wearing the same mask as yours. Be the only one on the party.
8. Fluorescent Jars
via www.curbly.com
Mason jars are really popular lately for the DIY projects. We have already seem their multi-use as a lights, candle holders, jars for cocktails etc. Make them different style for the next party by painting them with fluorescent  glass colors. Grab a toothpick and start by adding a small dots with the fluorescent glass paint. Use smaller and a bit bigger dots in similar colors for a greater effect. Make the jars in any colors. Make the most amazing jars for the drinks for your next party. You can use this DIY fluorescent jars to serve cocktails and later on as a decor in your room.
9. Fluorescent Notebooks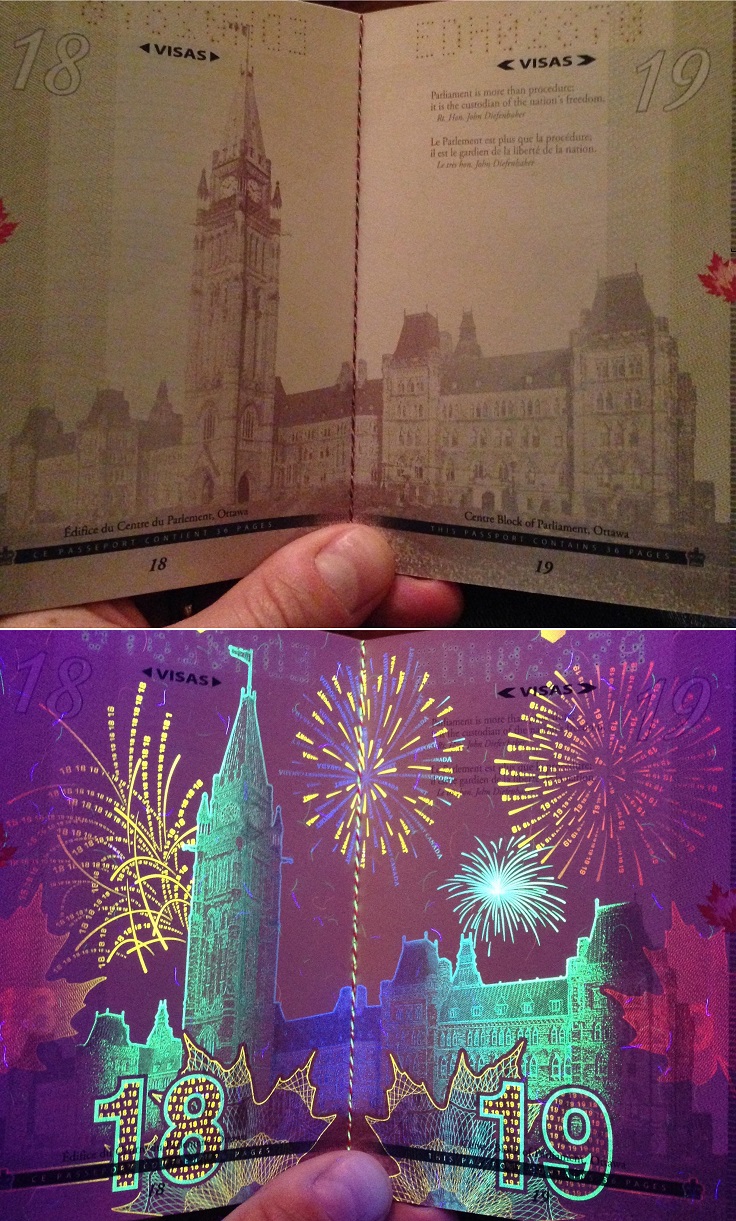 via imgur.com
Canadian passports have the fluorescent magic in them on every page. These fluorescent pages prevent the passport of copying and spams. This is an amazing idea how to make the pages of your notebook or a scrapbook magical. All you need is fluorescent paper colors and creativity. Use your talent and draw fun things in your notebook. Nobody will now the magic until you show them on the black light. This can be a perfect gift for your loved ones. Use your creativity and make the perfect notebook, photo album or scrapbook.
10. Fluorescent Tattoos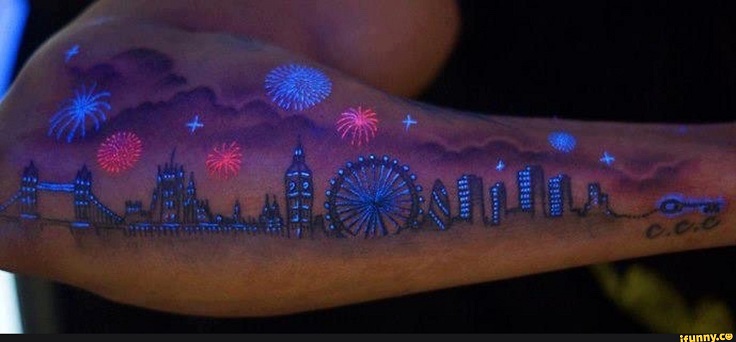 via ifunny.co
Do you love tattoos? There is a new way of making  your tattoo shine while on parties. If you do not like to use the permanent fluorescent ink but still you like the idea of your tattoo shining on a black light there is a solution. All you need is to buy fluorescent body colors and remark the parts of your tattoo that you want to shine on the party with the invisible neon colors. This DIY project will make your tattoo shine and glow on the next night party. You don not even have to have a permanent tattoo, you can paint your tattoo with the fluorescent body colors and then it will disappear the following days.