Weekdays are most of the time hectic. We are running from work to pick up the kids, take them to sport or art, do quick shopping, and trying to sort out other ad-hoc stuff in between. What we really need for these days is quick and easy dinner recipes that are ready in no time with a minimum effort.
Tinfoil baked fish, meat, or other recipes are just perfect for this. They are really very simple and so tasty. All the yummy drippings are trapped inside the foil, resulting in a juicy mix of meat or fish and veggies that don't lose an ounce of flavor. And another great thing about tinfoil dinners is that they require virtually no clean-up!
1. Tin Foil Thai Fish
Recipe via www.gerifood.com
If you like Asian flavors, you will love this recipe. You can use fish fillets like trout, cabillaud, or salmon. Baked together in the foil with finely chopped chilies, fresh ginger, celery, soy sauce, and fresh lime. The spices will transform your fish into a deliciously spicy and soft meal.
2. Tinfoil Dinner With Sausages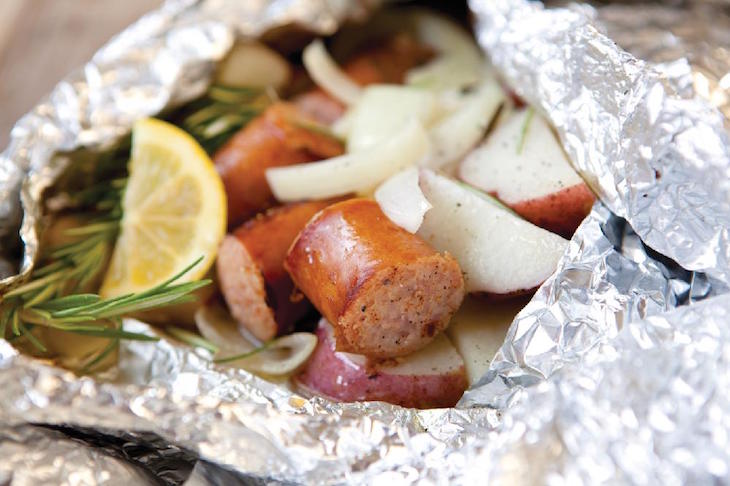 Recipe via www.dvo.com
Sausages baked together with potatoes and vegetables will taste delicious because they will result in a juicy mix. You can parboil potato pieces and slightly brown the sausage pieces in a large skillet before putting them in the oven. Sprinkle with salt and pepper and rosemary, toss well, coating potatoes and sausage pieces thoroughly.
3. Philly Cheesesteak Hot Dog
Recipe via www.countrycleaver.com
This hotdog version of the classic Philly cheesesteak is the perfect comfort food for cold weekdays. The delicious caramelized onions, with tender roast beef and hot dogs topped with melted cheese, will just make the whole day instantly better.
4. Italian Chicken and Veggies in Foil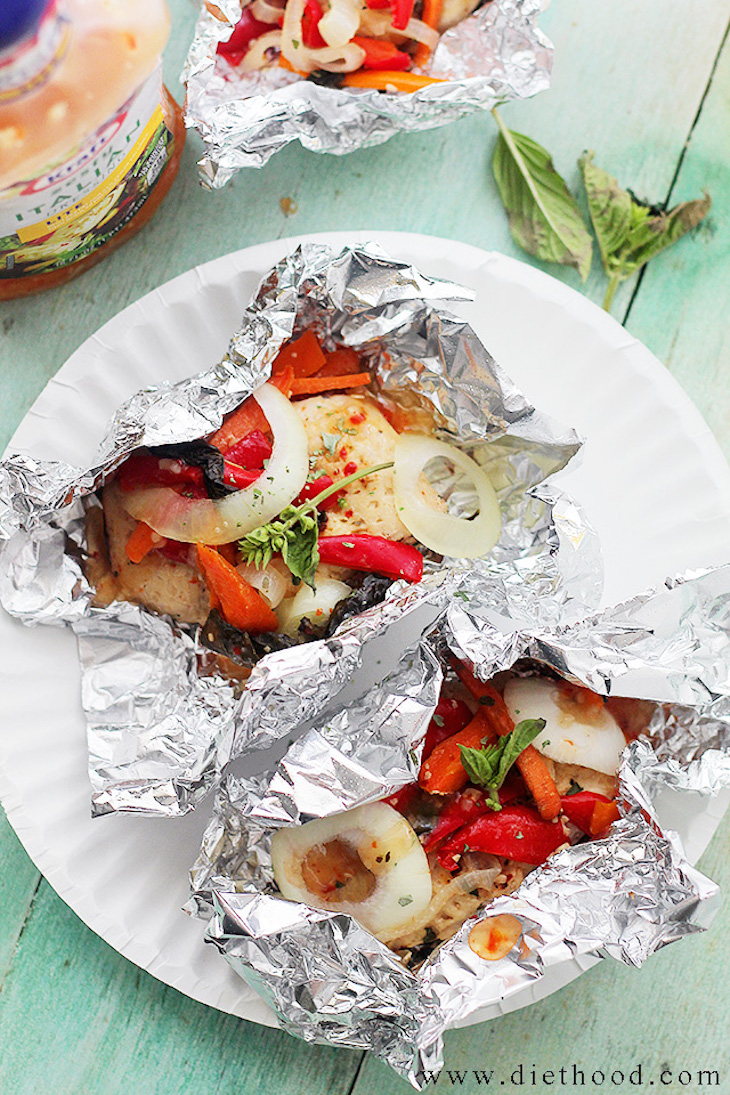 Recipe via diethood.com
One of the great things about foil-baked foods is that anything inside the tinfoil stays moist. Like this flavorful chicken breasts baked with peppers, onion, garlic, fresh herbs, and Italian Dressing. You don't need to add oil, butter, or anything greasy so you can make a fantastic clean eating dinner.
5. Jerk Chicken Wings in Foil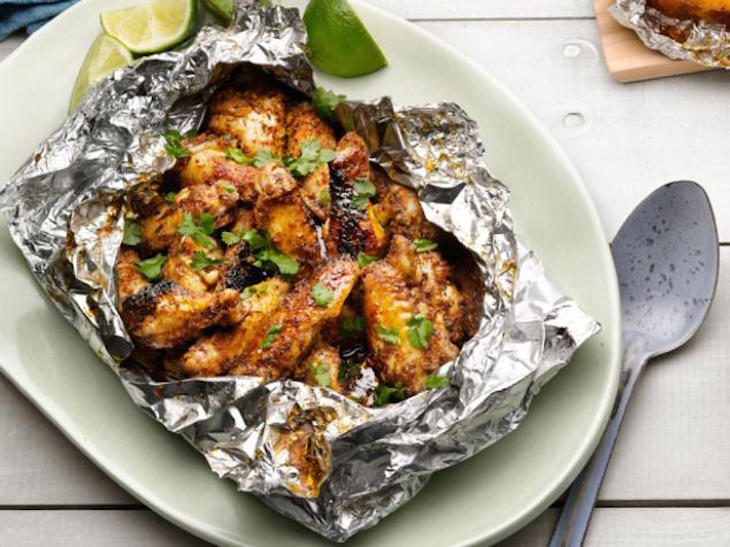 Recipe via www.justapinch.com
We all love the deliciously addictive jerk chicken wings. It is so simple to prepare and makes a great dinner with fresh salad on the side. Toss split chicken wings in oil, jerk seasoning on a sheet of foil, then fold it into the packet. Grill over high heat and top with cilantro and lime wedges before serving.
6. Foil Pack Chicken and Broccoli Dinner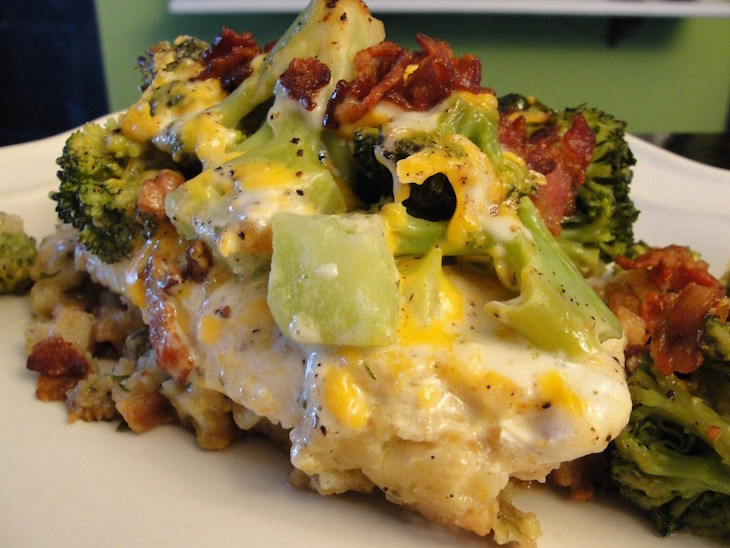 Recipe via www.bigoven.com
Another advantage of baking in tin foil is that you can simply pack everything in the foil and bake all the ingredients together. This way, you won't have all the dirty dishes to wash, just a baking tin. This chicken and broccoli recipe is so easy; put in the oven and eat in 30 min.
7. Beef and Veggie Foil Packets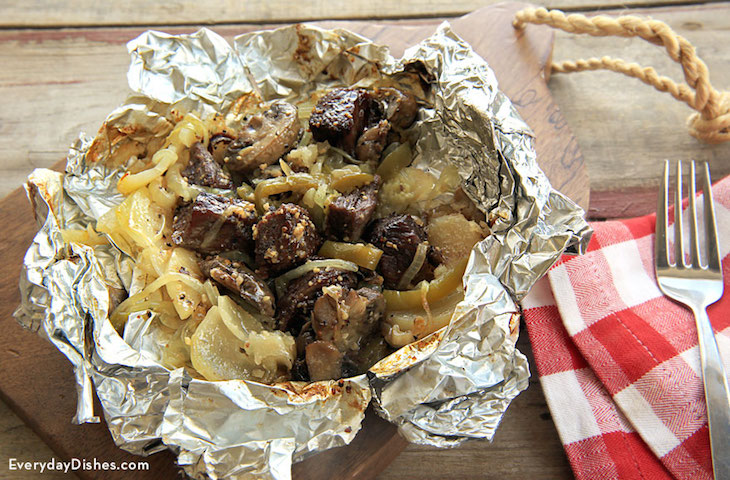 Recipe via everydaydishes.com
This foil packet recipe is a tasty meal that you can make on the grill or campfire in the summer. But you don't have to wait until next spring; simply prepare it in the oven. Toss onion, mushrooms, bell pepper, garlic, and potatoes until combined, place an equal amount of beef on each foil packet, and bake in the oven for 45–55 minutes.
8. Cajun Shrimp Foil Packets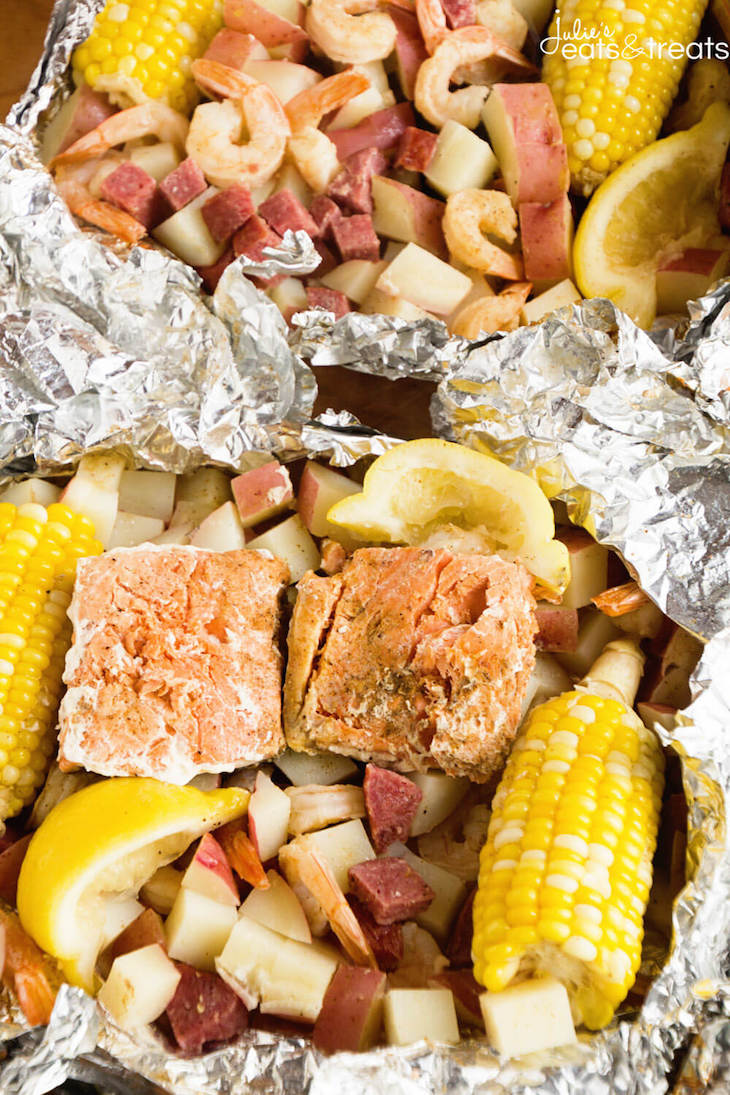 Recipe via www.julieseatsandtreats.com
For a light and healthy dinner, make these Cajun Shrimp Foil Packets. The recipe requires potatoes, salmon, shrimp, summer sausage, corn, and cajun seasoning, but you can add any veggies you have in your fridge. Delicious with sweet chili sauce!
9. Seasoned Burger and Potato Foil Packs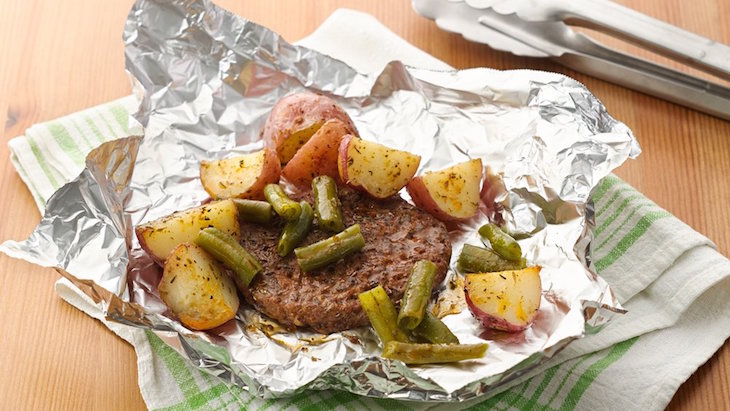 Recipe via www.pillsbury.com
What happens if you bake potatoes, green beans, and beef patty in a foil packet? The flavors will blend beautifully, and the entire dinner will be ready in one package. You will save dishes from washing and time to prepare everything separately. Exactly what you need after a busy day.
10. Tin Foil Baked Salmon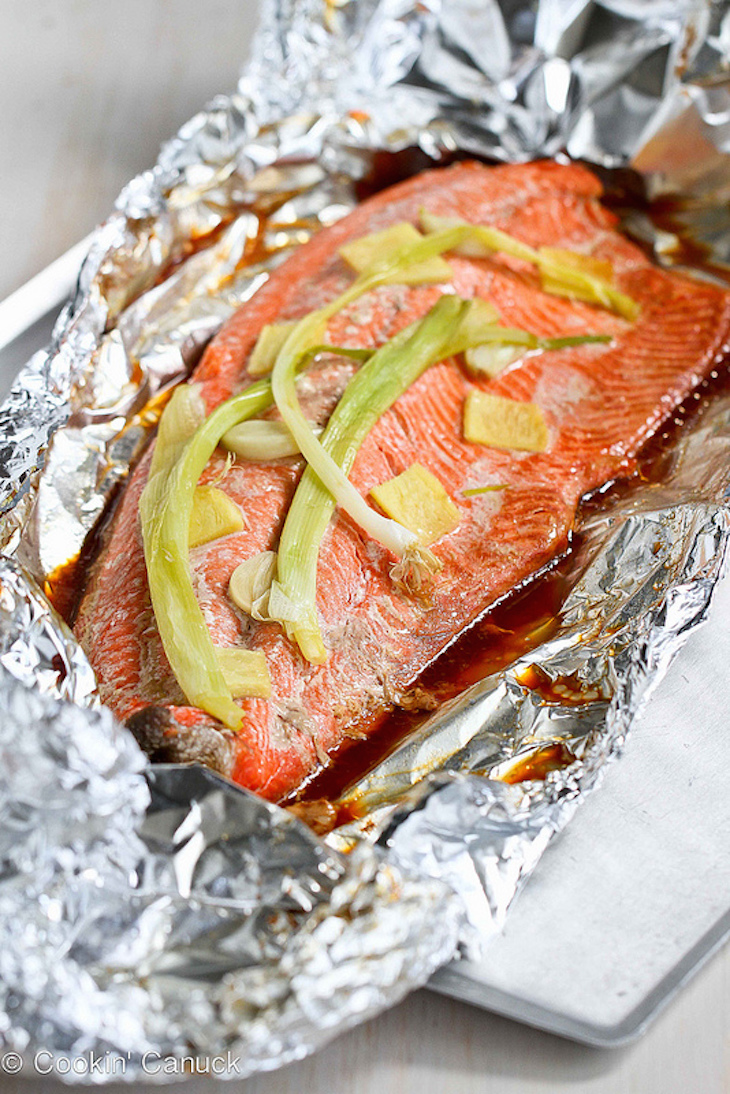 Recipe via www.cookincanuck.com
Tinfoil baking is a great way of preparing fish. It will keep the fish moist and blend the spices. This easy grilled salmon recipe in foil with soy sauce and ginger is perfect for busy weeknights and requires no clean-up.