If you are a beginning knitter or crocheter, there are many patterns that you can try that are really easy and will ensure that your result looks like you have spent hours fine-tuning your craft. Many of these patterns can be completed in just a few hours, so if you have really frightful weather, you can rack up some great gifts to give to others.
Homemade gifts are the best, so if you love knitting and crocheting or if you have decided that it's high time you had a yarn-based hobby, we have collected some great beginning patterns and projects for you that will help you to get started and have something beautiful to show for your time and effort.
A few of these patterns are recommended for "advanced beginners." Those would be fine for a determined beginner to start with, but they might have something small like color changes that make them a tiny bit more challenging than a beginner pattern would ordinarily be.
In any case, don't worry, because we'll give you all the instructions you need to get the project completed, whatever your skill level.
A Pair of Crochet Slippers
via mooglyblog.com
Winter is coming, so we all need warm crochet slippers to keep us warm and safe. These fabulous slippers can be made in your home very quickly. You need just 3 colors, and also you can choose just one color. The rest who love challenge can choose 3 colors and start working. Anyone could crochet these slippers, the design is suitable for both guys and gals, and it's completely beginner-friendly.
Baby Booties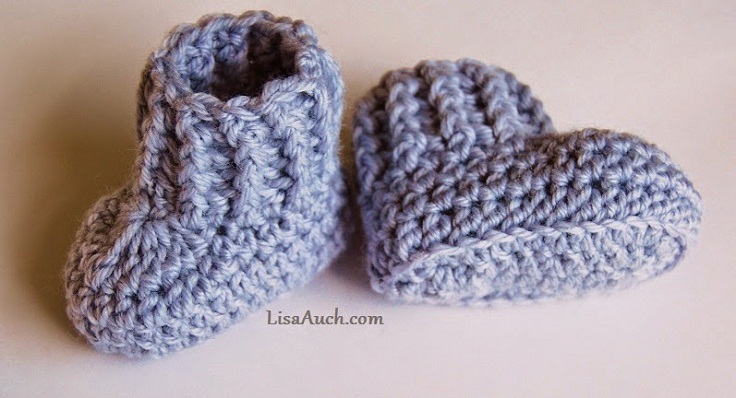 When the seasons change, you know the fashion will get hotter and hotter, which is why you must have these amazing baby booties for your baby. Instead of forking out the money for the designer name, make your own crocheted booties. Just choose the color and start. They will be ready for few hours.
Crochet Bow Cuff Pattern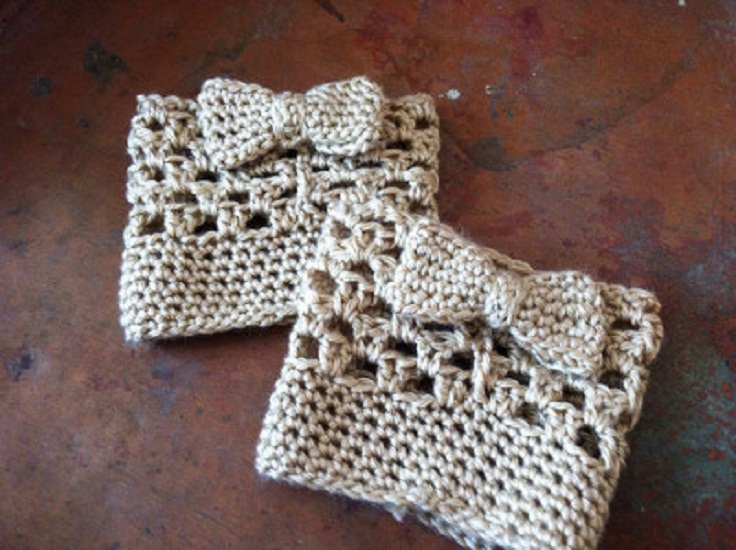 Wonderful and unique present for you or someone special. Dress up your boots! You may wear it with jeans or a skirt. This is an easy crochet pattern that's simple enough for a beginner to complete. Less than one skein of worsted weight yarn is needed to complete this trendy fashion accessory.
Crochet Fruit Coasters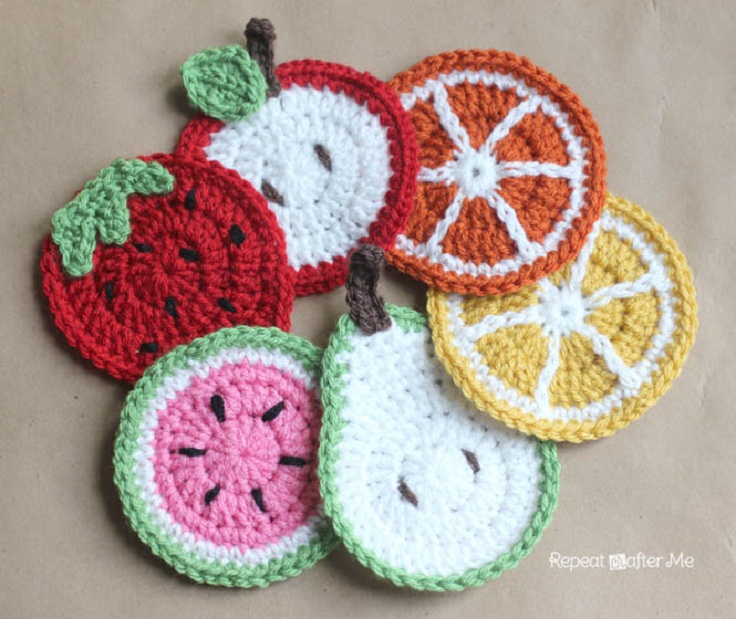 With the nice weather we are having, we were suddenly inspired to make fruit coasters. Maybe winter is coming, but you can make this coaster for your table or the kitchen. You can choose snowflakes instead of fruit, but snowflakes are not recommended for beginners.
Crochet Raindrops Pattern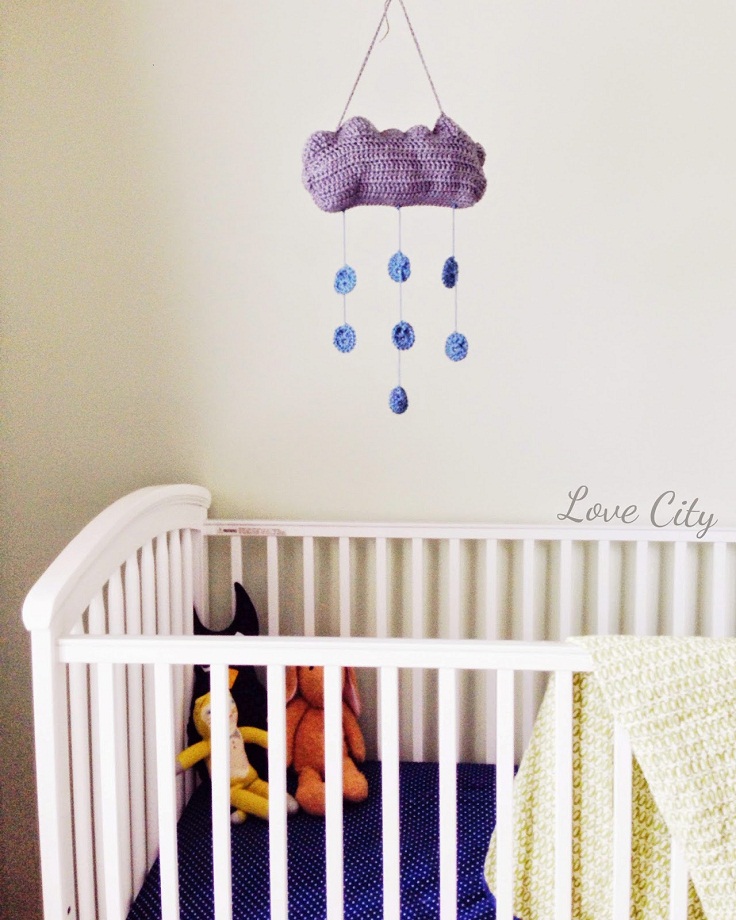 via lovecityblog.com
Crochet these cute little raindrops in just one round to celebrate the coming of your baby. Preparing his/her room is the most sentimental thing you can do. Choose adequate colors for your baby, add stuff that will relax the baby, and enjoy sleeping.
Crochet Scarflette Pattern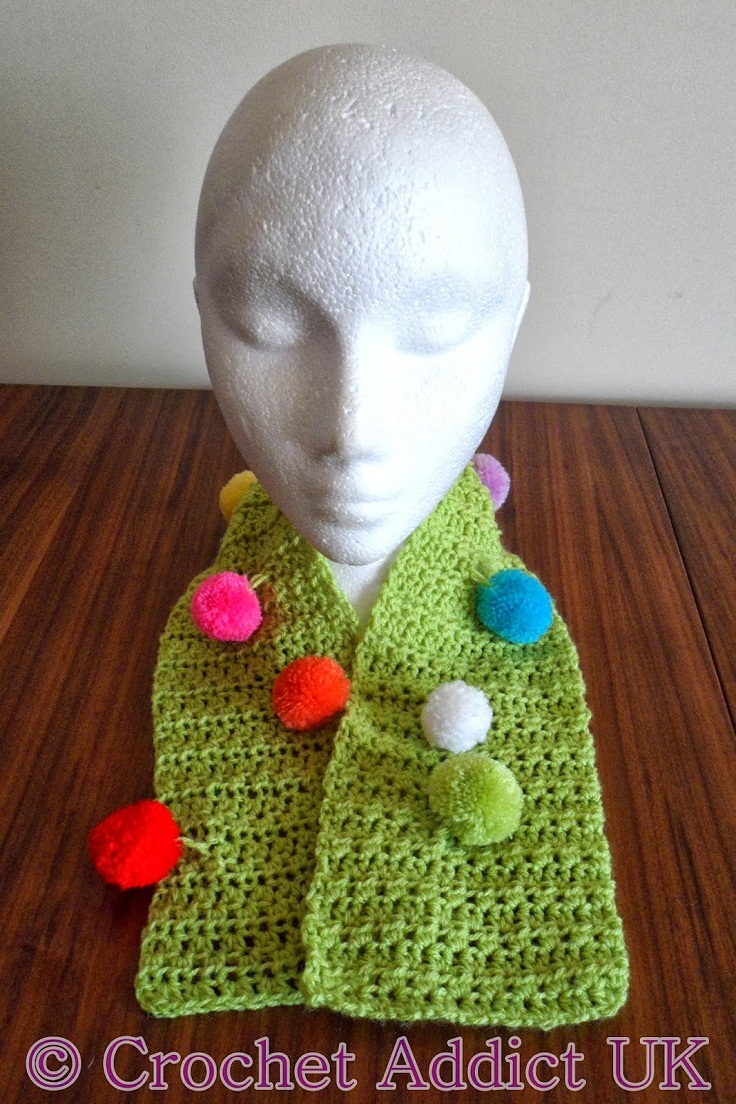 This classic scarf is a guy-friendly design that works well for cold-weather wear; if you crochet it in wool yarn or similar fiber, it's perfect for use in late fall and dead-of-winter. You can choose a color or can crochet more than one color scarf. They will fit perfectly.
Crochet Stash Baskets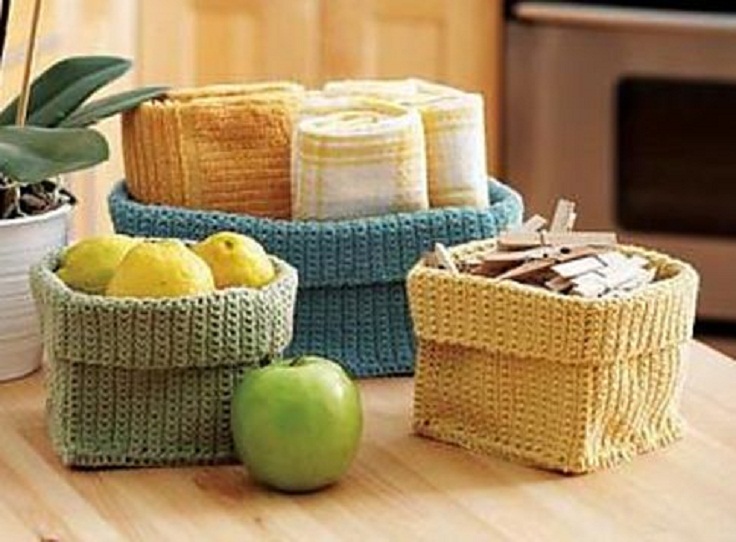 These handy baskets can be used to store any number of household items. Great for the kitchen, bathroom, bedroom, and even the utility closet, these cute crochet baskets are easy to make and great for helping you keep your life organized. These crocheted baskets would also be an adorable way to present baked goods as a gift. Just choose colors and start to crochet.
Gleeful Things Goddess Sandals
Barefoot sandals are great for summertime, and these can even be worn into the water! They also look good worn with sandals or low cut flats! Maybe you can not wear them this time of year, but they are the perfect lesson for crochet as a beginner.
Small Crochet Flowers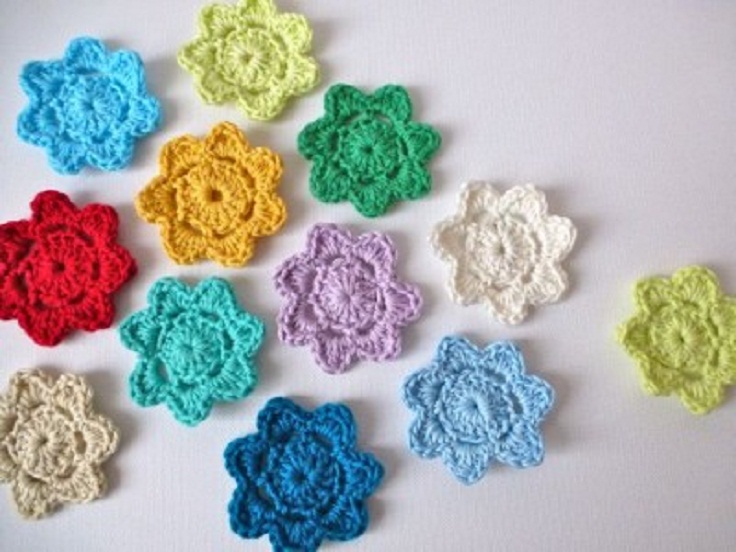 Crochet flowers are such fun to decorate with! Whether retro-chic or just plain cute, choose and start decorating your bags or scarves. They are easy to crochet for beginners because you only need one color and one shape.
Easy Crochet Headband Pattern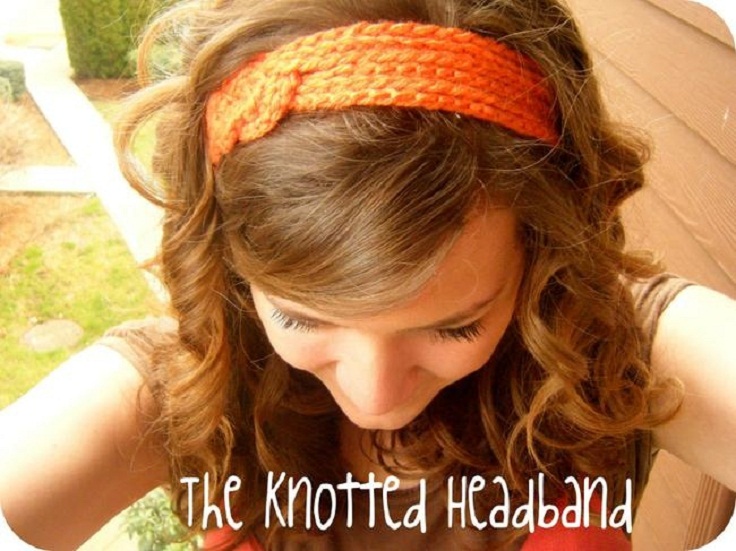 via tipjunkie.com
For those who adore headbands. They can add the perfect finishing touches to any hairstyle. We hope they inspire you to make something pretty for yourself. The only crocheting required for this cute headband is a basic chain stitch. This would also make a fun party craft.