Who said crocheted goods are not suitable for summer? Just find the right model and use a light, cotton yarn and you are good to go. Take flip flops, for example – there are so many patterns for crocheting pretty flip flops that will definitely get you ready for the summer.
Whether it is barefoot flip flops, baby sandals, or simply turning plain flip flops into crocheted goodness, these projects we are sharing will definitely leave you stunned. But they are not only adorable, but they are also easy to be made and budget-friendly, which makes them an excellent gift. Even beginners can make them!
So, what are you waiting for? Take a good look at these 10 patterns we are sharing today and start crocheting your favorite pair of flip flops to wear this summer…
Free barefoot sandals crochet pattern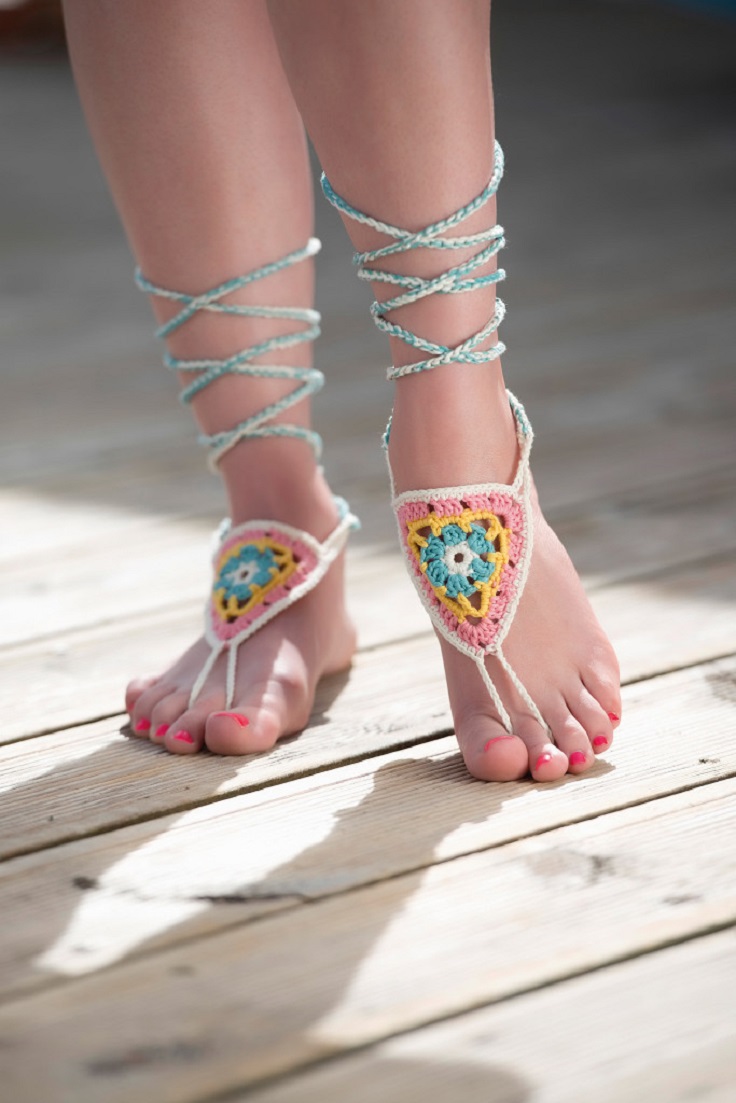 Download this free crochet pattern for beautiful barefoot sandals, which are perfect for the beach, chilling by the pool, or simply relaxing in your garden on a hot summer day. And they are not just chic; they are also easy to make using just chains, trebles, and double crochet stitches.
Free Flip Flop Flower Tutorial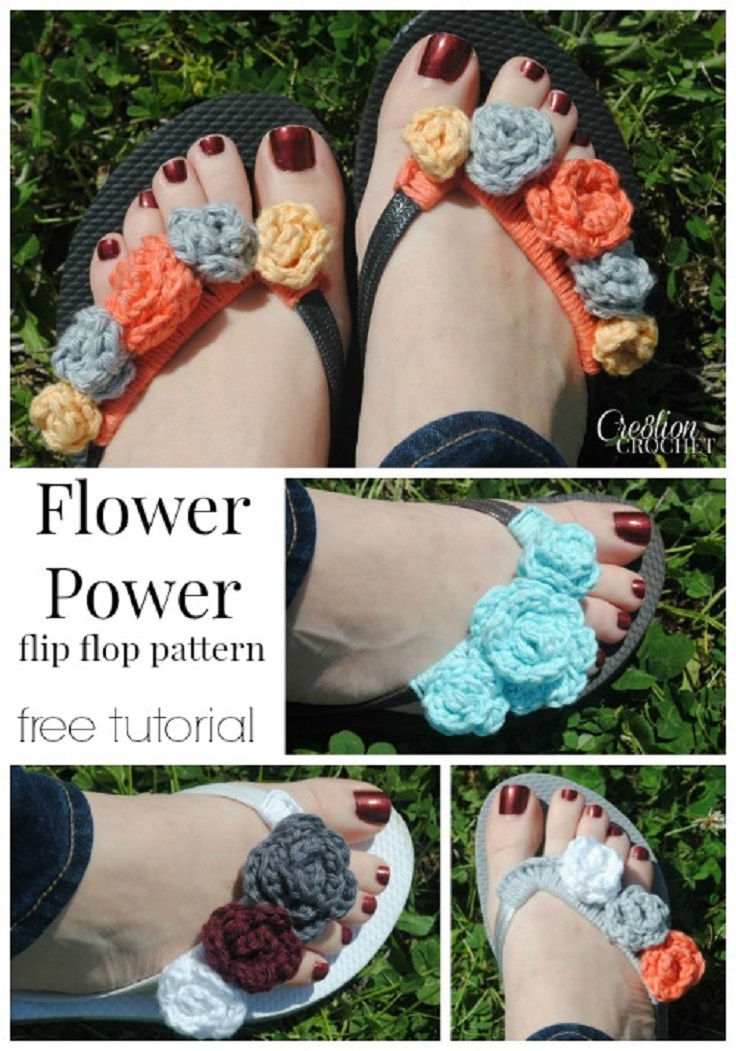 Turn your boring flip flops into a flowery perfection. This free pattern will show you how to add a crocheted base to the straps and attach adorable flowers. What is great about this particular pattern is that it includes 4 different sizes of flowers and style ideas, so you can use your creativity in your choice of color and size. Fun and pretty.
Posy Ruffle Flip Flops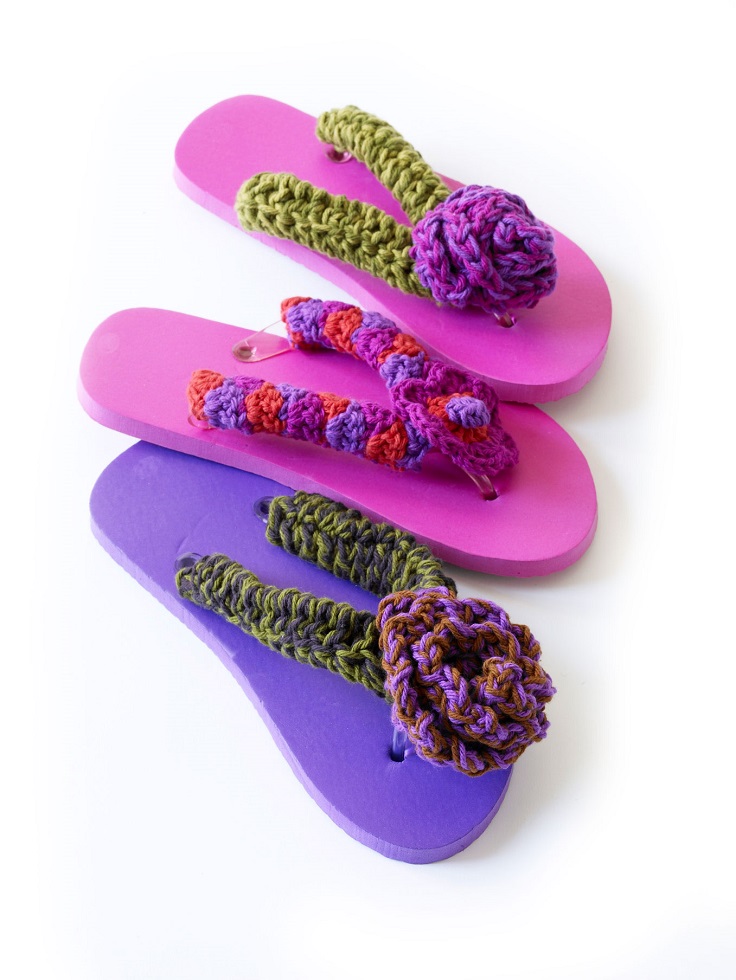 via lionbrand.com
Ring-a-ring o' roses, a pocket full of posies… We simply love these posy ruffle flip flops! This is such a great pattern that it is suitable even for beginners. Make sure you use 100% cotton yarn. The colors and the size of the flowers are all up to you. The pattern is free; all you need is to register if you are not a member already.
Parfait Green Flip Flop Free Crochet Pattern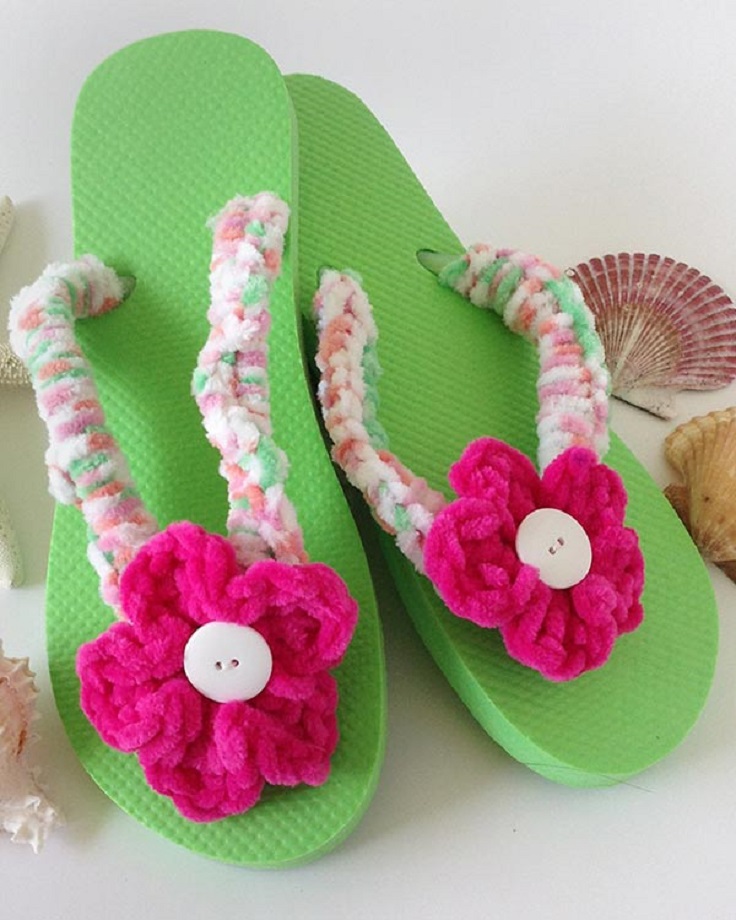 Look at these double-crochet petaled flowers! They look so pretty. We love how they are finished with a button – it is so simple, cheap, yet unique. The pattern is free to download and easy to follow. The yarn used in this project, Parfait Yarn by Premier, uses a solid color for the flower and a multi-color for the band.
Peekaboo Picot Flip Flops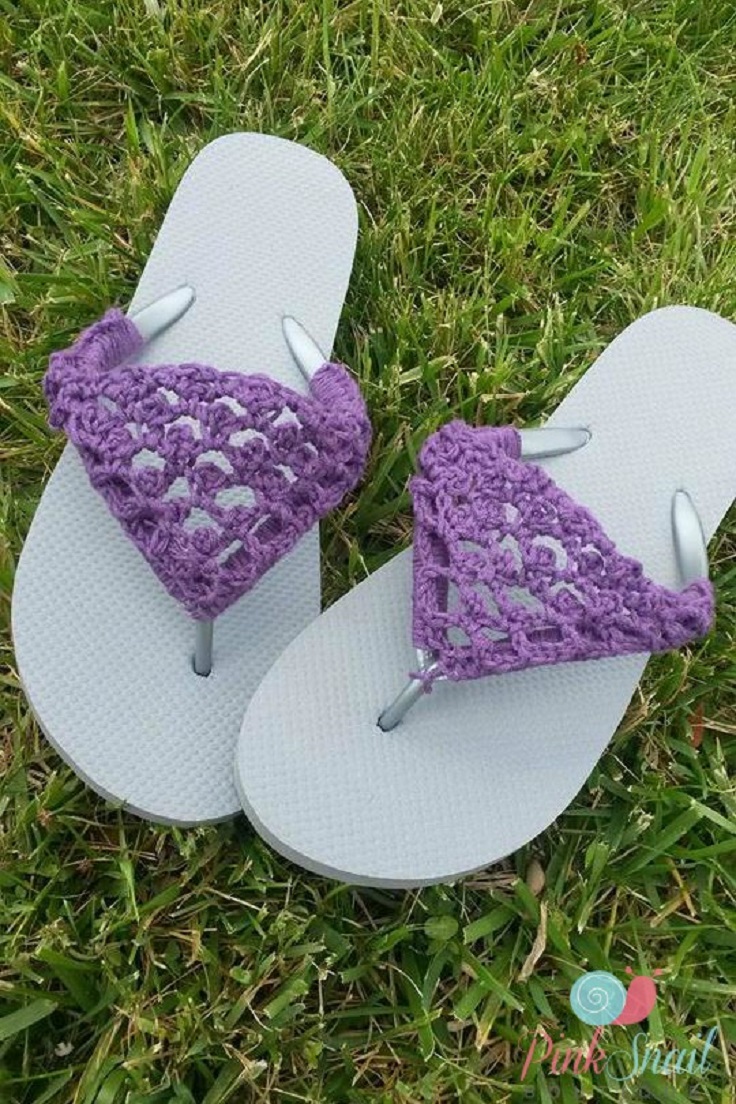 Use light yarn and follow this free pattern to create beautiful crocheted flip flops. They are so light and comfortable that you will truly enjoy wearing them, even you live in a very hot climate. The pattern is free, easy to follow, and suitable for beginners. There is even a tutorial in pictures that will show you the process step-by-step.
Crochet Flip Flops Tutorial with Flower Pattern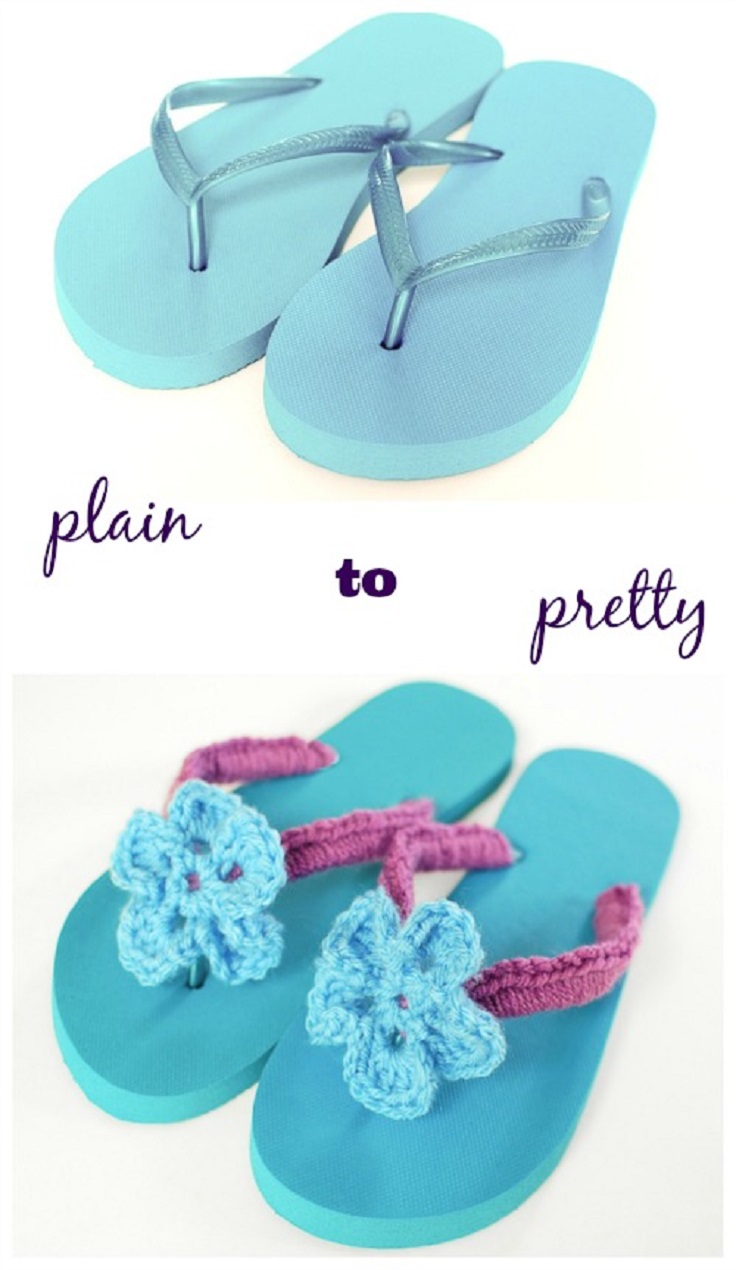 Turn a pair of flippers from plain to pretty with this free pattern. It is a quick and easy project, and you will love how your flip-flops will turn out. You need to make this flowery flip flops a pair of inexpensive flip flops, worsted weight yarn, an H hook, and a tapestry needle.
Flower Feet -Barefoot Sandals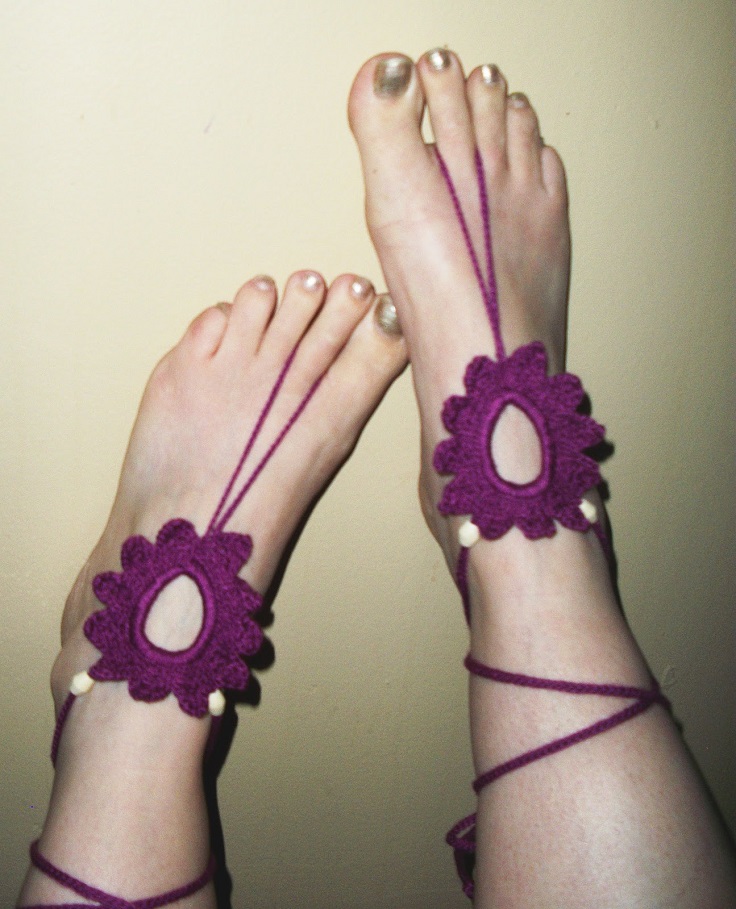 via 365crochet.com
As we already said, barefoot sandals are great to wear in the heat, whether you are on the beach or in your backyard. These flower barefoot flip flops are fun, versatile, and pretty. You can choose different colors and mix them as you wish. The pattern is easy and free.  Mei Mei's Bamboo Yarn in Hollyhock was used for the sandals in the photo.
Chubby Baby Flip- Sandals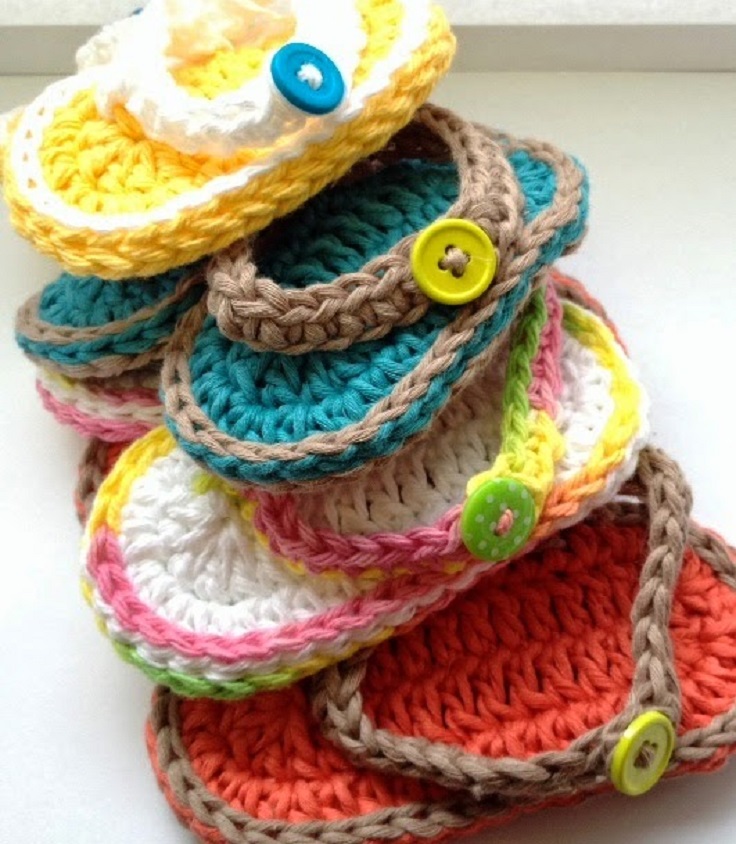 We are continuing this pattern round-up with a couple of baby flip-flops. They are so cute and adorable, and easy to make. Perfect for those little chubby feet. It is very important to use high-quality soft yarn. The pattern is so versatile – you can mix colors or dress them up with buttons, beads, or appliques. Beautiful!
Crochet Baby Strap Flip Flop Sandals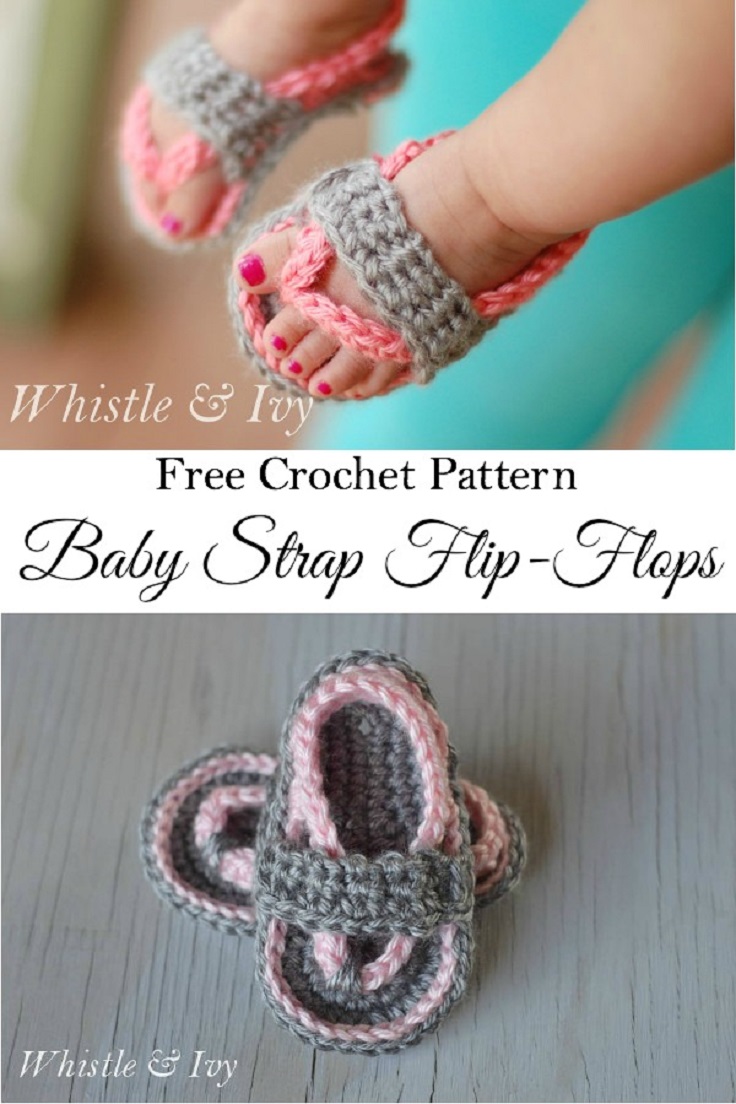 Baby flip flops are the cutest! This baby shoe pattern will show you how to make this adorable pink sandal that will actually stay on your baby for hours – even in the summer heat. You can choose whatever color you wish. You'll need to make them Caron Simply Soft (Strawberry and Heather Gray) and a size F Hook Yarn Needle.
Crochet Butterfly Barefoot Sandals
These butterfly barefoot flip flops make a perfect summer accessory for a baby girl. They are colorful, comfortable, and oh so adorable. To make them, as shown in the photo above, you will need Lion Brand Bonbon Yarn in orange, pink, and Yellow, a size G crochet hook, a small button, and a tapestry needle. The pattern is actually quite easy to follow once you get into the swing of things. There are step-by-step photos to help you on the way. Have fun!