Spring is here, and we instantly think of flowers, fresh colors, sunny skies… But although we desperately want to bring out our lightweight wardrobe, the weather is still chilly and unpredictable.
The sudden rain and wind remind us that we better have something on hand that will warm us. This is why a crocheted cardigan is a must-have for spring. You can pull it over a light shirt or even your favorite spring dress.
If you are into crocheting, why not try one of these free patterns we are sharing today? Yes, they are all free, stylish, and spring-inspired! Choose your favorite style and color, and you are ready to go.
Berroco Delicata

via berroco.com
Do you think that it is still early to take your summer dresses out of the closet? Well, you can actually do it a little ahead of schedule, thanks to this soft, lacy cover-up. This cardigan is so versatile and spring-ready – you can wear it over your summer dress as suggested or pull it over a long-sleeved shirt. The free pattern is by Berroco, and it is crocheted with Berroco Vintage DK, a great, machine washable blend of acrylic, wool, and nylon. Not to mention all the colors it comes in. You need to choose your favorite and follow the free pattern.
Filigree Cardigan
via redheart.com
This is not a typical crocheted cardigan, so you will need to use a high-quality stretchy yarn (like Bamboo Ewe) for it to fit perfectly. However, Kimberly McAlindin did such an amazing job with the design that you will have to try this pattern. We warmly recommend this filigree cardigan to be intermediate and experienced crocheters.
Casual Elegance Cardigan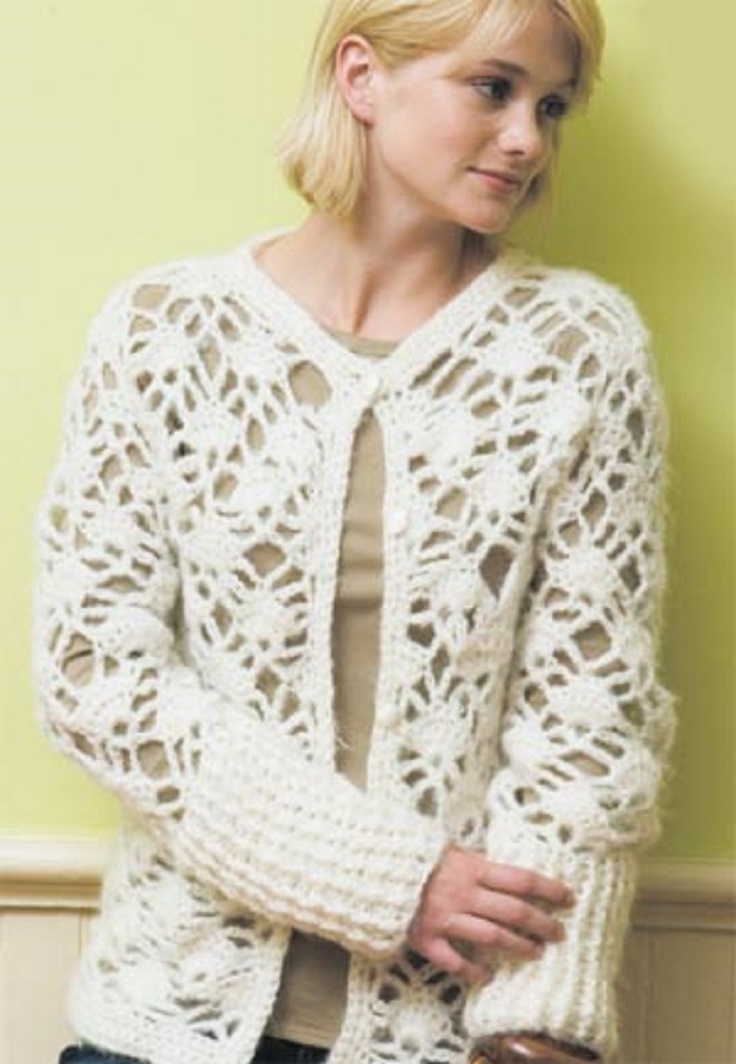 via lionbrand.com
Everyone needs a casual elegant cardigan, no matter the season. We love the chunky ribbed cuffs of the one on the photo above. It is light and lacy – perfect for spring! You need to be at least intermediate level crocheter to follow this pattern easily.
Empire Vest Cardigan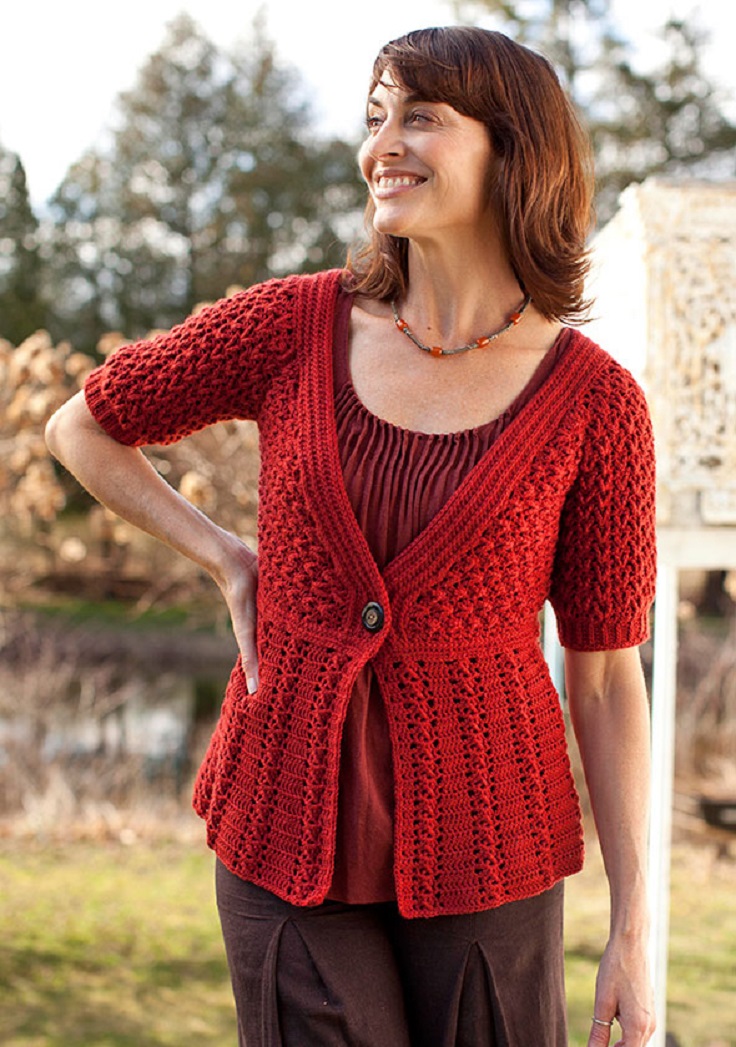 via berroco.com
Yet another free pattern for a beautiful spring ready cardigan from Berroco. This time it is an empire vest cardigan called Azilal. It is worked in a mixture of textual stitches and fastens with a single button. We love the 3/4 sleeves! It is a very flattering design. The pattern is suitable for intermediate level crocheters.
Shell Stitch Cardigan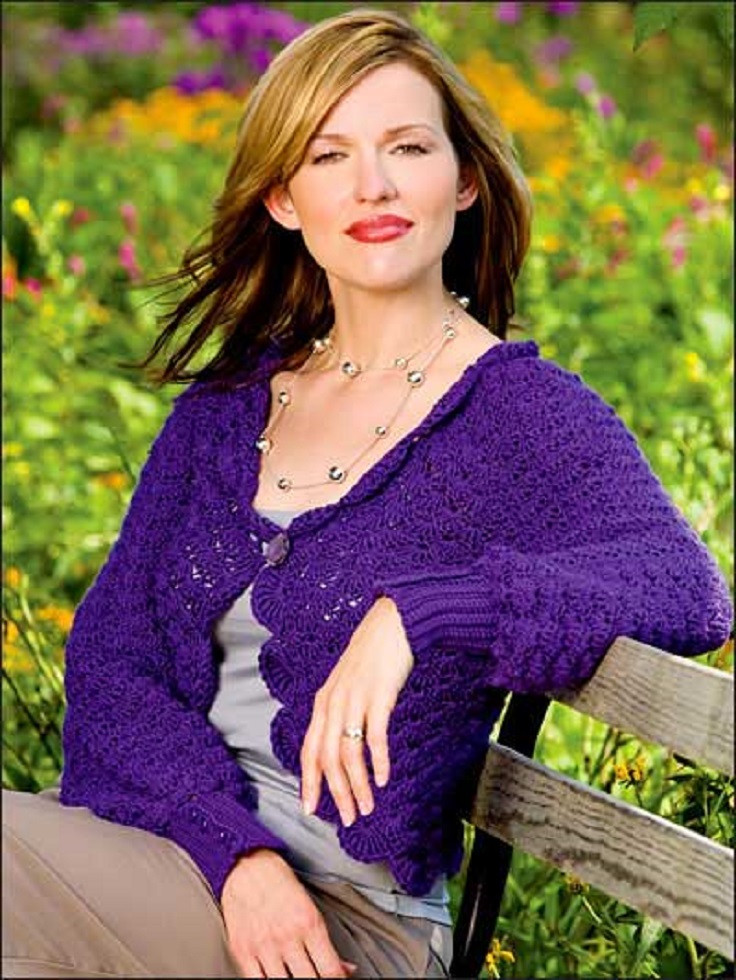 via free-crochet.com
Here is a challenge for all of you experienced crocheters out there! Take a good look at this amazing shell stitch cardigan, and dare not try and crochet it. The bolero style is so perfect for spring, and those buttoned cuffs are so pretty. Make sure you use a lightweight yarn for this cardigan. Now choose your favorite color and follow the free pattern.
Colorfully Modern Cardigan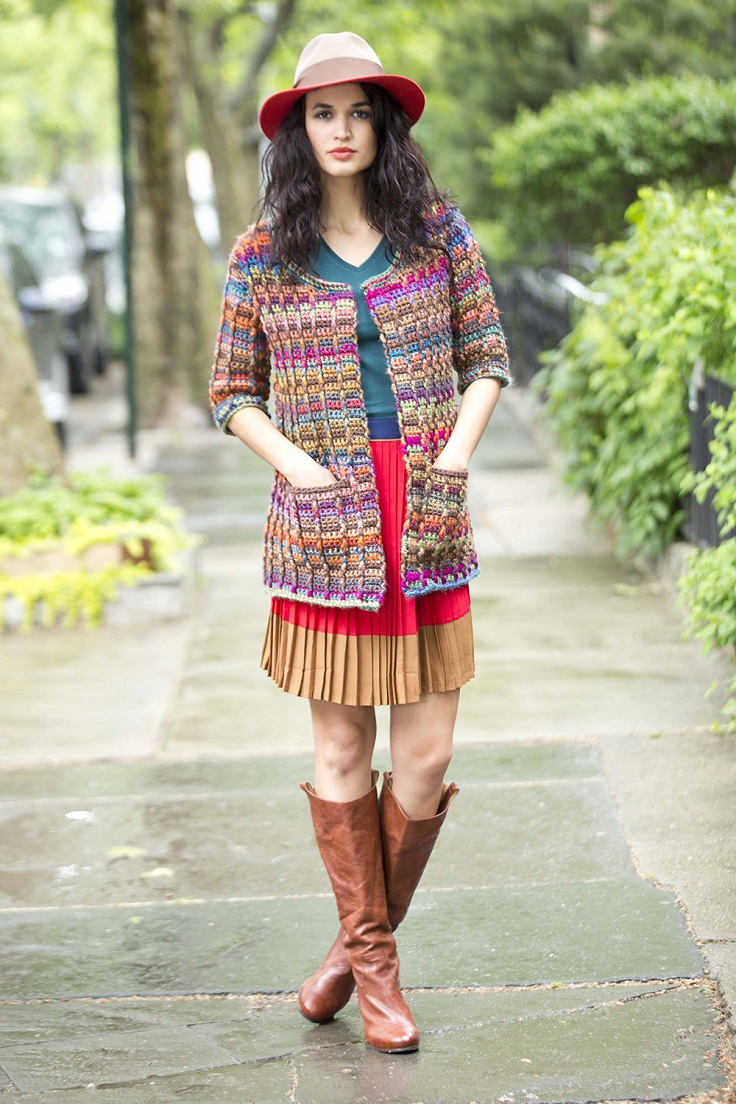 via lionbrand.com
What a rich texture! Here is another light cardigan you will love to wear this spring, even summer. And you can totally wear it instead of a jacket. Although the model looks simple, this is not a pattern for beginners. You will need to be at least intermediate level crocheter to be able to follow it. And although you can choose whatever color you prefer, we recommend opting for a colorful variation as suggested in the photo. It's spring, after all!
Spring Green Cardigan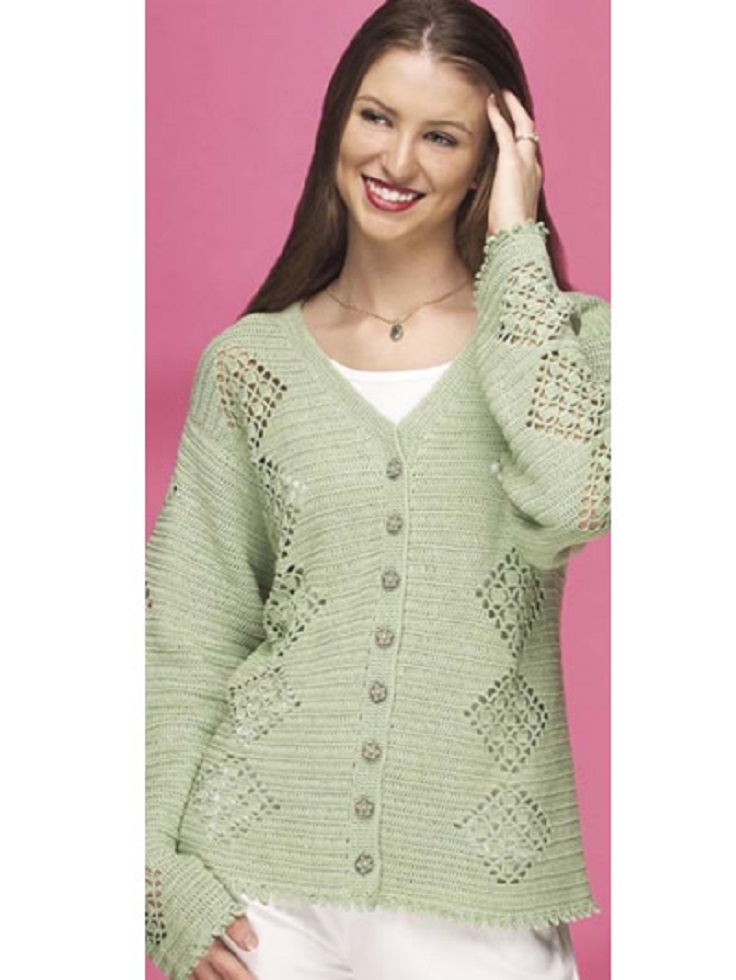 via free-crochet.com
Green is totally in this spring! This is why we love this beautifully styled spring green cardigan that features repeating openwork diamonds on the front and sleeves. It is lightweight and sophisticated, and you can wear it during a casual outing or even for a special occasion, over a shirt or a dress. Margret Willson and all free design the pattern.
Chevron Lace Cardigan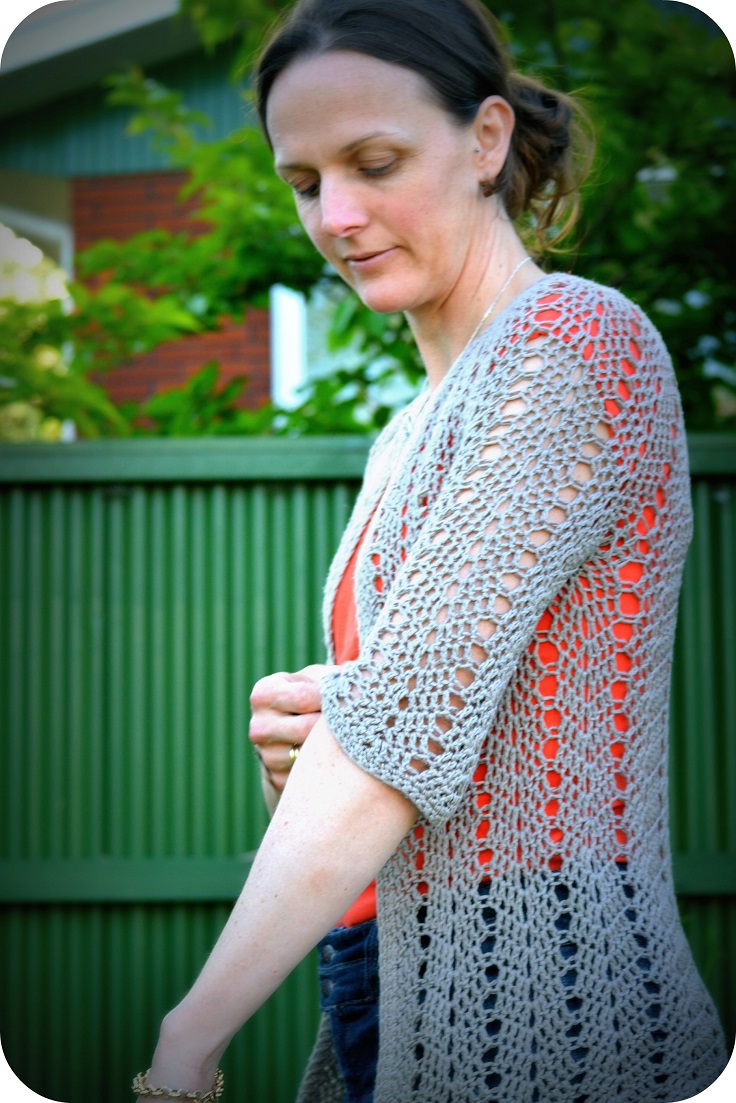 via thegreendragonfly.wordpress.com
Every lady should own a lacy cardigan. That's a fact. Here is a free pattern for an easy lacy cardi that you will love. The great thing about this pattern is that it is totally customizable, so you can make it as short or as long as you wish while using any yarn you like. You can download the free pattern here
Trendy Cabled Cardi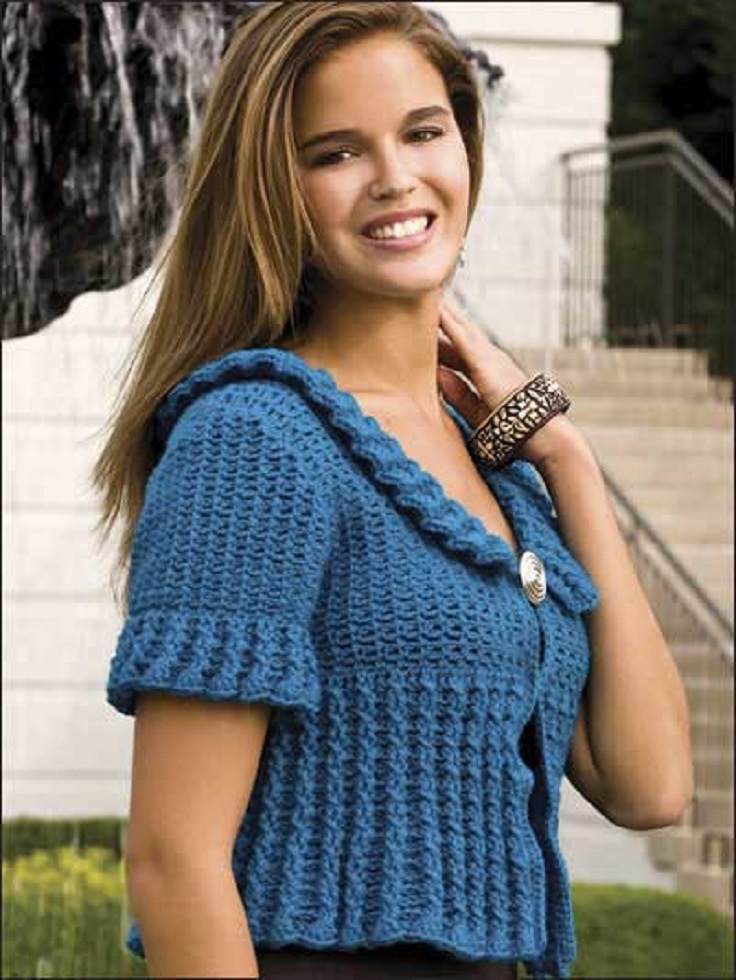 via free-crochet.com
This free pattern is for a cute, trendy, bolero-styled cardi with short sleeves. The plush cabled ribbing blends perfectly with its lightly textured body. Definitely a great model for spring and summer. You have to be at least an intermediate skill level crocheter to try out this pattern. Have fun!
Coldwater Creek Style Cardigan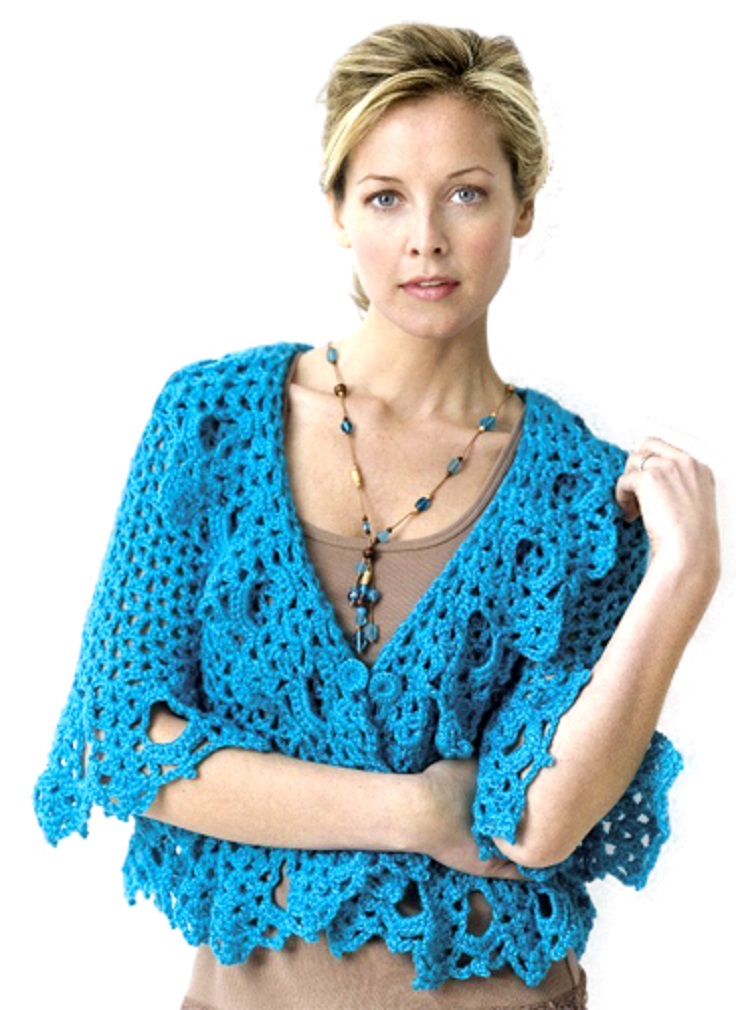 via favecrafts.com
Wow! This elegant cardigan is so beautiful. The v-stitch, open lace trim, and bone rings make the design unique. Not to mention the 3/4 sleeves that look so fabulous! You can wear the cardigan to work or a casual outing. The pattern is perfect for intermediate level crocheters.