Crocheting and pastels go so well together. And pastels are so popular this year. They are used in the fashion industry but also in home decorating. Crocheting different things in pastel colors will help you follow the trend easily and is also budget-friendly. You can make beautiful blankets, bags, scarves, coasters, etc. All you need is a little inspiration and free patterns.
We have chosen ten patterns in pretty pastels that are fun, creative, and easy to follow. Check them out, choose your favorites and start crocheting! Don't forget to share your finished items in the comment section below. Happy crocheting!
Sweet Pastel Waves Crochet Baby Blanket Pattern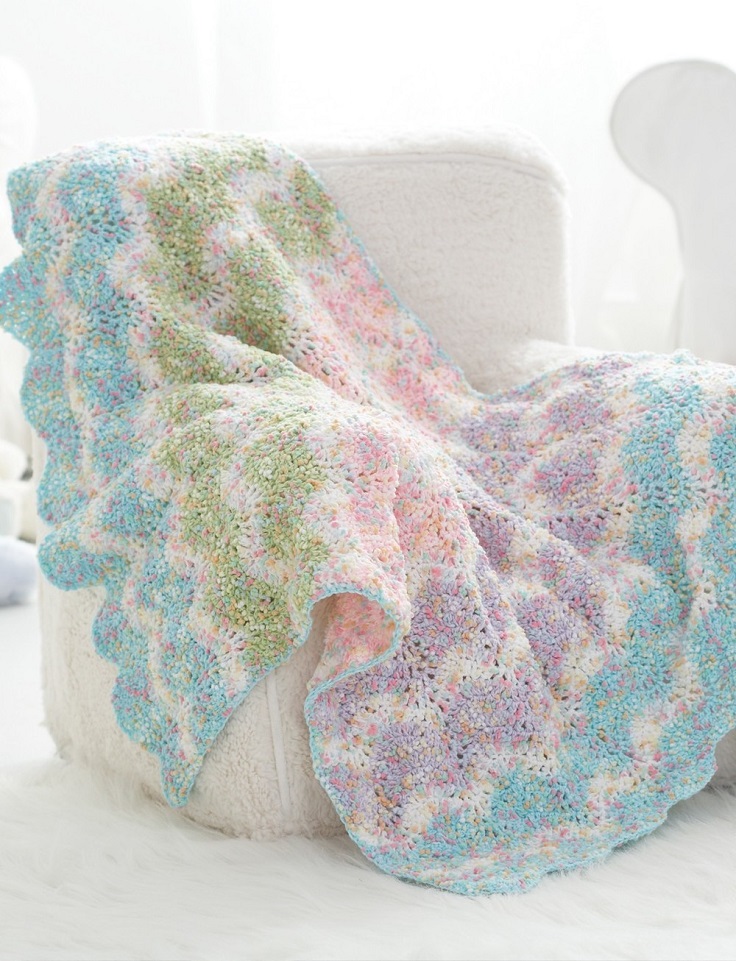 via allfreecrochetafghanpatterns.com
Sweet is the right word to describe this adorable baby blanket. Pastels are the perfect yarn color choice. The pattern is actually a classic crochet chevron pattern with a fun texture. Use Bernat yarn as suggested for a cozy and fuzzy look. The pattern is detailed and easy to follow, which makes it suitable for beginners.
A tapestry crochet bag for spring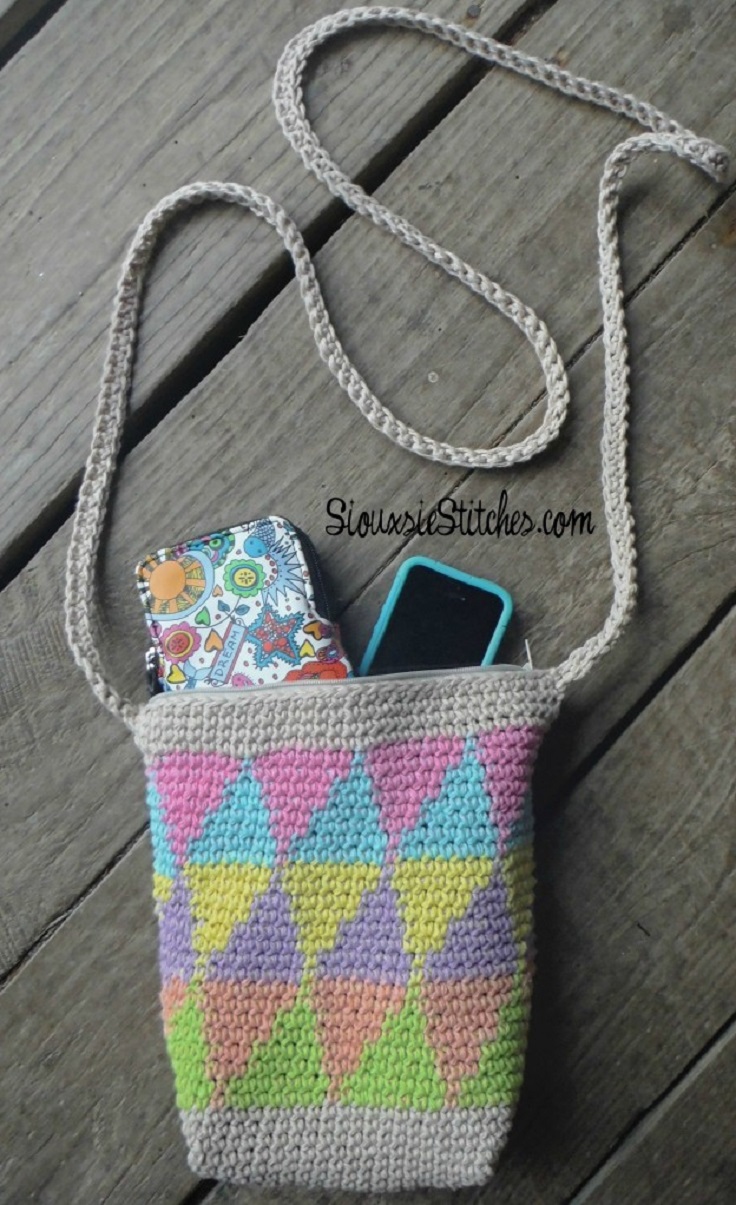 Medium weight cotton yarn in 7 different pastel tones was used for crocheting this adorable bag that is perfect for spring and summer. This bag is created using tapestry crochet in-the-round and is a great project if you like to explore new techniques. The tutorial is detailed, and there is a chart that will help you, along with many step-by-step photos.
Spring Pastel Scarf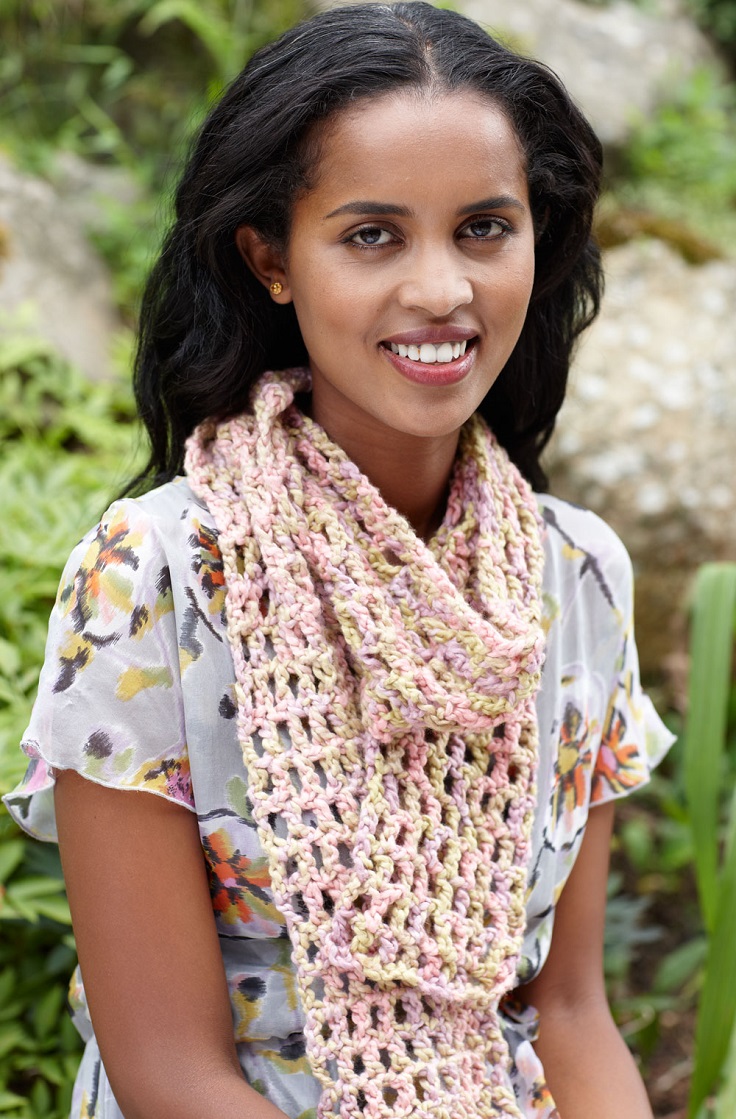 via lionbrand.com
Here is a great project for beginners! This spring scarf crocheted in beautiful pastel colors is perfect for spring and so easy to be made.  Nature's Choice Organic was used for this project. The pattern is free to download on lion brand and is for a one-size scarf (about 5 x 60 in.)
Wavy Baby Blanket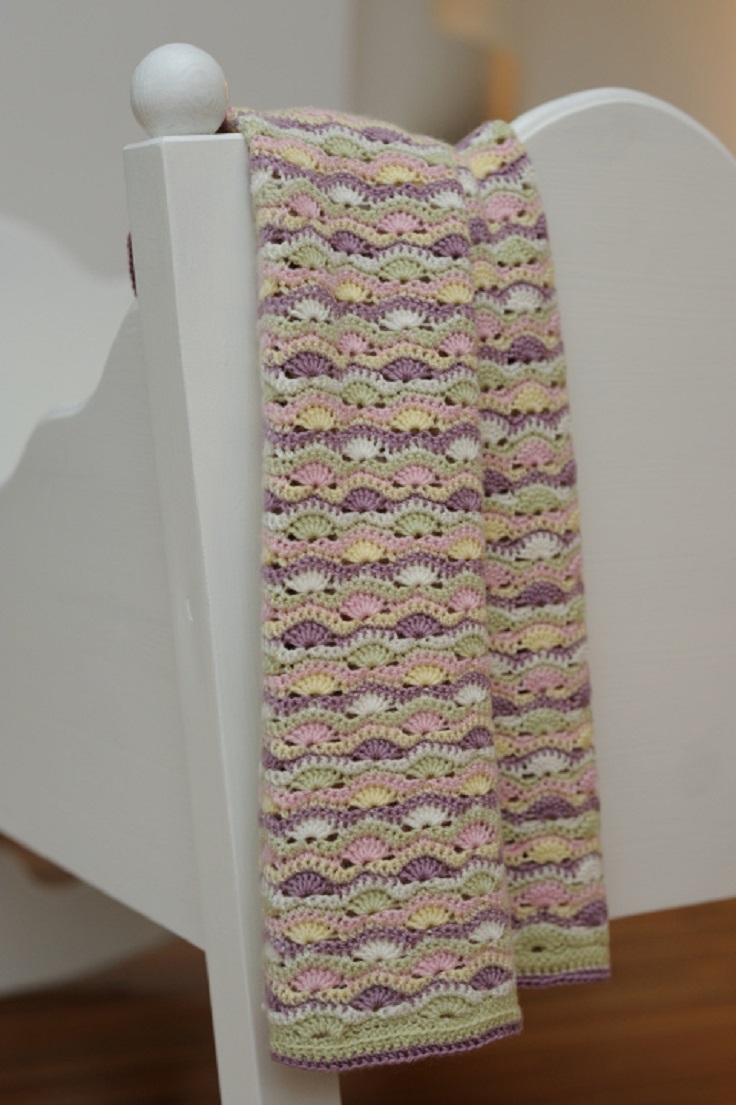 via snasent.me
You can use 3, 5, or more colors for making this beautiful wavy baby blanket. We love the choice of a pastel pallet, which is so suitable for a baby. This pattern is for a baby blanket approx. size 60*80 cm. It is recommended to use a 4 mm hook.
Crochet Flower Coasters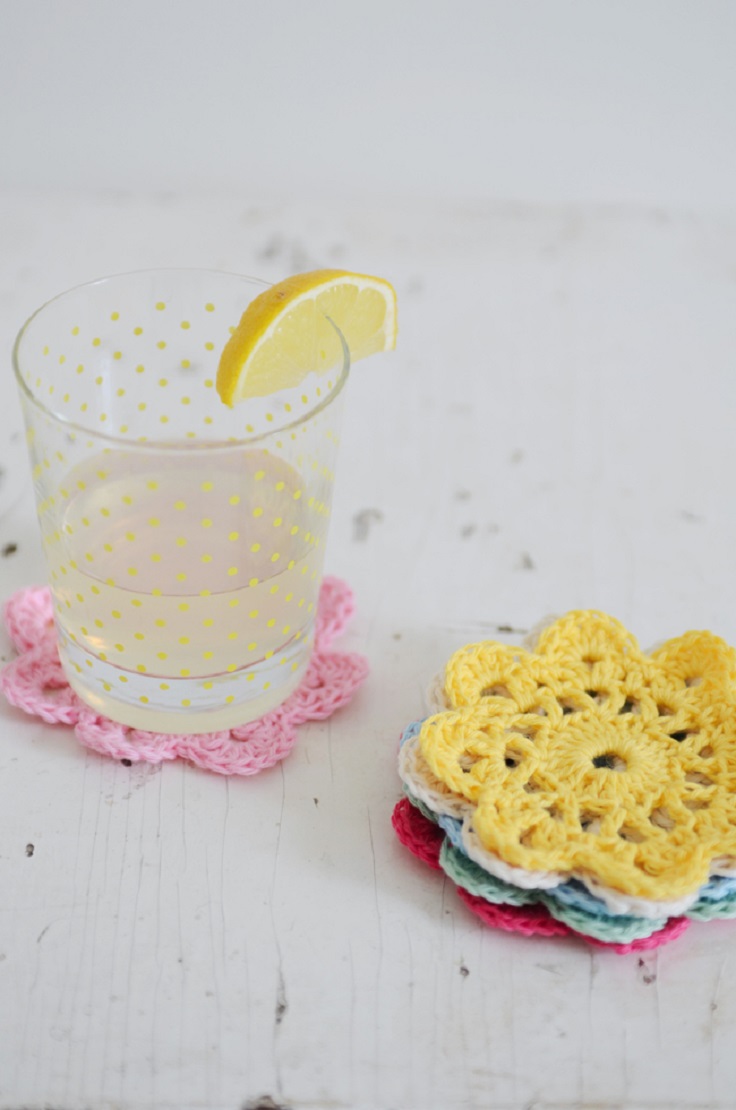 via molliemakes.com
Nothing like a fresh, ice-cold lemonade on a hot summer day! Served on these too cure pastel flower coasters that you can easily crochet from yarn leftovers. Even beginners can easily follow this pattern, so don't be shy to try it out. We recommend using cotton yarn or any other light-weight yarn. In pastel colors, of course.
Wisteria Doily
via redheart.com
This doily is a perfect spring addition to your home. It will add a touch of pastels and will look gorgeous with a vase of fresh flowers on top. It is actually a classic doily, and you can use any colors you like. Still, pastels are so in this spring and look absolutely beautiful no matter if your interior design is modern, classic, or vintage.
Versatile Shabby-chic Inspired Crochet Doilies
Crochet doilies – napkin rings 3, by Anabelia
via anabeliahandmade.blogspot.com.es
We are not sure what we like more – the adorable doilies or all the creative ways you can use them. The shabby chic inspired pastel doilies make a classic decor but can also be used for gift-wrapping or napkin rings. They are so easy to be made you can make tons of them in no time!
Pastel Jacket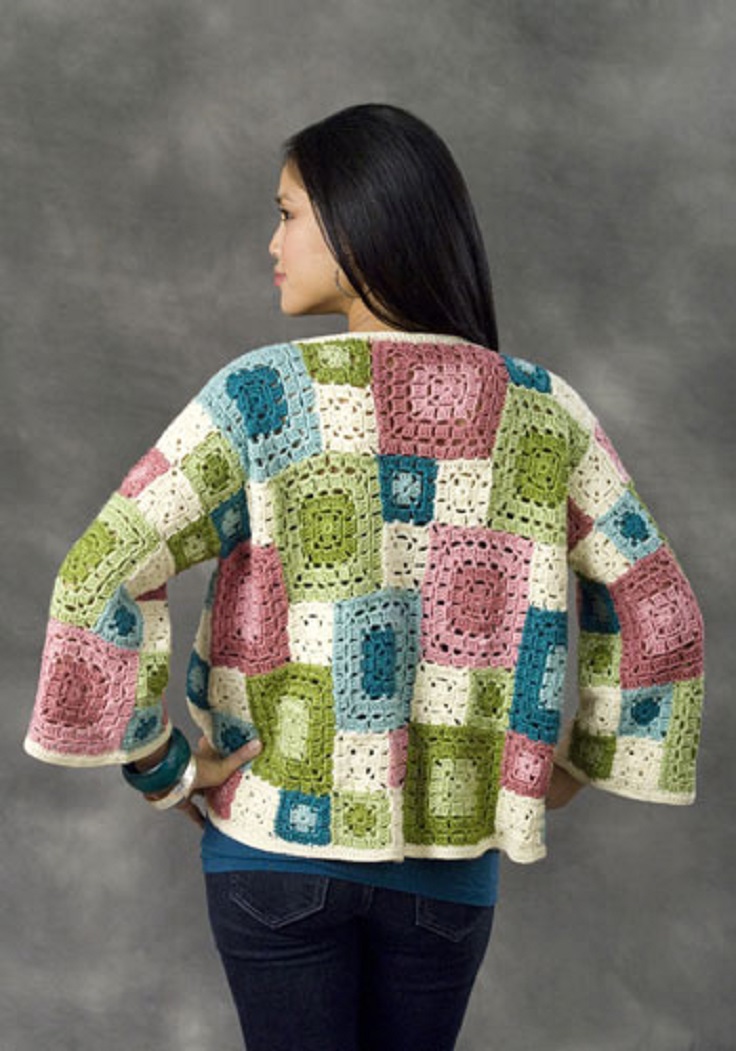 via web.archive.org
This crocheted jacket is great to have on a chilly spring evening. It is light yet will warm you up. Not to mention how stylish it looks! The choice of pastel colors is perfect. We also love the design, especially those sleeves. The pattern is free, detailed, and printable.
Crochet baby sandals and headscarf
via anabeliahandmade.blogspot.com.es
Crocheting and pastels equal a perfect present for a baby. This pattern is for the cutest ever baby sandals and a headscarf that is so simple yet so delicate. We love the subtle flower details and how easy this project is. The size is for 3-6 months.
Crochet iPhone Cover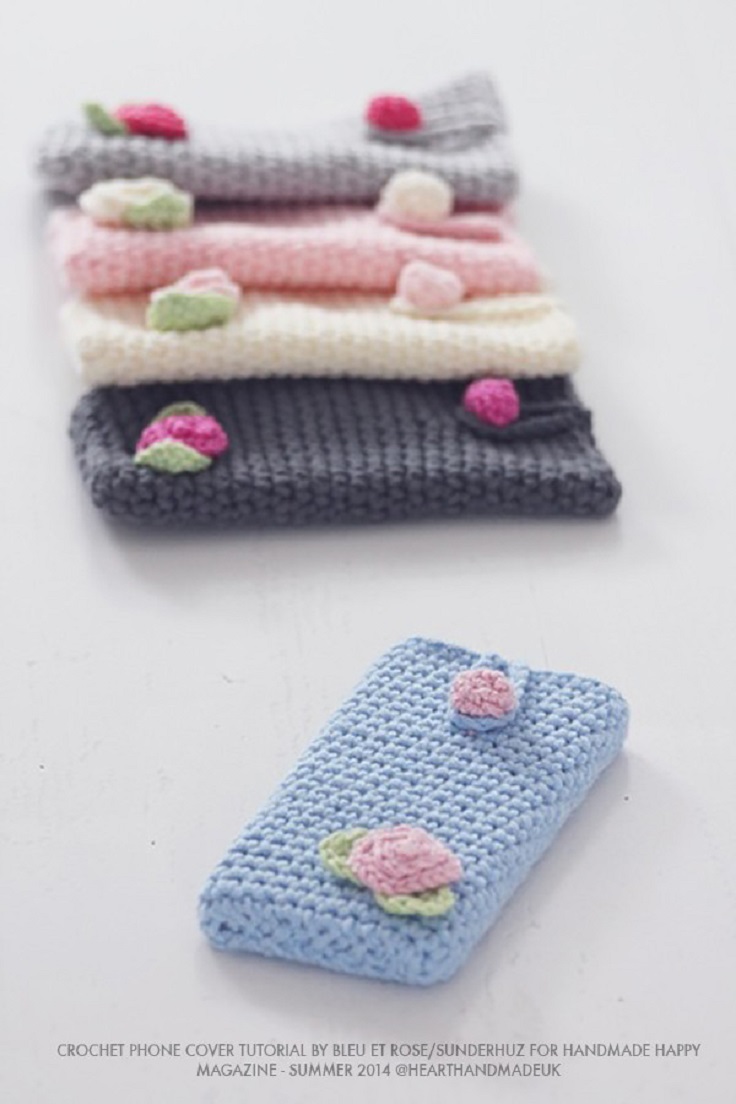 Well, every crocheter appreciates free patterns, and this one is so adorable and easy, and spring-ready you will simply love it at first sight. This crocheted iPhone cover is the ultimate accessory and makes an amazing gift. We love the pastel colors and the little floral details. Make sure you use 100% cotton yarn for this project.