Spring rolls make unique, tasty, and nutritious snacks, and they can also be a perfect light meal for lunch or dinner. They are not only delicious but also healthy, especially the fresh version of them. The best thing about spring rolls is that they can be filled with crisp vegetables, pork, chicken, shrimps, fish, or tofu – it is entirely up to you.
The rice spring roll wrappers are gluten-free, so it is easy to create a gluten-free and vegan meal. If you have never made spring rolls before, let us assure you that they are super easy to prepare, and you can whip them up in less than half an hour. Plus, they are satisfying without being overly filling.
We have selected ten different recipes that will just tickle your tastebuds!
1. Vietnamese Rice Paper Rolls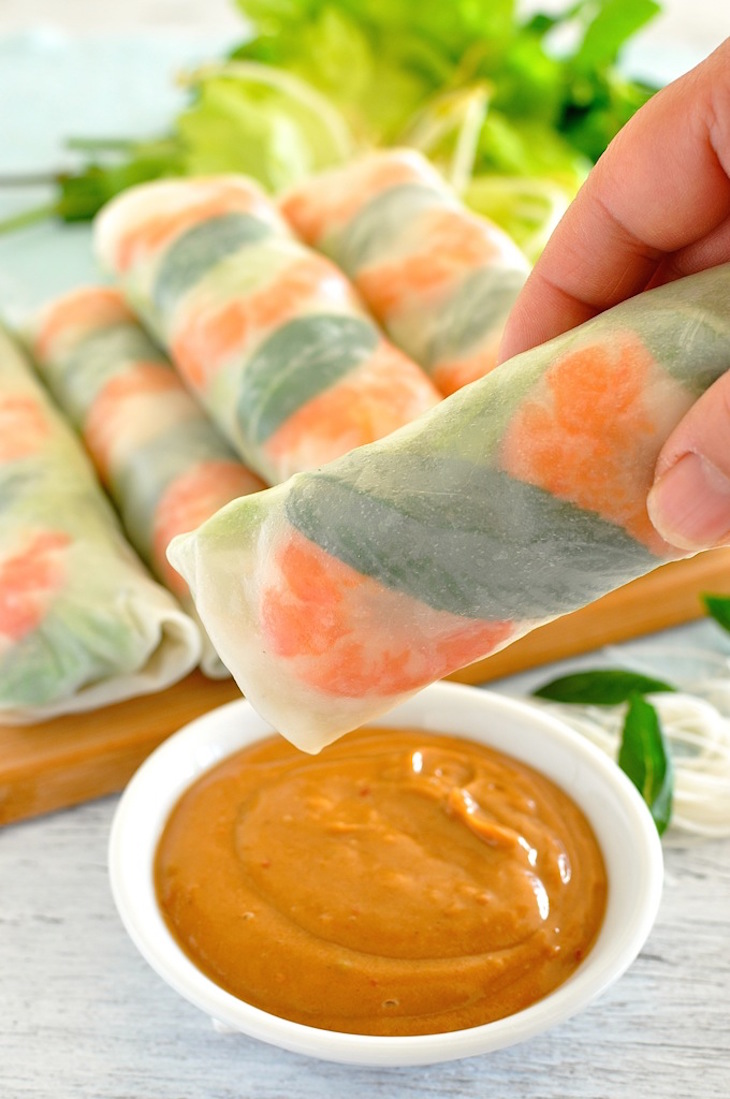 Recipe via www.recipetineats.com
Our favorite recipe is this authentic Vietnamese Rice Paper Rolls. They are fresh, healthy and the sensational peanut dipping sauce is totally addictive! The recipe contains some secret tips and step-by-step photos that will show you how easy it is to make neat spring rolls.
2. Shrimp and Avocado Spring Rolls
Recipe via lemonsandbasil.com
Now that the Holiday season is over, we just crave something fresh, something light and clean. These Shrimp and Avocado Spring Rolls are perfect these days. No need for the oven, and dinner is ready in no time! Use sweet chili sauce for dipping or any of your favorite Asian sauces.
3. Vietnamese Chicken Spring Rolls with Spicy Peanut Sauce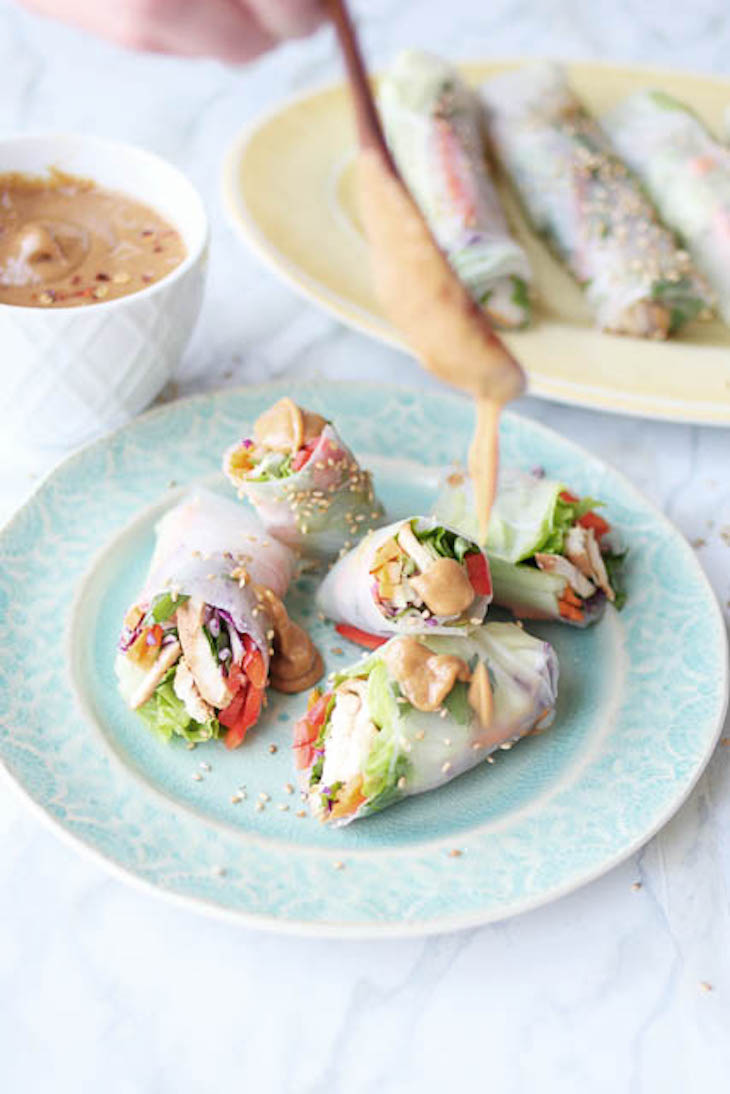 Recipe via quirksandtwists.com
Here is the best option for chicken lovers, the Vietnamese Chicken Spring Rolls. The meat is flavorful because of the marinade, and the rolls are packed with fresh veggies and herbs. Red bell pepper, cucumber, cabbage, carrots, green onion, lettuce, and cilantro, not to mention the spicy peanut butter sauce.
4. Fruit Spring Rolls
Recipe via www.sweetandsavorybyshinee.com
There are so many ways you can make spring rolls. Why couldn't we fill them with fruits and create a sweet treat that is actually healthy? These rainbow fruit spring rolls are an ultimate treat for all the fruit-lovers, chocolate-lovers, and caramel-lovers! Crunchy apples, tangy kiwis, sweet mango and strawberries, healthy spinach, and the soft rice paper wraps make a unique dessert on your table.
5. Vegan BLT Spring Rolls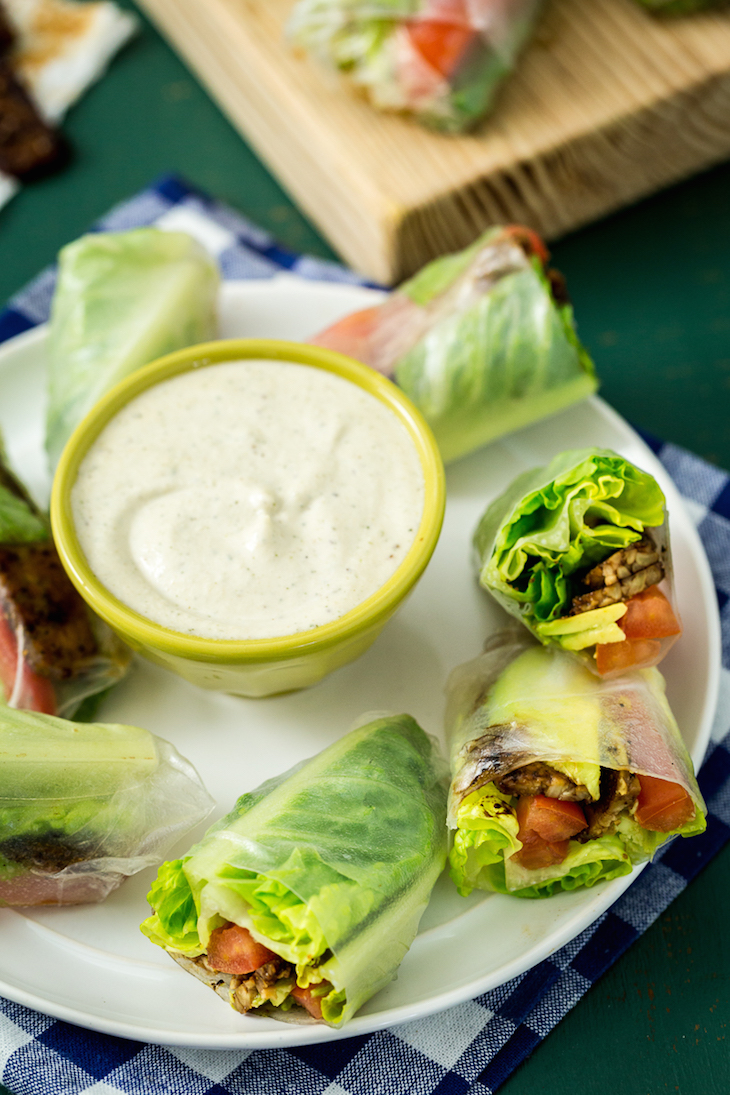 Recipe via keepinitkind.com
Here is the perfect combination of vegan bacon, lettuce, and tomato. This combo is not only tasty in sandwiches or wraps, but they also make a perfect filling in spring rolls. Add some slices of avocados if you are in for a treat.
6. Teriyaki Veggie Spring Rolls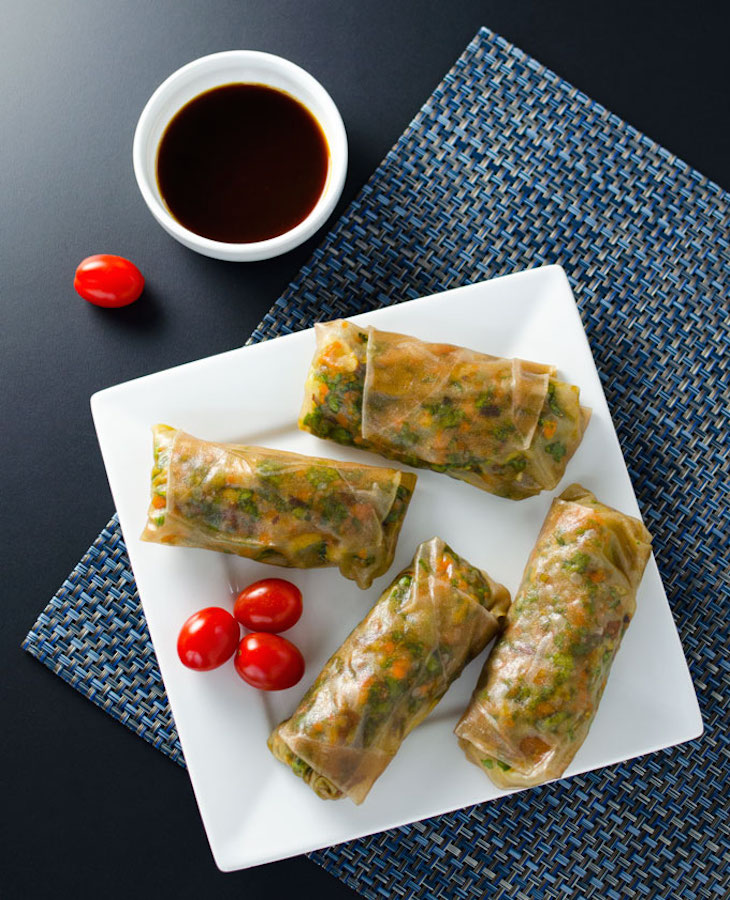 Recipe via veggieprimer.com
These Teriyaki Veggie Spring Rolls are not only light and tasty but also surprisingly filling. The brown rice spring roll wrappers are a bit more durable than the normal rice papers. And the best thing about them is that you can use any veggies you happen to have in your fridge.
7. Smoked Pulled Pork Spring Rolls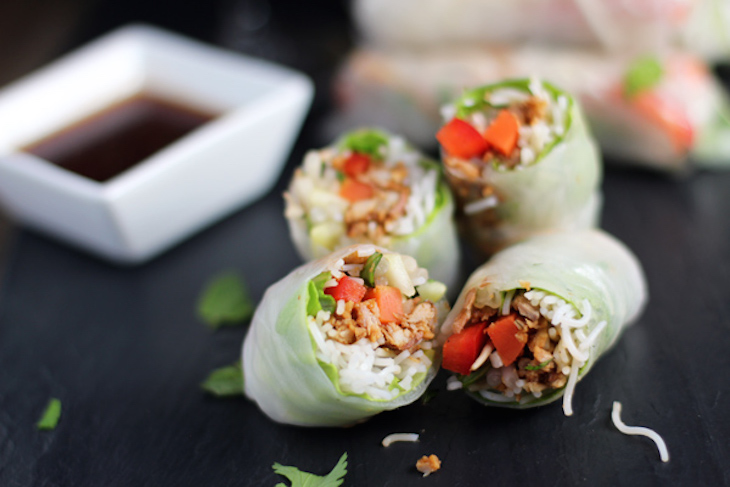 Recipe via www.vindulge.com
Here is a delicious and healthy use for any extra pulled pork you may have around the house. These Smoked Pulled Pork Spring Rolls are a fun version of a traditional vegetable or shrimp spring roll.
8. Kimchi Kale Spring Rolls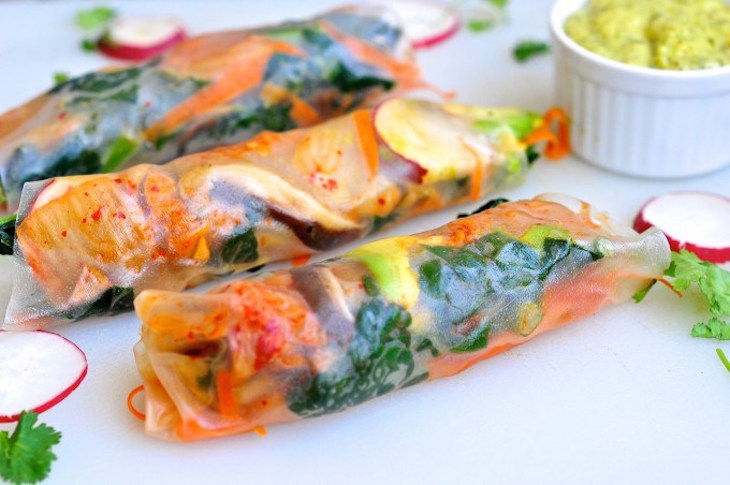 Recipe via www.cookiestokale.com
Kimchi is a traditional Korean dish, where each region and season has its own distinct kimchi ingredients and flavors. It's actually fermented cabbage that adds a gorgeous flavor and texture to food. It's a superfood – along with sauerkraut, yogurt, kefir, and pickles – that is full of beneficial probiotics. Try them in spring rolls with a sweet mango coconut dipping sauce!
9. Smoked Salmon Spring Rolls with Matcha Dipping
Recipe via www.thirstyfortea.com
Smoked salmon is a brilliant idea to add to your spring rolls as it's tasty and also ready to use straight out of the package. Transform your everyday spring roll into a unique delicacy with some fresh green beans and smoked salmon!
10. Eggplant and Spicy Tofu Spring Rolls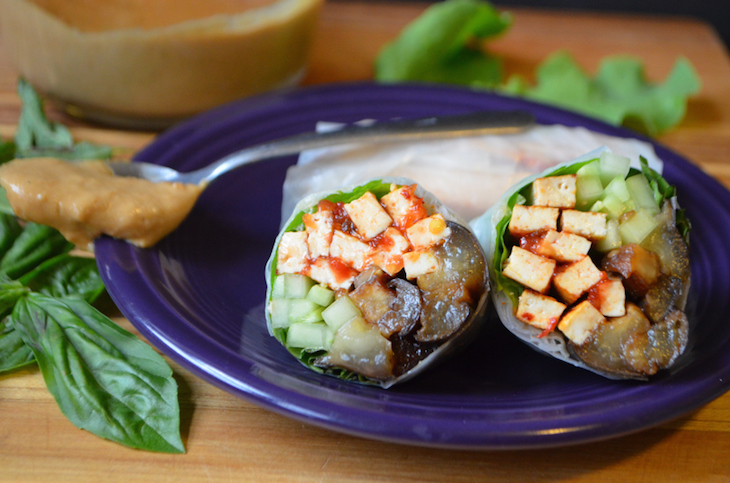 Recipe via avocadosandales.com
This recipe is definitely a fusion of many different cuisines. It combines tasty eggplant with spicy tofu, fresh cucumbers, and herbs. You can add some rice noodles or other veggies as well to make it more filling.