Thanksgiving is the official start to the holiday season! It is usually a time when the whole family gathers together for a tasty meal. However, many of us who live far away and are simply unable to travel and be with family, having a Friendsgiving party is the best way to spend the holiday. And spending the holiday with friends means lots of fun, lets stress and a lot of drinks.
If you are the one hosting Friendsgiving Party this season, don't worry – we got you covered! All you need for a kick ass party is good preparation and organization and these 10 tips will definitely help you with that.
We guarantee you'll have the best Friendsgiving party ever – and no one will miss home!
1. Have a co-host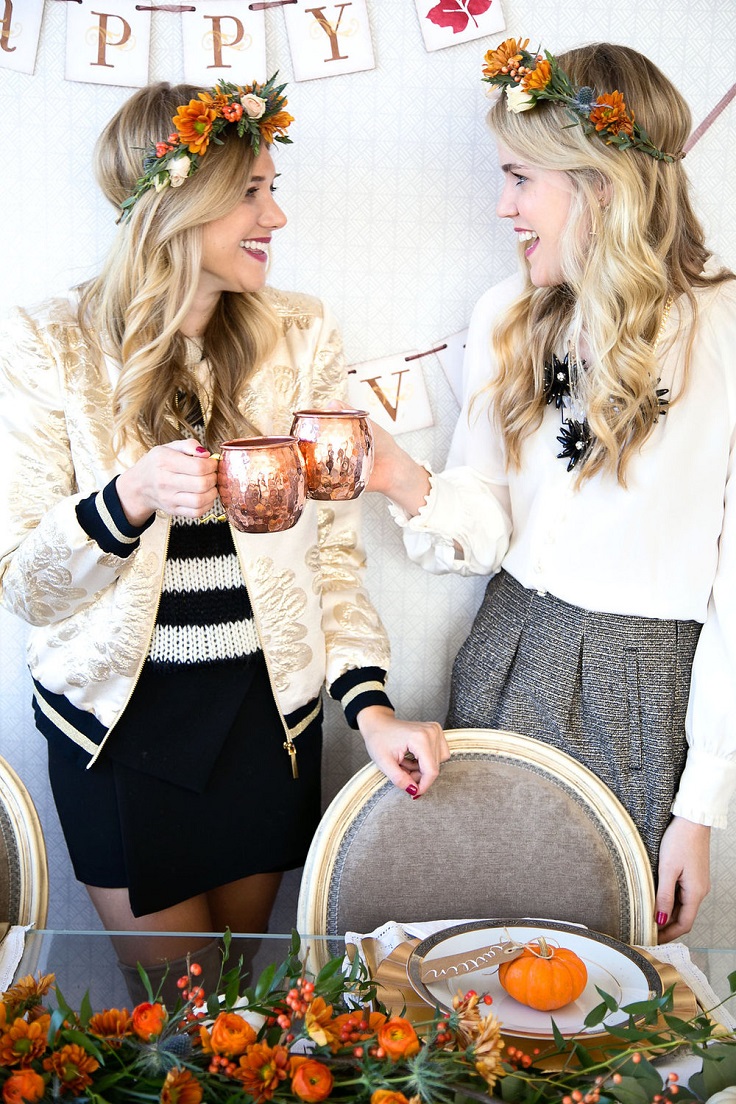 Remember – two heads always think better than one! Planning a Friendsgiving dinner can be exhausting so having some help is much appreciated. Just imagine going through all the planning, prepping, coordinating aloe. Instead, choose a friend to co-host with you and you will not only go through the planning and preparation process more swiftly, you will have more fun doing it!
2. Make Checklists

via pinterest.com
Even though you have help from your bestie, it is smart to be well prepared and making checklists helps a lot. This way you won't forget even the smallest details and you'll make sure everything is prepared on time. Make sure you have covered the food, drinks, decorations, sitting places, plates, cups, cutlery and any other miscellaneous items you can think of. You don't want to be caught off-guard!
3. Guest List
via glamour.com
Although "the more the merrier" is usually true when we are talking about Friendsgiving, you should consider carefully how many people you invite, especially if you have a smaller apartment. A great dinner party means everyone being comfortable and having a place to seat and eat. If it gets too crowded people won't be able to enjoy their meals. But, if you do have enough space, consider inviting as much people you can because you can really make someone's holiday special, especially if they can't spend Thanksgiving with their families. In the end, that's the point of Friendsgiving. 
4. Enough Food (and Drink)
via ideas.evite.com
There are many charts on the internet showing how much food and drink you'll need depending on the number of the guests on your Friendsgiving dinner, but our advice is to always have more, just in case, especially drinks. Always have a few extra bottles :). Take your time to prepare the menu, including lots of snacks, starters, main and side dishes as well as dessert. This doesn't mean you have to cook everything, usually the host cooks the turkey and the guests bring the rest, but make sure you assign everyone a specific food they should bring.
5. The Turkey
via evite.com
So, the main dish is the host's responsibility and it is best if you make an effort to prepare it by yourself instead of ordering it. Now, this needs some planning. First of all you should decide how big the turkey should be, depending on the number of guests. Buy the turkey one week ahead. If it's frozen, keep in mind that it will need to thaw in the fridge for about 24 hours for every four to five pounds.
6. Good Music
via brit.co
Friendsgiving is all about skipping the traditional Thanksgiving family dinner and have lots of fun with your friends, so having a killer playlist is a must for every host. When choosing the music, make sure there is something for everyone because variety is the key. A smart thing to do is to ask everyone to share their favorite playlist prior the party so you can choose different songs and have them played when the guests arrive. Of course, music is not enough, a good conversation is very important for a good dinner party so make sure you introduce people who do not know each other at the very beginning of the party.
7. Tablescape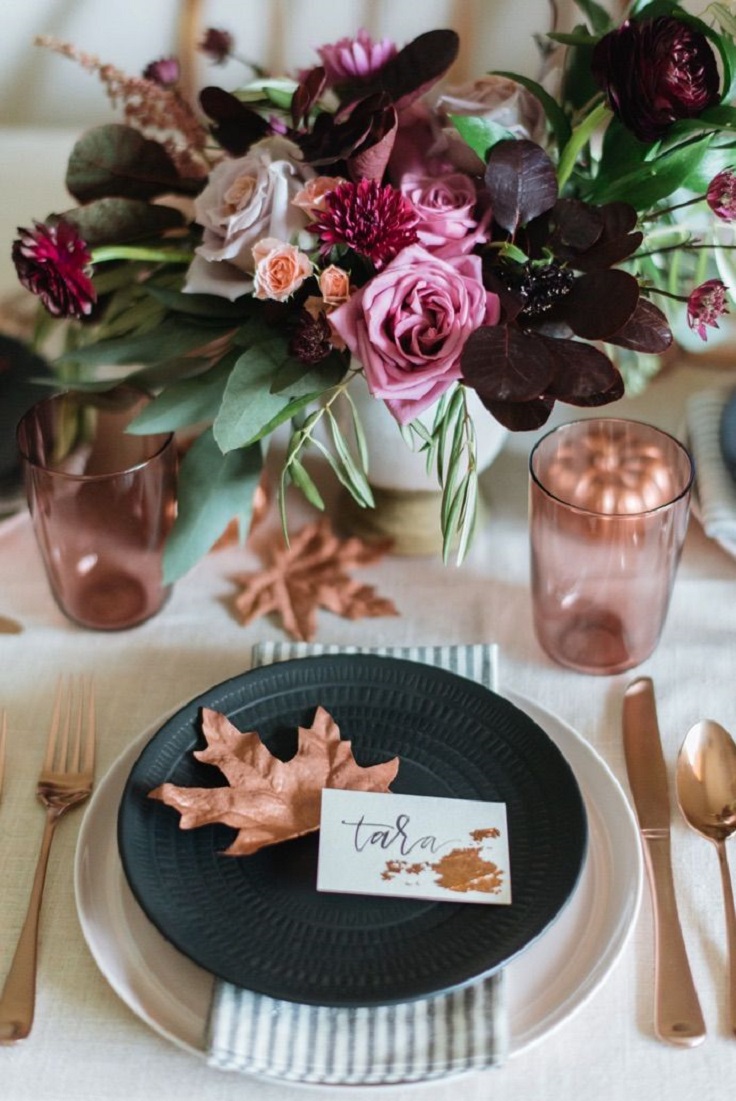 via pinterest.com
You don't need to go fancy and expensive for Friendsgiving which is truly a relief for any host. However, you should try and make your table look nice. We suggest a simple decor inspired by the season so the food can really be the star of the table. Have one standout centerpiece and more small, discreet decorations like candles for example. Use natural elements and unscented candles, dried leaves, branches, pumpkins… Feel free to get creative, Pinterest is filled with ideas. Your guests will appreciate the effort.
8. Make New Traditions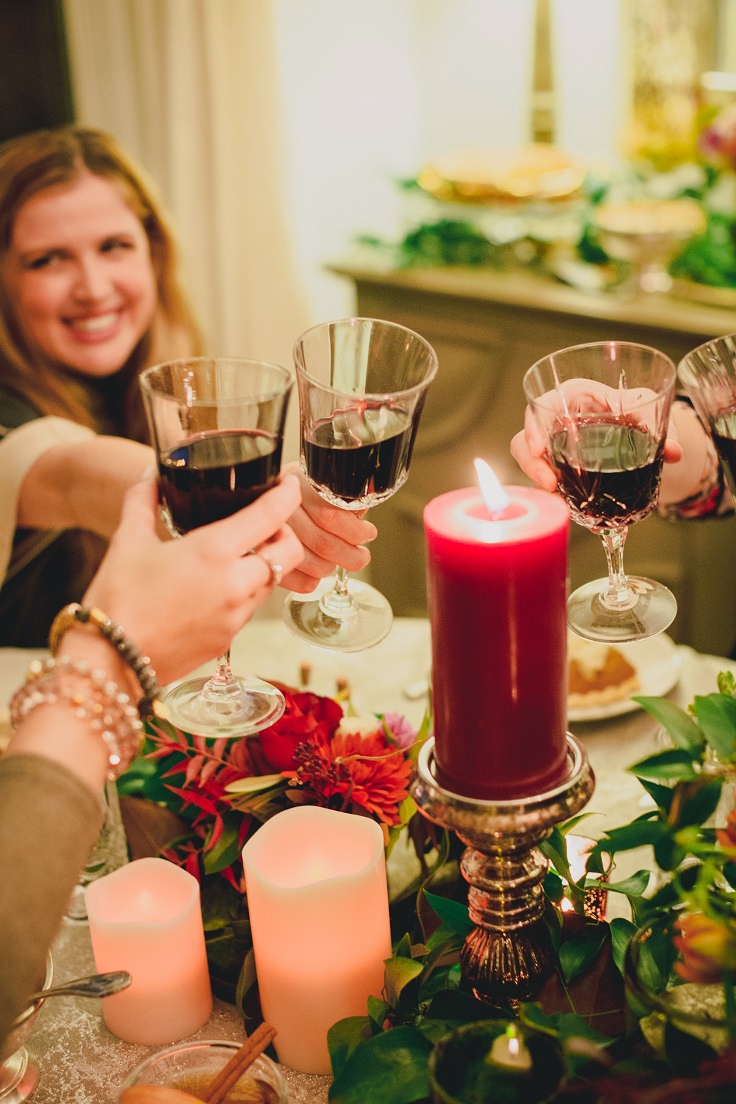 via thehisfor.com
Be creative! Skip the traditional way to say what you are all thankful for and instead try a fun drinking game. Have everyone write down on a card what they are thankful for, but keep the cards anonymous and the thankful clues vague. Then, have each guest choose a card. This person should read the clues out loud for the other people to guess who wrote the card. If the group can't figure it out, the reader keeps reading clues. If the group guesses who the card belongs to on the first try, the owner of the card drinks. If no one guesses, the owner of the card chooses someone who drinks
9. Coordinate The Cleanup
Let's be honest here, Friendsgiving is not just quiet holiday dinner, it's a party and when it is over, be prepared for a true mess. We advice you to not let everybody leave without helping you clean up the place. It is all in the good coordination and if you manage to organize everyone to do just a one little thing, your place will look back to normal in no time.
10. Share The Leftovers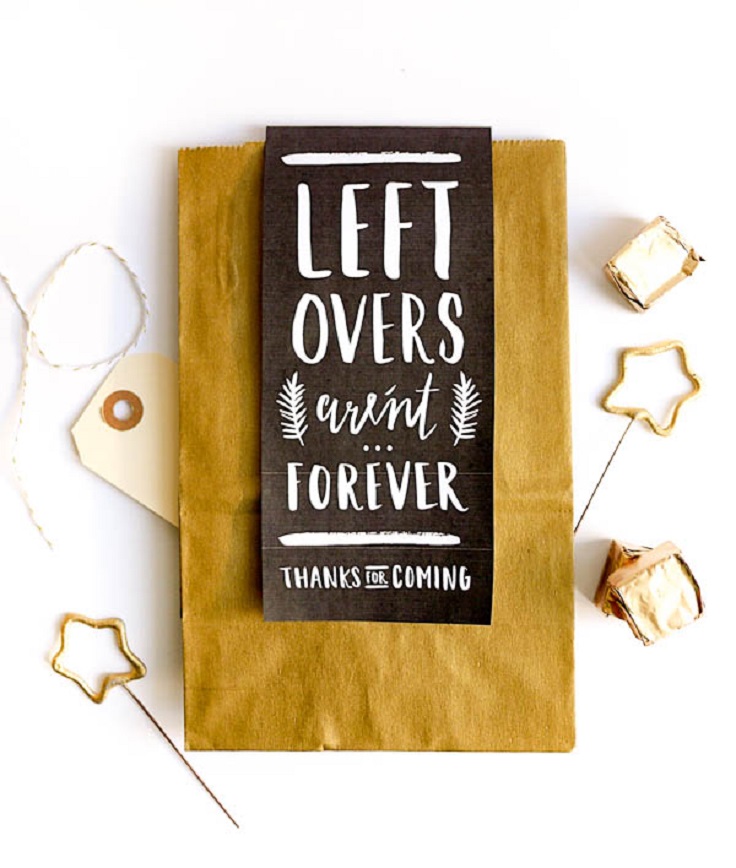 via ohhappyday.com
Of course there will be more food than it can be eaten in one day, so expect plenty of leftovers. Make sure you have plenty of containers for packing up all the leftovers from the Friendsgiving. This way you can easily share them among your guests so they can easily take them home. If you are crafty, you can make cute leftover begs with tags and all.
SaveSave
SaveSave