Frozen dessert is the generic name for desserts made by freezing liquids, semi-solids, and sometimes even solids. They may be based on flavoured water (shave ice, sorbet, snow cones, etc.), on fruit purées (such as sorbet), on milk and cream (most ice creams), on custard (frozen custard and some ice creams), on mousse (semifreddo), and others.
When the temperature outside begins to soar, frozen desserts become the treat of choice. Cool off with frozen dessert recipes, featuring cool sorbet recipes, ice cream cakes and pies recipes, and different sundae!  Our goal is to help you achieve your frozen dessert dreams. Try these amazing, cooling frozen desserts. Keep cool all summer long with these frozen treats straight from your freezer.
Frozen Affogato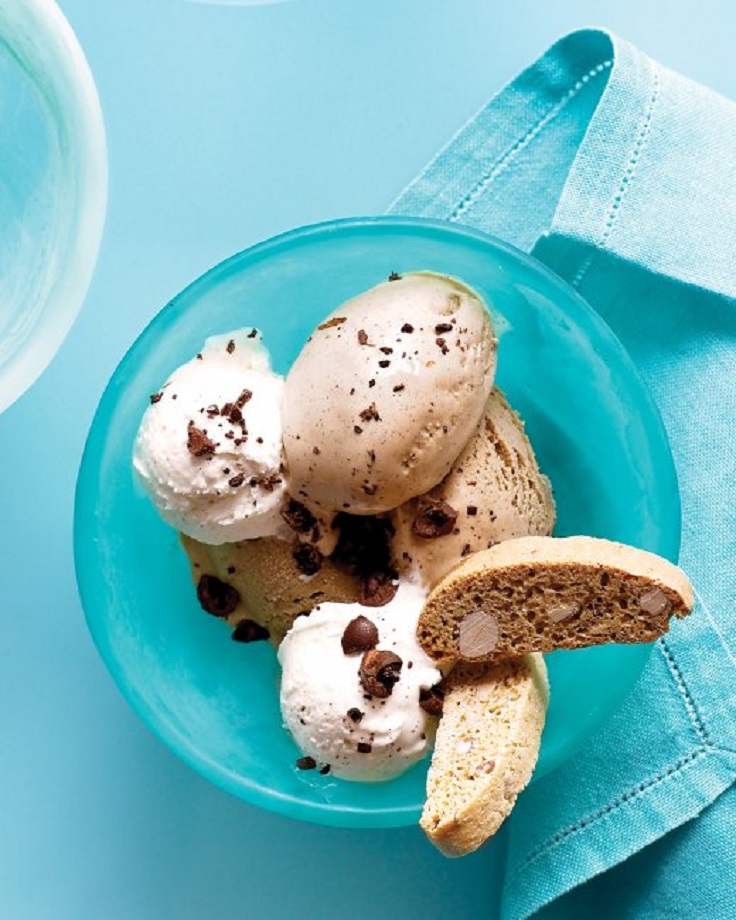 The Italian tradition of dousing desserts with hot espresso becomes especially cooling in this swank cookies-and-cream concoction, with silky espresso ice cream and frozen vanilla whipped cream bolstering crunchy biscotti and chocolate-coated coffee beans.
Frozen Peanut Butter, Chocolate, and Banana Loaf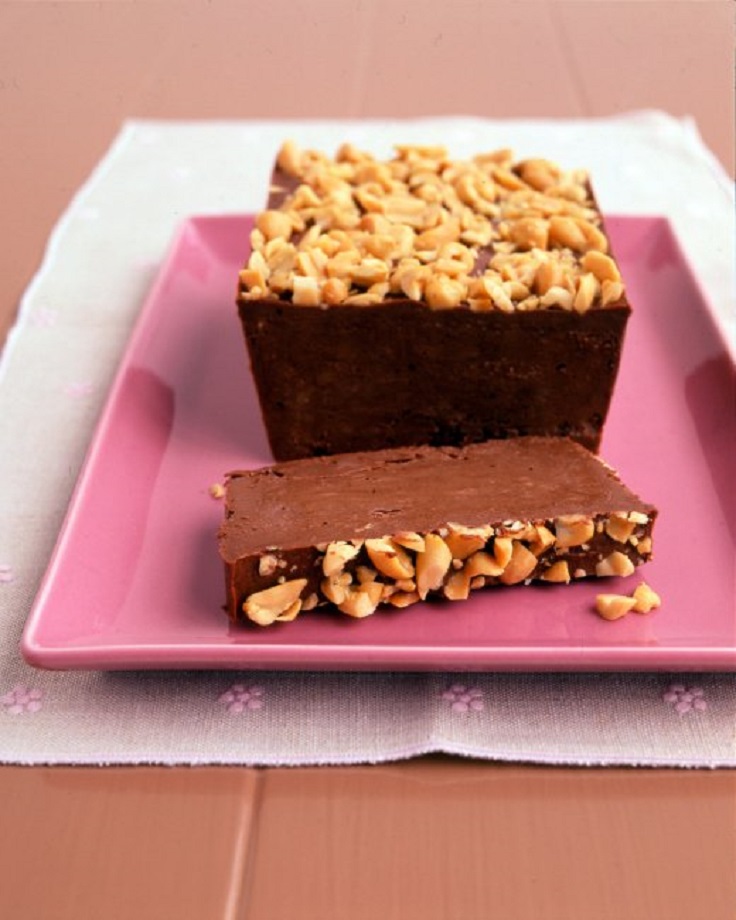 via delish.com
This frozen dessert is perfect for any chocolate and peanut butter lover. The preparation is simple and can be prepared in advance. Perfect for the hot summer weekends!
Caramelized Banana Chocolate Chunk Frozen Yoghurt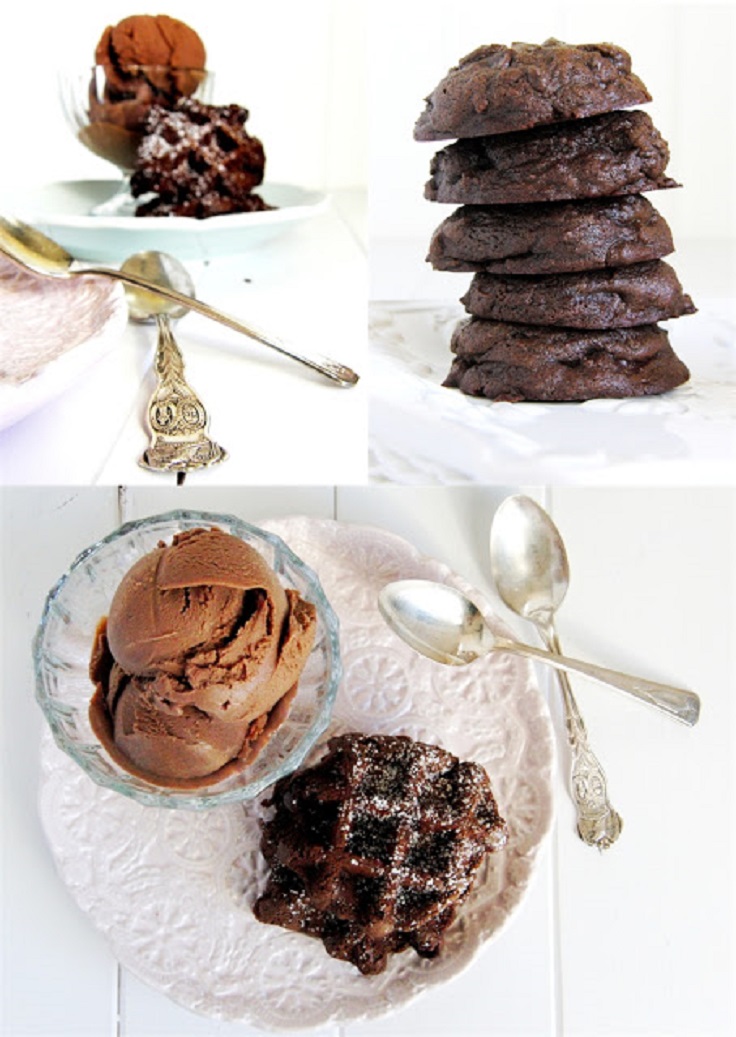 Do you think this can be just another perfect summer breakfast? Greek yoghurt is like a secret weapon It can be fat-free but still really thick. And we love that tang you get with chocolate in frozen Greek yoghurt.
Raspberry Swirl Ice Cream Pie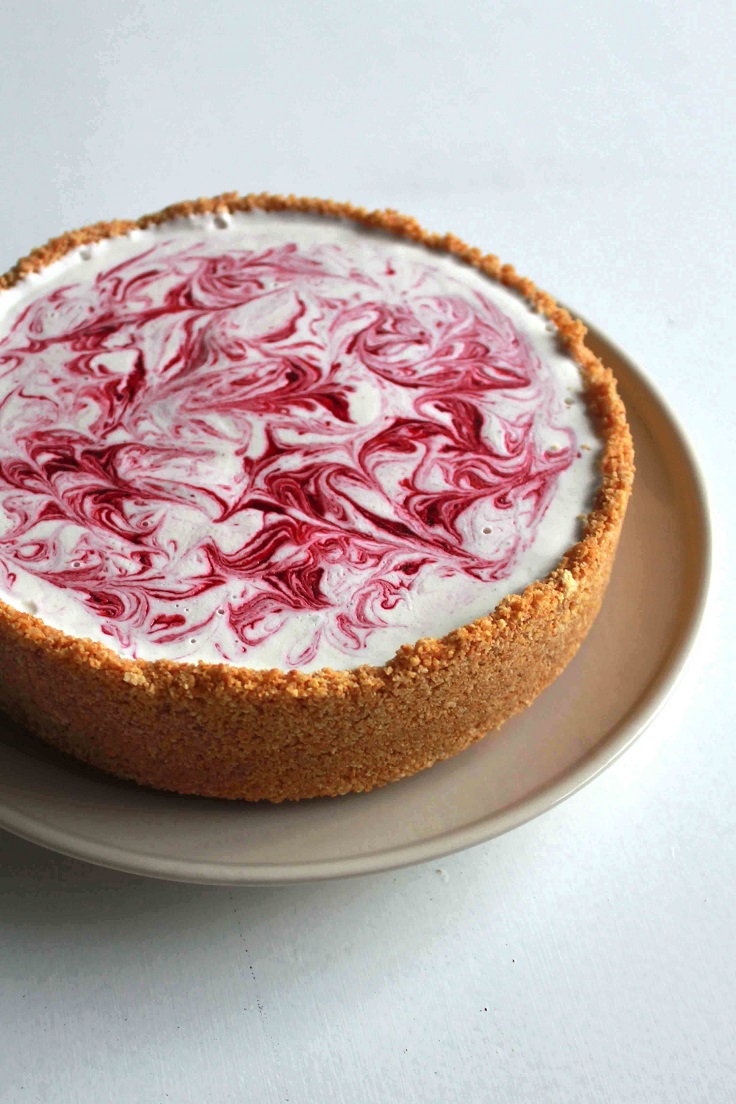 via ohsweetday.com
Grab the chance to eat as much frozen dessert as you can while summer is still here. Although we will eat this anytime. No raspberries around? Try  blueberry ice cream pie, or strawberry, even blackberry should work fine.
Frozen Yoghurt Sundae with Spiced Nuts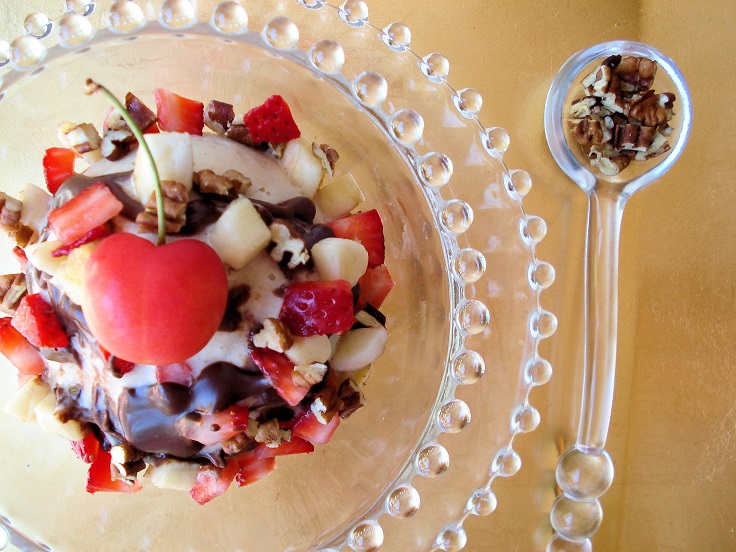 via delish.com
Dump a container of your favourite, probiotic-rich sweetened yoghurt into your ice cream maker and churn up a frozen dessert that's full of calcium, phosphorus, and the bacteria your digestive system thrives on. Top a scoop with antioxidant-filled frozen blueberries and sprinkle with spiced nuts — walnuts lead nuts in omega-3s, and turmeric's a natural anti-inflammatory — for a thoroughly guilt-free indulgence.
Chocolate Covered Frozen Bananas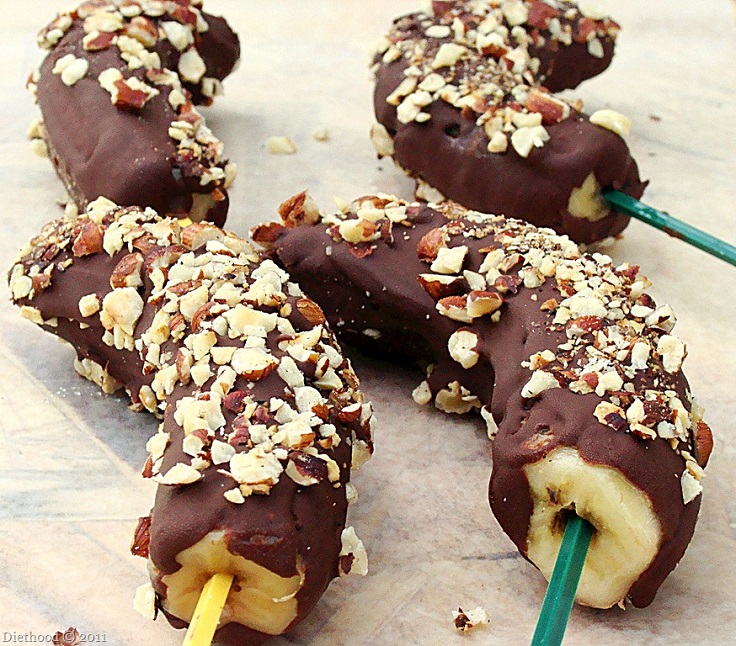 via diethood.com
Dip bananas in melted chocolate and roll them in coconut to make this tasty frozen treat. Put it on a tray, and in the freezer. Sounds easy and delicious, right?
Chocolate Peppermint Ice Cream Cake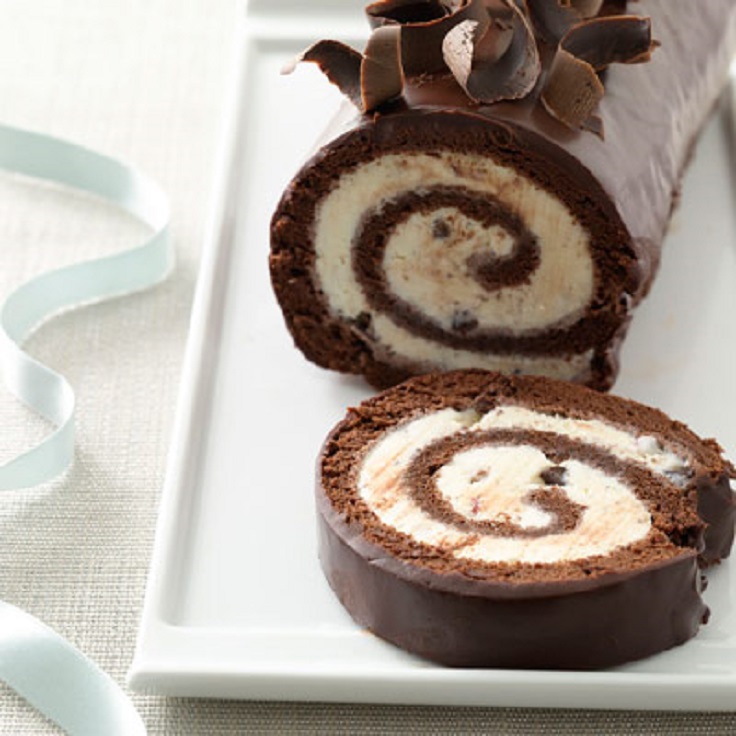 via delish.com
This chocolate cake may look fancy — but inside it's just a good old fashioned ice cream cake. The taste of the peppermint makes this cake more fresh and gives it special taste.
Inside-Out Strawberry Ice-Cream Cake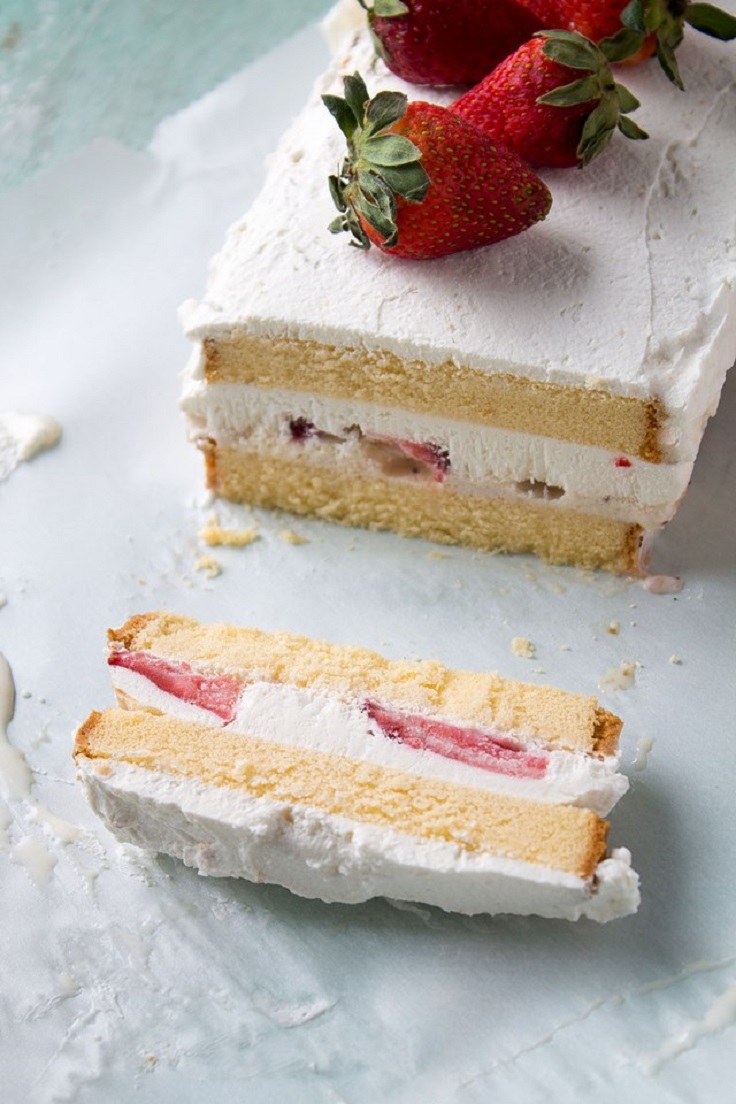 To give ice cream the right consistency for spreading, soften it at room temperature, about 30 minutes, or microwave it on high in 10-second increments, testing for softness in between. Don't overdo it: You want it spreadable, not soupy!
Roasted Peaches with Mascarpone Ice Cream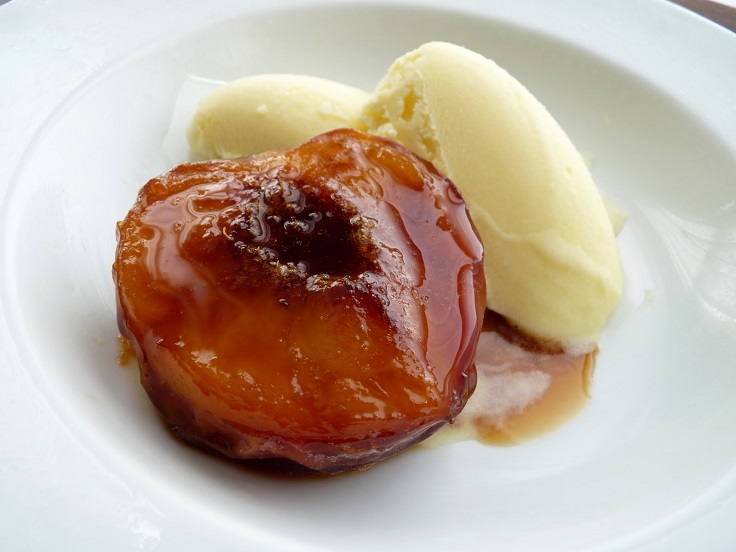 If you find yourself in the company of some pretty peaches anytime soon, this is an indulgence worthy of your time and attention. It's got a bit of a Mediterranean feel to it, so it's just the sort of dessert to enjoy al fresco as a pure and simple sunny summer luxury.
Lemon Blueberry Ice Cream Sandwiches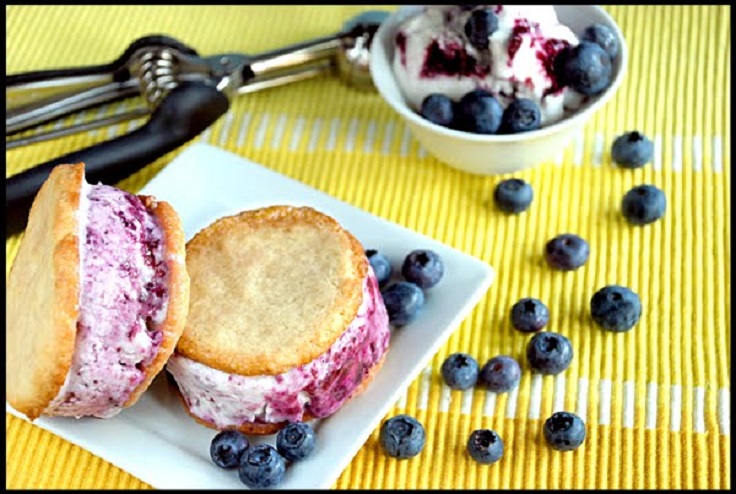 via herbivoredinosaur.com
For everything to come together in your ice cream maker, your lemon mixture really needs to be cold. Even just "cool" can be too warm and it will not work.