Guacamole is that dip of which we keep hearing about all the time in the past few years – it's present on the restaurant menus more than ever and photos of it show up even so often on our Instagram news feed. There's a reason for that and it's simple – guacamole is an amazing dip that you should definitely try out.
Besides serving the guacamole only as dip, you can use it for other recipes as well. Forget about the guacamole sandwiches too, these ten recipes are perfect not just for the mornings, but for any other part of the day. Check them out and let us which is your favorite!
1. Crazy Guacamole Salad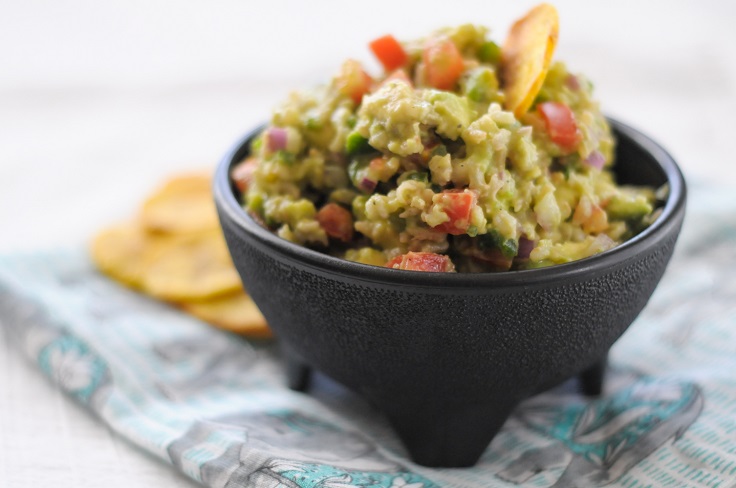 via riceland.com
Salads are super easy to make and are ready in just few minutes – just like this guacamole salad. It's budget-friendly, as all you need are just few ingredients: avocados, jalapeños, tomatoes, fresh lemon juice, red onion, garlic and rise. You can also use lettuce and fresh chopped cilantro, and salt and pepper as well to taste. Besides eating this just as salad, you can use it as a dip or as sandwich filling.
2. Guacamole Grilled Cheese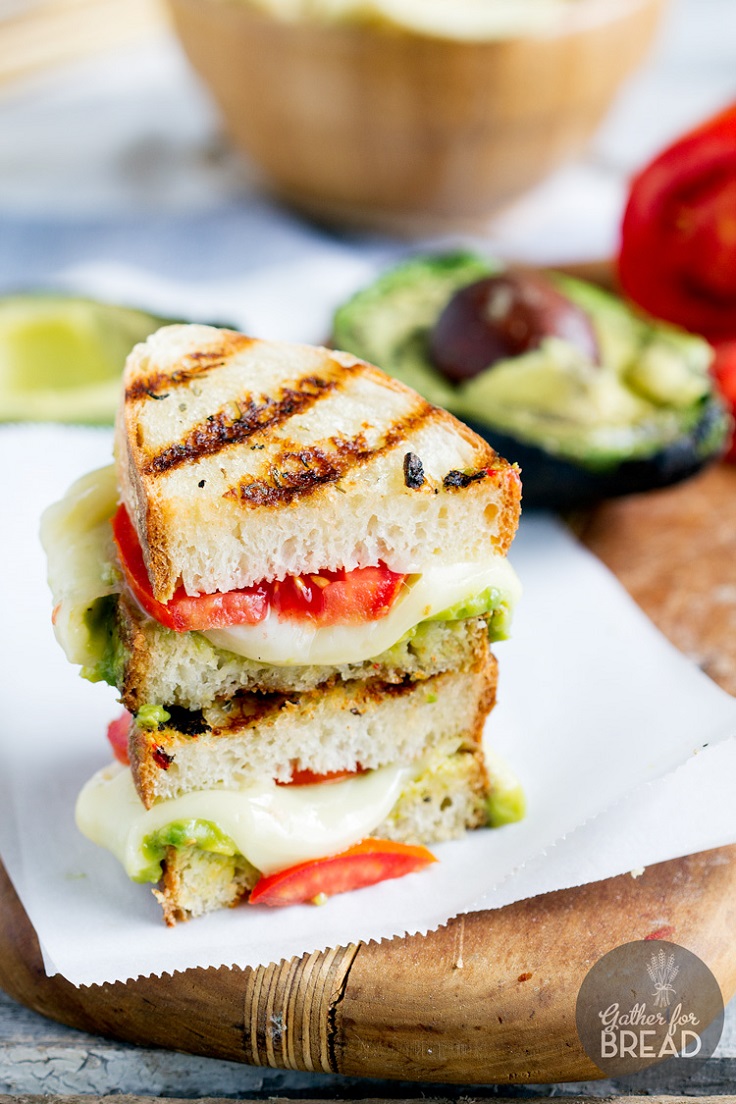 Taking the grilled cheese on a whole new level and this one includes guacamole. So, if you are a fan of these two, we can guess that you have just found out your combo! It takes just 10 minutes to prepare this grilled cheese toast and for that you need the following ingredients – guacamole, slices of thick hearty bread, butter, Monterey jack cheese or any other that you prefer and slices of Roma or vine ripe tomato.
3. Guacamole Tostadas with Sweet Potatoes and Fried Eggs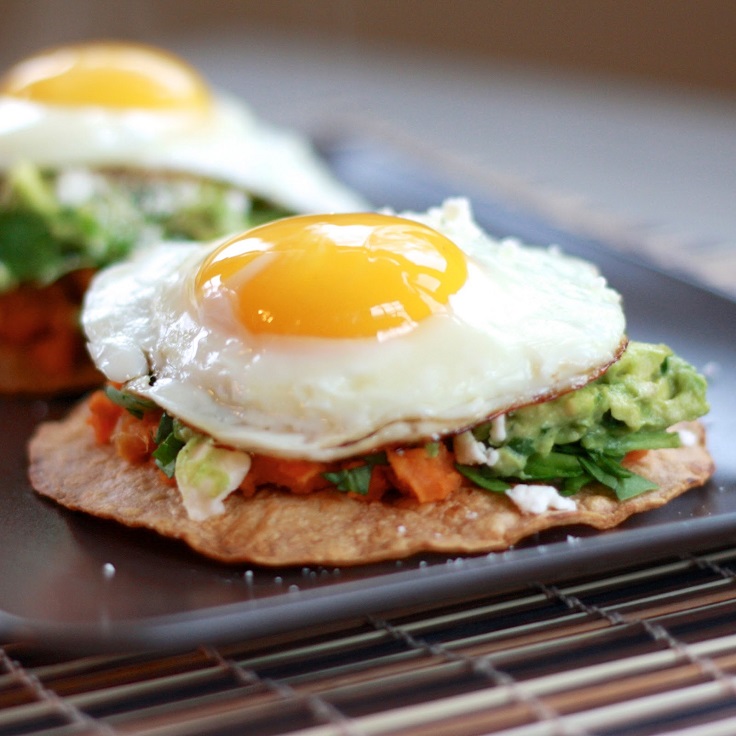 No matter if it is breakfast, brunch or lunch, this recipe is perfect for any occasion. It is a healthy recipe that you will make you feel full and yet will give you some of the needed nutrients. For this super delicious meal you need tortillas, olive oil, sweet potatoes, spinach, avocados, eggs, feta cheese and and salt and pepper to taste. Baked tortillas never tasted so good!
4. Grilled Chicken Burgers with Guacamole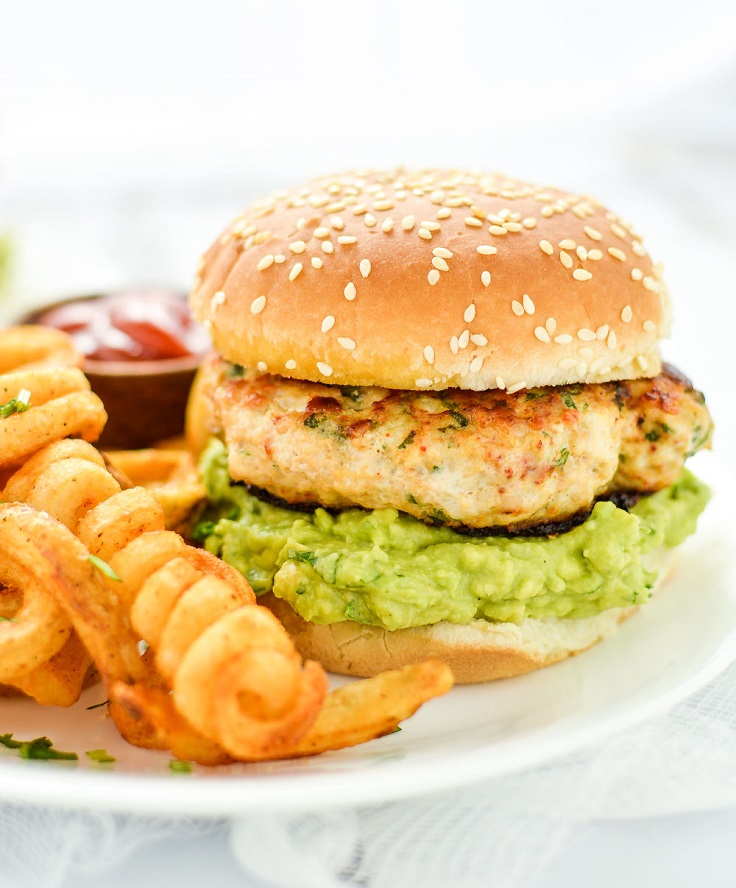 If you haven't tried this combination, then it is definitely the time to do so. These burgers are perfect for a BBQ party or any time when you would like to eat a burger! It's a really easy recipe and the burgers are ready in 30 minutes. When you'll have all the ingredients ready, just place the guacamole on the bottom of the bread bun and place the chicken patty on top. If you wish, you can add mayo, lettuce, sour cream or other toppings.
5. Chicken Burrito with Guacamole Filling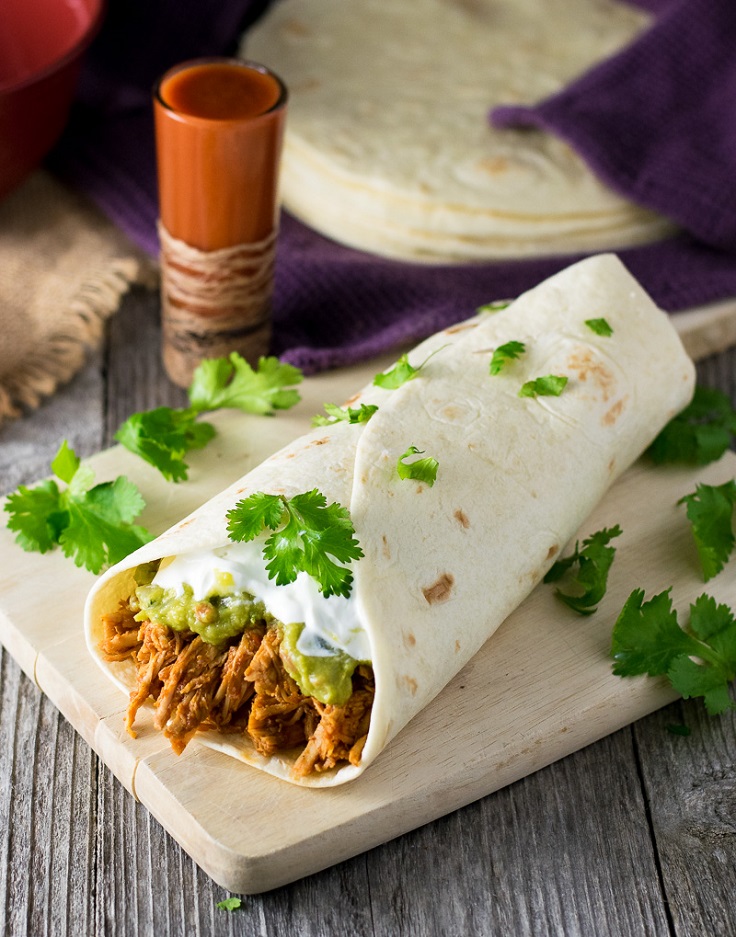 Chicken and guacamole are really a food combination worth trying, so here's another recipe on how you can combine these two. In this one, we don't have bread buns, but tortillas instead. The chicken is shredded and served together with the guacamole and sour cream. You can add other ingredients, like veggies and you can also add spices – just be careful, according to the recipe the shredded chicken is cooked with plenty of them!
6. Spicy Queso Fresco Guacamole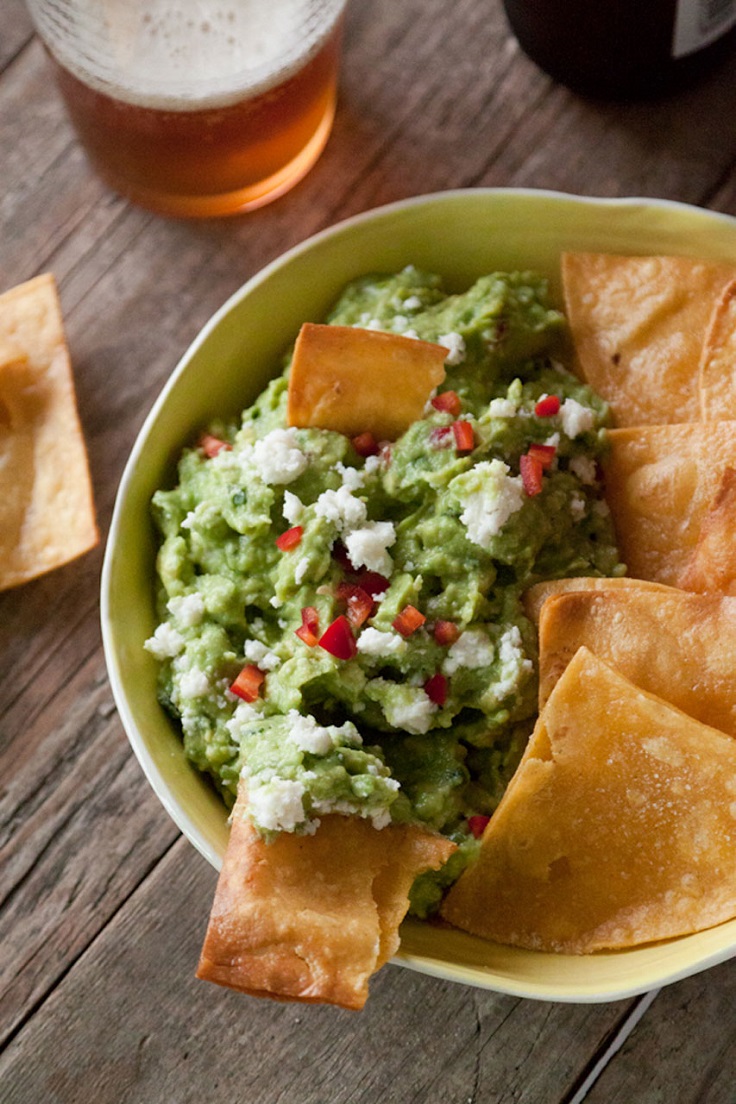 One of the best healthy dips you can prepare is exactly this one. It's the basic guacamole, with just queso fresco added. To prepare this dip, here are the exact ingredients that you need – 3 ripe Hass avocados, 1 finely chopped red jalapeno pepper, 1 limejuice, 1/3 cup crumbled queso fresco and salt and pepper to taste.
7. Greek Guacamole
Or, if you're more into the Greek cuisine, you can prepare your very own Greek – inspired guacamole dip. This vegan and gluten – free recipe can work as appetizer or side dish. You need avocados, lemon juice, cherry tomatoes, red onions, oregano, parsley, olives and salt and pepper to taste. Serve it with pita bakes or vegetables.
8. Guacamole Chickpea Salad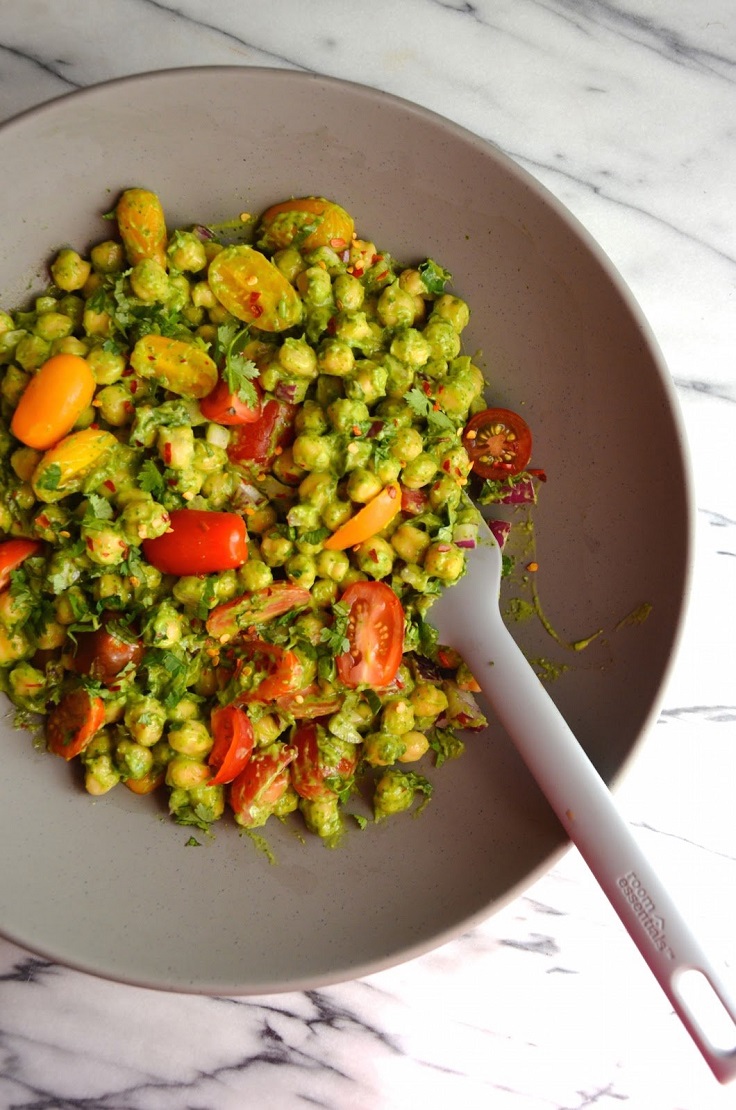 via popsugar.com
Here's another salad that you can prepare with guacamole. For this one, you need 3 cans low-sodium chickpeas, drained and rinsed, 1 medium red onion, diced, 1 cup cherry or grape tomatoes and 1/4 cup finely minced cilantro. Mix these ingredients together with the guacamole and voila – serve this chilled at room temperature.
9. Guacamole Shrimp Appetizers
via tasteofhome.com
Now something for the sea food lovers – whether you're hosting a party or not, prepare the guacamole shrimp appetizers is something you should definitely try. They are ready in less than hour and are so easy to prepare. Each tortilla chip scoop is filled with guacamole, shrimps and cilantro jalapeno pesto. These appetizers are going to be eaten right away!
10. Roasted Butternut Squash Tacos with Guacamole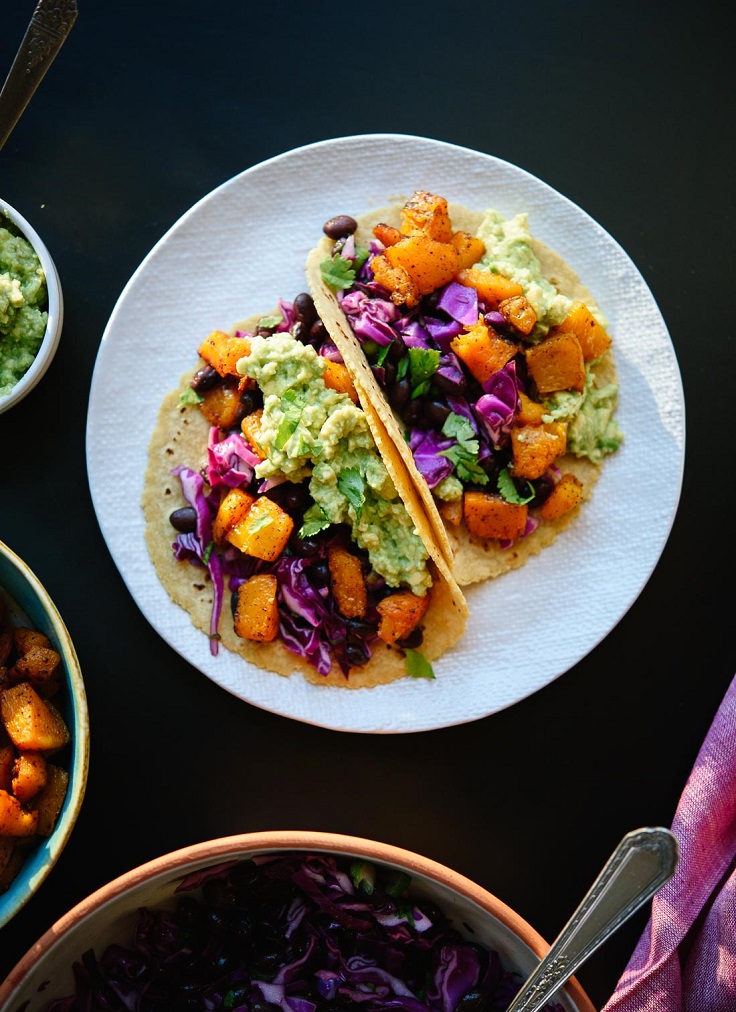 Corn tortillas, guacamole, roasted butternut squash, cabbage and black bean slaw – this is the kind of recipe you need to save when you have tortilla cravings. If you're not a butternut squash fan, you can just switch it for sweet potatoes. Also, if you're not planning to cook right away, it's best to store the ingredients separately and keep the guacamole covered to prevent oxidation.