Everything that a girl learns, that will determine many aspects of her life, she learns from her mother. One of those aspects is fashion. Since a very young age, since they brushed the hair of their favorite doll for the first time, little girls learn about importance of hairstyle. And soon, they want to make something fun with their own hair.
That is when the mother has to show her styling skills and make her little princess even more beautiful. To help you in your and your daughters' hairstyle endeavors, we give you the top 10 hairdos for girls that every little will love.
Tween Braids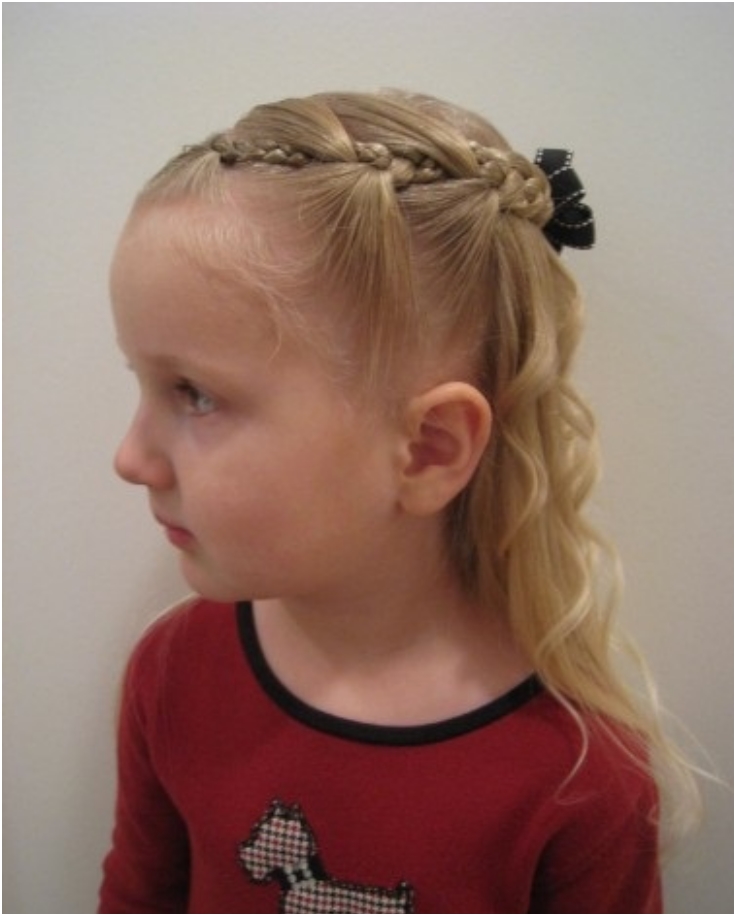 Tutorial and photo credit to babesinhairland.com
Braids are one sure way to keep your little girl's hair under control when she wants to have fun and remain looking lovely and that's why his hairdo is perfect for birthdays and family gatherings
Butterfly Braided Headband
Tutorial and photo credit to cutegirlshairstyles.com
Headbands are useful at keeping the hair away from the eyes, but they tend to get an active child all sweaty. So, make your girl a lovely hairband with a braid and with the little playful butterfly, she'll be ready for all-day fun.
Fancy Pony Tail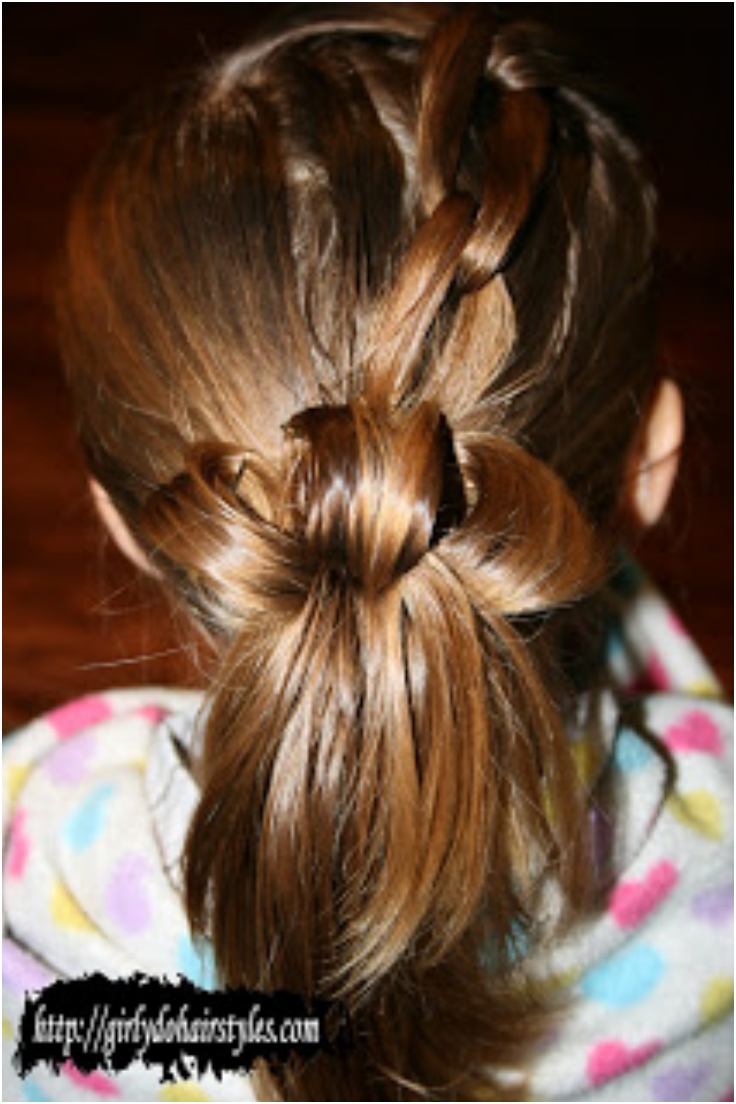 Tutorial and photo credit to raisingolives.com
When you want your daughter to look nice but don't have much time to do her hair or she just can't sit still for very long, then this fancy ponytail hairdo is the solution to your problem.
Flowers In Hair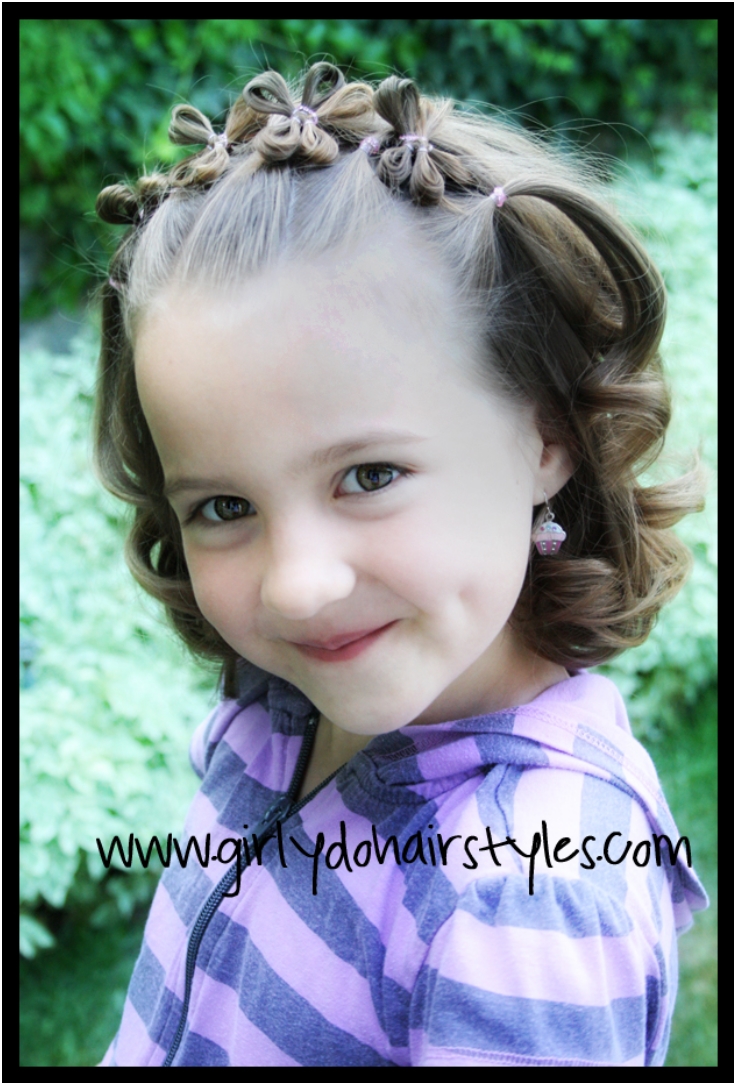 Tutorial and photo credit to girlydohairstyles.com
Another great way to save your little girl from wearing a headband, yet still look cute and lovely as ever. This flower hairdo is more suited for short hair, but can be made with long hair as well.
Minnie Mouse Buns
Tutorial and photo credit to cutegirlshairstyles.com
Every child loves Disney and goes through a Mickey and Minnie Mouse Number One Fan phase. If your daughter is there now, make her the happiest little girl by making her this Minnie Mouse bun hairdo.
Bantu Knots & Bantu Knot-Outs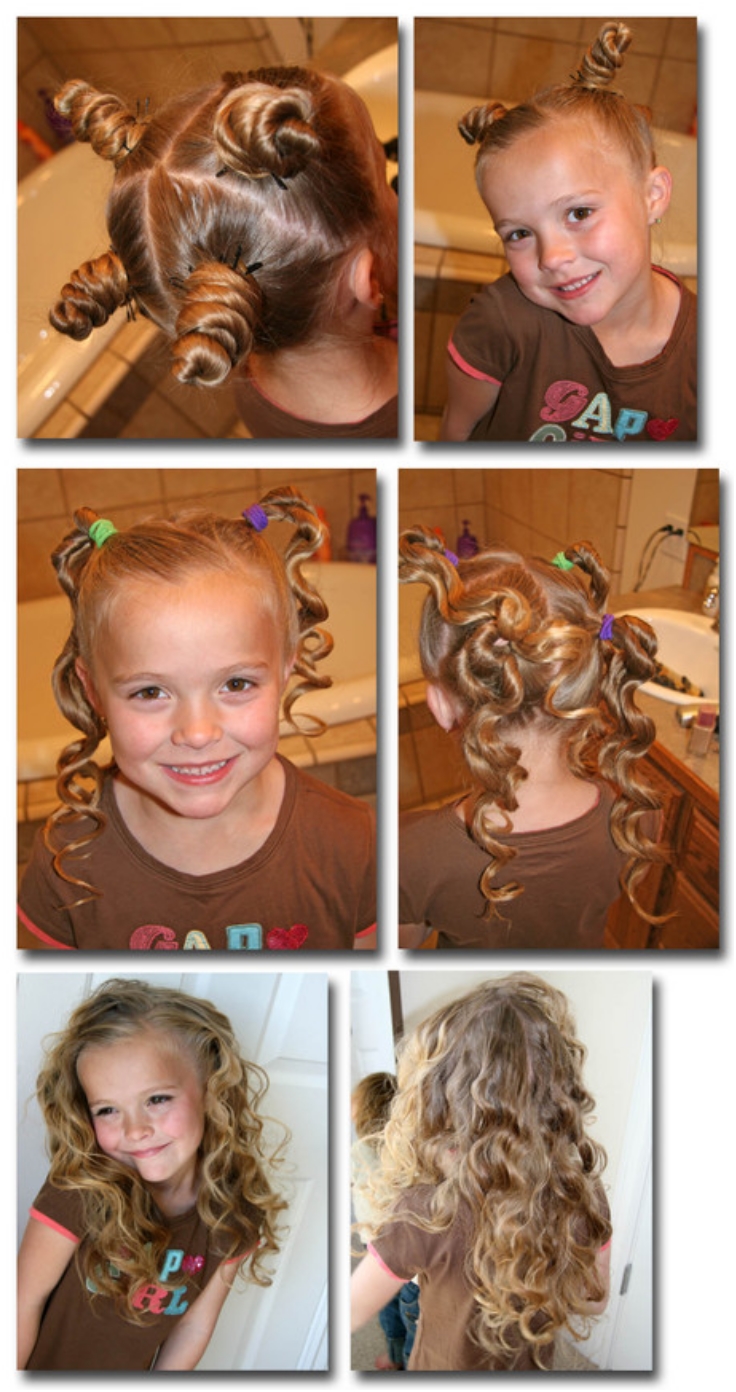 Tutorial and photo credit to perfectlocks.com
Want your girl to have different hairdos over a week or two, but you have the time to make them? Then the Bantu knots are for you. You make one hairdo that transforms into two more when you take it apart and each lasts for days.
Triple Buns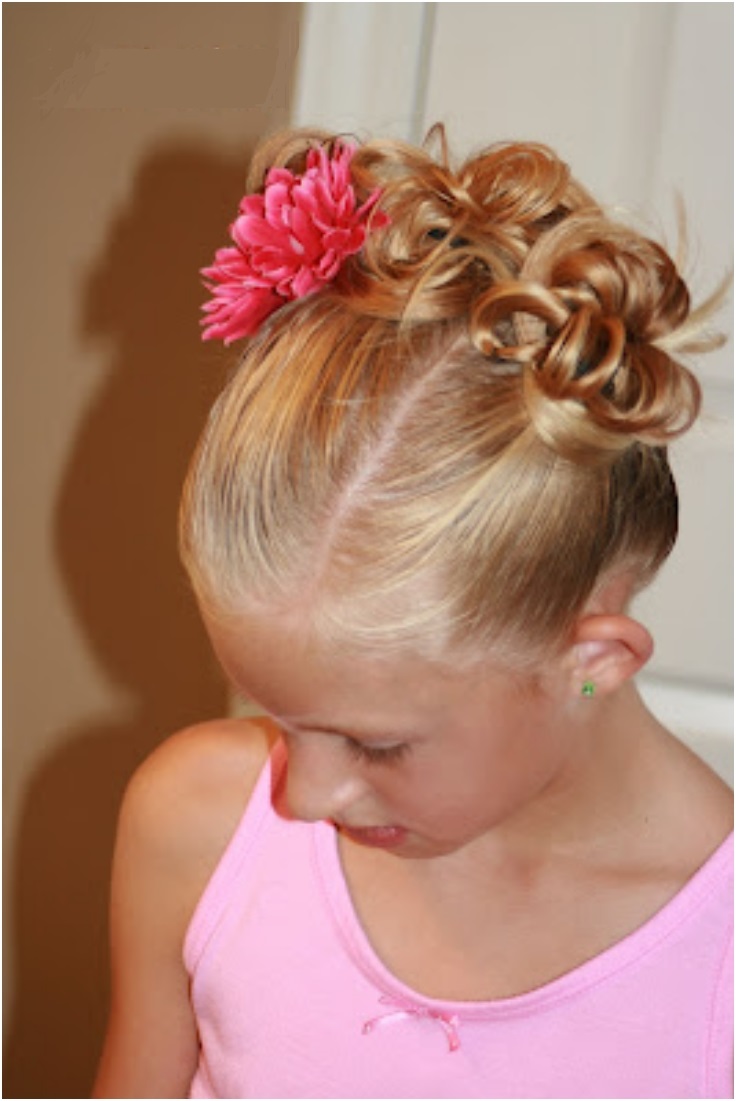 Tutorial and photo credit to shedoeshair.blogspot.com 
If one bun makes your girl look elegant and cute at the same time, just imagine how she will look with three? This is an excellent hairdo for more special occasions or gatherings.
Rapunzel Twist Ponytail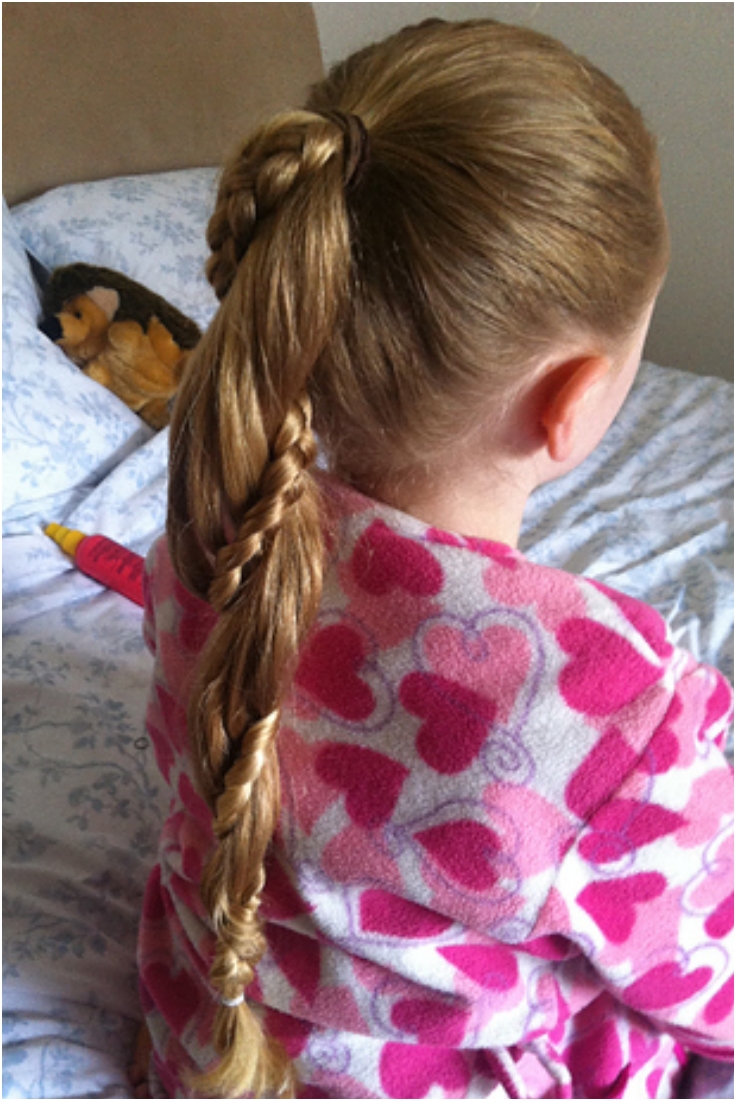 Tutorial and photo credit to hairdosndonts.com
Every girl likes to have long and beautiful hair like Rapunzel, but the best you can do to make that wish come true is to make your girl this magical hairdo that is easy to make and good enough for every occasion.
 Bow Bun And Three More Dos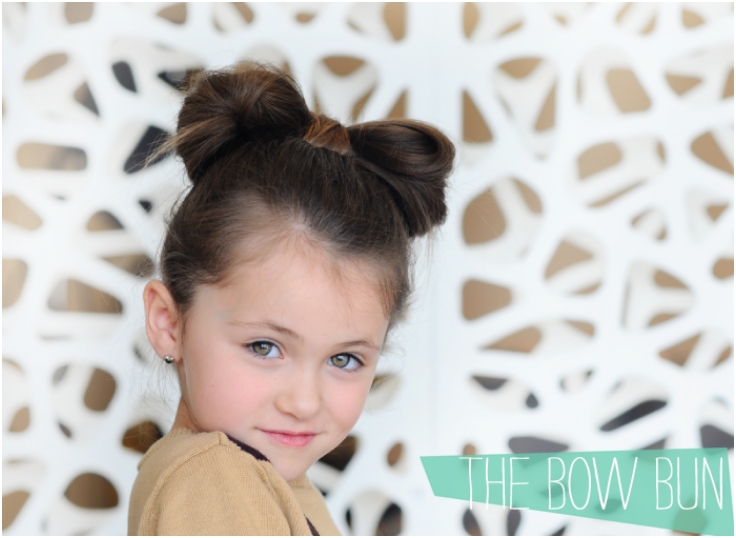 Tutorial and photo credit to smallfryblog.com
Why would you bother putting a cute bow in your daughter's hair when you can make one from it? If you are not sure about this hairdo, then you will certainly find your favorite among the other three; the top knot, the Heidi braids, or the fishtail.
Twisted Crown And Ballerina Bun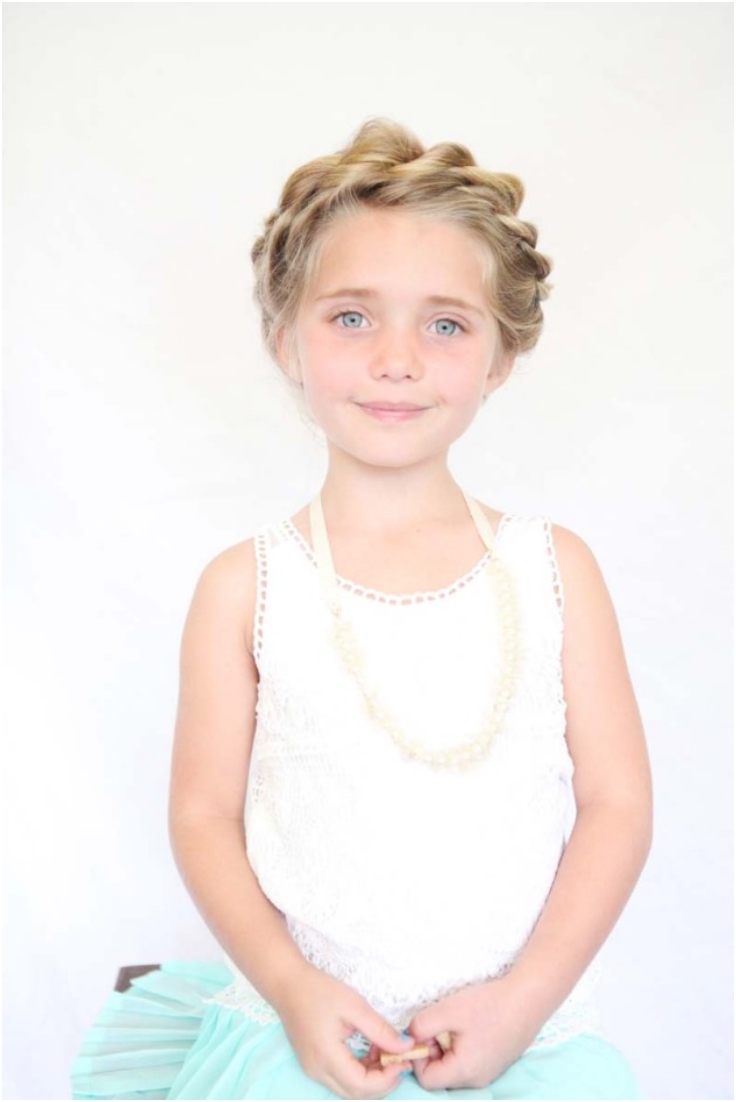 Tutorial and photo credit to thebluecloset.com
No hairstyle says "princess" louder than the elegant ballerina bun and with some twists and a couple of braids, you can also make your little princess her very own royal crown and the only supply you'll need is a few rubber bands.