The holiday season can get a little expensive, with all the spending and gift buying. That's why January is usually a dreadful time, when the Yule rush wears off and the credit card bills come in. However, what if we told you that you can cook a great meal for the whole family without spending too much money?
Christmas doesn't have to be a budget breaker. We've got tips for having an affordable Christmas that don't compromise on quality. You can have a family holiday to remember on a budget and it all starts with a great Christmas lunch!
Here are 10 affordable Christmas lunches that will bring the whole family a little holiday cheer.
1. Salvage those Leftovers
One of the best ways to save money is to simply enjoy the leftovers from last night's Christmas dinner.
Whether we're talking about an affordable lunch for Christmas Day and you have a big meal full of leftovers or we're talking about another lunch throughout the holidays, leftovers are always on the table.
If you don't want to have the same meal twice, we've got a few more tips throughout this list to let you repurpose leftovers and create a whole new meal.
2. Get Creative With Sandwiches
Christmas family lunches are the best time to get creative with your sandwich crafting skills.
You can put a festive holiday spin on just about any classic sandwich. You could take a creative twist on a classic by making an apricot jam and ham sandwich or you could think outside the box with a fried tofu, stuffing and cranberry sauce sandwich.
Sandwiches are also a great way to use your old leftovers. Don't feel stuck with just white bread either, this is the perfect time to get fancy with pretzel rolls or any other sandwich bread of your choice.
3. An Affordable Cheese Board
If you don't want to use leftovers, a cheeseboard is a great way to make sure that the whole family has something to snack on until dinner is ready.
Charcuterie might sound fancy, but you can make it on a budget pretty easily. All you need to do is make sure that you have a selection of proteins, cheeses, and a few sweet items like fruits or small desserts.
Cheese boards are an especially good choice if you have to feed a large group of people, but you want to make sure there's room for the big dinner later on.
4. Chips, Salsa, and Tacos
It might not seem like it, but Christmas is actually the perfect time for tacos and salsa.
One budget saving option is to use a lot of your leftovers when you make your salsa or taco stuffing. Turkey, ham, and all of the fixings make a great feeling for a festive taco.
You can also make red and green salsa by chopping up jalapenos and red onions.
If you have some extra time to prepare, you can use Christmas cookie cutters to cut out snowflakes and Christmas trees from tortillas and deep fry them into chips with some extra holiday flair.
5. Make Christmas Edibles!
The adults in your family might need a little holiday cheer and nothing helps raise spirits like a few seasonally appropriate THC edibles!
Cannabis and Delta-9 are legal in an increasing number of states which means you're free to open up your options when it comes to treats for the adults in the family this holiday season.
Here's a quick beginner guide to making edibles.
All you need to do is add THC oil to an existing recipe. We recommend adding it to frosting for some gingerbread cookies with an extra kick!
Remember, take it easy with edibles especially if you're new to the world of THC.
6. Try Winter Squash Soup
This is the perfect time to make a squash soup.
You'll get a lot of mileage out of your squash soup options. This is the perfect time of year to pick up a large squash or two from the store, roast them in the oven, and then blend them up with a broth of your choice into a delicious soup.
7. Break Out the Slow Cooker!
The slow cooker is a budget kitchen's best friend.
You can make red beans and rice, chili, and so much more in your slow cooker. You'll also wind up saving a lot of money and time which really matters around the holidays.
8. Have a Salad Before the Big Holiday Dinner
You might not want to fill up on a big lunch before your Christmas dinner. Salads make a great choice whether we're talking a classic Waldorf salad or a seasonal honey glazed roasted carrot salad.
9. Enjoy a Sneaky Dessert Lunch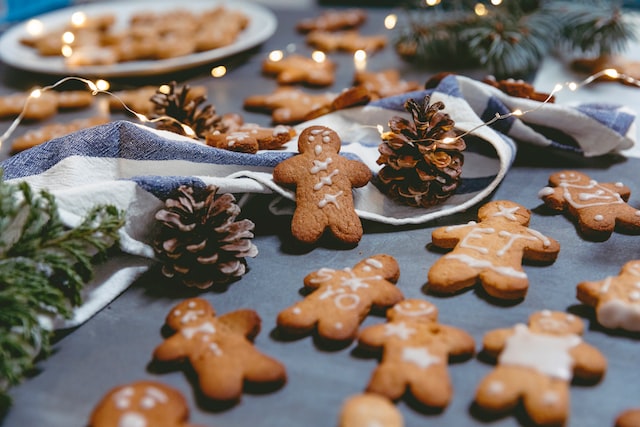 We tend to do a lot of cooking around the holidays. who says you can't have dessert for lunch—after all, it's Christmas!
It's really cost-effective to do some of your dessert cooking ahead of time and hand out those snacks when lunch rolls around. This also helps you make the most of your time in the kitchen during the holidays.
10. Take It Easy with Takeout
Cooking during the holidays gets demanding. After hours behind the stove, you might just want to take the afternoon off!
The biggest advice here is to look for local takeout spots that have Christmas deals. You can find plenty of local restaurants who have holiday specials that let you get more food for less money.
Ordering takeout is also a great tip for anyone who's learning how to become a better cook. Takeout takes some pressure off, so you can focus on flexing your cooking skills during the big Christmas dinner.
Now you're ready to cook up a budget-friendly Christmas lunch that the whole family will love.
Which recipe are you trying first? Are you going for the all-time classic Christmas sandwiches or are you about to get crafty with some readily available leftovers? Either way, you've got 10 new ideas for a fresh take on a holiday meal.