With Saint Patrick's just around the corner, it's always a good idea to decorate our home in a way that will celebrate this holiday. There are many projects that you can easily make yourself, which at the same time won't cost you a lot.
Depending on what you need at the moment, below you will find ten creative DIY St. Patrick's projects for different purposes – from fancy green chair sash to good old mason jars projects, you will find everything that will serve you as good decor and will match the atmosphere!
1. Shamrock Mason Jars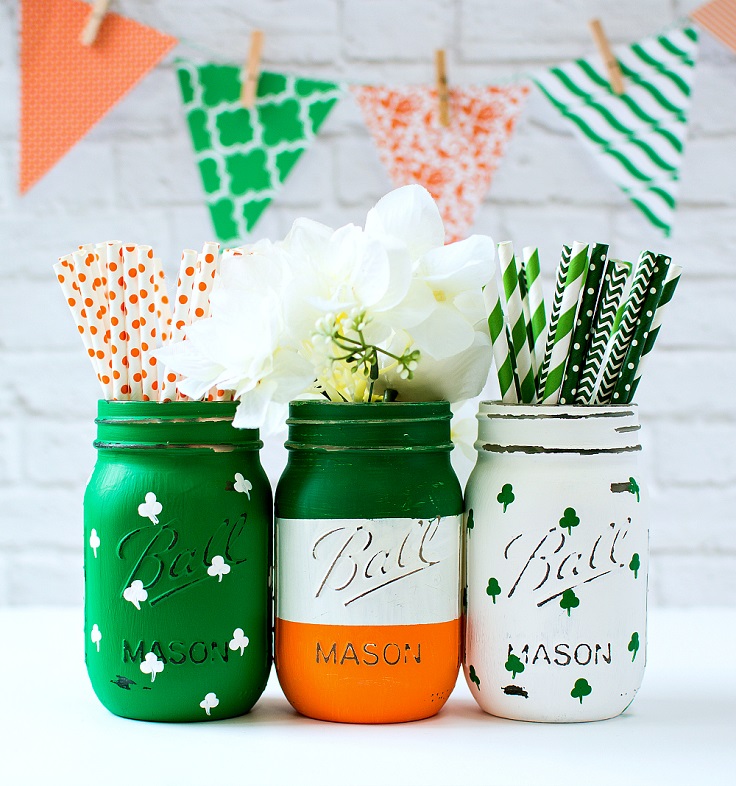 There are so many mason jar projects that you can do for Saint Patrick's Day. One of the ways to decorate them is the shamrock style. For this, you need acrylic paint, brushes, painter's tape and shamrock stamps. This project is a great way to reuse old jars and come up with eco-friendly and decent home decor. It takes just a little to create it and it's very budget-friendly as well.
2. Burlap Wreath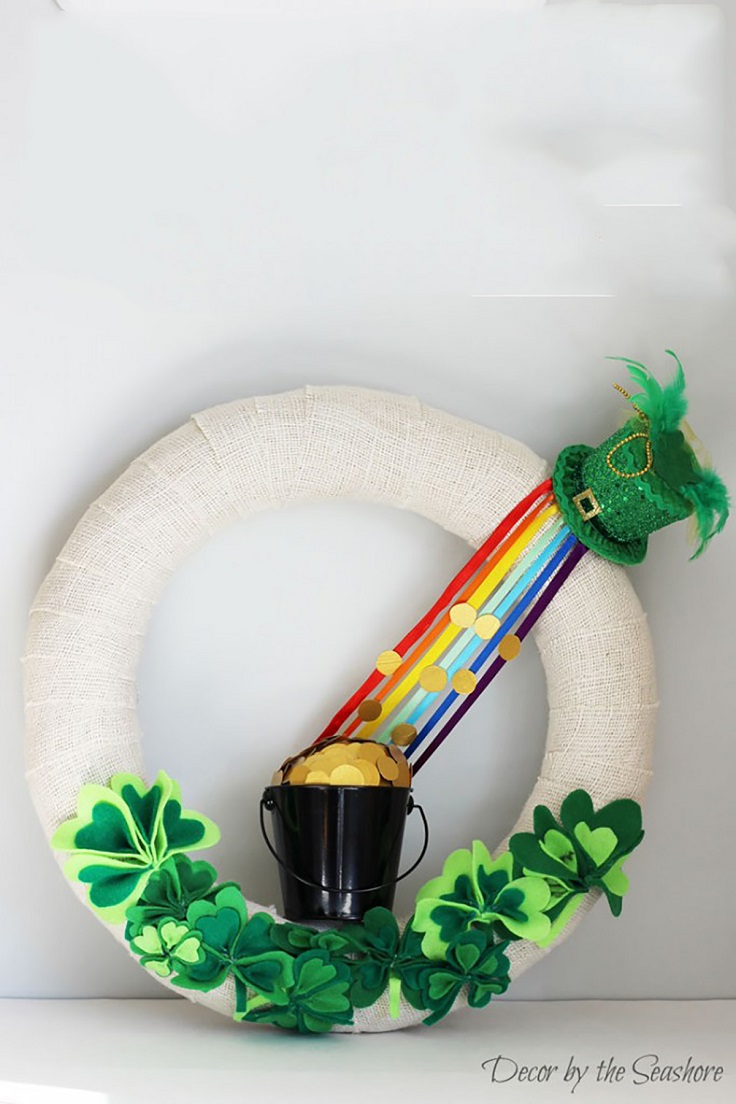 Burlap wreath is a decor which is really easy and fun to make – you can even make it with your children! It can be really cheap as well and the best part is that you can use it every year. To make a burlap wreath inspired by St. Patrick, you need the following materials: burlap-wrapped wreath, gold coins, felt in different shades of green, rainbow ribbon or paper, scissors, pins, clips, black pot or bucket, leprechaun hat, scrap paper, glue or glue gun and tape.
3. Shamrock Tree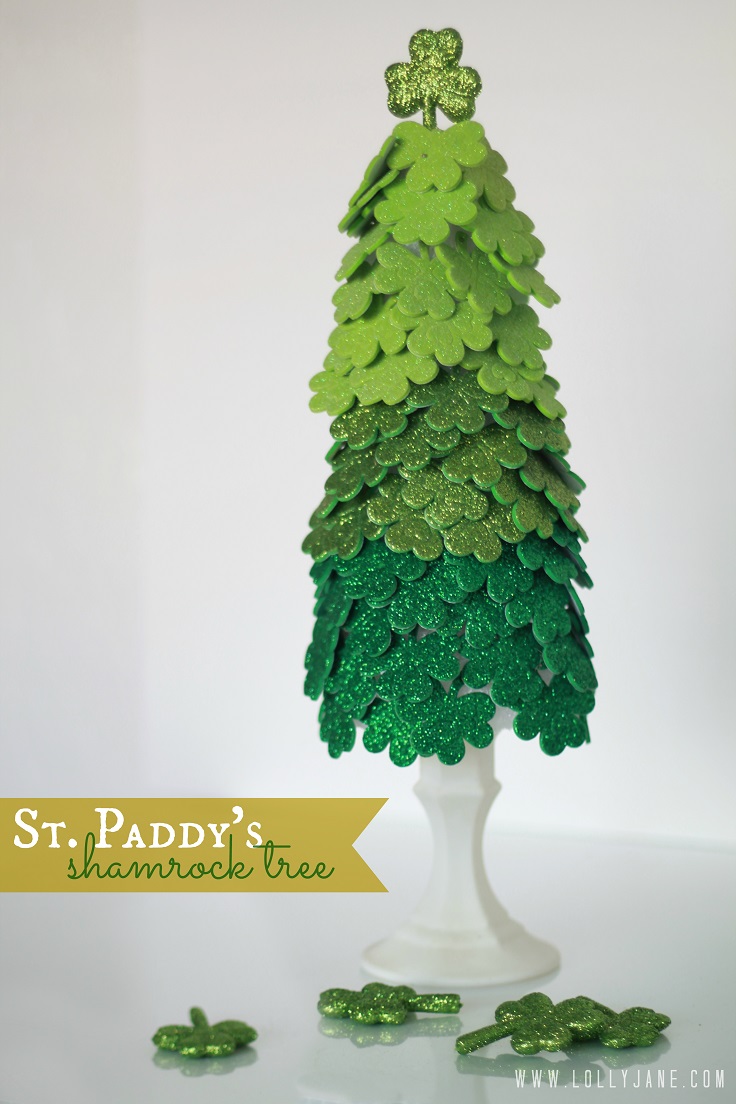 via lollyjane.com
To make this glittery, green shamrock tree, go to your local craft-store and buy few materials inspired by this holiday – we're talking about glitter felt stickers, pack of toppers, glass candlesticks and styrofoam trees. It's really easy project that will make a difference in the room where you'll place it – it's glitter and it's green, of course it will catch the attention of your guests!
4. Pot of Gold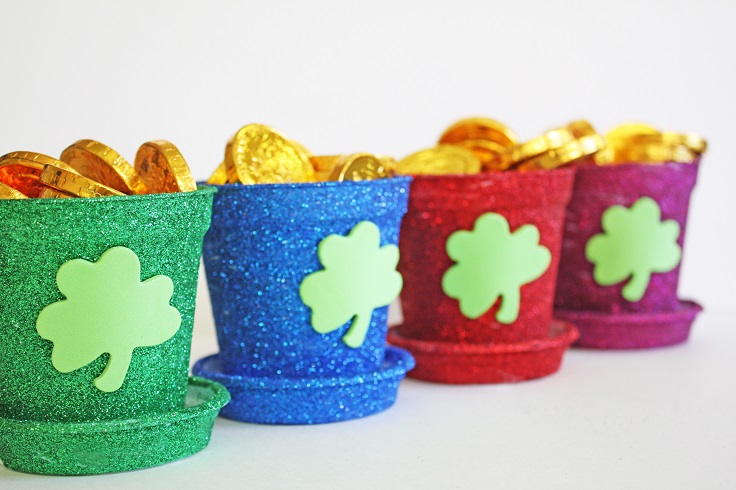 The pots of gold are such a fan craft and we're sure that any kid would like to participate in the making. To make your very own pots of gold, you need these materials – small flower pots, bright glitter, shamrock shapes, Mod Podge, gold chocolate coins, plastic tablecloth and foam paint brush. It's recommended to lay down a plastic tablecloth, so that later you can easily clean out the glitter.
5. Potted Clover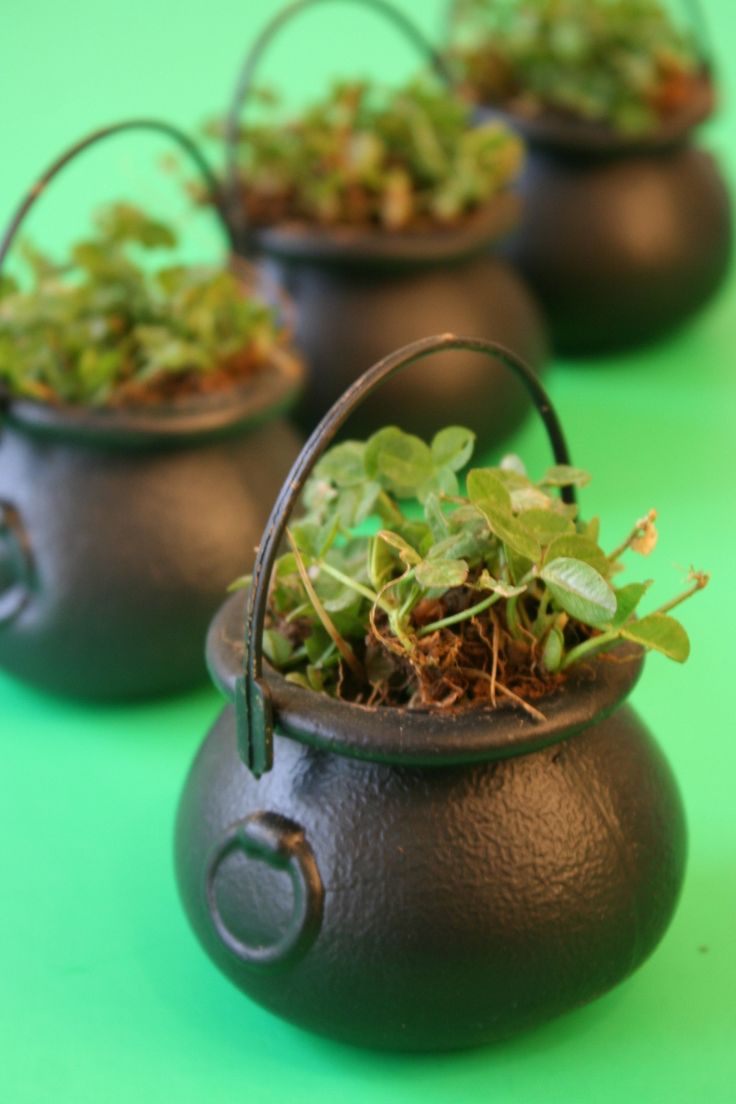 via chicaandjo.com
It's just minutes of work – you need a candy kettle, fill it with soil and plant shamrock seeds or if you want to see the results right away, you can just go to your garden and get some clover. You can use these candy kettles as place cards as well, so keep things clear you can cut out green paper in the shape of shamrock and write each name down.
6. Shamrock Balloons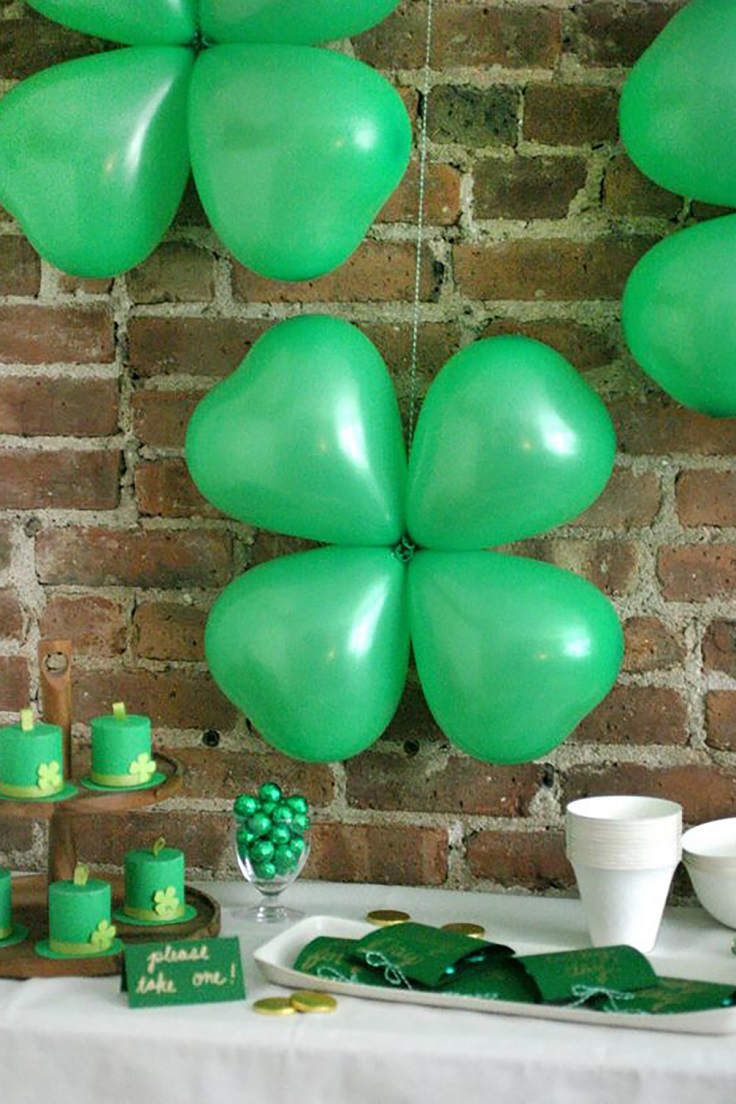 via ohhappyday.com
Easiest of all and most likely the cheapest well, for this DIY project you just need plenty of green heart balloons, green baking twine and scissors. It's very simple – blow up four balloons to create one big shamrock, tie each set of two balloons and push two sets in order to touch their centers. Tie the center with the twine and you're ready.
7. Mossy Luck Sign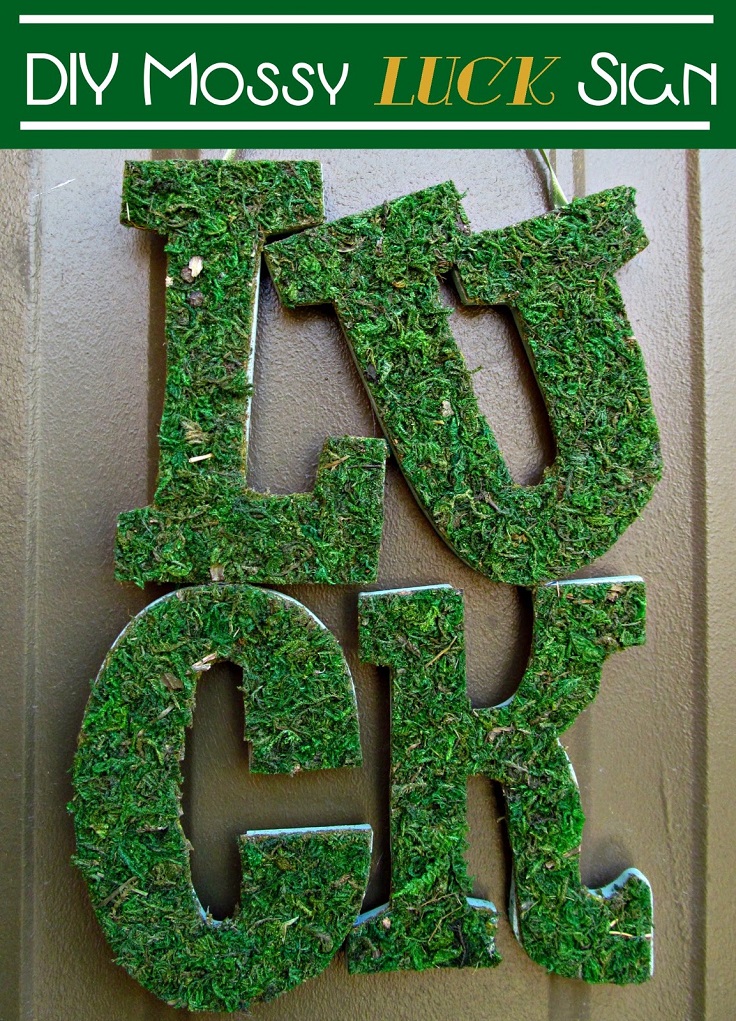 via itsalwaysruetten.blogspot.mk
Here's a way you can decorate an empty wall or a door. Luck signs can be sometimes expensive, so it's good to know how to make your very own – this way you can make it the way you want it to be! For this one, you need L-U-C-K wooden letters of your choice, green craft paint, sheet of moss, spray adhesive, hot glue gun and glue, scissors and paint brush, green pipe cleaners and green ribbon.
8. Shamrock Sash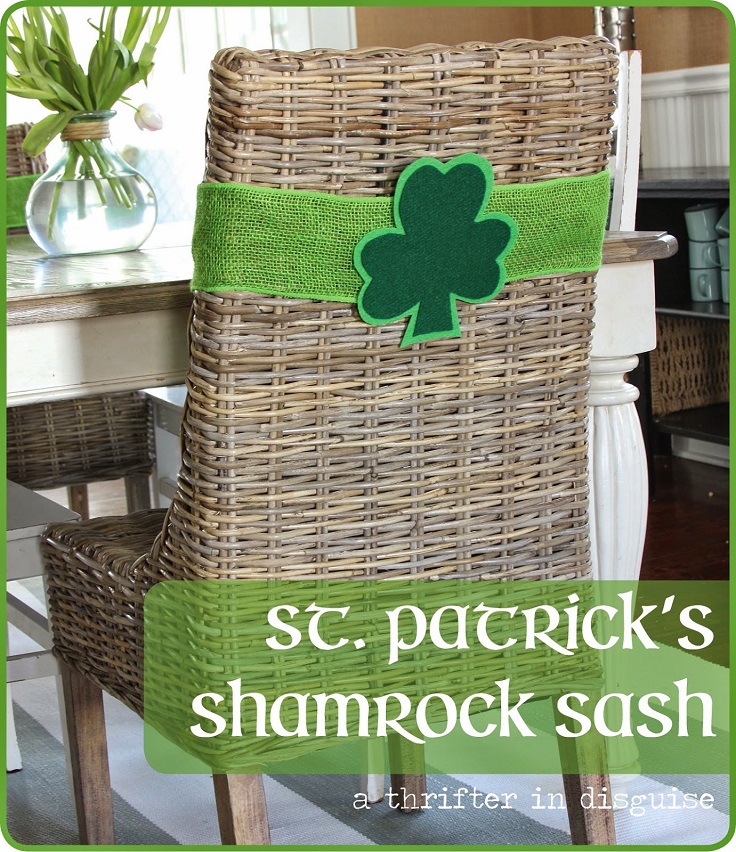 If you're hosting a dinner or party for St. Patrick, it's good to have some celebration decor. Adding chair sashes is a great idea and won't cost you a lot. To make just one sash such as this one on the picture, you need 2 sheets of felt in different colors (different shades of green), burlap ribbon, glue gun, good scissors and a shamrock template that you can create yourself or download it from the website below the picture.
9. Ireland in Jar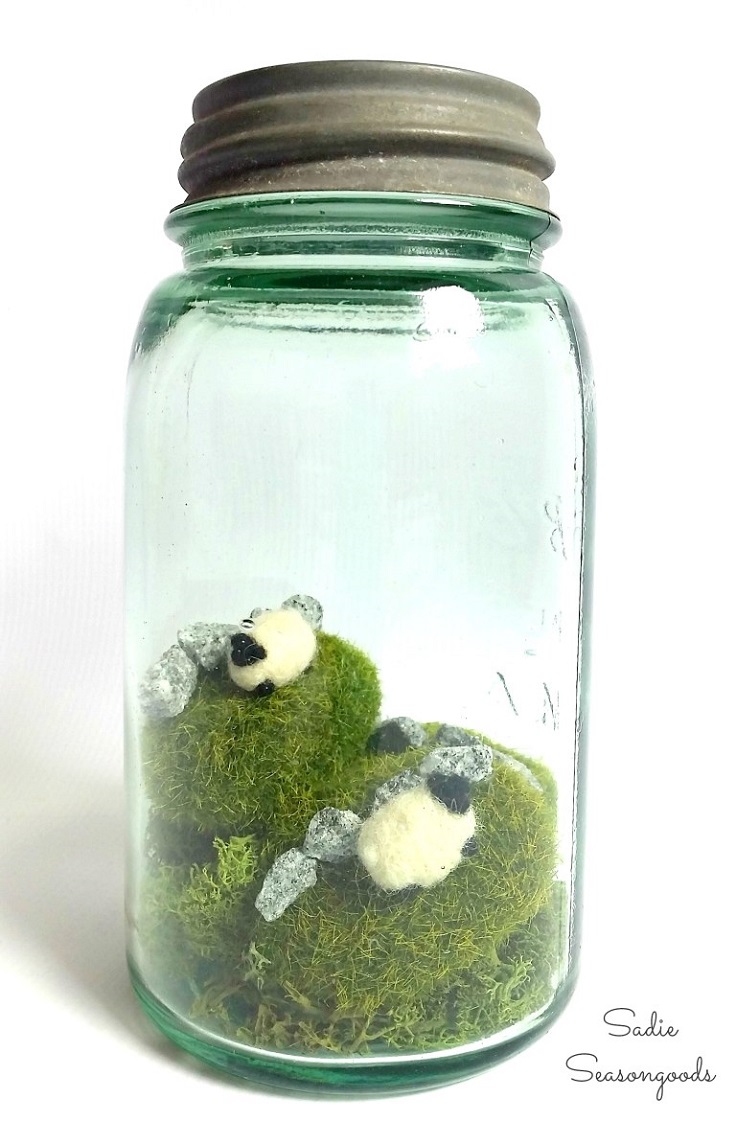 If you can place a country's landscape in a jar, it would look exactly like this. Ireland is known for it's amazing green landscapes all across the country and to achieve this greenery, use reindeer moss as your first layer. You can use faux moss stones too. For the sheep, you need to purchase them at a local craft store, or try making your own with cotton and paint.
10. Shamrock Coasters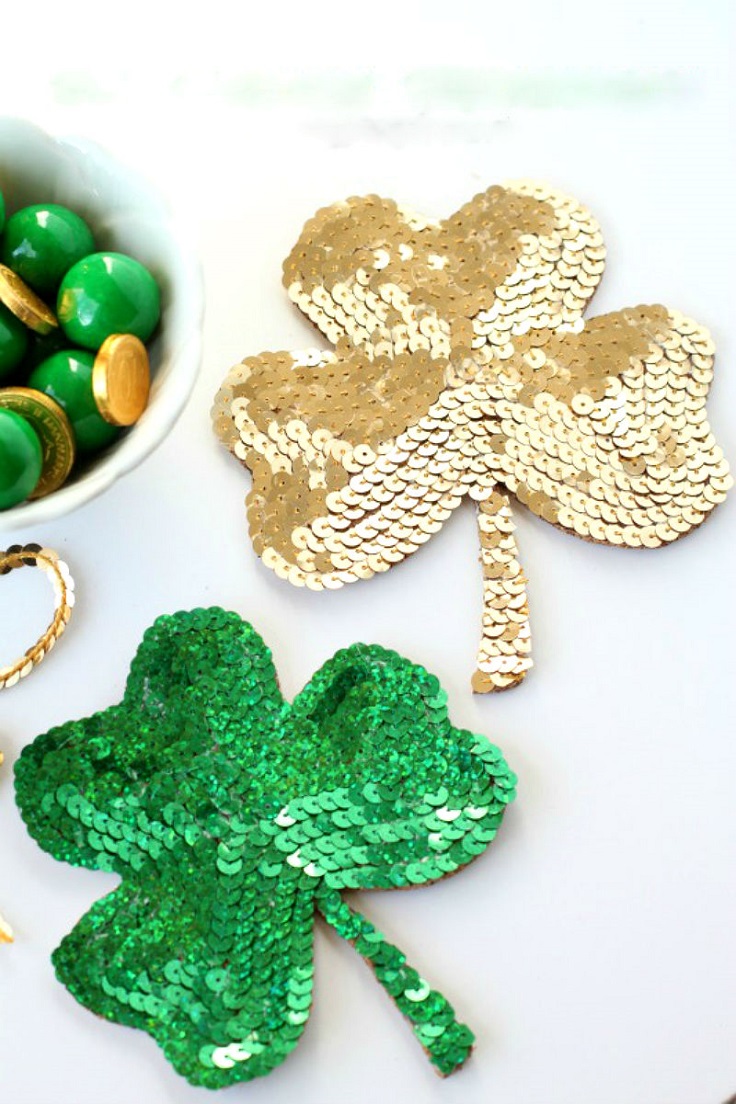 via porch.com
And last, but not least, this project will be very useful. Don't you just hate it when you have guests and then you end up with plenty of glass stains on the table? If you find it annoying, definitely make these shamrock coasters. You need corkboard material, gold sequin ribbon trim (you'll need 2 yards per shamrock), scissors and hot glue.