If you're hungry but in a hurry, or you just don't feel like cooking, snacks are always an option. Although they can't replace a regular sized meal, they sure are tasty and easy to make. You will need no more than a couple of minutes to prepare them and some of these are really healthy as well.
Sweet or salty, they can be served and eaten for every occasion and every time of the day. So if you enjoy trying new kinds of food these 10 homemade snack recipes will be great for you. So don't wait up, go on an make yourself something delicious.
1. Sweet Bagel Chips
via hh-gourmet.cn
For this easy recipe you will spend no more than 20 minutes of your day. This sweet bagel chips is easily prepared and it's very delicious. Start by slicing cinnamon-raisin bagels into thin rounds, then brush the tops with melted butter and sprinkle with cinnamon and sugar. Put them in the oven on 325 degrees F for 10 minutes, then flip and brush them with butter and leave them for 10 more minutes.
2. Sesame Potato Chips
via foodnetwork.com
What if i told you that you can make potato chips even tastier than it is in just 10 minutes? First of all for this recipe you should  preheat two baking sheets in a 425 degree F oven, then toss thinly sliced russet potatoes with olive oil and salt. Spread them on the hot baking sheets, sprinkle with sesame seed and bake for ten minutes, and there you go, your crispy and delicious sesame potato chips, enjoy it!
3. Pita Bread Nachos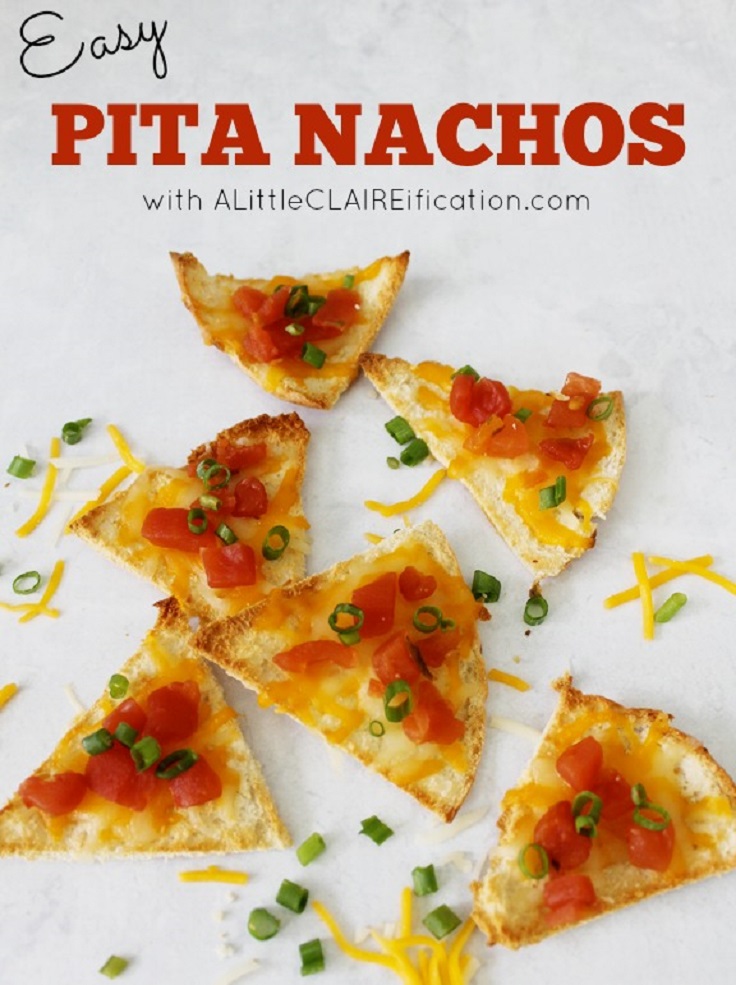 via alittleclaireification.com
If you have some leftovers of your Pita bread and maybe salsa, this is the perfect snack for you to make. Slice the Pita bread in as many peaces as you want or need, broil until golden and then just sprinkle with cheddar and salsa until the cheese melts. Top it with sliced scallions and enjoy this delicious nacho.
4. Pepperoni Pizza Bread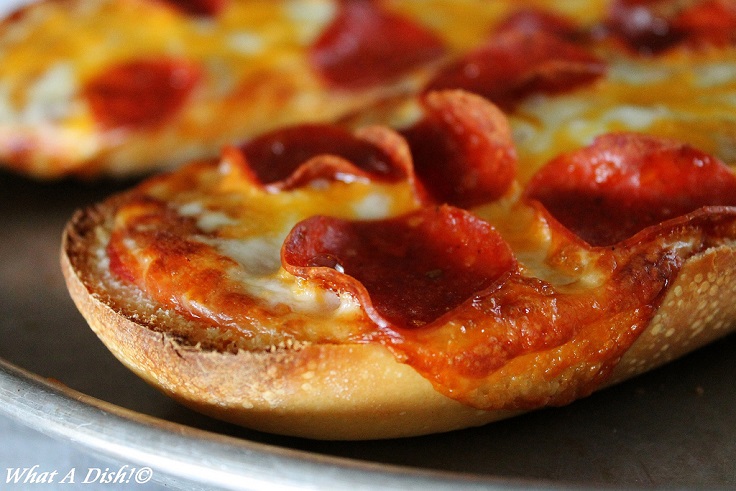 via dishingwithdish.blogspot.com
Slice a small loaf of Italian bread horizontally and toast under the broiler. brush with olive oil and top with tomato sauce. mozzarella, cheese and sliced pepperoni. Broil until it becomes bubbly and then sprinkle it on top with a little oregano. If you don't want pepperoni pizza, you can use the bread to make your own pizza with the ingredients you like.
5. Nutty Pretzel Wands
If you want something sweet, and healthy as well, this snack is perfect for you. These nutty pretzel wands are the easiest to make. All you need to do is to spread peanut butter on the top few inches of the pretzel rods. Then roll it chopped peanuts and/or dried fruit, and maybe add little pieces of chocolate.
6. Crackerwiches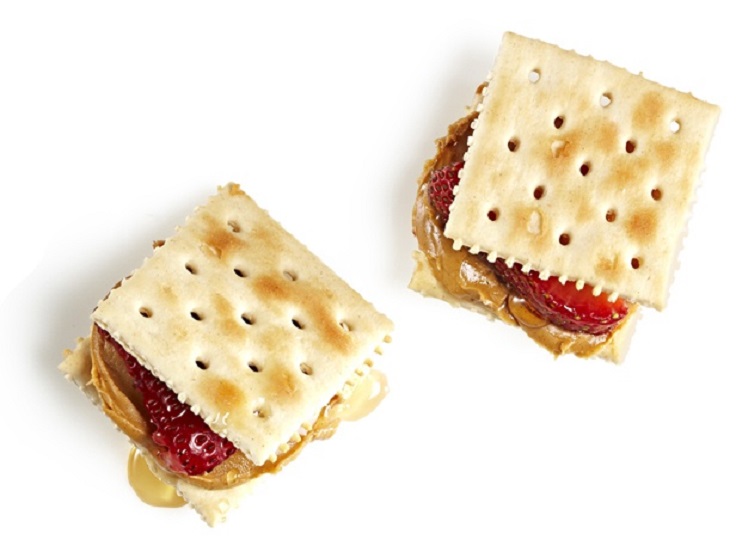 via foodnetwork.com
Cracker sandwiches or crackerwiches are another sweet snack for those days when you just can't get enough of sweets but you want something healthier and equally tasty. Make sure you have any kind of crackers and spread peanut butter on them. Put some strawberry slices, or any kind of fruit by your choice, then add honey and top it with another cracker to make it look like a little cute healthy sandwich.
7. Jam Pockets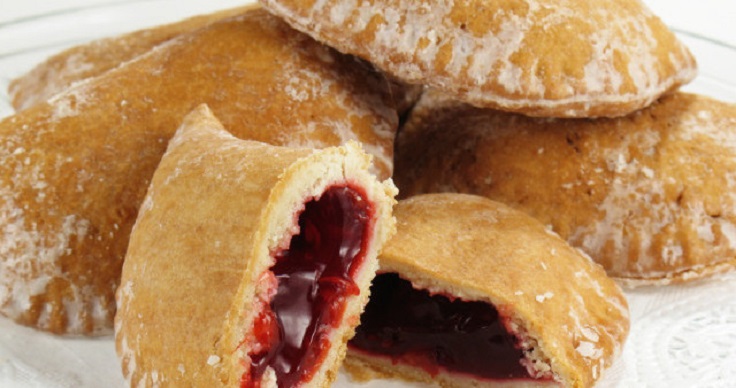 via presad.si
It might take you a bit more time to prepare this recipe, but these jam pockets are delicious. To prepare them you need to roll out refrigerated pizza dough to 1/4 inch thick and cut it in 3-inch rounds. Dollop with cream cheese and jam, then brush the edges with beaten egg, fold in half and press to seal. Brush again with eggs, and sprinkle with sugar. Poke a hole in it and bake for about 20 minutes in a 400 degree F.
8. Berry Brownies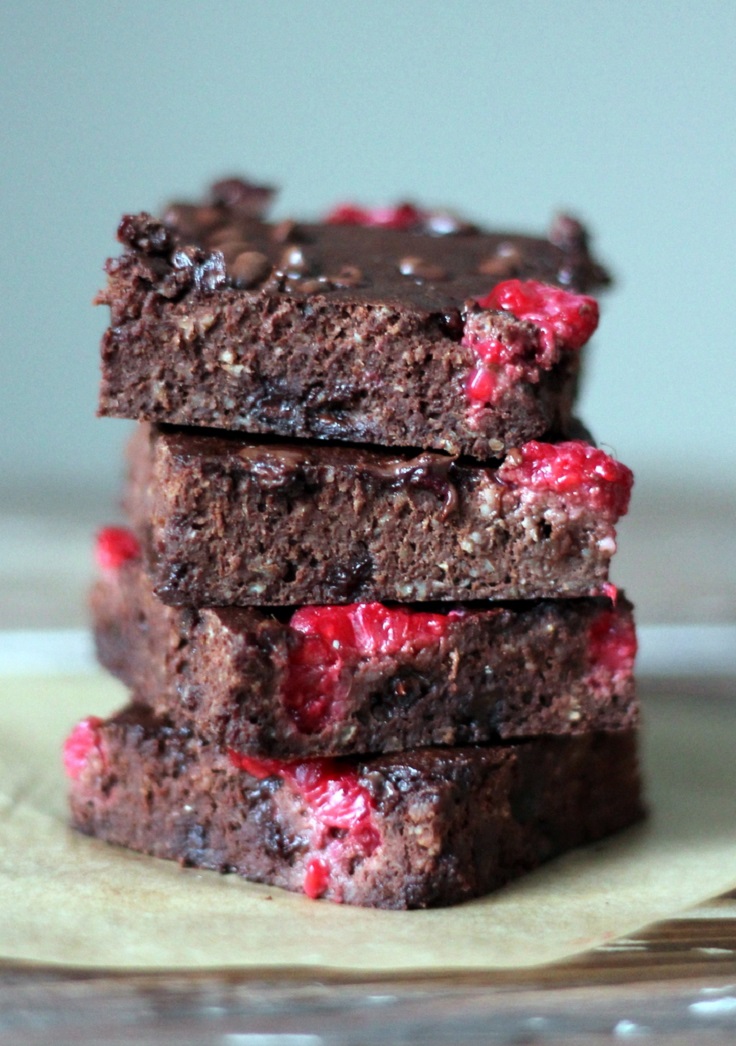 Star by preparing your favorite or the easiest brownie batter you know and the put it into mini-muffin cups. Press a raspberry or a strawberry in the batter and bake for 15 minutes at 350 degrees F. You will have delicious sweets in just minutes that go well with any kind of occasion.
9. Elvis Waffles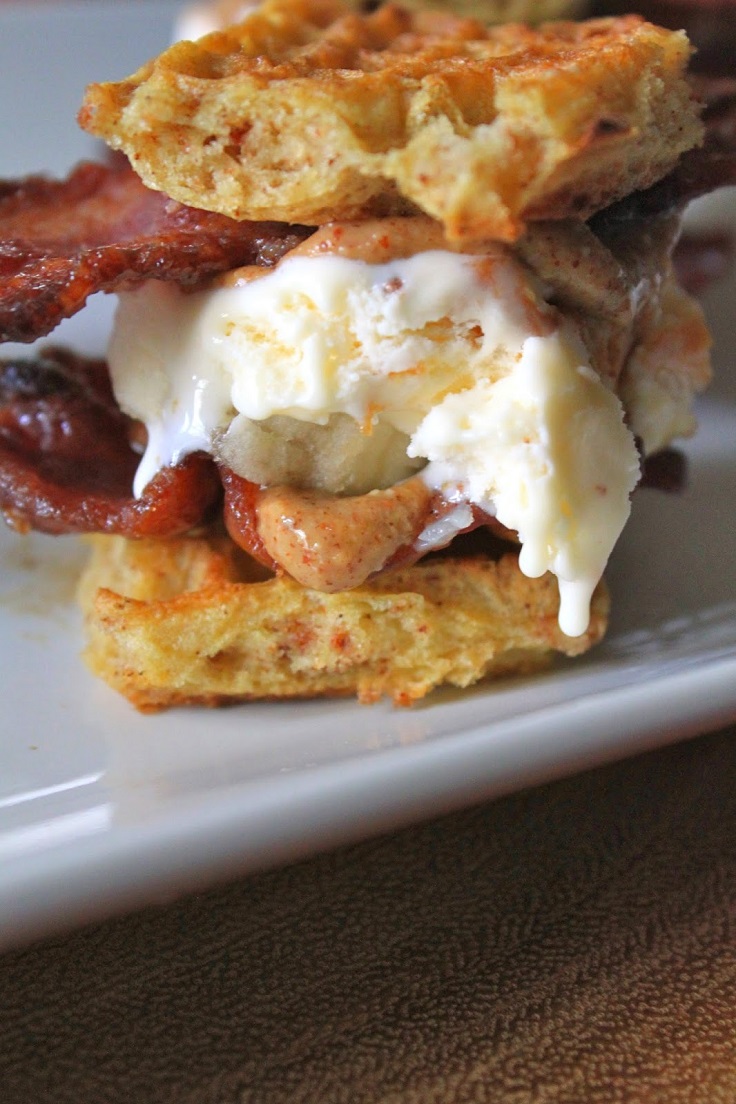 via clutzycooking.blogspot.com
You have probably heard of the Fat Elvis Waffles, a delicious dessert worth every bite. Well this snack is a bit smaller, but equally tasty. For this recipe you will need peanut butter, mini whole-wheat waffles, banana, crumbled bacon and honey. First spread the peanut butter on the waffles and then top it with the rest of the ingredients. It might be an unusual combination, but you should definitely try it out.
10. Matzo Melts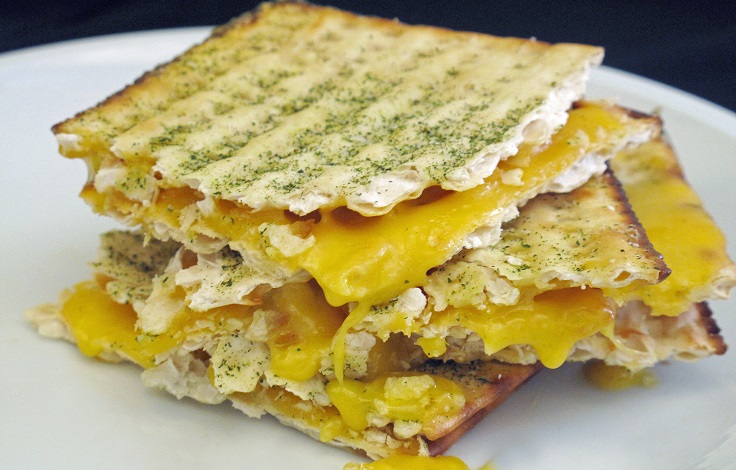 via popsugar.com
If you have Matzo crackers and want to make something more tasty out of it, just follow this recipe. First of all you have to brush the crackers with olive oil and then sprinkle them with salt, rosemary and pepper . Top with sliced turkey and cheddar, and then baked it for about 5 minutes. Enjoy your snacks!