Sadly, with the end of August, summer is nearly over, and fall is on its way. It means that the garden is also coming to an end. Do you have many fresh herbs in your garden or balcony and wondering what to do with them? Your best bet is to preserve it for the winter season to have flavorful herbs to cook with even in a few months when it will be cold outside.
So many times, it happens that we buy fresh herbs, and without using the entire bunch in one recipe, the leftovers eventually end up in the compost or the bin. We have selected ten easy, doable, and workable ideas on preserving your herbs if you have them in the garden or simply bought a too big bunch of them. Most of the recipes also work well as unique gift ideas! Scroll down for the infused honey, oil, and herb salt recipes.
1. Freeze Herbs in Olive Oil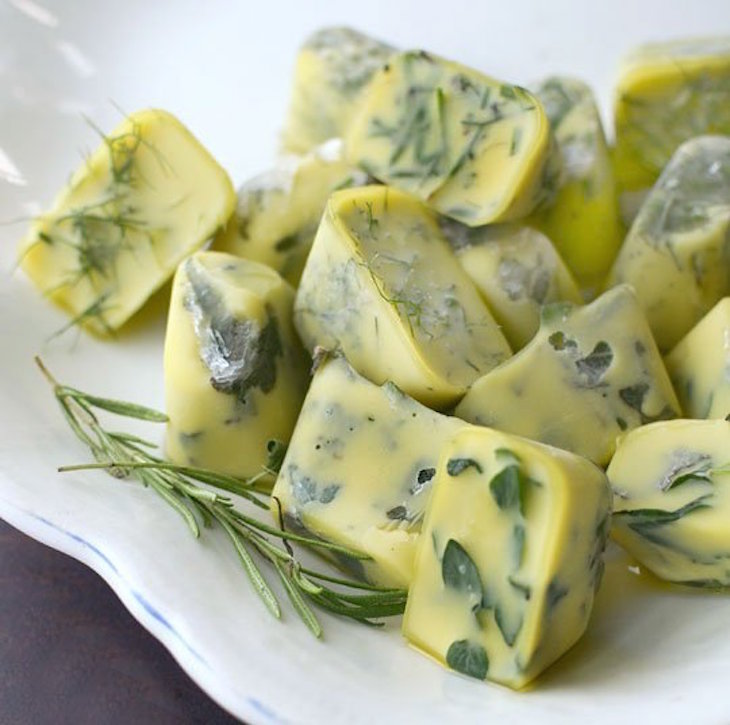 Freezing herbs in olive oil is a wonderful way of preserving the aromatic taste of the tougher, hard herbs such as thyme, oregano, rosemary, and sage. Just take a few cubes out of the freezer, use them as a base for your favorite dishes, cook the onions and garlic in it. It works perfectly with winter roast chickens and potatoes!
2. Preserve Herbs in Salt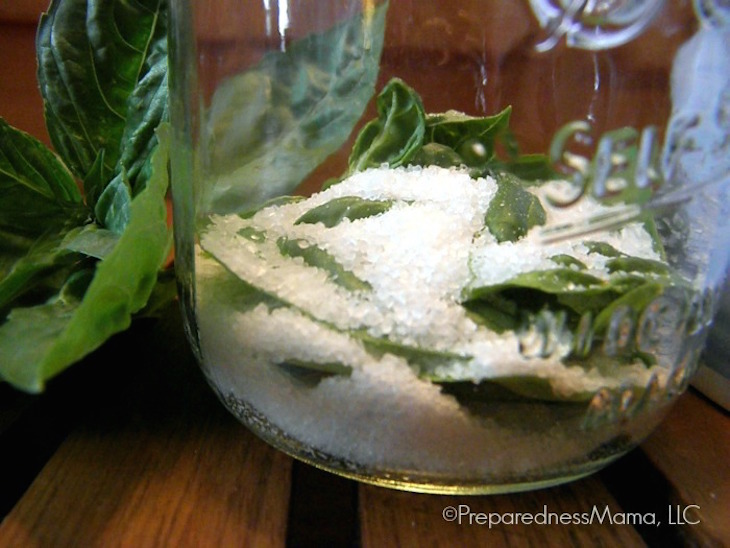 Salt has been used as a preservative since ancient times. This method is perfect for moist and tender herbs that are hard to dry, such as cilantro (coriander) or basil that gets moldy before drying completely. You will need either sea salt or kosher salt and a clean jar. Simply alternate layers of fresh herb leave and salt until the container is full. The leaves will stay surprisingly flavorful, plus you'll have delicious, aromatic salt that is great for cooking later.
3. Freeze Herbs with Broth or Water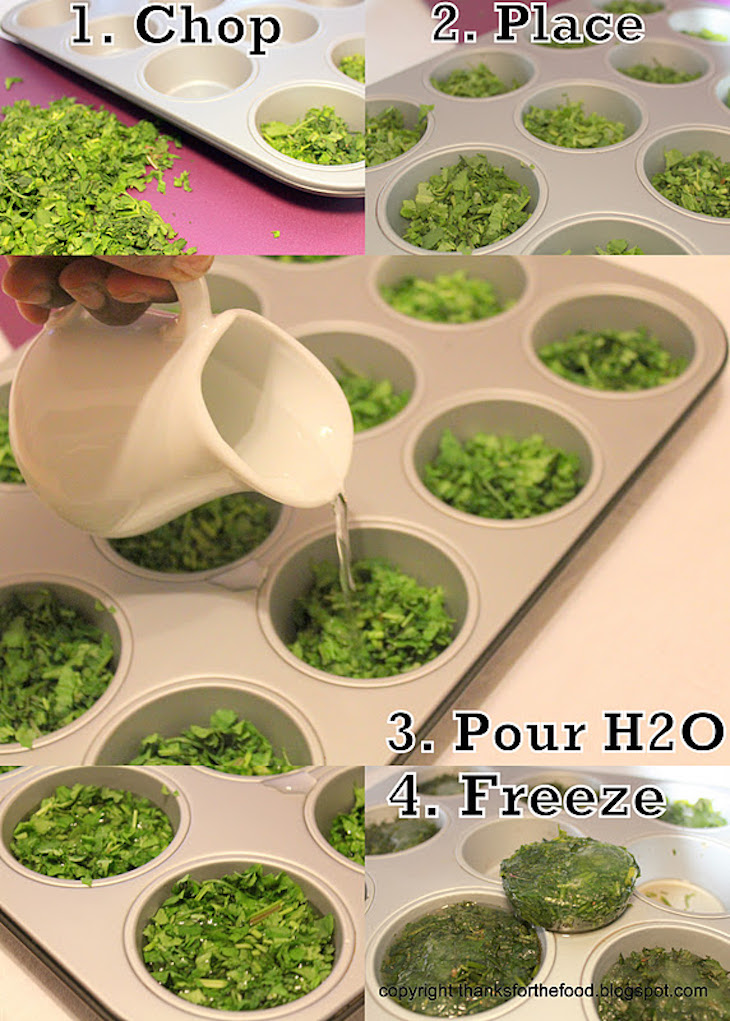 Another method to freeze herbs is simply freezing them in a muffin tin or as ice cubes, whole or chopped. You can use only one type of herb at a time or create your own favorite mixture. Blend with just enough water or vegetable broth to make a cube. Keep the cubes in a labeled plastic bag in the freezer and use them in soups or just about anything over winter.
4. Make Pesto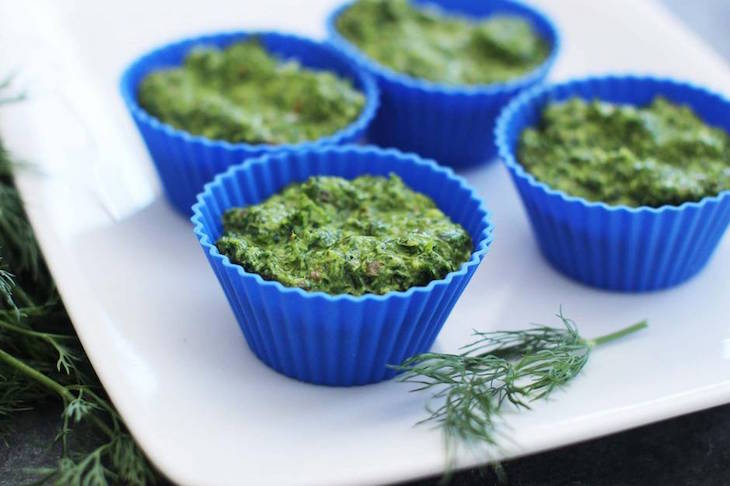 Making pesto is a great idea when you don't know what to do with the bounty at herb harvest time. But don't think that you are limited to basil pesto. Try this recipe with any herb or green to make a tasty pesto. Just keep the proportions and change the ingredients according to your taste and resources!
5. Roll Herbal "Cigar."
via www.agardenforthehouse.com
Also called the 'log technique,' it is a great way of preserving chives, parsley, sage, or any other flat-leaved herbs. You'll need to pick the leaves off, pack them into a zip-lock bag, roll the bag up tightly, pressing out the air as you work. Seal it, tie it with rubber bands, and then freeze. When you need some, you just slice a disc from one end of the log and return the rest to the freezer.
6. Dry Your Herbs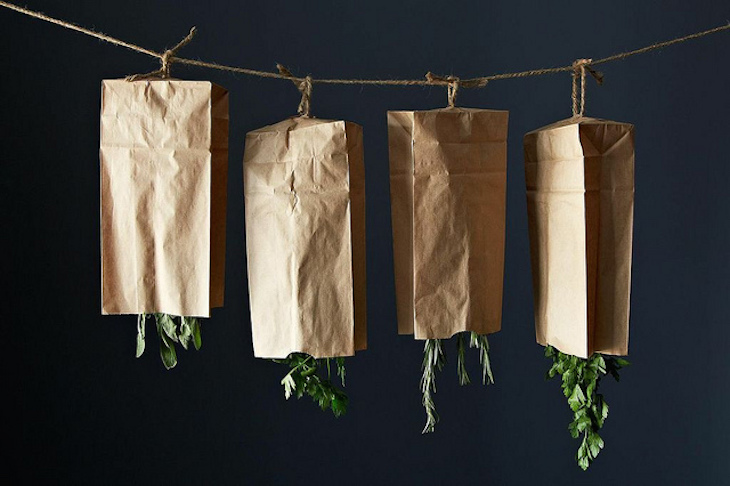 via food52.com
When you dry your own herbs, you'll experience the difference with nearly all your senses. They will be much more flavorful and pungent than the store-bought ones. Find a warm, dry place in your home. Hang the herbs on a string for 1 to 3 weeks. When the leaves crumble between your fingers, the herbs are ready to be taken down. Store them in an airtight container in a cool, dry place. This method works best with low-moisture herbs such as sage, thyme, dill, bay leaves, and rosemary. It is also possible to dry herbs in the oven. Arrange the herbs in a single layer on a cookie sheet with a temperature set at 180° F. With the door kept open, heat for about 4 hours. Even better if you have a dehydrator.
7.  Make Herb Salt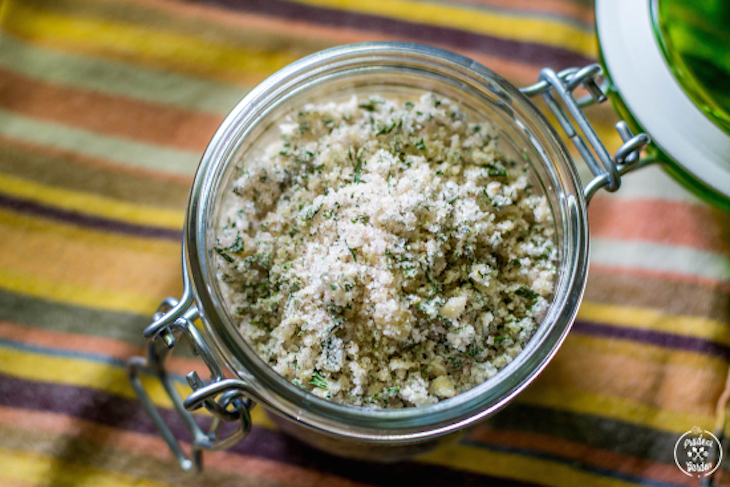 You'll need salt – Himalayan salt, kosher salt, or sea salt up to you – garlic and any herb according to your choice to make your own seasoning. Put everything in a food processor, spread the salt on a baking sheet, and let it dry for a few hours. To speed up the process, put it in the warm oven for a little while. That's all that it takes to make your own flavored salt. The perfect gift also!
8. Preserve Herbs in Oils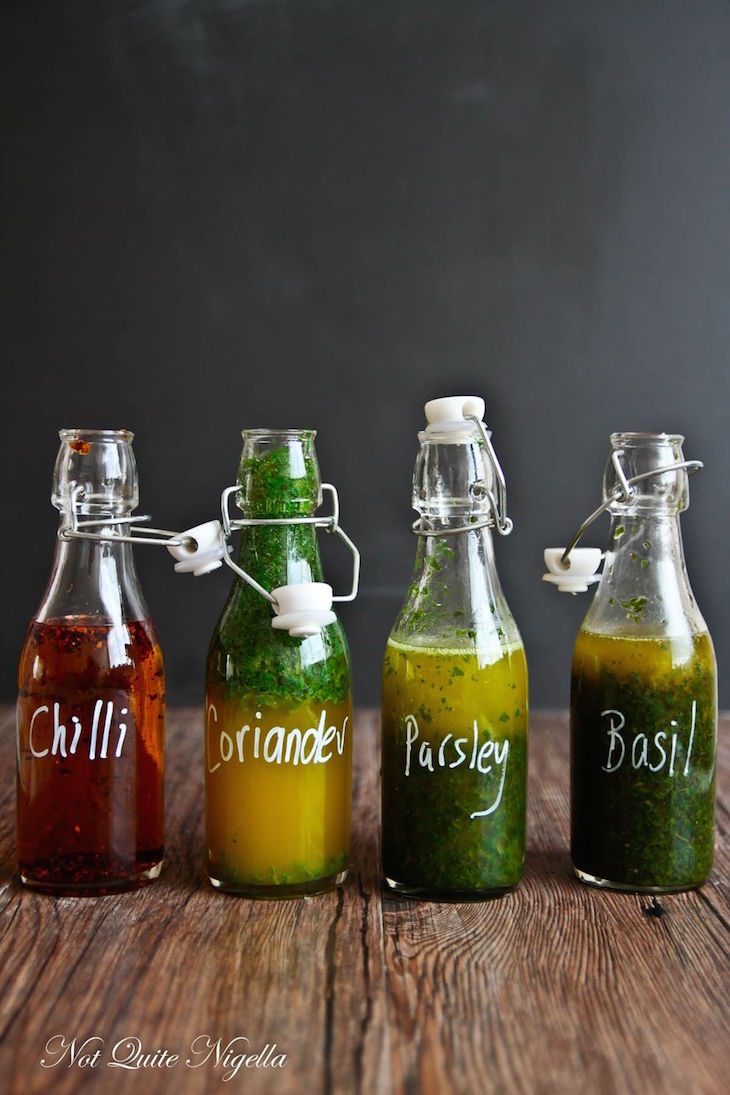 Do you discard your herbs once they start to wilt? Well, here is a wonderful idea of how to save them from going to waste. Try it with mint, coriander, parsley, basil, or make your own chili oil. Pick some pretty bottles, and they will be great for home decor or handmade gifts for your friends.
9. Try Compound Butter
Compound butter or herb butter is amazingly delicious and versatile. Use it for cooking, spread on your toast, or melt it on top of the baked potatoes – either way, it will be the highlight of the dish. Use good quality butter, leave it at room temperature until it gets soft. Then add your favorite finely chopped herbs, garlic, or chili, anything you fancy. Roll up in parchment paper or plastic wrap and chill until it gets firm. It will keep in the refrigerator for about five days or in the freezer for a month.
10. Create Your Herbal Infused Honey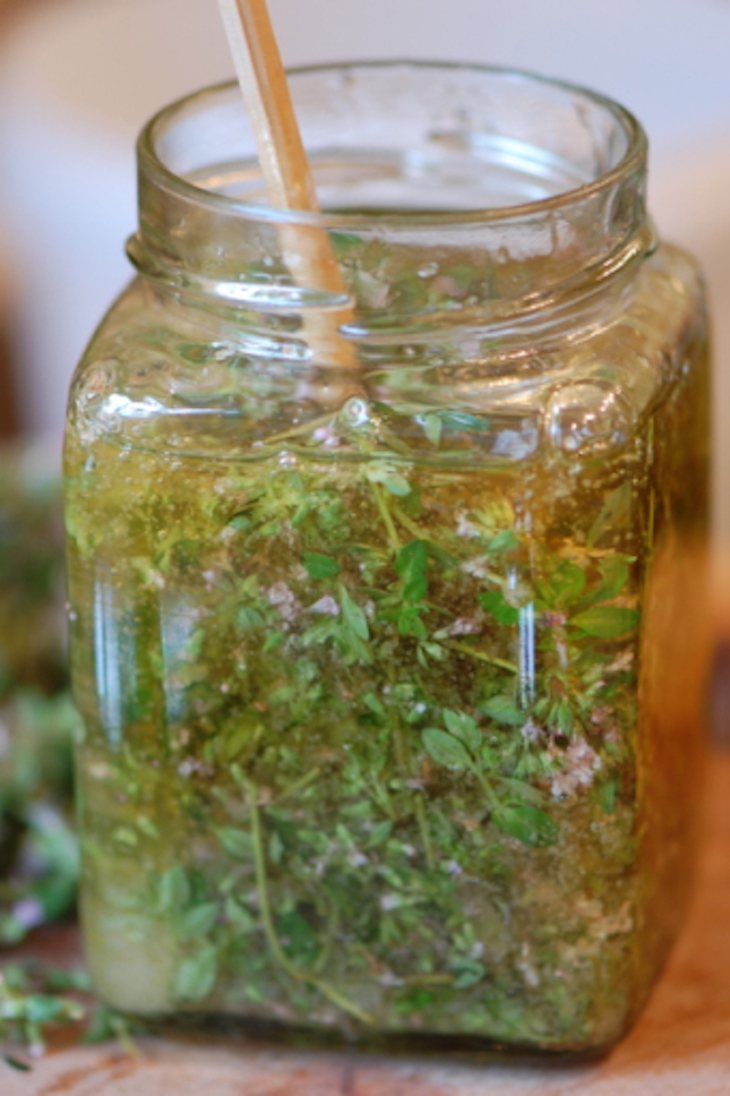 Herbal-infused honey doesn't just look nice. They are also fantastic natural remedies. To make them, all you need is a jar, some honey, and your herb of choice – sage, thyme, rose, lavender, chamomile, or other. Click on the link to see how to make a beautiful infused honey. Just as almost all the above ideas, this will make a unique gift also.