You sure have noticed how kale became a popular green food along with the avocado. If you wonder whether or not to include it in your diet (if you haven't done it by now), don't think twice – the kale has many benefits. First of all, kale is rich in iron and that makes it a very healthy food. It's also rich in Vitamin K, which we need for healthy bones and many bodily functions. It has zero fat and is very low in calories, which makes it a perfect choice when you want to keep things fit.
We can talk more about how good kale is, but the best way to feel the benefits is through your diet. That's why we picked ten super tasty, easy to make bowl recipes that will help you both stay fit and healthy.
1. Kale and Couscous Tofu Bowls with Orange Tahini Dressing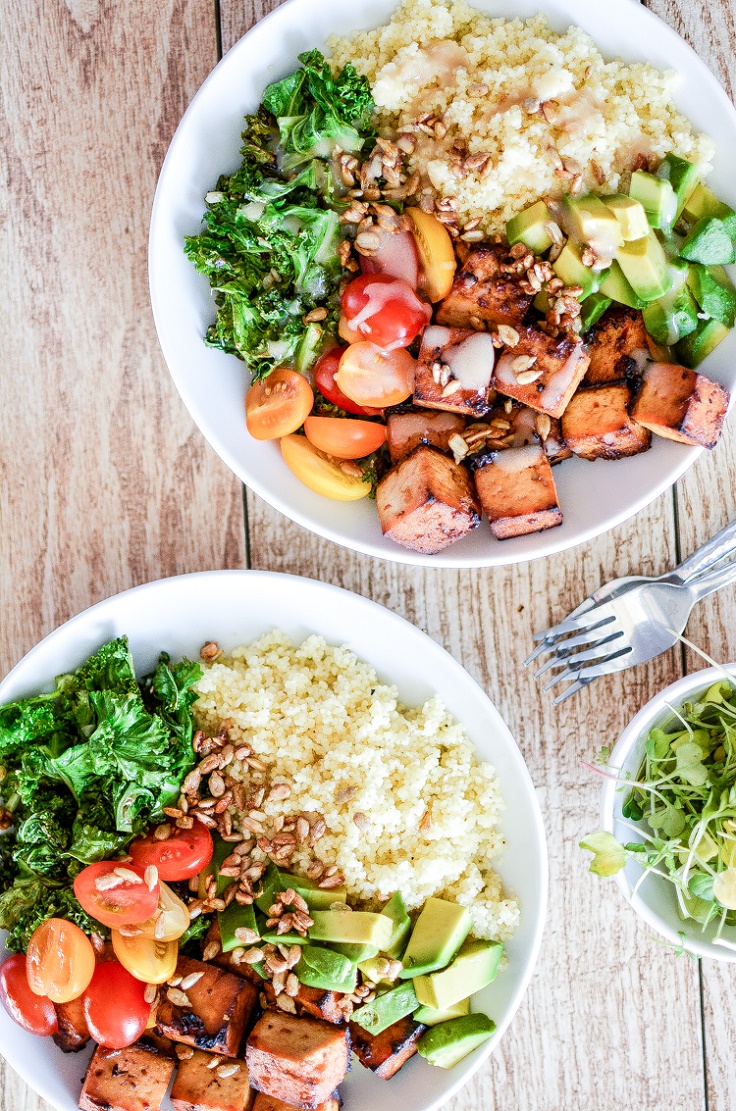 via cookingandbeer.com
The bowl contains extra firm tofu, stemmed and chopped kale, cooked couscous, pitted an peeled avocado and heirloom cherry tomatoes. The rest is just adding different toppings by your taste. According to the recipe, you also need raw honey, sesame oil, tamari or soy sauce, chile paste, apple cider vinegar, extra virgin olive oil, black pepper, lemon juice and roasted sunflower seeds, plus an orange tahini dressing. If it's too much, cut down with the ingredients, or add something else.
2. Warm Kale, Quinoa + Broccoli Salad Bowl with Cider Mustard Dressing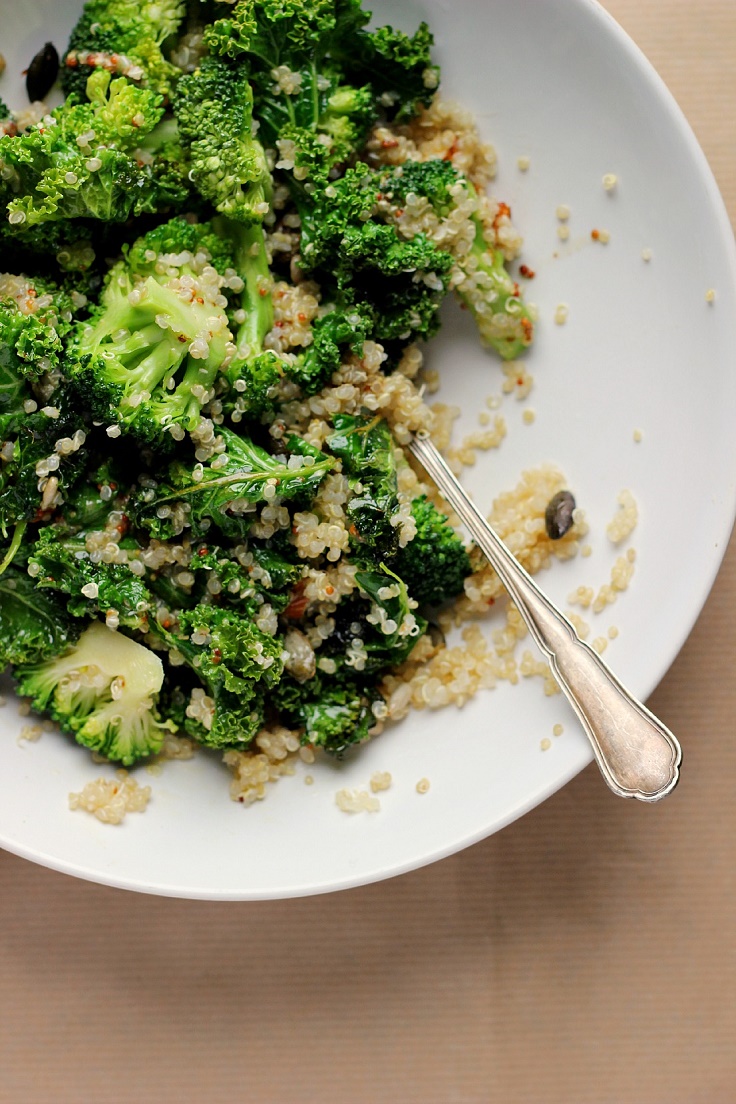 via fruitive.com
For this recipe you need kale, quinoa, broccoli, raw almonds, toasted sunflower and pumpkin seeds, grainy dijon mustard, organic apple cider vinegar, extra virgin olive oil, cracked black pepper and salt to season and taste. Cook the quinoa, steam the broccoli, prepare and sautée kale leaves. Toss everything together and add the seeds and the oil.
3. Orange Tempeh and Kale Rice Bowl with Shiitake Mushrooms and Onions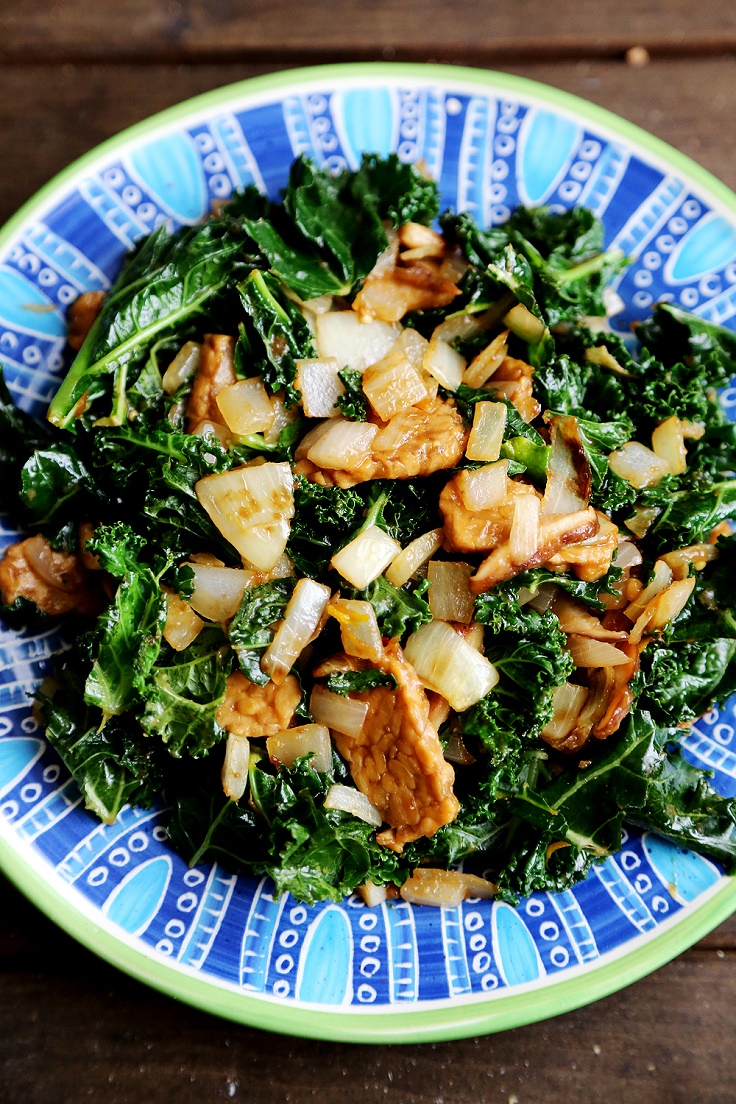 Rice, kale, Shiitake mushrooms and tempeh, it's a wonderful combination worth trying, especially when there are other ingredients included, such as soy sauce, white cooking wine, onion, garlic powder and others. It takes less than hour to prepare it, and you can eat it right away, pack it for work, or keep it in the fridge so you can eat it later. Either way, you're going to like this bowl because it's fresh, tasty and healthy.
4. Salmon, Kale and Quinoa Bowls with Tahini Sauce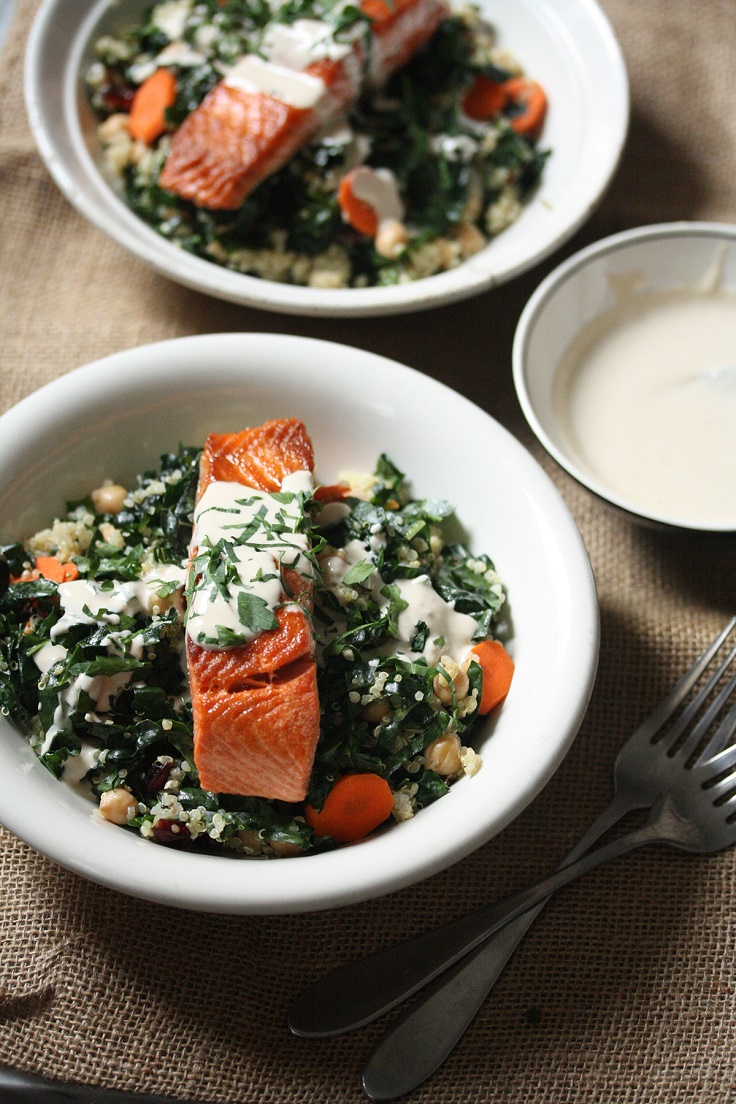 via sbs.com.au
This bowl will take you 15 minutes to prepare it, which makes it a good option when you don't have much time. Besides the kale, there's another super tasty ingredient in this recipe and that is the salmon. This fish contains the omega 3 fatty acids, proteins, vitamin B6, potassium and other nutrients that make the salmon very needed in our diet. Prepare this bowl by combining these two ingredients along with quinoa, carrots, chickpeas, garlic, hemp seeds and cranberries.
5. Eggplant & Kale Nooch Bowl
via bentozen.wordpress.com
It's also good to include the eggplant in your diet as well. It is a good source of dietary fiber, copper and vitamin B1. Besides the kale and the eggplant, for this recipe you need jarred tomato sauce, garlic powder, baby arugula, vegan patty, nutritional yeast, lemon juice, scallion, cooking spray and coconut oil. The bowl has 285 calories and 25.2 grams of protein.
6. Amaranth Kale Bowl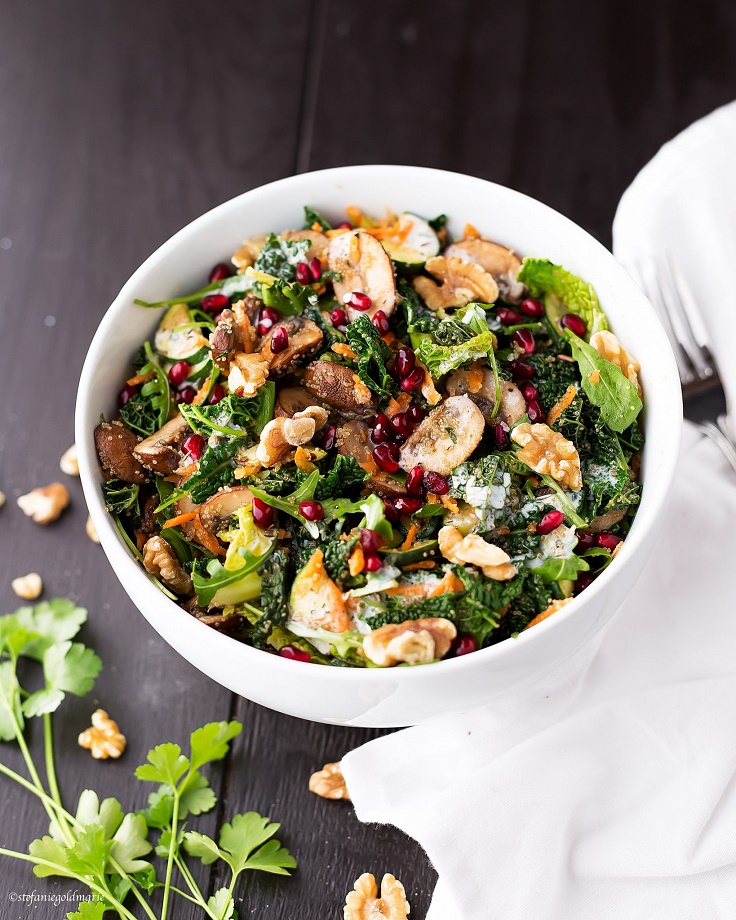 via stefaniegoldmarie.com
Don't you just wish to eat the whole bowl the minute you see the picture? It looks so tasty, and it sure tastes that well. You need kale, amaranth, zucchini, pomegranate seeds, mushrooms – champignons, carrots, arugula, parsley, and use spice by your choice. Cook your amaranth and chop the kale into small pieces. Meanwhile, cut the mushrooms, the carrots and the zucchini. Fry the mushrooms and the zucchini until they get brown and soft, add rosemary. Mix all the ingredients together and you have your kale bowl all ready.
7. Kale Pesto Pasta Bowl
via inpursuitofmore.com
Kale pesto with pasta? Yes, please! For this recipe you only need five ingredients: pasta by your choice, extra firm tofu per serving, kale pesto, fresh parsley or basil leaves and Parmesan if desired. If you don't know how to make kale pesto, don't worry, just click on the link. It's really simple to prepare this bowl. First, cook the pasta according to the given instructions, so when it's done drain it, add spoons of kale pesto and toss tofu cubes.
8. Roasted Butternut and Kale Bowl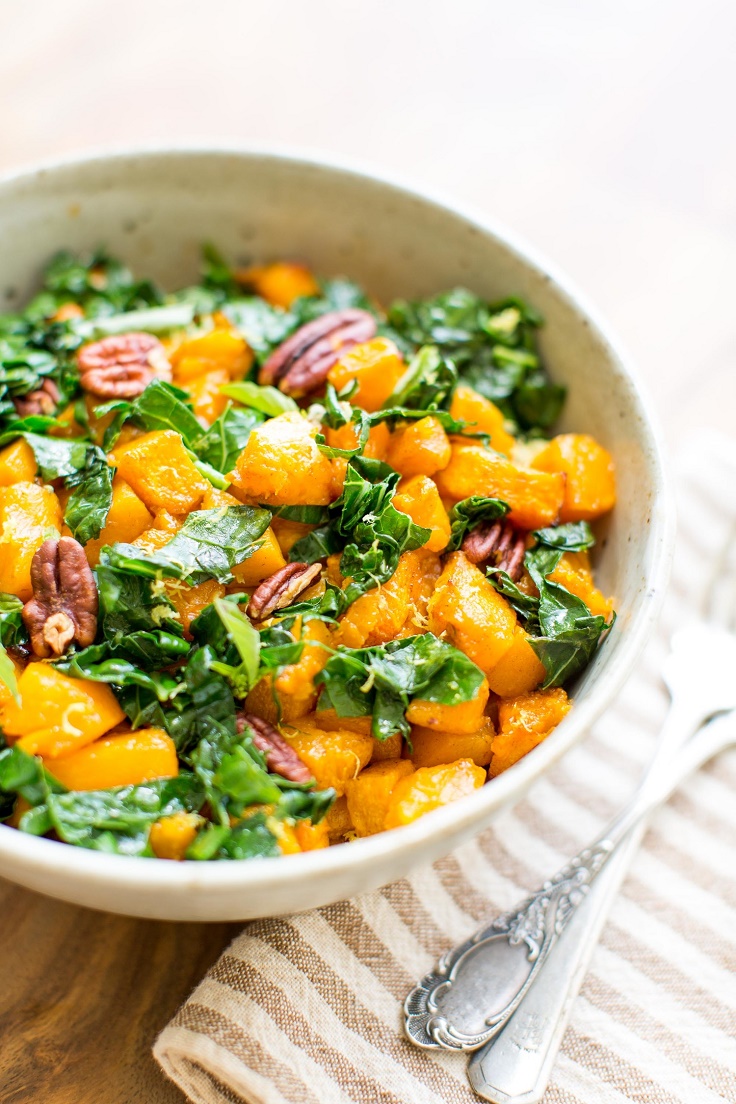 via thegantzery.com
The butternut squash is low in fat and it provides us with potassium and vitamin B6. Besides that, is really tasty, so that and kale together make a good combination. For the recipe you will also need coconut oil, cinnamon, basil leaves, lemon zest, pecans and some sea salt. Melt coconut oil, cinnamon and salt. Cut the butternut squash into cubes and drizzle them with the melted mixture. Roast it, toast the pecans, cook the kale and then just mix the kale and the butternut, and top them with pecans.
9. Tahini Kale Slaw and Roasted Tamari Portobello Bowl
via katieatthekitchendoor.com
For the Tahini Kale Slaw and Roasted Tamari Portobello Bowl you need portobello mushrooms, toasted sesame oil, tamari or soy sauce, tuscan kale, carrots, scallions, sunflower sprouts or microgreens, brown rice, peeled and pitted avocado, and roasted and salted sunflower seeds. The bowl has delicious dressing to try as well – Tahini Citrus Miso Dressing. Check out the link for detailed instructions!
10. Quinoa Kale Pesto Bowl with Poached Eggs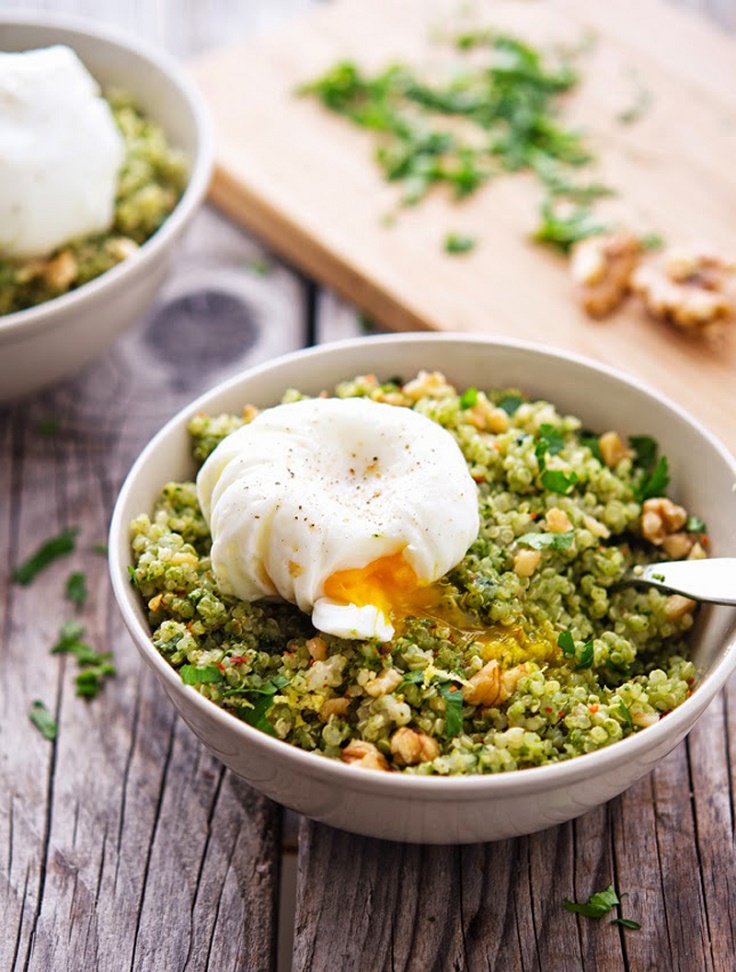 via theironyou.com
This is a very simple recipe that you would love to eat for breakfast. It has ingredients that we need to give us energy for the whole day, and to make us feel full. Especially the poached egg would do that for us. You need quinoa, kale pesto, lemon zest and lemon juice, eggs, chopped walnuts, fresh chopped parsley and red pepper flakes.