Having a spotless kitchen is what every woman wants and needs, but keeping this place tidy and without dirt is hard, challenging, and requires effort and time! Washing dishes is not the only procedure you have to make; you must take many more things to have high-level hygiene in that area!
One of the other places you must constantly clean in your kitchen is the kitchen sink! That's a working surface which can easily become dirty if you don't clean it every week, there are no excuses!
But, you have to follow some rules and tips for keeping this area tidy and without bacteria! We've rounded up the 10 best kitchen sink cleaning tips that will make your life easier and your working hours shorter! Please read them with attention and include every suggestion in your cleaning routine! Happy cleaning!
1. Always Wash Your Dishes on Time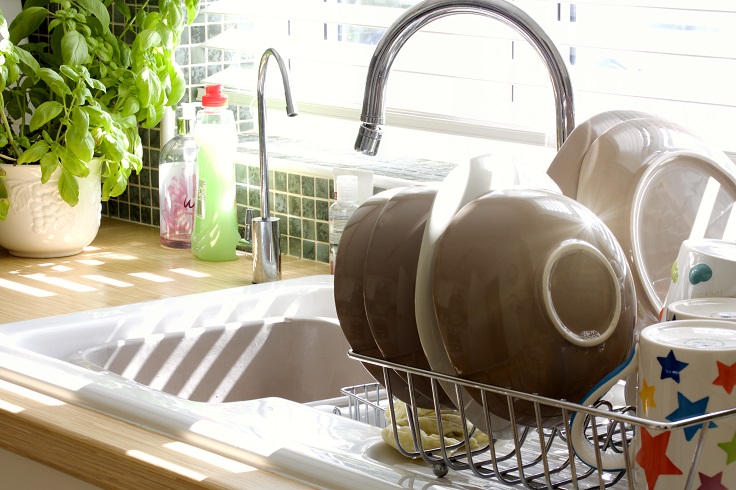 Never leave the mess in your sink and always clean it on time, because that's the easiest way to clean dirty dishes without a lot of effort! It's easier to wash dishes if you start right after you put them in the sink than later!
2. Remove Any Solid Debris
Remove all solid debris from your kitchen sinks, such as vegetable peelings or food residue, and never leave them in the sink for a long period of time because your kitchen will start smelling like garbage!
3. Rinse the Entire Sink with Hot Water
Rinse the entire sink with hot water after every dishwashing because that's the only way to damage all the bacteria that live there!
4. Use Stainless Steel Sink Cleaner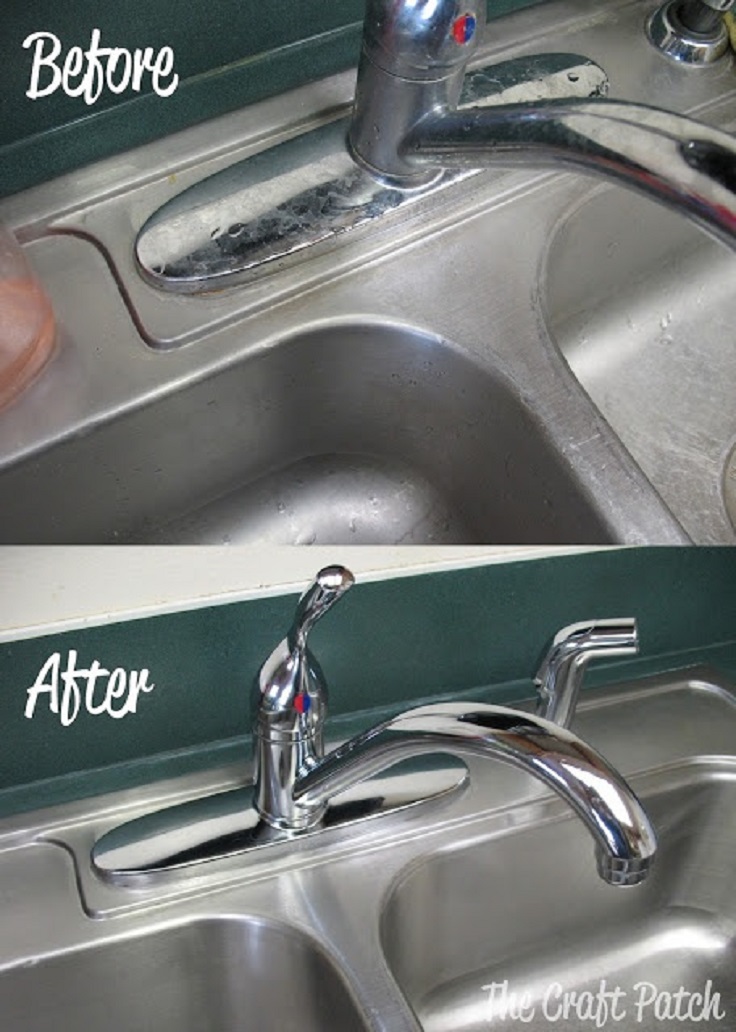 via thecraftpatch.blogspot.com
Clean the kitchen or bathroom sink with a stainless steel cleaner you can make by yourself. For the whole recipe, follow the link above, and don't forget to rub the sink in the finish direction. Also, clean every part of the sink: inside, outside, around the faucet, and the garbage disposal!
5. Use a Toothbrush to Clean the Tight Areas Around the Faucet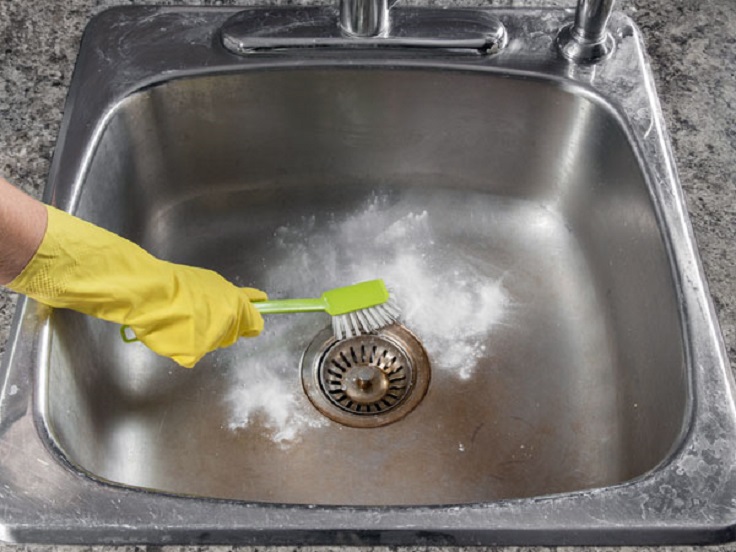 via boldsky.com
Tight areas around the faucet and the garbage disposal edges can be hard and difficult for cleaning. But everything will become easier if you use a toothbrush because that's the dirtiest part of a sink!
6. Don't Forget to Clean the Outside of the Sink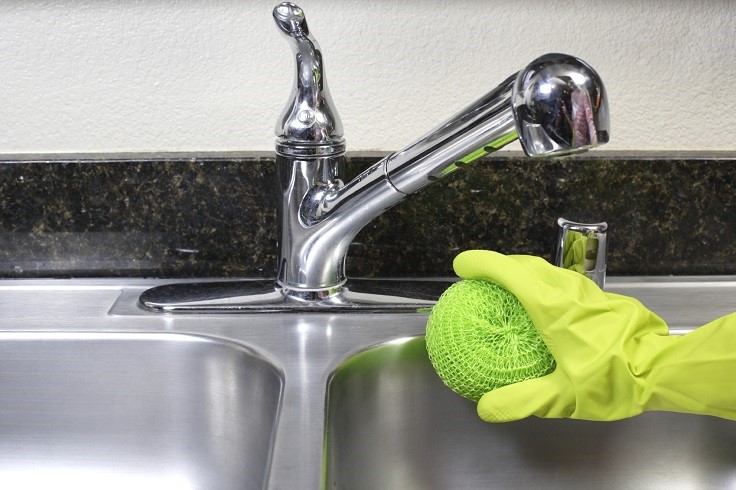 via missmackcleaning.com
The outside of the sink is equally dirty like the inside, so never forget to clean it carefully. Many bacteria live on that surface, and we're sure that you don't want any of them to be in contact with clean plates and glasses!
7. Rinse the Stainless Steel Cleanser Off
Rinse the stainless steel cleanser off very carefully with hot water. Then use a clean towel or cloth and dab the sink until it is scorched, and after that, polish the sink!
8. Clean Your Sink Once a Week
As we know that this is the area that can easily become a mess, you should take care of it and keep it clean all the time. The best option is to clean it a minimum of once or twice a week for ideal maintenance!
9. Polish the Sink with a Soft Clot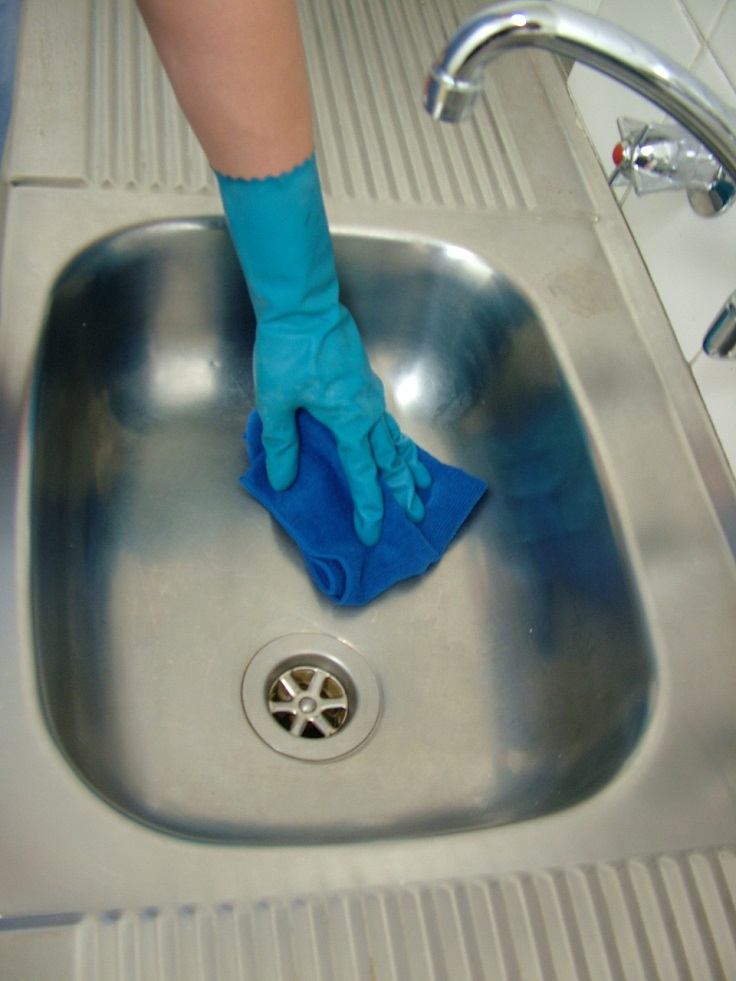 via kanklean.com.au
After the cleaning procedure, use a soft, lint-free cloth and carefully polish every part of the sink. The result you want and need is an immaculate and shiny sink surface!
10. Sink Polish and Cleanser Alternative
Instead of a sink polish, use baking soda for kitchen sink cleaning. Make a mixture of baking soda and a little water and mix until it gets the paste form. Spread the paste all over the sink and start rubbing with a sponge. After that, rinse and dry your sink, as we've mentioned in the tips above!