Saturday Night Live is a comedy show that brings laughter to people worldwide for 40 years now and has been the stepping stone in the career of some of the most influential names in the industry.
It has the best-and quite carefully chosen-cast members, which adds a different dimension to every character they portray. Both the female and male characters have a breath of uniqueness. Still, the one that stood out the most to us was, undoubtedly so, the extremely talented Kristen Wiig, who never failed to make us laugh with her funny antics and awesome accents.
Here is our list of the top 10 characters portrayed by the woman of many faces, Kristen Wiig, but don't hesitate to share with us who your favorite characters were in the comments below.
1. Target Lady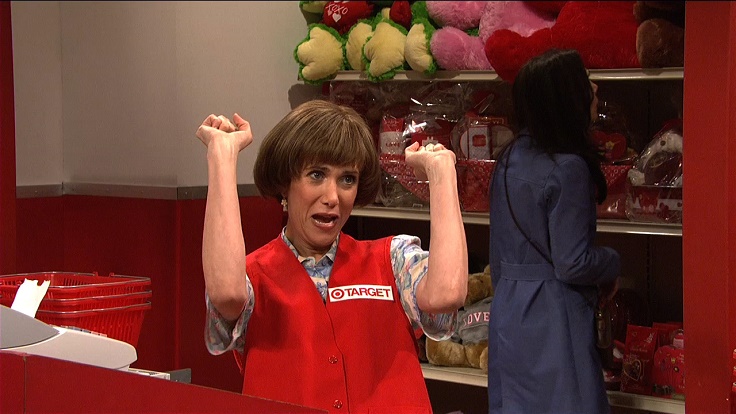 via galleryhip.com
Kristen Wiig's talent is easily recognizable in her portrayal of the Target Lady. Her blunt and insensitive comments never fail to make the customers feel awkward, and come on…who doesn't like to see them squirm uncomfortably? Her cropped up soccer mom-style bob hairstyle and over the top hand gestures coupled up with her high pitched voice is the reason why this character is in our top ten.
2. Doonese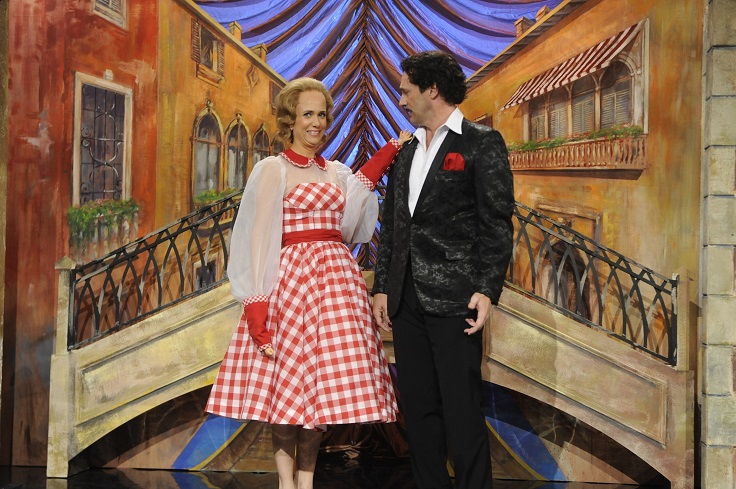 via o.canada.com
As if the Meryl singing family's concept wasn't funny enough, they had to add Doonese as well-the family's black sheep. While all of the sisters are pretty and cute, Doonese- like the true black sheep she is- has a big bald forehead, an overgrown tooth, and tiny baby doll hands. However, worry not, despite her claims that she is in a relationship with herself, she still managed to find love in the arms of the handsome John Hamm.
3. Judy Grimes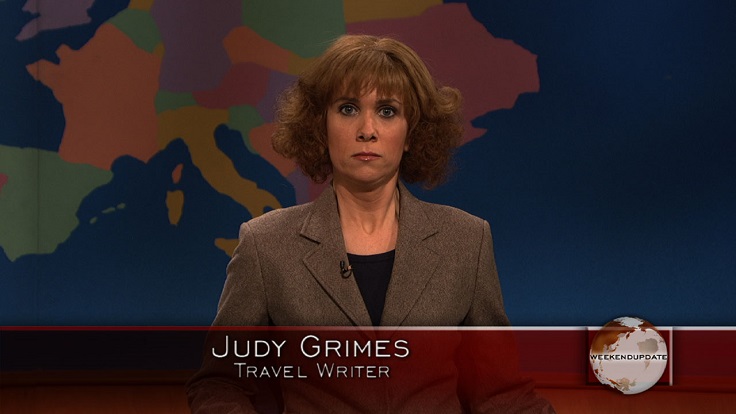 via nbc.com
Another recurring character on Wiig's part. This Weekend Update's travel guide has the worst kind of stage fright, so she is always visibly nervous, talking in fast-paced sentences, and uses many hushed "just kidding" in between the sentences that she can say. You have to admit… that is a really funny looking 50's housewife hairdo, and it suits Kristen perfectly for her role.
4. Gilly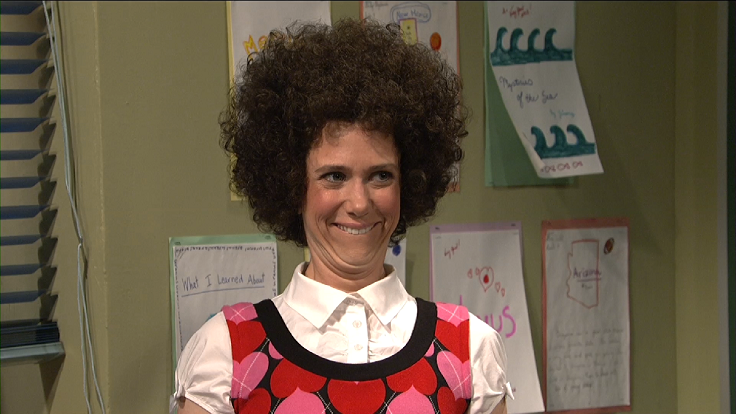 via galleryhip.com
An elementary school student who terrorizes all of the students in the classroom in the most mysterious ways. Violent things keep happening when the teacher is not looking, leading to his wrong accusing of the classroom's innocent students. And that weird "sorry," when she's accused, is priceless. Wiig looks great even when she's sunbathing her teeth and sticking them in her chin.
5. Karina
A very stereotypical showcase of California residents and a parody take on the classic soap operas, but it is funny nevertheless. Kristen Wiig's portrayal of Karina was hilarious, especially in those mirror shots at the end of every scene.
6. Kat (of Garth and Kat)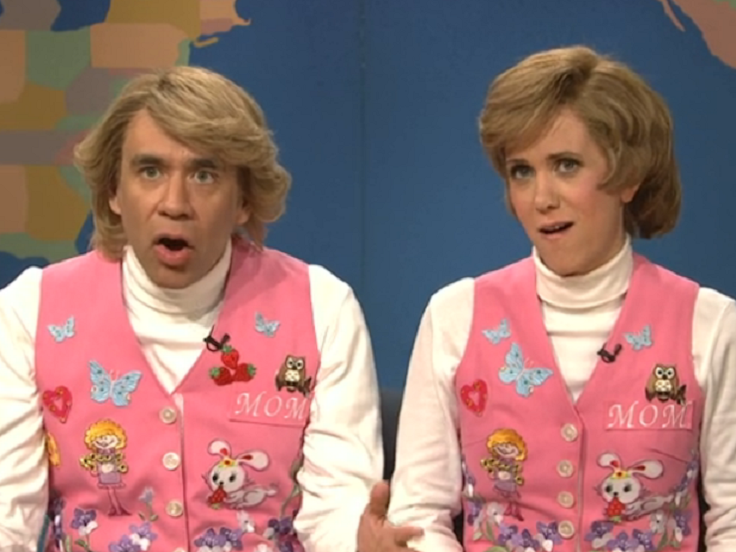 via vh1.com
The quirky Kat from the never-ready duo Garth and Kat was a recurring character on the Weekend Update. The duo had songs for every occasion, most of which were improvisations on behalf of Fred Armisen. Wiig proved her status as a scene-stealer as she showed great artistry in keeping up with the made up on the spot songs. Fred Armisen managed to successfully steal the laughter not only from the audience but from his co-cast member Wiig, which made the character Kat seem even funnier.
 7. Mindy Gracin
via imgarcade.com
The '60s washed up actress I also one of Wiig's best character portrayal. Mindy Gracin is not only a bad actress, but she's bad, if not horrible, at playing Secret Word. Her over dramatic nature doesn't bother us in the least bit as it adds more charm to Mindy's character. The Secret Word is rarely secret with Mindy around, but that makes us laugh even more.
8. Paula Deen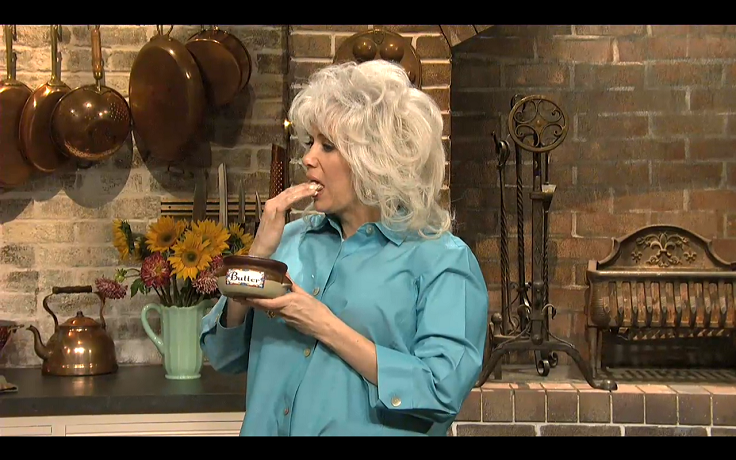 via firstwefeast.com
The fact that Kristen Wiig is also good at doing impersonations is generally known, but her take on the infamous southern cook is next to brilliance. Everything seems to be right in its place, starting from how Wiig looks like a younger and slimmer version of Paula to the effortless southern accent flowing out of her mouth almost naturally. The only 'n' word for Wiig's Paula Deen is nutrition, without butter and oil.
9. Shanna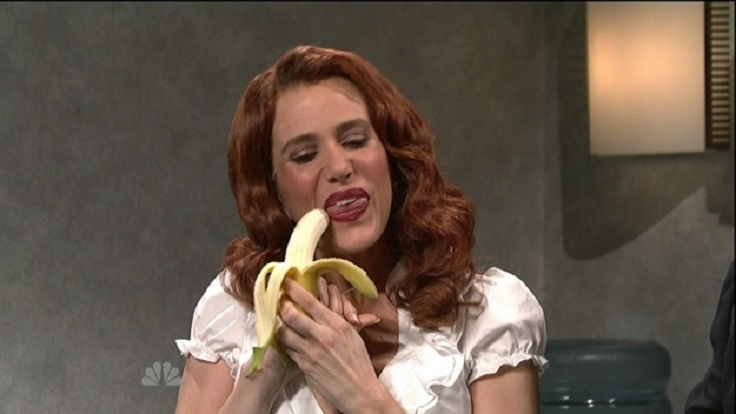 via buzzfeed.com
Shana is a very sexy bombshell that makes her male coworkers swoon over her. However, everything that she does is a far cry from being sexy. The sketches featuring Shana always end up with her repulsing everyone but one of her coworkers, who, despite her unladylike behavior, seems to be even more smitten with her. We don't blame him; Kristen Wiig is great, no matter what she does.
10. Sue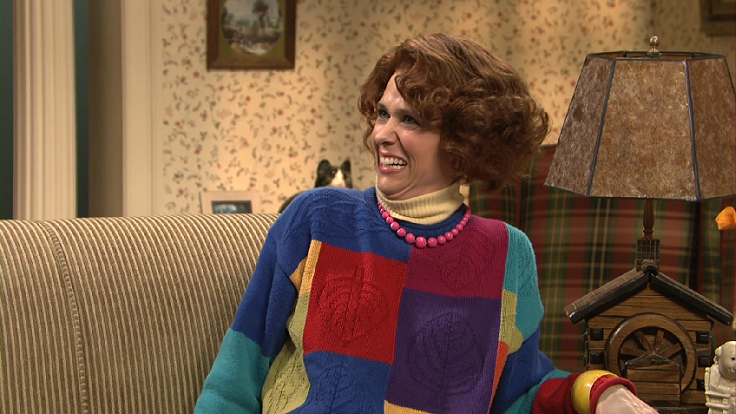 via screen.yahoo.com
Sue is hands down one of Wiig's best characters. She's a nervous woman who, who-as she repeats numerous times throughout the sketches-loves surprises but has a hard time dealing with them. She easily gets overwhelmed at the idea and goes crazy, earning quite a few eye rolls from the other characters but a lot of laughs from the audience. She always ruins the surprise for everyone, but she does it in such a fun way that we don't mind it in the least bit.