Makeup products take up a lot of space, and keeping it in a bag, a kit, or even a drawer sometimes isn't enough and it can get mesy. Having a place where you can not only keep but also do your makeup is certainly very convenient, hence the makeup vanity. This piece of furniture has been around for a long time, and it's gaining popularity all over again in homes everywhere. That is, of course, if you can spare the space.
Makeup vanities can be set up in the bathroom or the bedroom and come in many different designs and sizes. When choosing the best makeup vanity for you you should consider the size, storage capacity, and style or design. Colors can be easily changed to any furniture, but these are the real things to look for because everyone deserves their little beatuy corner.
So just ask yourself, what is the type of vanity that you would like in your room? To help you on your search for your dream makeup vanity, we made a collection of 10 helpful ideas for you, if you still can't decide what you really want. Getting ready will become a lot easier and much more relaxing when every piece of makeup is at hand and in its place. So take a look at our makeup vanity suggestions and go buy yourself the makeup vanity you deserve.
Vanity With Light Up Mirror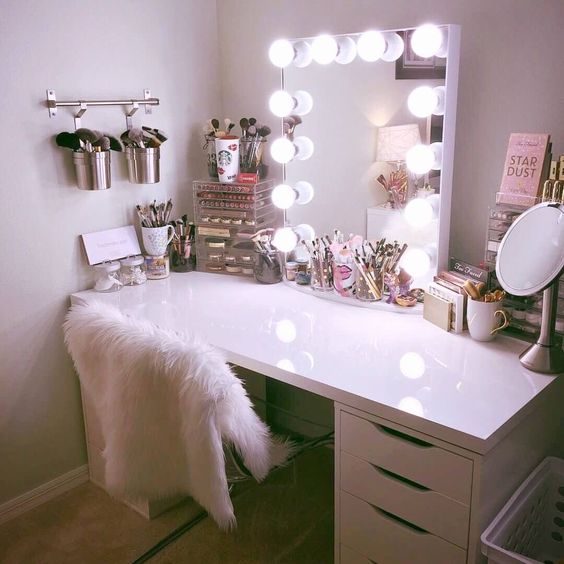 Starting off, we suggest a basic shiny wooden desk with some drawers for storage. The surface of the desk can vary, but it has to have room for a large mirror preferably with some lights around it, since the best way to do your makeup is with perfect lighting. Still short on storage? You can hang a few buckets on the wall and add some drawers for the smaller makeup products.
Dresser Vanity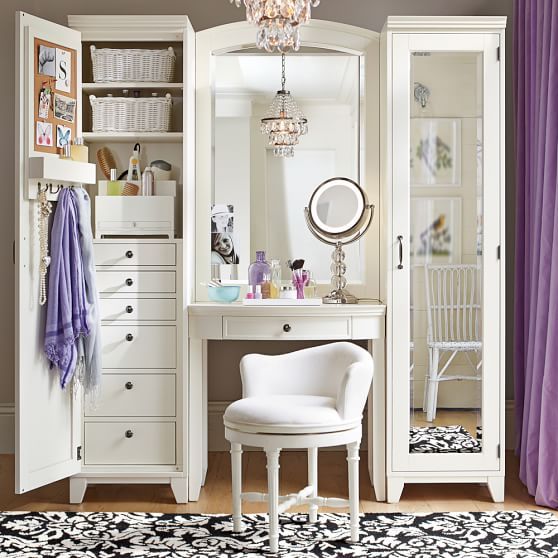 This is definitely a dream makeup vanity if you have the space for it. The makeup vanity surface where you do the actual work doesn't have to be very big, since you'll have two closet-sized storage units at either end of it to store all your makeup, all your accessories, and whatever else you'll need to make yourself look fabulous The large mirror at one of the closest is an absolute must.
Floating Vanity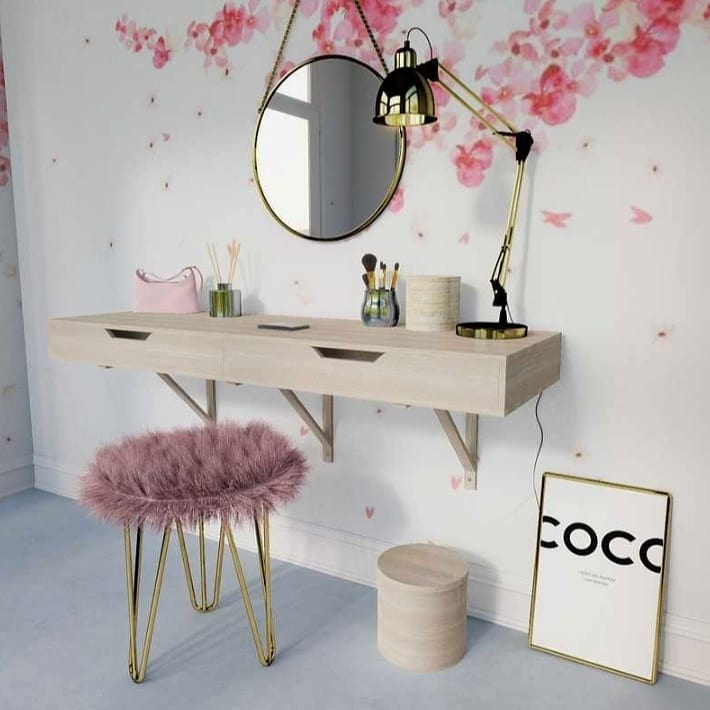 This makeup vanity is a good solution for a smaller space. It can take up the entire wall from end to end, yet since it has no legs or drawers underneath it, it gives off the feel of taking up less space than it actually does. The storage is on the actual table, mounted to the wall, and you can combine it with whatever type of chair you like.
Stone Vanity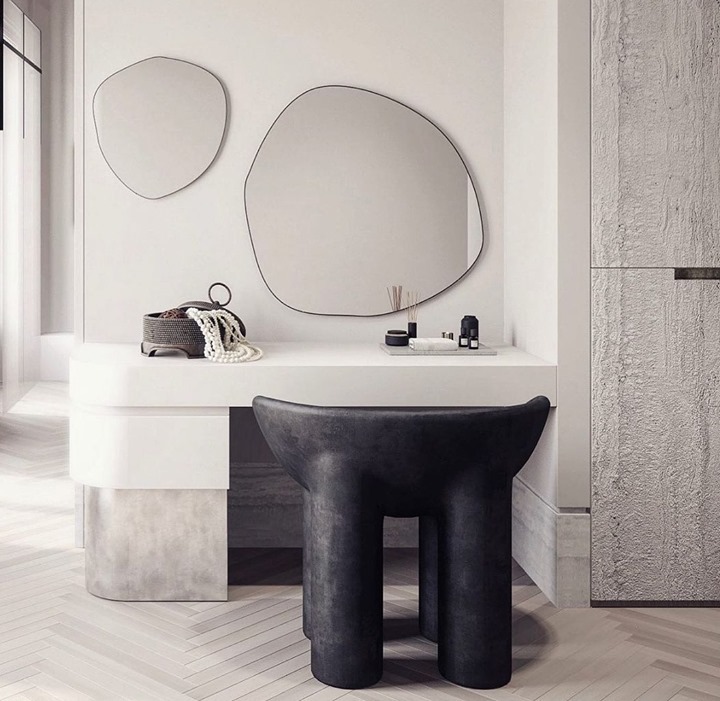 Looking for a sturdier, more unique look for your makeup vanity? Marble or stone is not your usual material for bedroom furniture, so nothing will be more unique than a heavy-duty, majestic stone makeup vanity. Add some irregular-shaped mirrors to really complete the look.
Vintage Wood vanity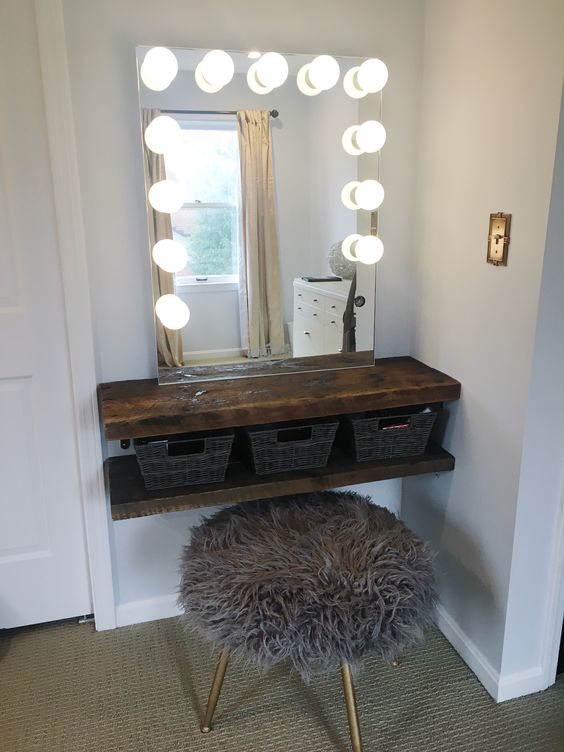 Barnyard style or rustic vintage styles are popular home decor designs, yet we don't usually think of those when imagining posh makeup vanities. That doesn't mean you can't pull it off. Some reclaimed wood as the makeup surface, small wicker baskets for storage, and bare mirror with lights. True country beauty.
Glass/Acrylic Vanity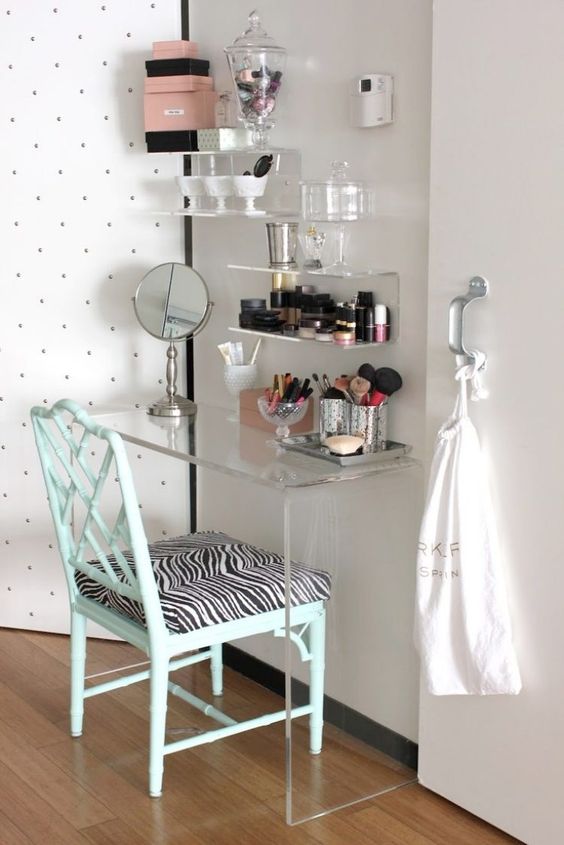 You must admit that clear furniture does look pretty amazing. Made from glass, acrylic, or plexiglass, this type of makeup vanity will make you feel like your picking your beautifying tools from mid-air. It's good for small spaces where you don't want to make it feel crowded but could still use that extra storage space, even that means a couple of extra shelves.
Vanity With Hidden Storage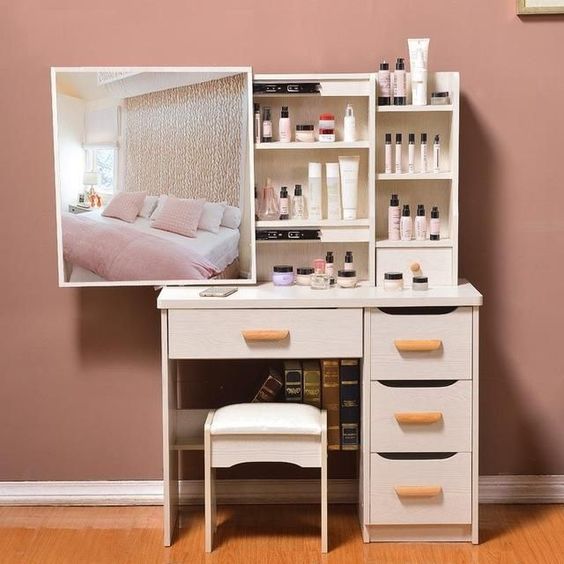 For those who like their stuff being really neat and tidy, and most importantly, out of sight, then you'll love this makeup vanity. Small enough to fit in a regular bedroom or a slightly larger bathroom, it has additional hidden storage behind the mirror, for those things you always want at hand.
Vanity With Side Shelves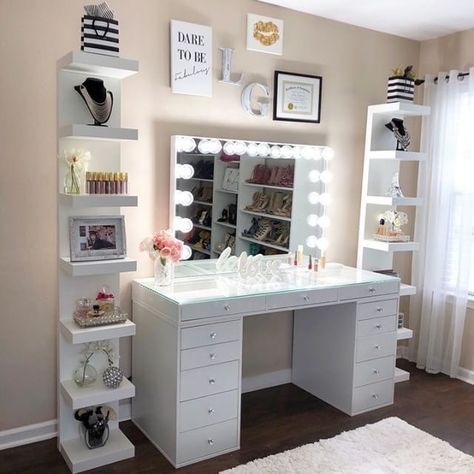 As we've already seen, shelves can provide additional storage if your makeup vanity is on the smaller side, and sometimes, with the right style of shelves, they can provide additional storage and ways to fill the empty walls and as a display for some of your favorite items, creating a nice little nook just for you.
Wood Amnd Metal Vanity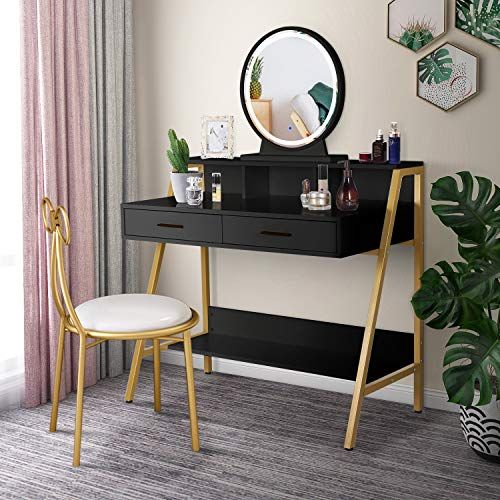 Combining wood and metal is a common sight in industrial-style furniture. That same combo looks quite well in the more modern designs as well. This small makeup vanity is small doesn't take up much space, for it doesn't have storage from the sides or the bottom of the table, but the storage it does provide will serve you just fine. A smaller circular mirror softens up the roughness of the wood and metal.
Corner Vanity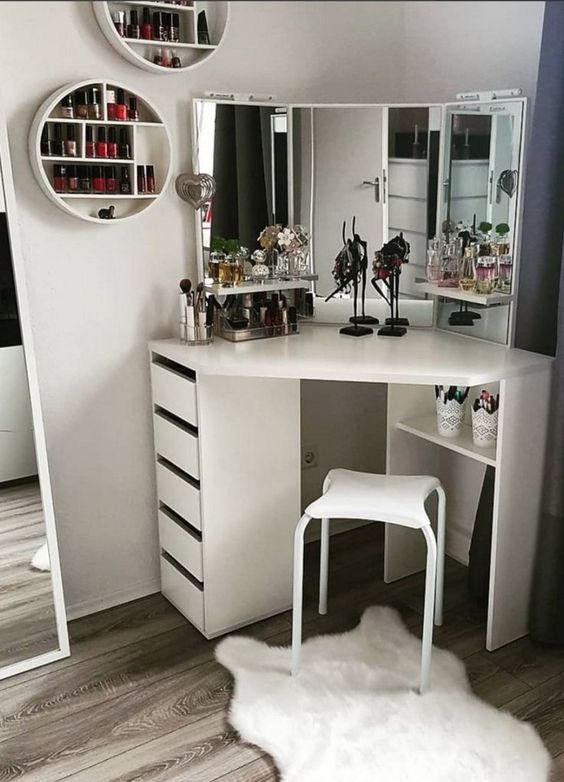 For our last idea, if you don't have much room to spare, but want to have enough space for one big or two panoramic mirrors, we suggest searching for a corner makeup vanity. By placing mirrors on both walls you get to see yourself while doing your makeup from a different angle easier and all at once. And ass for the storage, since it's a corner, you are more than likely to have free walls to use and hang up some pretty interesting shelve designs.
That's all the makeup vanity ideas we have for you for now. We home we gave you at least a start in the right direction for choosing the perfect makeup vanity for you. What is your favorite makeup vanity design? If you've already decided on that, don't wait long, because you deserve a little place in your home that is just yours and where you can make yourself look and feel the best.