The famous Mini Bundt Cake Recipes we all know and love come in so many flavors and only one shape. Even though these cakes aren't connected to any recipe, their shape is similar to the European version called Gugelhupf. The Bundt cake is easy to make; what you need to do is get the needed ingredients and have the Bundt baking pan.
This article's all about the mini version of cakes. Small, sweet with all different kinds of glazes and toppings. They are perfect for any occasion, especially for gatherings like birthdays or family reunions.
Check out these ten amazing Mini Bundt Cake Recipes and enjoy every bite of the cake!
1. Banana Bundt Cake – One of the tastiest Mini Bundt Cake Recipes
via blommi.com
This Bundt cake has a taste of cinnamon, vanilla and banana. You need flour, sugar, milk, baking powder, Kosher salt, butter, and eggs from the basic ingredients. The cake has a very delicious glaze too, which is made of milk, vanilla, Kosher salt, butter and brown sugar. The preparing time lasts for about seven minutes, while the cooking time approximately 22 minutes. So, the Banana mini bundt cakes are all made in thirty minutes, making them a great choice of dessert if you don't have much time to spend in the kitchen.
2. Coconut Tres Leches Bundt Cake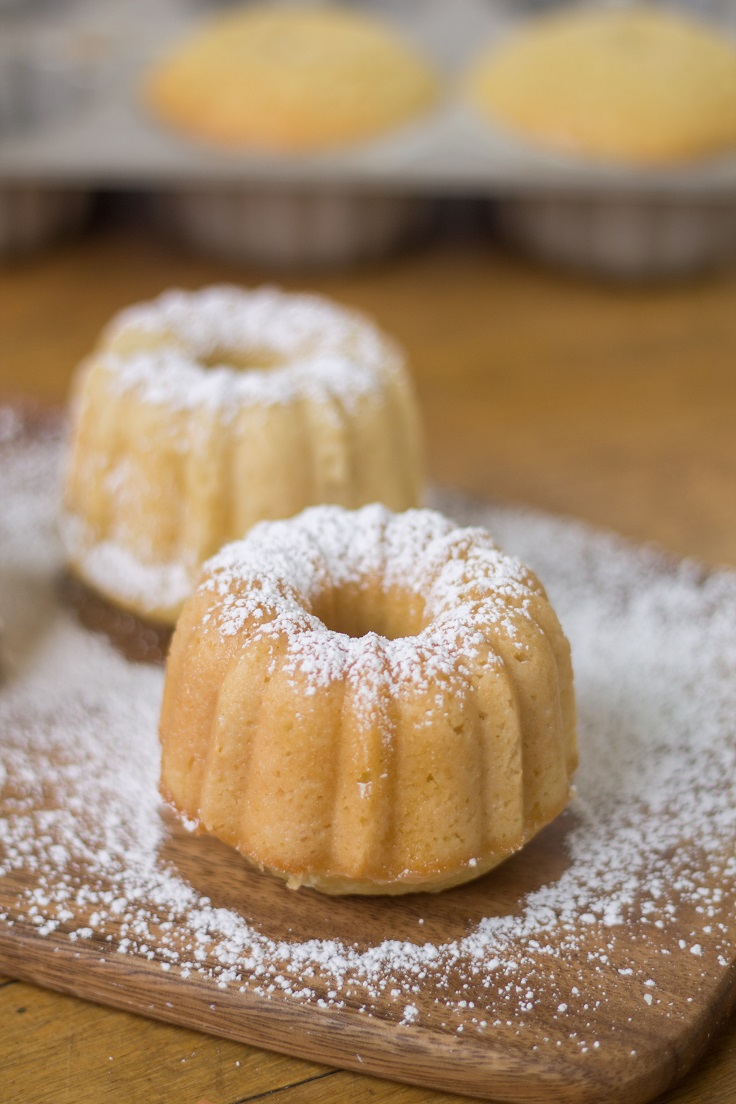 Those of you who have ever tried a Tres Leches Cake or simply said a cake made of three different types of milk, then you can imagine how delicious these mini Bundt cakes are. In this case, the cakes are only made with coconut milk, but their glaze is made by mixing coconut, evaporated, and sweetened condensed milk. After the cakes are baked, for achieving the best flavor, pour the glaze on top and leave them to cool overnight. These Mini Bundt Cake Recipes are also done in something more than 30 minutes.
3. Mini Raspberry Bundt Cakes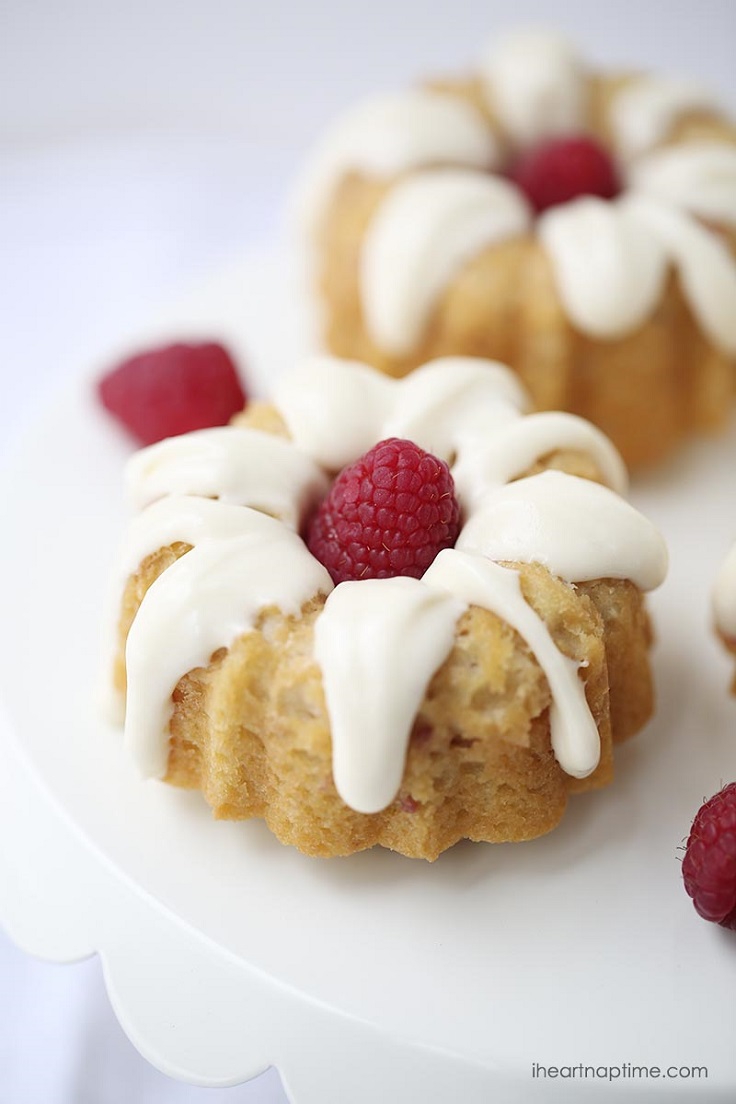 Raspberries and cream cheese is such a good combination that can be used in many different desserts, and the Bundt cakes are no exception. For these, you need white cake mix, applesauce, vanilla pudding, raspberries and white chocolate. For the frosting, you need salted butter, cream cheese, vanilla, powdered sugar and milk. When the cakes are made, take them out of the baking pan and leave them to cool. After that, you can add the glaze and the raspberries on top.
4. Mini Mocha Bundt Cake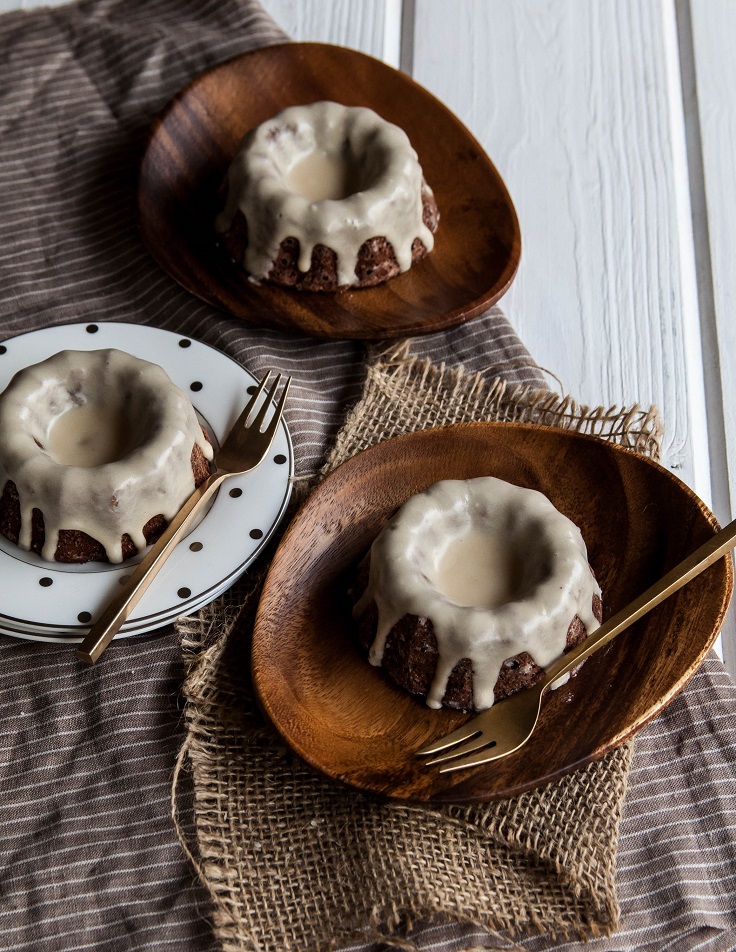 via stylesweetca.com
One of the best ways to start a morning with is exactly the small details such as delicious breakfast and a cup of coffee, tea or even milk. But, for coffee lovers, these Bundt cakes will be the real deal because they contain strong coffee. They are the perfect mixture of coffee, cocoa, maple syrup, and cinnamon. The preparation is very easy, and it only takes few steps. Another good thing about this recipe is that they are done in less than thirty minutes, but you should leave them to cool for some time before adding the glaze.
5. Banana Walnut Mini Bundt Cakes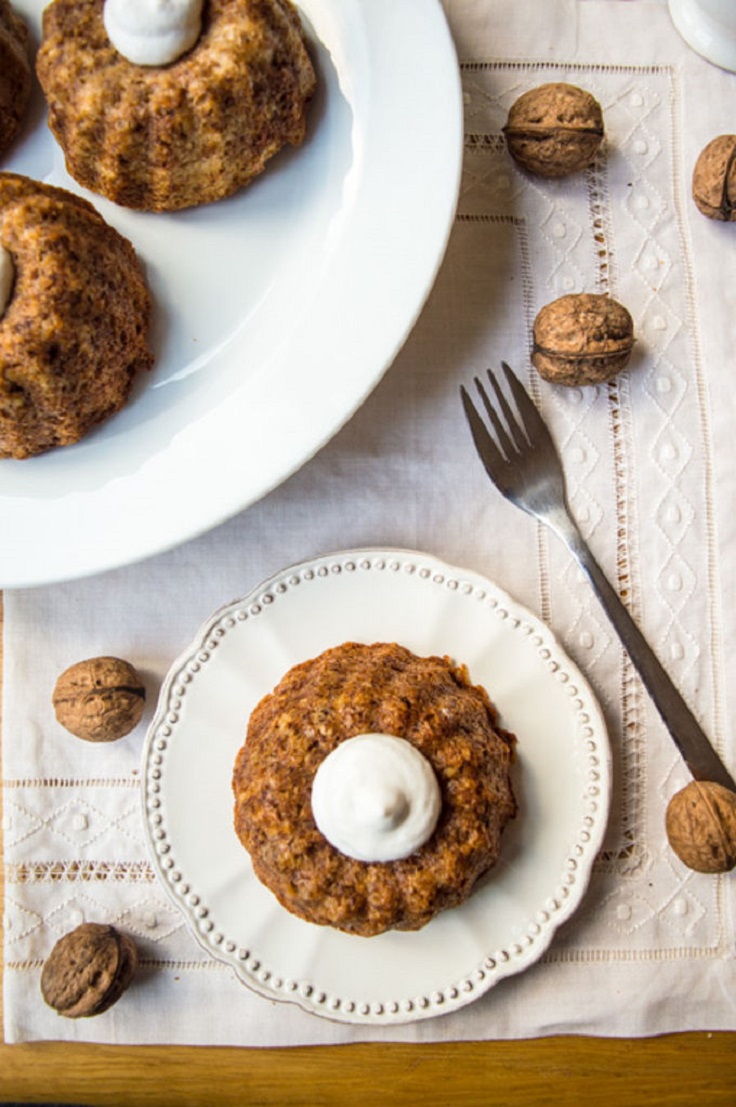 via mygutfeeling.eu
For these moist, the perfect amount of sweetness cakes, you need bananas, virgin coconut oil, maple syrup, brown sugar, rice flour, baking powder and chopped walnuts. Mash the bananas, add maple syrup, coconut oil and sugar and mix until they are well combined. Stir in the flour and add the baking powder and the chopped walnuts, and again stir. Then put the mixture in the cake molds and bake. In the meantime you can make the whipped coconut cream, for which you need coconut milk, maple syrup, vanilla extract and lemon juice.
6. Mini Chocolate Bundt Cake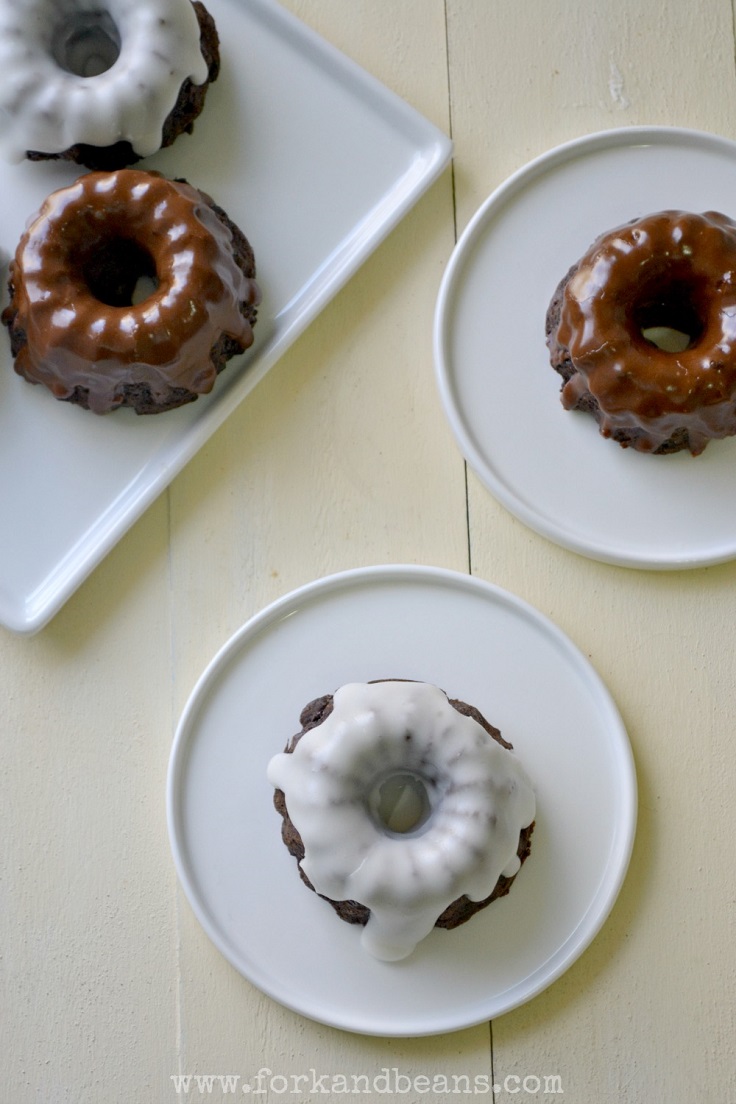 via forkandbeans.com
There always must be at least one chocolate recipe on every dessert's list and this one isn't an exception. To make these chocolate Bundt cakes with chocolate chips and icing glaze, you need to combine the dry ingredients (gluten-free flour blend, xanthan gum, sugar, cocoa, baking soda, and salt; and the wet ingredients (non – dairy milk, oil, apple cider vinegar, and vanilla) separately. Then you can add the wet into the dry ingredients, mix them well, add the non – dairy chocolate chips and bake.
7. Mini Cherry Bundt Cakes
via abakershouse.com
This recipe uses an all – in – one cake and frosting recipe. First you make the frosting, set some aside and just add few ingredients for the cake batter, such as frozen cherries. Pour the cake batter in the baking molds and bake until a toothpick comes out clean. Afterwards, leave the mini cakes to cool, and then you can add the cherry glaze.
8. Mini Meyer Lemon and Strawberry Bundt Cakes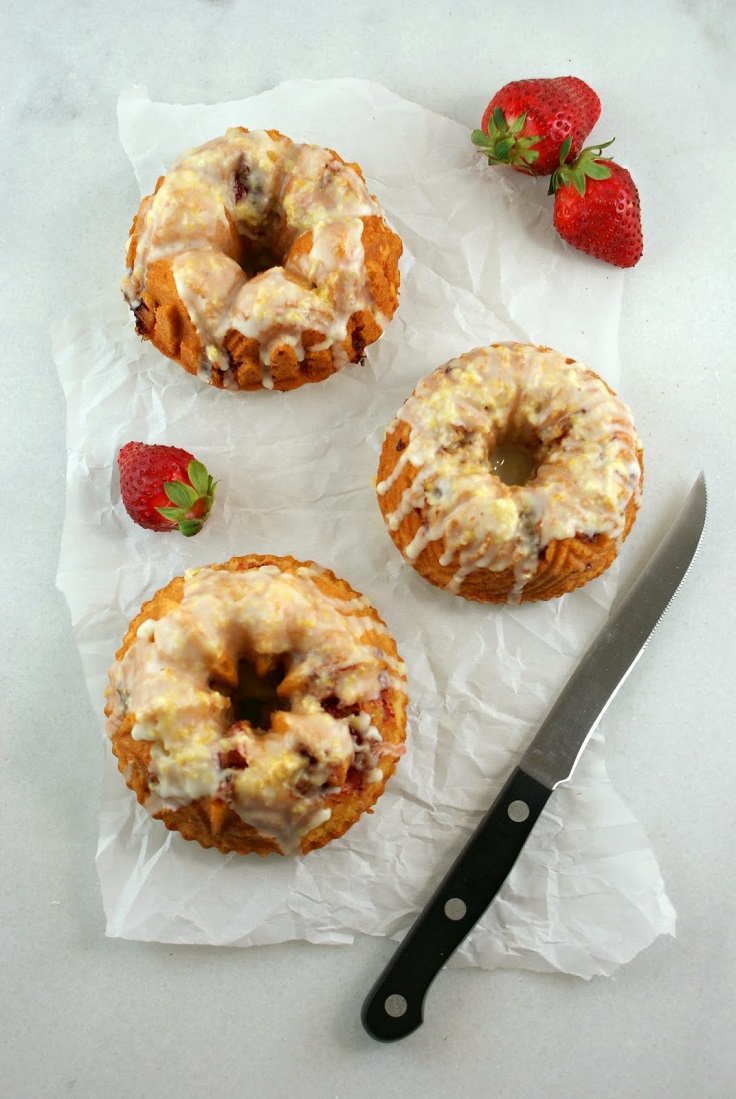 via authenticsuburbangourmet.blogspot.com
These fruity mini Bundts will surely leave your sweet tooth satisfied. The cake batter has a taste of lemons, strawberries, vanilla and Greek yogurt – what a tasty combination! The glaze is made from lemon zest, fresh lemon juice and powdered sugar. Bake the cakes for thirty minutes, until a toothpick comes out clean, and then leave the cakes to cool. After an hour, you can pour some glaze on each mini cake and let it drip down the sides.
9. Blueberry Orange Baby Bundts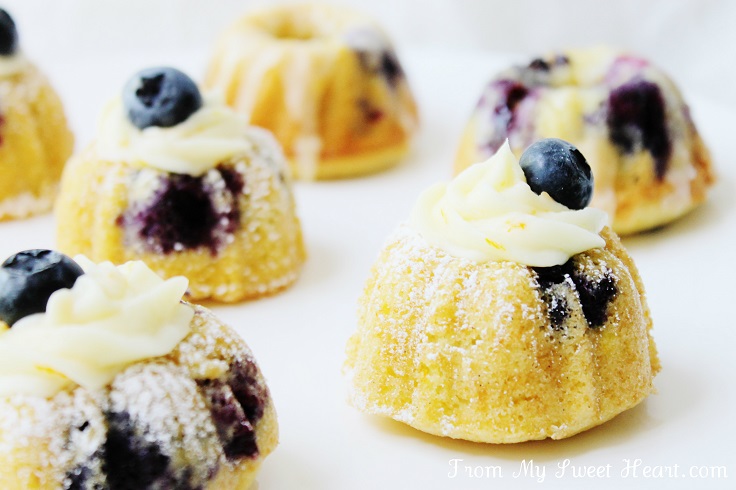 Blueberry orange Bundt cakes with orange buttercream and orange icing – these are those things in life to which we should always say "yes" to. Prepare dry ingredients by mixing flour, baking soda, and salt. In an electric mixer, blend sugar, orange zest, then start adding vanilla bean seeds, softened butter, two eggs (one by one), and orange juice. Add the flour mixture and the buttermilk, fold in blueberries and blend until everything is well combined. Then you can add the buttercream and/or the orange icing.
10. Mini Gingerbread Bundt Cakes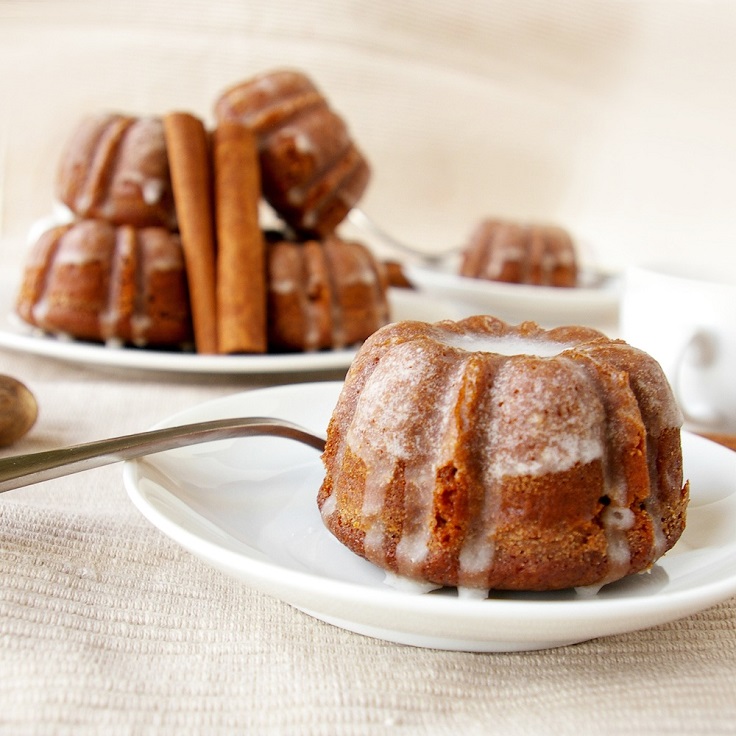 These Mini Bundt Cake Recipes are done in one hour and serve 24 cakes. They are the perfect dessert that came out by mixing ginger and cinnamon, a combination that will certainly add some cozy smell to your home. Plus, their cinnamon glaze adds so much to the taste. It is made by mixing powdered sugar, milk, and cinnamon. Before adding the glaze, cool the mini cakes completely. If this glaze isn't enough, you can always count on the whipped cream or buttercream.