When buying a house we always seem to have an attraction to a couple of things primarily. The kitchen space – can we entertain on a rainy day and show off our cooking skills, and also the garden.
The most prestigious of the entire home, possibly. Being in our own garden especially when we gave it our all for months at a time and an area to finally be proud of, is so rewarding. These are some of the finest backyards we have come across in the country, with naturally thousands still waiting to be discovered.
Enjoy, we hope it'll give you the inspiration over the following few weekends to start your very own backyard makeover. From a rooftop garden to a mini rainforest as a backyard, we have everything for everyone.
Backyard in California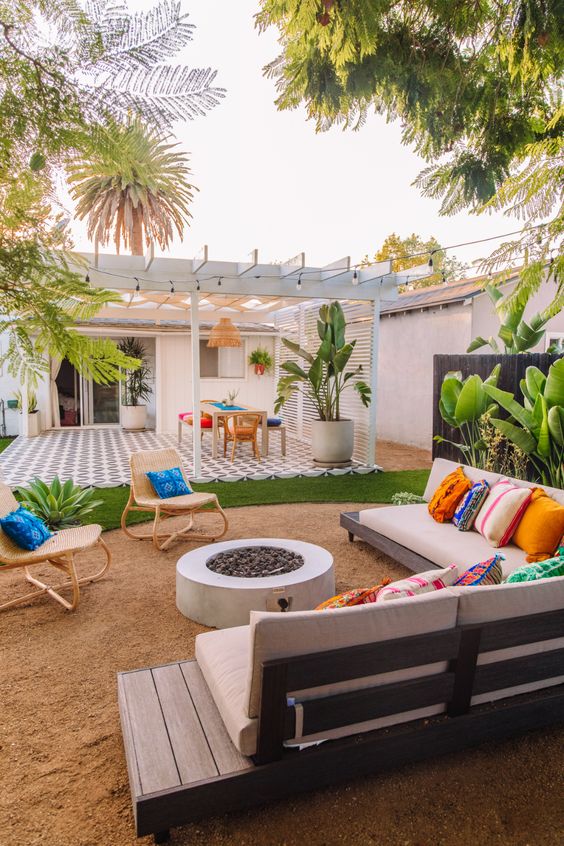 via studiodiy.com
California, the playground of so many A-list superstars from all around the world. But also home to so many amazing houses, estates, and naturally, backyards which is such a luxury at this end of the world. This is an amazing example that could be achieved in any backyards, including yours! You have a place to protect yourself from the sun and perfect to have the dinner table entertaining everyone. And a relaxing personal space once the crowd is gone with the ability to breathe in the fresh air and admiring your hard graft. A little somewhat minimalist perhaps, but a backyard that is easy to maintain without having to spend hours every day of the year.
Backyard in West Virginia

via glampinghub.com
The beautiful thing about West Virginia is space. And it comes on tap, literally. A beautiful part of the states where one can really enjoy the outdoors without having the neighbors eyeing their day-to-day operations. Amazing backyards resembling frankly, fields or small forests to us, city people. This is where anyone would spend most of their time. Working the garden. Maybe have a patch of vegetable housing with fruit trees etc. A space that gives you the ability to think in peace over a great book and perhaps a nice glass of wine enjoying life at its purest.
Backyard in Chicago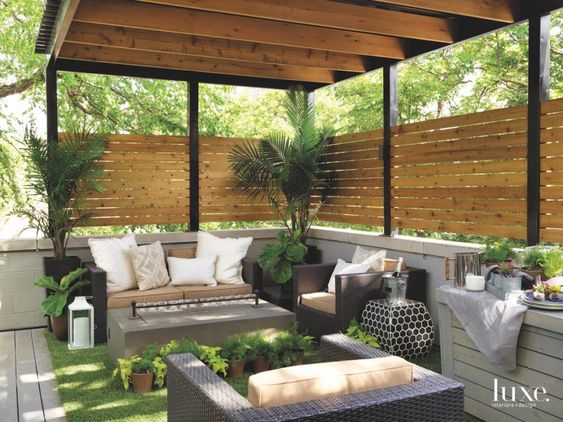 via luxesource.com
Chicago is also known as the windy city, (it is always super windy!) and renowned for its vast array of amazing, concrete buildings. An amazing place within the states but also one where a small handful wish to go back to their roots, and have a small piece of greenery luxury within such a busy, working business environment. This is pure decadence as it is rather rare to have enough space to create your very own tranquility, away from all the noise and hustle of the busy city Chicago offers. The architecture really does translate well to the inner city it lies in, with nature all around it fitting perfectly well in harmony.
Backyard in New York

via apartmenttherapy.com
New York City is not perhaps well known for its city gardening landscape and more for, well, what we know NYC for with its vast array of concrete giant buildings, nightlife, and everything wonderful the state has to offer but there are also hidden gems within the city that will make some of us not believe this could have been a possibility. But this shows that with creativity and ambition, anything can be achieved. This is stunning anywhere across the planet, but even more in a city where a tree is an absolute luxury. A beautiful way to see and fit nature in concrete heaven. More of us could go the same road making our city living a little more zen.
Backyard in Oregon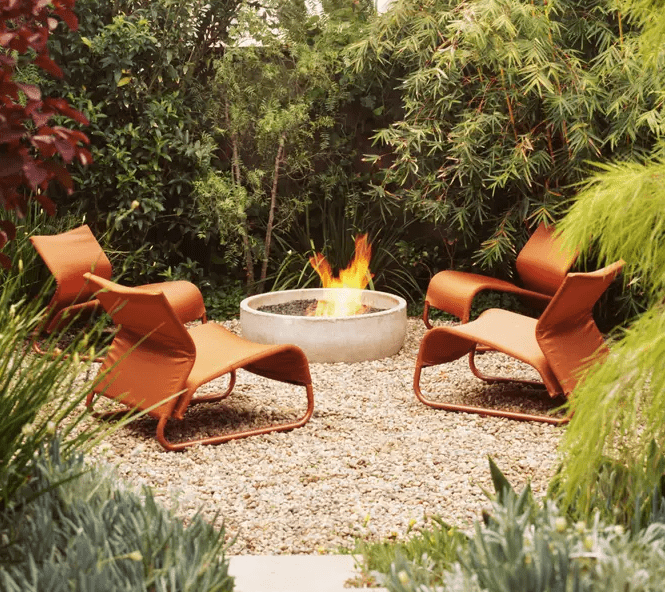 via thespruce.com
Oregon offers some of the best wines across our planet and delights us with its beautiful natural surroundings. It is therefore ok we presume to expect gardens and backyards to have a lush amount of nature surrounding them. This is an immaculate example of what landscaping means and has taken it to another level of OCD. However, it is wonderful. A peaceful area carefully sculptured to bring peace within your home and within oneself. A good book, friends, an afternoon tea party. Endless entertaining possibility showing off your best landscape gardening amazingness to all your friends and family.
Backyard in Santa Fe, New Mexico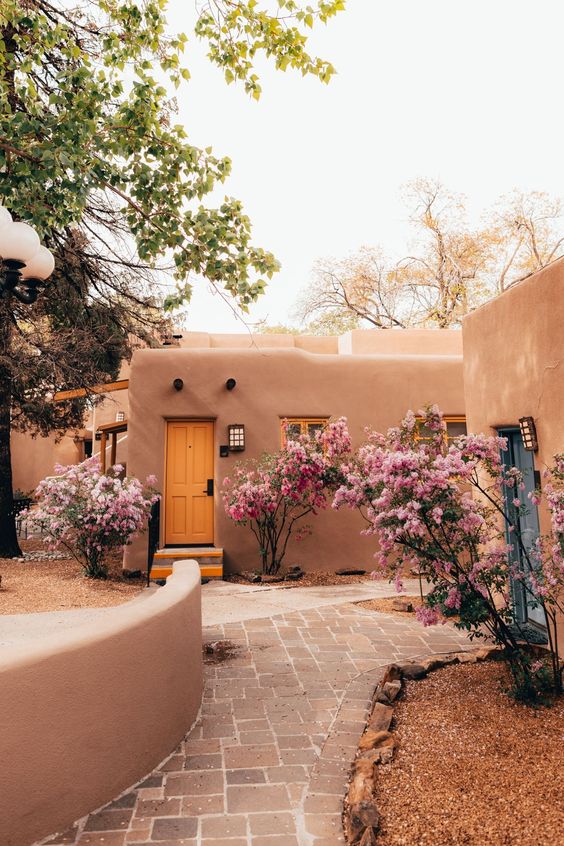 via vegetarianventures.com
Set in a Spanish-influenced state, so much as to be seen and admired in Santa Fe. And, we have found some of the most beautiful and unique backyards during our travels. A beautiful state that deserved to be seen over and over again. In this example, the backyard really suits its surrounding. It represents Santa Fe and breakfasts the colors well with natural cherry trees making a natural footpath. Beautiful piece of heaven in your very own backyard.
Backyard Kansas, Missouri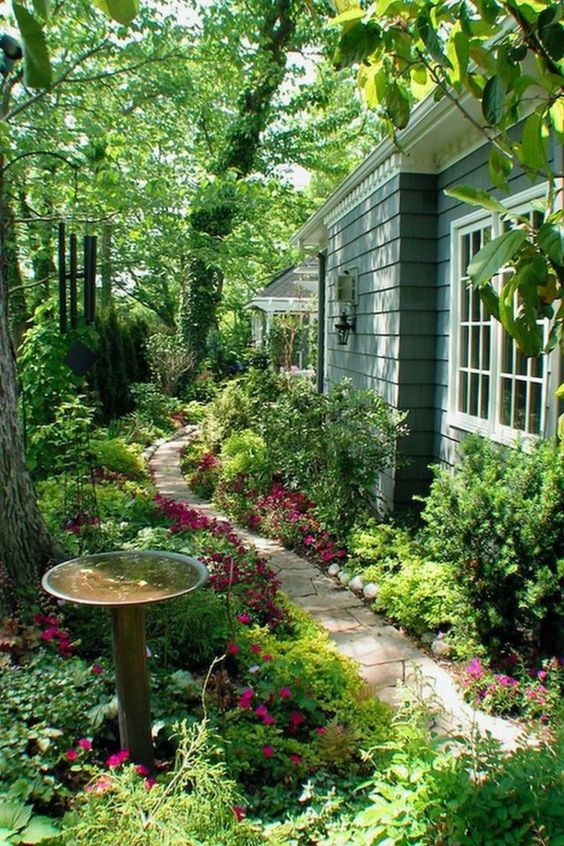 via rosehillgardens.com
Nothing better than wildlife speaking for itself. This really looks like a true reflection of what nature should look like and especially what a wild, yet carefully attended backyard should look like. From the picture alone, one can almost hear the birds singing and the wind brushing the leaves of the trees. A beautiful example of a rugged area giving you the sensation of being away somewhere exotic and away from the hectic life of every day. Must be a real joy to come back from work, having a walk through your very own mini heaven.
Backyard in Clive Iowa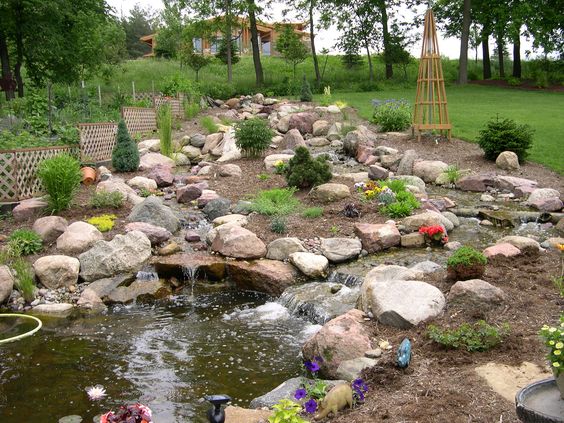 via pinterest.com
Iowa is home to some of the vastest backyard areas outside of a rainforest! The vast and mainly agricultural state, also boasting super vast forested areas is home to incredible backyards enough to do a top thousand best backyards in Iowa! An idea for the next edition! For the lovers of rural areas and lovers of nature, there is nothing better than this example of a backyard that one cannot see the borders and the end of it all. Absolute wonderfulness and pure enjoyment of going back to square one. One must imagine having unbelievable garden parties and barbecues there. Nature in all its glory and some of the finest landscape on the planet.
Backyard in Los Angeles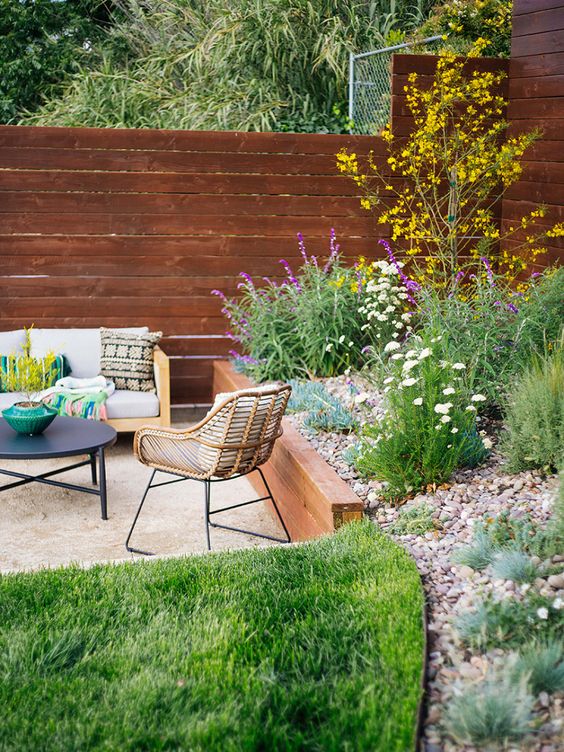 via pinterest.fr
La home to the rich and famous, concrete, tall buildings…and the lack of trees! However, some are fortunate enough to have their own little piece of land right at home. Something a bit of a luxury. It would only be too normal to have a little something to call a backyard, relaxing and forgetting the everyday stress of the LA fast-living lifestyle. What a moment this would be in the heart of the concrete jungle. Beautiful design, simple but something to really call home especially when the sun is out enjoying the pure moments in life.
Backyard in Texas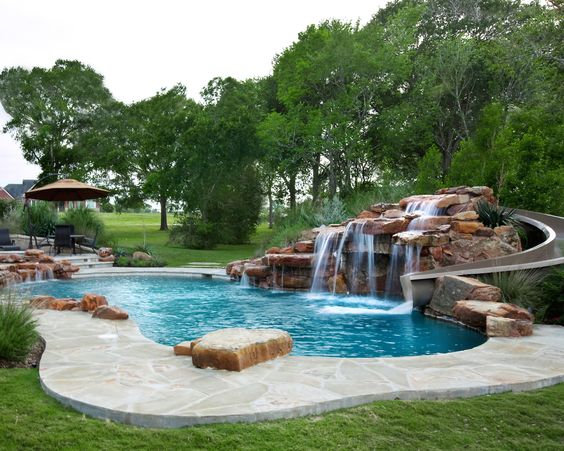 via pinterest.fr
Texas, the vast country of rodeo and fabulous sunshine most of the days throughout the year. Nothing better than to come home, get an ice-cold beer out of the fridge, get to the backyard, and enjoy the sound of a small waterfall smashing through in your pool. And surely this is luxury at its summon. This is a great way to break the monotony of a spacious area by elevating it with rocks creating a 3-dimensional environment.
In case you need a professional help from moving company while re-arranging your yard, you can contact the experts from Rockstar Pro Movers. They will effectively manage and control the entire relocation process according to your needs.