Whoever thinks the underworld is a bad scary place has never visited some of these magnificent caves! Created over thousands, millions of years, some of these formerly hidden natural wonders are finally revealing their beauty to those who always thought heaven was someplace above.
There's absolutely no equivalent in this world, no sight quite as breathtaking as a deep, dark cave system. They always give us shivers, fascinate us, make us wonder but also respect them strictly. No one wants to get lost in Earth's soul and never see the daylight again.
1. Eisriesenwelt – Austrian Ice Caves
(The world's largest ice cave known to man)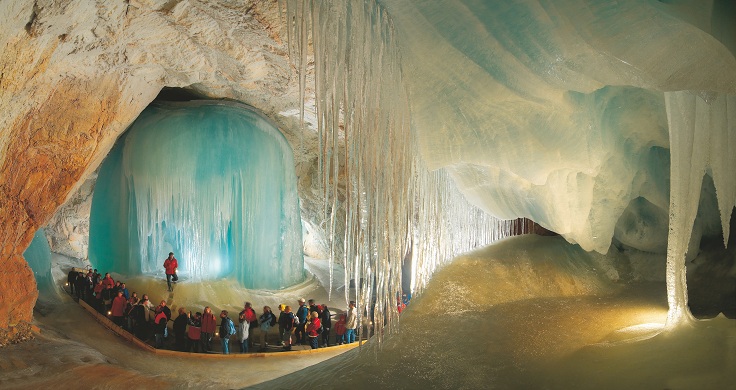 Photo Credit to roadaffair.com
Eisriesenwelt, which translates to "World of Ice Giants," was formed by the Salzach river, which eroded passageways into the mountain. The ice formations in the cave were formed by towing snow, which drained into the cave and froze during winter. However, in the summer, a cold wind from inside the cave blew towards the entrance and prevented the melting from the formations. The best time to visit this cave will be during summer (open to the public from May-October), where you can also witness and enjoy the views of the mountain, as well as the ice sculptures, figures, and mesmerizing ice walls.
2. Limestone Glowing Caves in Waitomo, New Zealand
Photo Credit to dailymail.co.uk
Each with its own fascinating features, the caves in Waitomo are definitely a breathtaking experience.  Glowworm Cave is one you should sure tick on the bucket list. This cave is the star of the show, where you get to discover the cavernous space floating underneath by boat! The caves here are a lifetime experience. Offering draped stalactites, galaxies of a glowworm, and millions of stalactites pack the ceilings creating displays like no other. Caves here a hard to beat!
3. Fingal's Cave, Scotland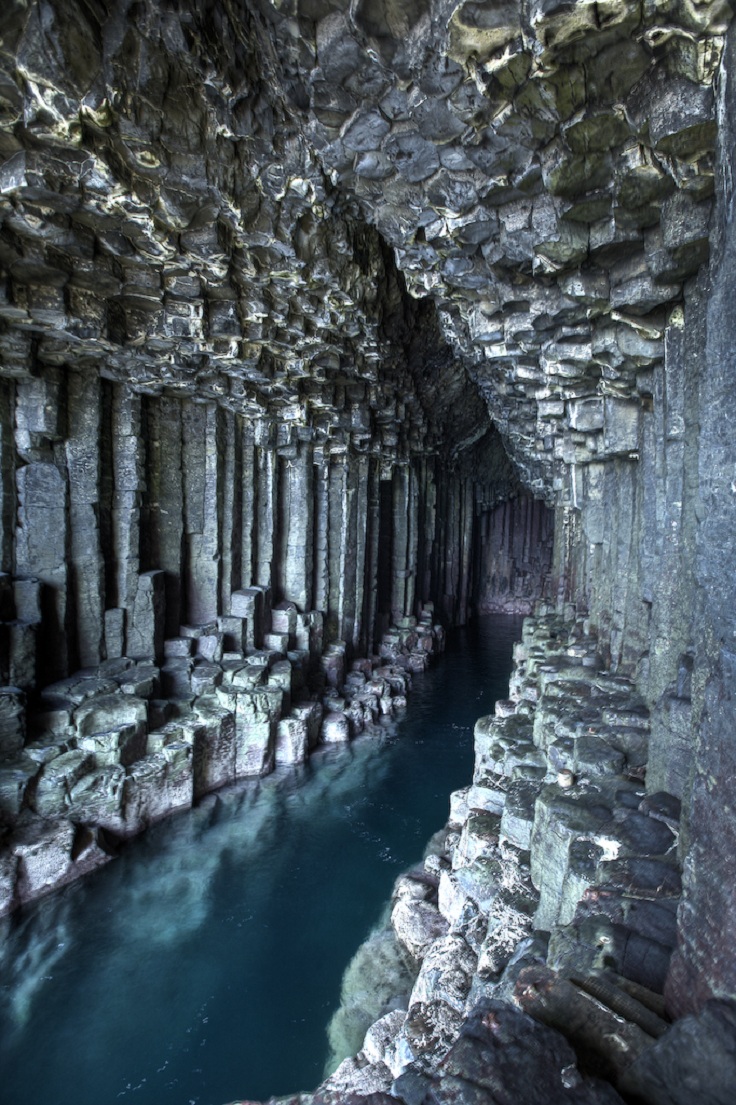 Photo Credit to johnmontague (On Flickr)
This cave is a tourist magnet. Fingal's Cave is a sea cave on the inhabitant island of Staffa. Incredible dramatic yet romantic, this cave is compressed entirely of spectacular hexagonal basalt columns. The cave's arched roof lends is remarkable natural acoustic, that harmoniously echo the sound of the swilling ocean waves within it. Formed by massive lava flows, this otherworldly attraction definitely deserves attention.
4. Ruby Falls Cave, Tennessee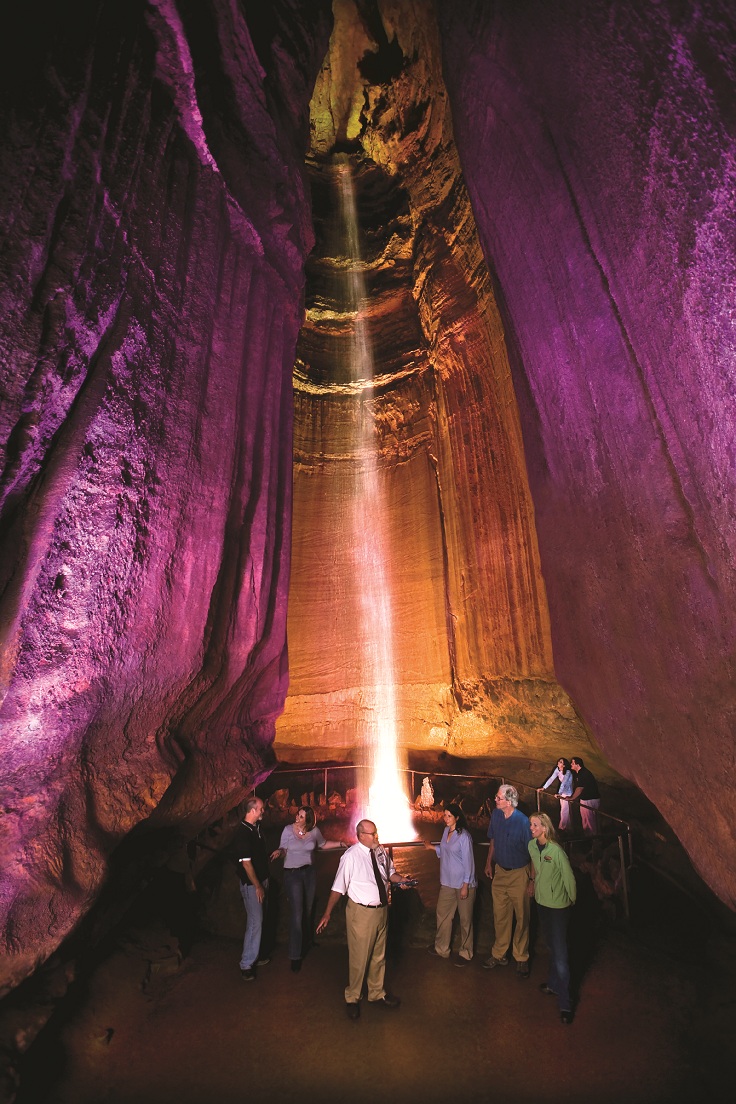 Photo Credit to getawaysforgrownups.com
Ruby Falls is home to the deepest and the tallest series of underground cascading waterfalls hidden in the Lookout Mountain in Tennessee. Here you will also explore stunning rock formations along the cavern trail and 500 lights in the cave pathway to illuminate your journey through the cave. Traversing this cave is like walking through time. This 30 million years old cave is truly a natural wonder.
5. The Marble Cathedral, Lake General Carrera in Patagonia, Chile
Photo Credit to dailymail.co.uk
One of the world's most beautiful caves is definitely The Marble Cathedral! Located in the middle of General Carrera Lake, you will need to take a boat trip from Rio Tranquilo to visit this magnificent place. Formed as the water melted from the nearby glaciers and washing up against these solid rocks, slowly carving out intricate caverns, columns, and tunnel systems. Over the years, this mineral glacier also changed the colors and the shapes of its formations to beautiful hues of blues, greens, black and yellow. These unique marble rocks with colorful patterns are huge tourist attractions.
6. Illuminated Caves in Okinawa, Japan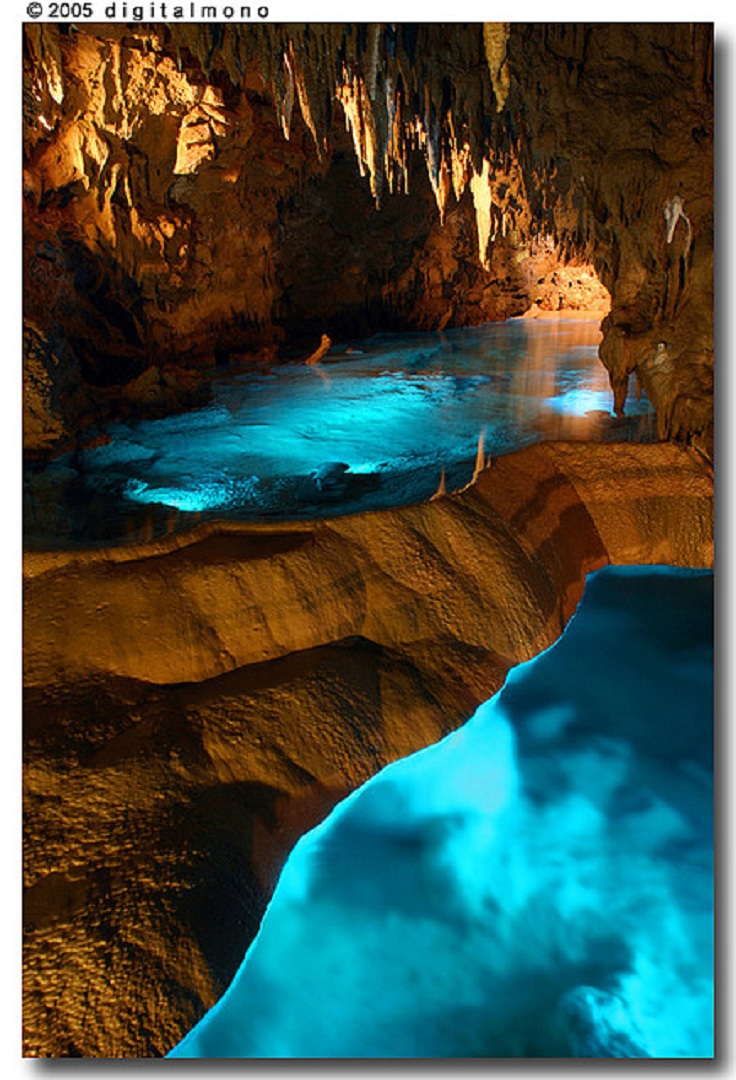 Photo Credit to digitalmono (On Flickr)
Gyokusendo is a large underground cave and water body located in the southern part of the island of Okinawa. Situated beneath the surface of the earth, you will be indulged with an incredible type of natural lightening. To be able to see the formations of the cave and enjoy the beautiful stalagmites and stalactites within the cave is fascinating. You will be able to treat your eyes with the details of the edges and curves, as well as reveal the actual colors of the inside part of the cave.
7. Naica Giant Crystals Mine, Mexico
Photo Credit to photosharingworld.blogspot.com
For millennia, the Cave of Crystals' conditions were perfect for the growth of the gypsum crystals in massive sizes. Anchored to sweltering cave walls and floor, the crystals went through at least a million years of uninterrupted growth. Many are long and wide enough to walk across and look like Spiderman's Fortress. A crystal length reached 12 meters, making it the largest crystal discovered on earth. However, don't pack your bags because this place is not open to the public.
8. (Wishing Well) Luray Caverns, Virginia, USA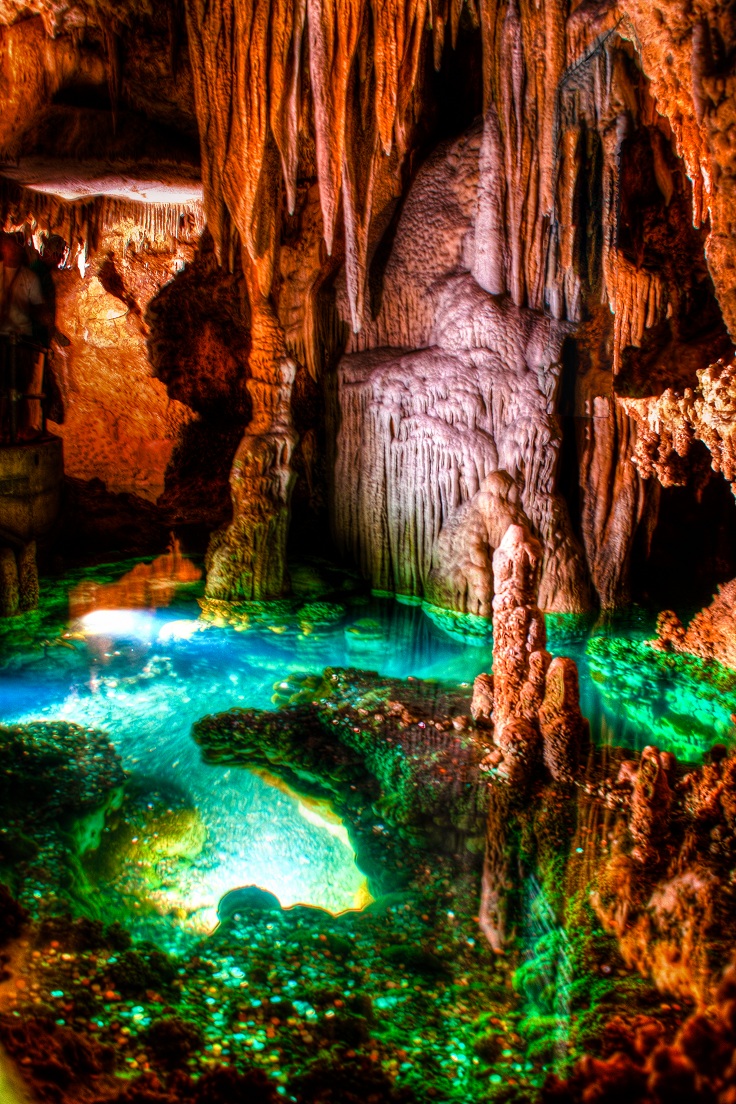 Photo Credit to  ArnoldTN (On Flickr)
There is something magical about wishing wells. The idea of tossing a coin into a fountain and hoping for the best is a wonderful tradition, but it is rare to find a natural pool of water used for that purpose. Lurey Caverns is an enormous underground cave system opened year-round navigated through guided tours and lighted pathways. The deep pool of breathtaking water has collected a significant amount of bills and coins. In fact, they are removed every year and donated to charities. That's why the green tint is a result of the cavern water reaching the copper pennies.
9. Skaftafell (National Park) Ice Cave, Iceland
Photo Credit to all-that-is-interesting.com
An unforgettable experience of a natural blue ice cave will be entering the Skaftafell Ice Cave in Iceland. It is Europe's largest glacier. Splendid ice formations and glacier mills are waiting to be explored. The name of the cave comes from the transparent white and blue interior.  The beautiful blue colors are a result of the compression of snow into ice. One of the most ice-catching caves and the glittering dome is a delight for every photographer.
10. Reed Flute Caves, China
Photo Credit to photodune.net
The Reed Flute is a natural limestone cave with multicolor lightning, located in Guilin, China. It is a famous scenic spot mainly offering a magic fairyland of stalactites, stalagmites, curtains, stone columns, and flowers, in fantastic shapes and colors while appreciating this cave's landscape scenery. An amazing fairyland praised as "Nature's Art Palace." You will have ample time to see these oldy-shaped rocks along the U-shaped route and hear interesting stories about them.